Seeking chemistry, Yeo puts rookie Haula on Wild's third line
Published
Mar. 21, 2014 5:49 p.m. ET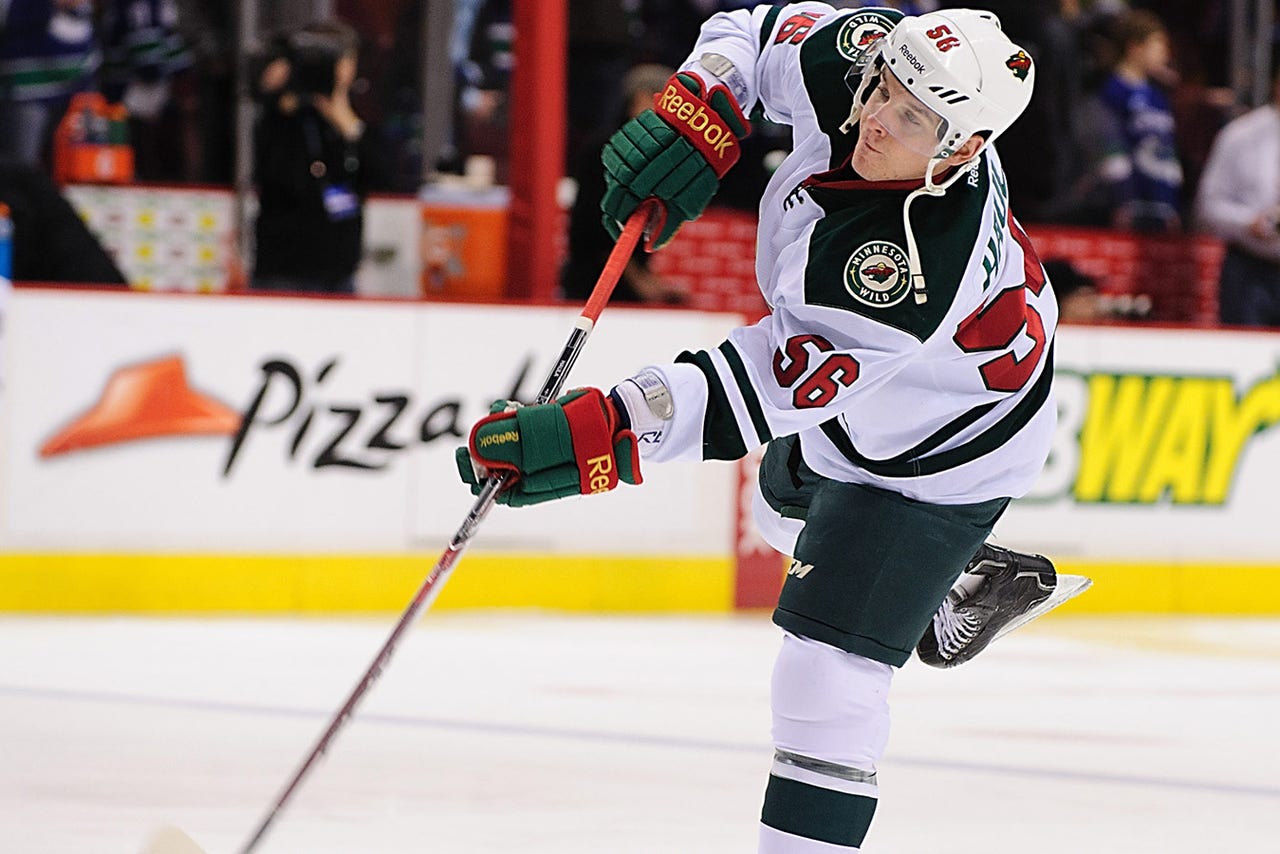 EDINA, Minn. -- Minnesota Wild coach Mike Yeo's line changes during a three-game road trip led to a decisive 6-0 win against the New York Islanders in which three lines scored and Minnesota could exhale momentarily.
A 4-3 overtime loss at New Jersey showed Yeo wasn't done trying to find the right mix of forwards since Minnesota made the big trade-deadline move to acquire forwards Matt Moulson and Cody McCormick.
Yeo is trying to find some old chemistry with a new body. Rookie forward Erik Haula will join a line with Charlie Coyle and Dany Heatley after sitting out the past two games.
"Little mixed up, yeah," Yeo said after the Wild's practice on Friday. "We want to get Haulsy back in there. Part of the thought process was to, obviously he and (Jason Zucker) are different players, but Zuck, Charlie and Heater had a lot of chemistry as a line together. And Haulsy, we want to see if he can bring some of that same element of speed to that line that Zuck brought. Haulsy is playing very well. He likely will see some shifts at center as well. It gives us the flexibility to try a few different things."
The Wild, with a four-point lead in the Western Conference over eighth-place Phoenix and eight points up on ninth-place Dallas, will have more changes when they host the Detroit Red Wings on Saturday in a rare afternoon game.
Yeo confirmed that Zucker is headed for a second surgery on his injured leg and is likely to miss the rest of the season. Yeo is hoping Haula can be the type of speedy offensive threat Zucker has been, while continuing to fulfill his defensive responsibilities.
"I want to make sure that he doesn't lose sight of the things that he's been doing and the things that have made him successful and the things that he needs to do to be in our lineup," Yeo said. "Obviously he's playing with some skilled guys there, some guys that have a mentality of getting the puck and trying to create something. Haulsy needs to create a lot of the ways that he's been doing, but at the same time he needs to be responsible defensively. He needs to be strong in his game and doing the things that he needs to do to be effective."
Haula was a surprise scratch this week after developing his game as the fourth-line center.
"It's always hard, and it should be, I think," Haula said of sitting. "I just do what I can, try to get better every day and try to learn by watching the game. You hope that the team does well and that's all you can really do."
Haula has experience playing wing and center and could do the same with Coyle, who has also spent time moving from center to wing in his first two NHL seasons.
Like Yeo, Coyle thought of his time with Zucker when he learned he'd be skating with Haula. He appreciates the speed Haula can bring on the outside.
"You never know what different combinations will click and I like that, a guy with some speed on the wing and create some space," Coyle said. "Yeah, kind of like a Zucker there. I think it will be good. We'll see how it goes and should be a good one tomorrow."
Justin Fontaine, who had been scratched in five games, took the right wing on the second line with Moulson and Mikko Koivu. The trio combined for three goals and five assists in the win against the Islanders.
Fontaine, a 26-year-old rookie, scored his 13th goal of the season. His 13 goals rank third on the team, while playing in just 57 games spent mostly on the third or fourth lines. Yeo is sticking with Moulson, Koivu and Fontaine for Saturday.
"Maybe he's the guy, I don't know," Yeo said of finding a strong complement to Moulson and Koivu. "Maybe this is an ongoing thing where it's kind of whoever's going, whoever's on top of their game finds a way to get up there. I'm not sure. Bottom line for us to be a good team -- we have guys that can be interchangeable in different positions -- but to be a good team, they need to be on top of their game."
Yeo is trying to find some consistency and secondary scoring behind the top line of Zach Parise, Mikael Granlund and Jason Pominville. The inconsistency of Coyle, who has one goal and one assist in his past 19 games, and Nino Niederreiter has partially necessitated the changes.
Yeo spoke with Coyle and Niederreiter before the New York game on Tuesday.
"Obviously the first thing I said is, 'What do you guys have in common?'" Yeo said of the two young power forwards. "And age wasn't the answer. It's size. These guys have to play big. And we need them to play big. Both these guys have played their best hockey when they've played a physical brand of hockey, when they're finishing checks, when they're absorbing hits, controlling the puck, they're engaged in the physical part of the game. And then everything else is following suit, the hands, everything else is there with it.
"As young kids, that's usually the challenge when a young kid is pressing or thinking, 'OK, I've got to score a goal.' There's other parts of their game that falter. So my focus for them is to concentrate on having a good game and the results will come."
Coyle recognizes the mental struggle when points aren't coming.
"Yeah, sometimes it will get in your head and you want to help contribute," Coyle said. "I don't know. You've got to not let it. Everyone goes through slumps and all that. If I'm not scoring and we're playing good and we're winning, then that's fine. But I want to help contribute and help this team win in whatever that entails. But I think for the most part, put that aside and I've got to bring my game every night, be consistent and make something happen every shift, be a difference maker, no matter what that is."
Yeo, Coyle, Haula and the Wild are hoping the latest changes make the difference.
Follow Brian Hall on Twitter
---