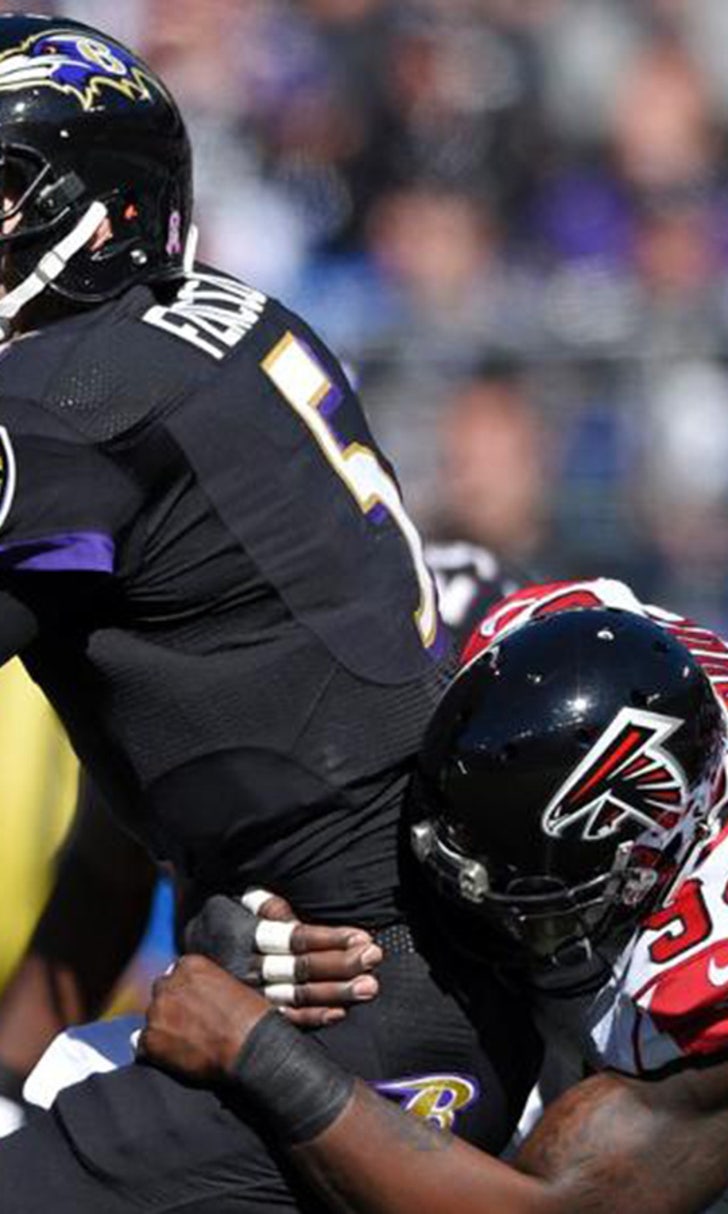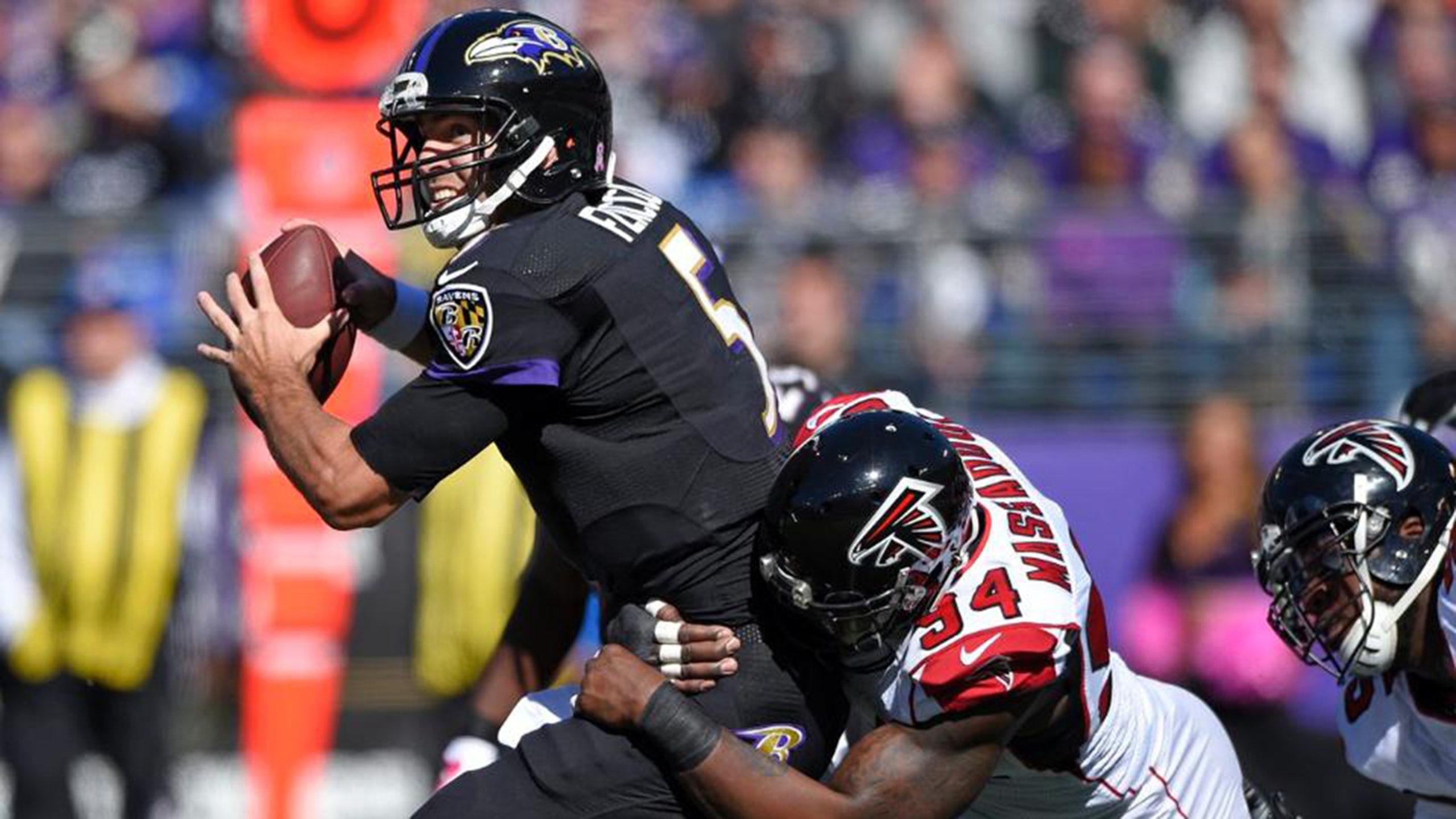 Sacks are overrated, but the Falcons need more
BY foxsports • October 22, 2014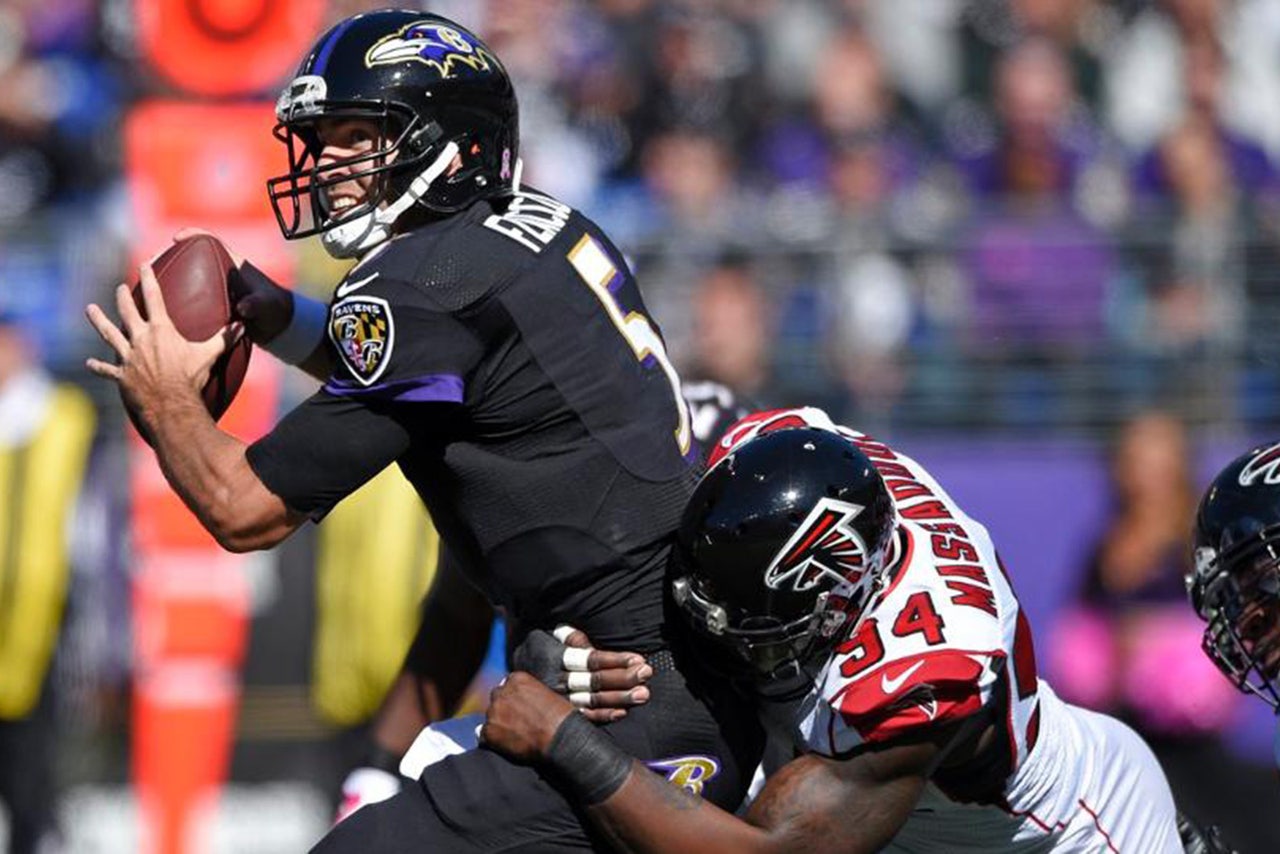 As a measure of a defensive player attacking the quarterback, the sack is an overrated stat.
It sure looks good when a defensive player crushes the quarterback. Heck, it's even delightful when the passer goes down after barely being grazed by the pass rush.
As long as the quarterback goes down behind the line of scrimmage, the defenses' job is done. Whether it's one yard or 14, the sack constitutes not only a loss of a down, but it backs an offense up and steals precious gained ground.
There are also ancillary benefits to a sack: rattling the passer on future throws, forcing the offensive line to stack protection to one side (leaving other areas vulnerable), pain and frustration.
In terms of rushing the quarterback, however, the sack isn't the only way to measure success. It's not even the best method. And Atlanta Falcons head coach Mike Smith has been preaching that sermon for years.
Smith's on record on a number of occasions stating that sacks are overrated. And he's got a ton of data to back that up.
Take for instance the team sack totals for 2014 through seven weeks.
Of the 10 teams with the most sacks, only three are division leaders: Denver, Detroit and Indianapolis. Of the remaining seven, five have losing records, and the list is riddled with the likes of Jacksonville (No. 2 with 22 team sacks), Minnesota (tied for No. 6 with 20 sacks) and the New York Jets (tied with the Vikings at No. 6).
The combined record of the Jaguars, Vikings and Jets is 4-17, but they have 13.5 percent of the NFL's sacks.
There are other ways to devalue a sack. Instead of looking at the bad teams that often pull down the opposing quarterback, look at the good teams that don't, as former Bills and Falcons linebacker turned FOX Sports analyst Coy Wire recently did.
3 #NFL defenses other than ATL's only have 7 sacks in 2014: DAL ARI SEA 2 of those teams have only 1 loss. One is reigning SB champ.

— Coy Wire (@CoyWire) October 21, 2014
Another very good team, the 2012 Falcons, finished 28th in the league with 29 sacks, but went 13-3 and played in the NFC Championship game.
Sacks are overrated. But only because pressuring the quarterback is not.
In addition to the almost perfect result of sacking the quarterback, a pass- rush can also net positive results like hurrying the passer. Forcing the ball out quicker than expected can result in an errant throw or a receiver not having enough time to get to the proper spot in his route.
There's also the pain and suffering the quarterback goes through when he's hit, but still gets the pass off. It's also bad when he's forced to scramble around and look for a receiver.
A sack isn't necessary in the NFL, but if a team's pass rush isn't resulting in any pressure either, then there's a problem.
The Falcons are ranked 28th as a pass-rush defense by Pro Football Focus. To go along with their seven sacks this season, Atlanta has 13 quarterback hits and 75 hurries.
As a point of comparison, the Ravens have the top-ranked pass-rush defense, and it's recorded 41 quarterback hits and 77 hurries to go with its 15 sacks. That's a difference of 38 total pressures, or 5.4 total pressures per game.
How much of an improvement would an extra 5.4 total pressures per game mean to the Falcons?
That kind of upswing isn't likely in 2014, but Atlanta is seeing some improved pass-rush numbers from defensive end/outside linebacker Jonathan Massaquoi.
Through five games, Massaquoi had one sack, three hurries and no quarterback hits. He wasn't putting up big numbers, and he wasn't playing a lot.
But the Falcons have been using Massaquoi more on defense. While he played 124 defensive snaps in his first five games, he's notched 96 snaps in his last two. With extra time on the field, has come increased productivity.
Bird is the Word: Falcons face tough road ahead by Fox Sports South Podcasts on Mixcloud
In his last two games, Massaquoi has a sack, five quarterback hits and five hurries.
The massive improvement on the field can be directly tied to his increased time spent attacking quarterbacks. He played just 34.6 percent of Atlanta's defensive snaps through five games, but 66.6 percent of them in his last two.
Pro Football Focus has Massaquoi listed as the second-ranked 3-4 outside linebacker in the NFL in terms of pass-rush productivity. But that's only if you search for players who have been involved in 25 percent of a team's snaps on defense.
If you use 50 percent as a filter, Massaquoi falls from the list as he doesn't have enough playing time. Because of his massive uptick in snaps played and pass-rush numbers, Massaquoi is going to remain on the field. But he's still not a complete pass-rusher.
"He (Massaquoi) put pressure on the quarterback and got a couple holding calls," Smith said on Monday. "It still felt like he left some sacks out there. The first drive we had the (pass interference penalty), which was an easy score for them. Defensively, I think he did some good things."
Massaquoi has definitely shown improvement, but he's not able to completely turn around Atlanta's pass-rush woes. As Smith said, Massaquoi left sacks on the field (sacks aren't so irrelevant when a team is playing poorly), but he's still one of the few members of the Falcons' front seven that's stepping up to put pressure on the quarterback.
The pass rush is still a problem Atlanta won't be able to fix until next year's round of free agency, and most likely the draft as well. But Massaquoi is absolutely taking steps in the right direction.
Toward the quarterback.
---
---