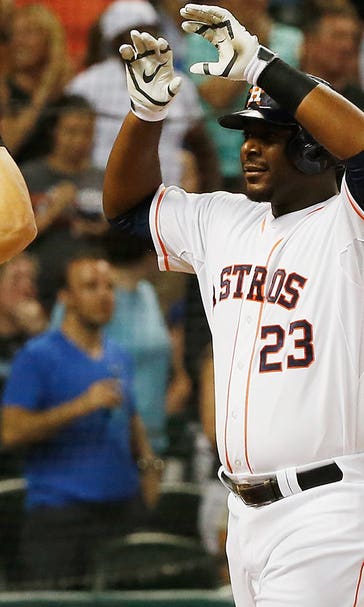 Remember when the Astros were (reportedly) a mess?
May 27, 2015

Yesterday I wrote about the Astros, and the Blue Jays. My point, which I hope you already caught, was that there's not been much fundamental difference between how well the two teams have played this season, standings notwithstanding. I also hope this wasn't taken as any sort of indictment of the Astros.
Just in case, though, let me be extra-clear about this one thing: The Houston Astros organization is well ahead of schedule in their rebuilding process, which is a testament to what management's been doing for the last few years.
Which I'm bringing up today – after writing so recently about the Astros not once, but twice – because Joe Sheehan reminded me that just over one year ago, when the Astros were struggling to win games for the fourth straight year, a long hit piece about management appeared in the local newspaper.
Okay, so maybe "hit piece" isn't fair. It's probably more fair to describe Evan Drellich's story in The Houston Chronicle as a solid piece of journalism. Maybe a little muckraking, but I can hardly complain about that. Still, I think it's only fair to unpack Drellich's piece some, now that the Astros are the first American League team this season with 30 wins.
After a few paragraphs on what the Astros were doing, there's this:
The Astros are firm in their belief that winning will fix everything, but that begets a question of how much buy-in by players and coaches is needed in advance, and how much perception and happiness matter.

"I don't think anybody's happy. I'm not," one Astros player said recently on the condition his identity not be revealed. "They just take out the human element of baseball. It's hard to play for a GM who just sees you as a number instead of a person. Jeff is experimenting with all of us."

Here's a dirty little secret: a baseball executive who doesn't see players as numbers instead of persons, at least to some real degree, isn't going to last long. Not because it's an industry or a business, but rather because it's a zero-sum competition. This doesn't mean you don't treat the players with respect. It means if you have to choose between something that makes a player happy and something that leads to more wins, you choose more wins.
Here's a little more along those lines:
"Players are people, but the Astros view them purely as property that can be evaluated through a computer program or a rigid set of criteria," one player agent said, echoing the comments of others. "They plug players into it to see what makes sense from a development or contractual perspective, and it does not engender a lot of goodwill in the player or agent community.
--snip--

"I think the key thing is you got to be able to have the information to make a positive decision on them," agent Scott Boras said of how he views contract offers to players with little service time. "I view it as something you have to (have) very carefully analyzed, because normally when they're offering it that early, it's for a very consistent reason. And normally it's not one that's value to the player."*

* Aside: A little later in the piece, Boras says, "I don't tell organizations what to do." Heh. Was there some policy change last winter?
The poster boys for the Astros playing around with service time and long-term contracts for young players? Jose Altuve, George Springer, Robbie Grossman, and Matt Dominguez. Altuve signed, which is exceptionally fortunate for the Astros. Springer did not, and the jury's still out on that one (although he still figures to do quite well).
But Grossman and Dominguez were reportedly offered about $14 million apiece, for (around) six years, with options to cover free-agency years, and both demurred.
Were those offers somehow unfair? Were they "not of value to the players"? Well, Dominguez followed up a fine 2013 with a lousy 2014, and now he's struggling in Triple-A. I'll take the under on $14 million for his career earnings. Grossman's back in the minors, too; at 25, he's now looking an awful lot like a replacement-level sort of fifth outfielder, and there's less room in the majors for those guys than ever before. He's not yet earned a million dollars in his career, and I'll take the under on this one, too.
Look, I don't mean to suggest that management didn't see Grossman and Dominguez as numbers, at least in one sense. But while baseball's hardly a perfect meritocracy, it comes about as close as anything else in the world except maybe individual sports like golf and tennis. Management offered Grossman and Dominguez those contracts because the numbers worked, for the club. And Grossman and Dominguez might someday conclude, if they're able to be honest with themselves, that the numbers worked for them, too. Even if they and their agents didn't know it then.
Aside from top Astros management, only three interviewees associated with the Astros are quoted by name in the piece: Bud Norris, Jed Lowrie, and Jarred Cosart.
The Astros traded Norris to the Orioles in 2013, before he started making real money. Since then, he's been significantly worse than league-average, with an 86 ERA+.
Lowrie, then with the A's, signed a three-year contract with the Astros last winter.
Just a couple of months after Drellich's story ran, the Astros traded Cosart and a minor leaguer to the Marlins for Jake Marisnick, two minor leaguers, and a 2015 draft pick. Cosart pitched well for the Marlins after the trade last summer, but hasn't pitched well at all this spring; considering his low strikeout rate and high walk rate – not to mention Marisnick's performance this season – we might guess the Astros aren't missing him much.
It's never easy to distinguish between sour grapes and legitimate issues, and in fact sometimes that distinction isn't worth making. But the obvious response to Drellich's piece was that the critics would largely fade away when the Astros started winning.
Which seems to be exactly what's happened.    
---
---