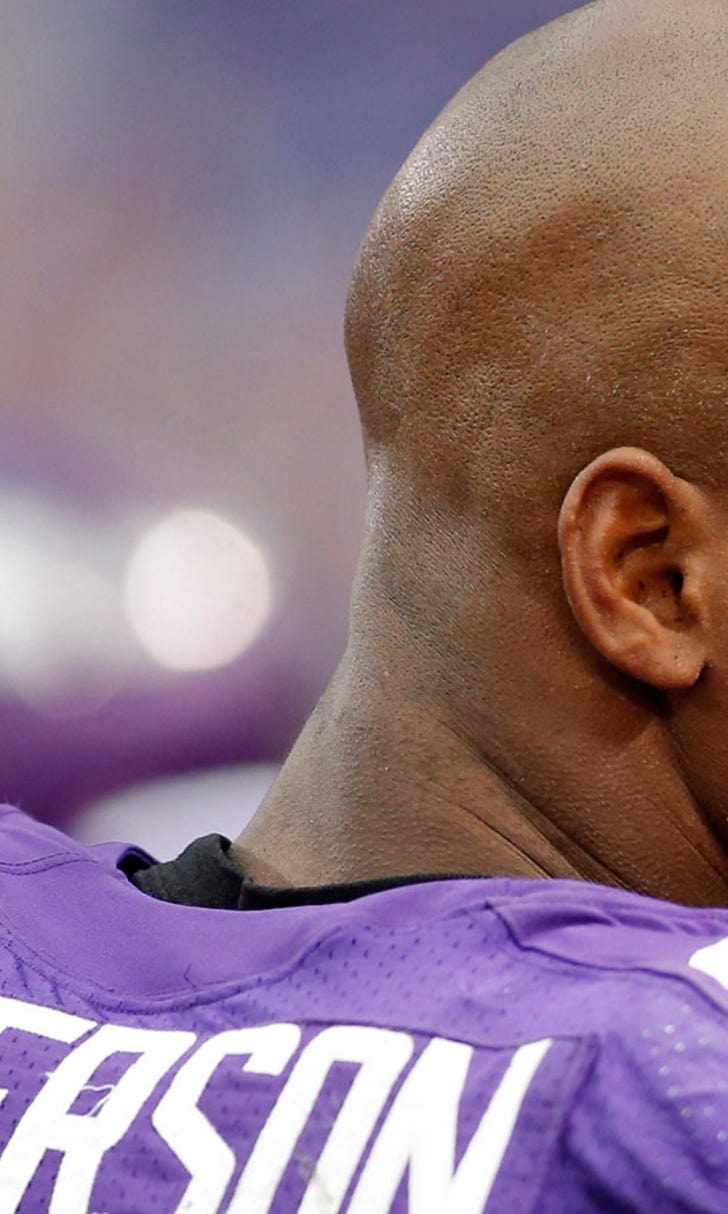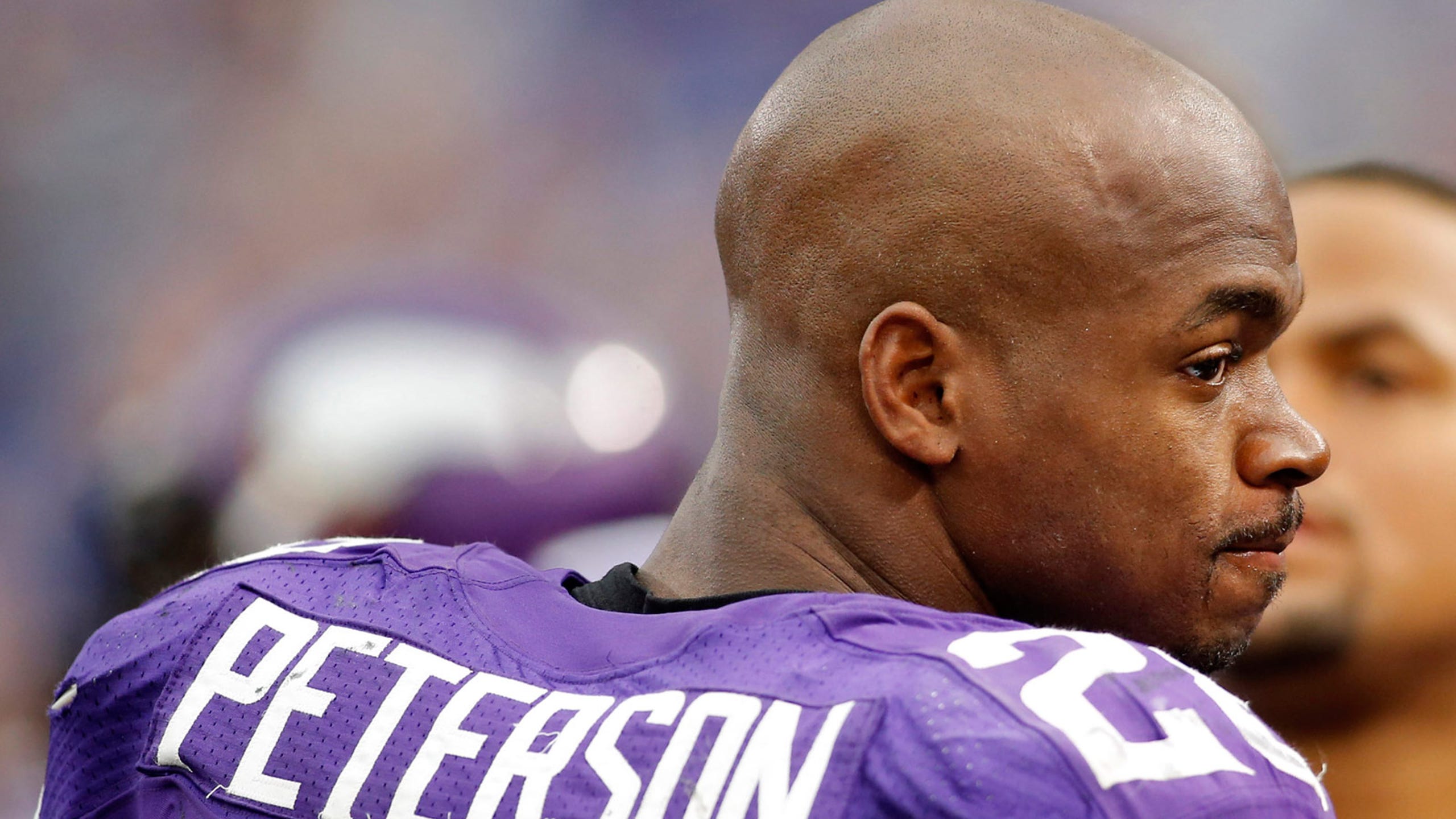 Realization of life without Peterson comes into focus for Vikings
BY foxsports • November 19, 2014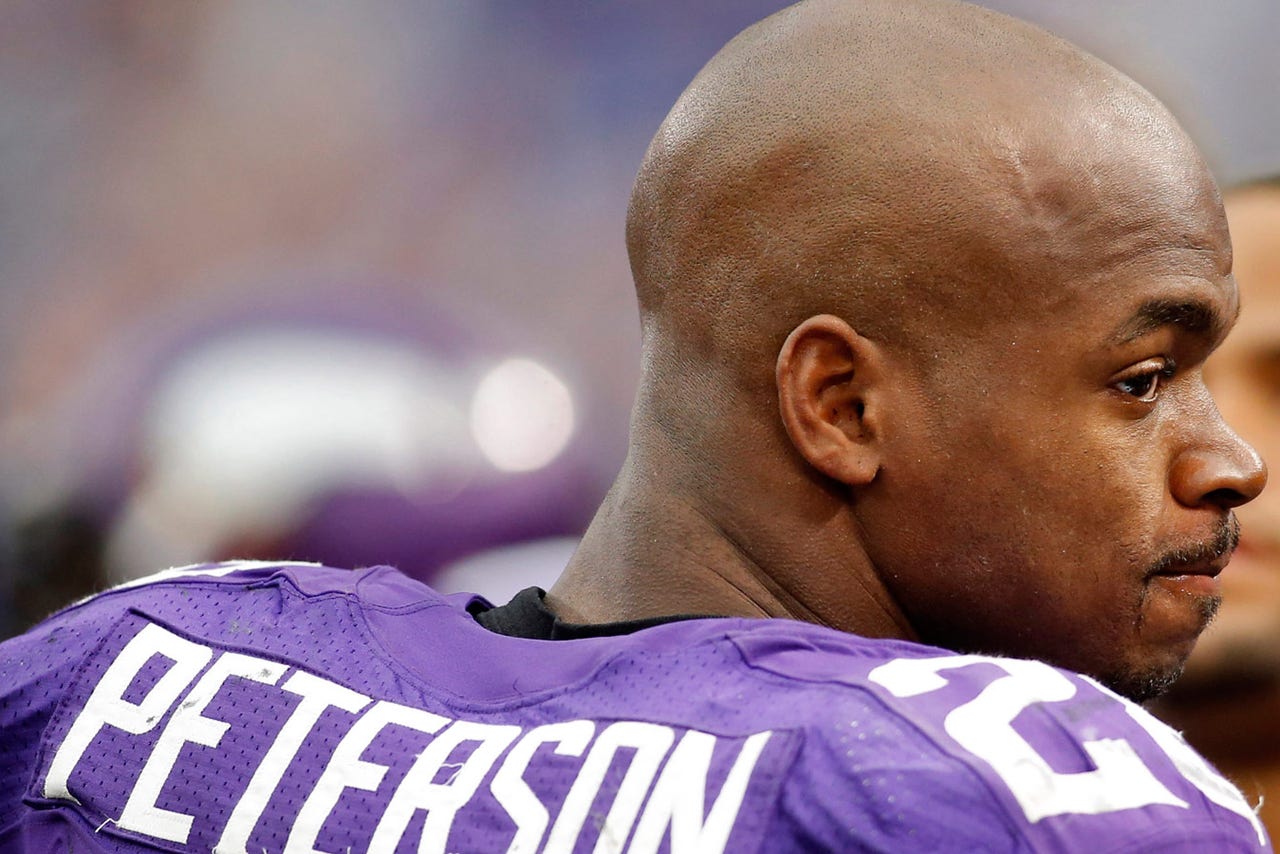 EDEN PRAIRIE, Minn. -- For 10 weeks and nine games the Minnesota Vikings were without running back Adrian Peterson. The franchise's all-time leading rusher was left to converse with teammates via the occasional phone call or text message while he was away from the team to handle his legal case for injuring his 4-year-old son.
Peterson and his teammates hoped for a quick reunion. Many held to the belief Peterson would be back with Minnesota this season.
NFL commissioner Roger Goodell's weighty punishment Tuesday -- suspending Peterson for at least the rest of the 2014 season -- left a Vikings locker room to move on without its suspended star.
"I think most of us were optimistic that he was going to come back -- at least I know I was," cornerback Josh Robinson said. "I was optimistic that he was going to return. In the end, the top guy says something and all we can do is go with what he says."
Some players have taken issue with Goodell's decision to suspend Peterson for six games and not consider reinstatement until April 2015, since Peterson already had to miss nine games this season.
Peterson was placed on the commissioner's exempt list in November after being charged with injury to a child for disciplining his son with a wooden switch. He pleaded no contest to misdemeanor reckless assault two weeks ago, hoping to speed up his return to the team this season.
Fullback Jerome Felton, who has spoken with Peterson several times during the process, said he's not sure if Peterson regrets agreeing to a plea in courts after being suspended for the rest of the season anyway.
"I would," Felton said. "I'm sure if he knew this would be the outcome he probably would have fought it to the end. I don't know. I can't speak for him."
League executive Troy Vincent reportedly said Peterson's time on the exempt list would act as time served. But Goodell decided more action was necessary. Peterson was paid while he was on the exempt list. He won't be paid while suspended.
"I don't agree with it," Minnesota cornerback Captain Munnerlyn said. "He missed nine games already. But at the end of the day, the NFL came up with that decision so we have to live with it."
The handling of Peterson's case and the league's unwillingness to reinstate Peterson from the special commissioner's list has brought out questions from players regarding Goodell's power and the use of the exempt list.
"I think at this point I would not expect any player to voluntarily go on it from this point forward," Felton said.
The NFL Players Association is appealing the suspension and asking for a neutral arbitrator, but Peterson will remain on the exempt list until the appeal is heard.
Felton said the situation could also affect the current standing with the union and head DeMaurice Smith.
"When votes come (and) people talk about what needs to change, that'll definitely be something that's talked about, because it quite frankly needs to be changed," Felton said. "Whether that'll be now or in seven years, I don't know."
The Vikings released a vague statement Tuesday after the suspension was announced, saying it "respected the league's decision."
First-year head coach Mike Zimmer had expressed support of Peterson throughout the process and he said his feelings haven't changed in light of the suspension.
"Not really much has changed," Zimmer said. "I still say exactly what I've said before, that I support him and his family. He was great with me. But other than that, our focus is on Green Bay and we've got to move forward. It's just the way life is."
Minnesota has been dealing with Peterson's absence since the charges first came to light days before the team's Week 2 game. Players said the topic has continued to be on their mind, but Zimmer has appreciated the way his team has handled the possibility of distractions and said the team has approached Peterson's absence "one day at a time."
"This team has been through a lot of things this year, and I think for the most part they've stayed focused very well," Zimmer said. "So I think that we just keep pounding the message about what we're trying to do here and what we're trying to accomplish as far as what kind of football team, what kind of organization that we want to have. So, the overriding message just keeps going on and on."
Like Peterson, the Vikings were left to wait.
Without Peterson, Minnesota has the 30th-ranked offense in the NFL and more responsibility has fallen onto rookie quarterback Teddy Bridgewater, who took over in Week 3 for injured starter Matt Cassel.
Another rookie, Jerick McKinnon, has become the starting running back in Peterson's place and has rushed for a team-leading 484 yards and a 4.9 yards-per-carry average. But the Vikings haven't had the consistent running game or big-play threat provided by Peterson, who is two seasons removed from winning the NFL MVP and rushing for the second-most, single-season yardage in NFL history.
"I guess it is a sense of knowing that it is over with; kind of, I guess, puts people at ease," McKinnon said. "It's not what we wanted, but at the same time, we hope that he gets another shot. Great player, great mentor and I'll still look up to him."
Waiting 10 weeks for a resolution was difficult. The final answer -- at least before Peterson's appeal -- didn't come much easier.
"I think it's always been on our minds," Robinson said. "I think we've always, of course, wanted him back. But we knew it was going to go through a lot of different situations and all we could do is sit back and wait on it all to be done. And now that they've made their decision, all we can do is just move on."
Follow Brian Hall on Twitter
---
---