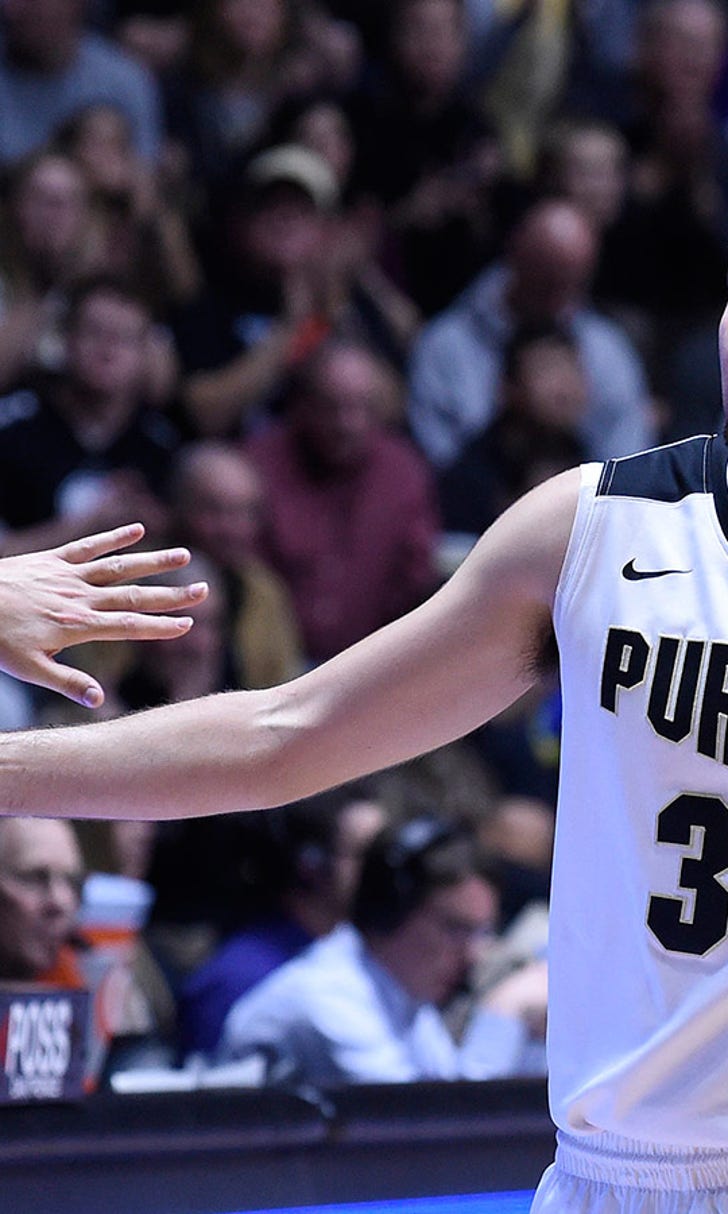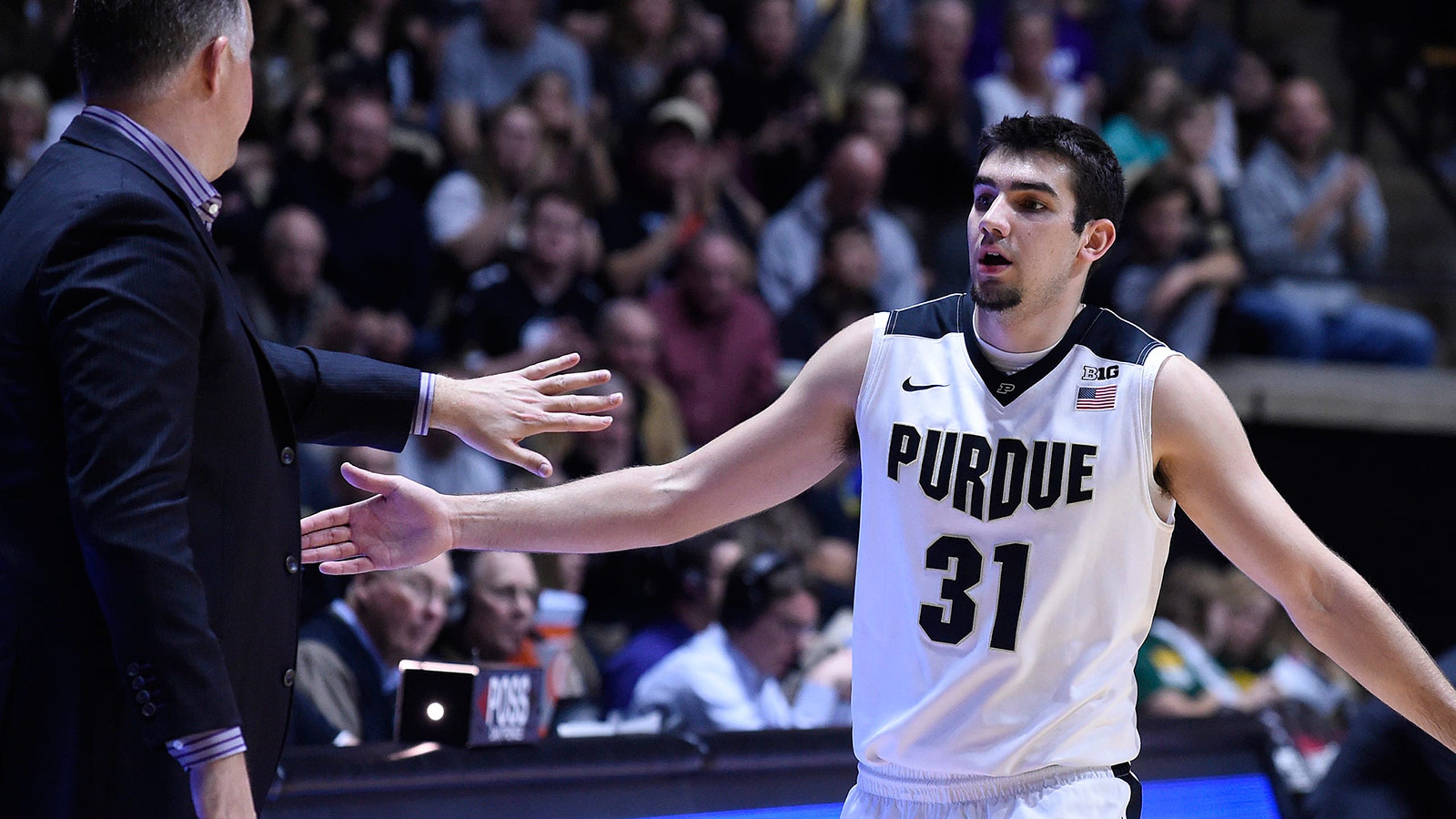 Purdue sinks school-record 18 3-pointers in 107-79 win over Vermont
BY foxsports • November 15, 2015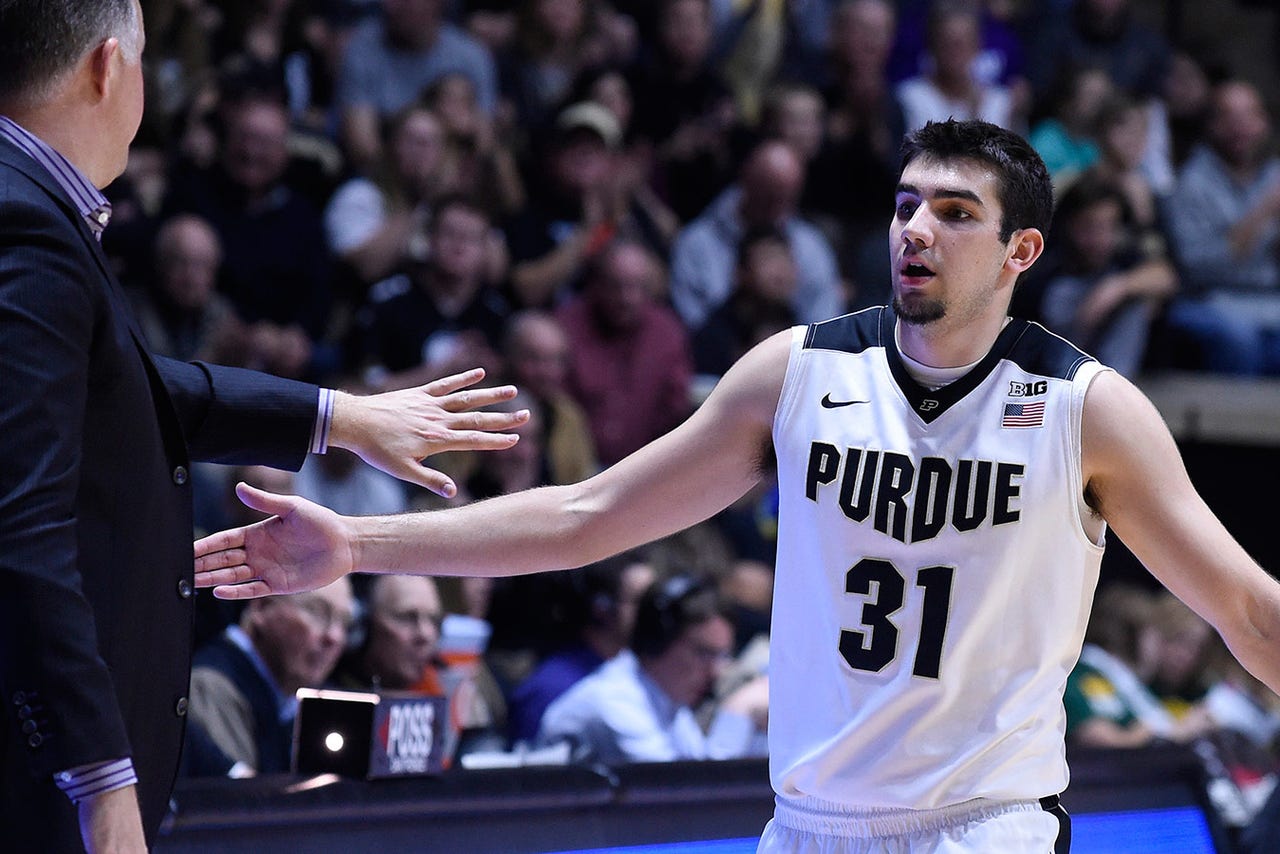 WEST LAFAYETTE, Ind. -- With two 7-footers and 6-9 McDonald's All-America Caleb "Biggie" Swanigan, No. 23 Purdue has the potential to dominate the interior.
But through two games, including Sunday's 107-79 victory over Vermont in the Naismith Hall of Fame Tipoff, it has been the Boilermakers' uncanny 3-point shooting that has been even more impressive than their big men.
Dakota Mathias scored 17 points, including going 5 of 7 from 3-point range, and Purdue made a school-record 18 threes, besting the 16 the Boilermakers made on Feb. 7, 1998, in a Big Ten victory at Ohio State.
"The guys and the coaching staff were on me to go ahead and shoot," Mathias said. "I have to bring that to the court. I did today, and the shots went down. We can be really good with our inside presence and guys' ability to shoot."
Vince Edwards' 3-pointer from the left wing with 8:27 remaining broke the record and extended the Purdue lead to 91-64.
"You saw today how dangerous (3-pointers) could be," said Edwards, who made 4 of 5. "Last year, we never had a game when we all clicked on 3-pointers. Today was that day, and we set a school record. We are going to continue to be ready, and we have to knock down shots."
Isaac Haas, a 7-2 sophomore center, added 16 points, Swanigan finished with 14 points and 13 rebounds, Edwards scored 14 points, Rapheal Davis had 12 and Kendall Stephens scored 11 for Purdue (2-0), which is 30 of 67 from 3-point range (44.8 percent) in two games. Last season, the Boilermakers made 32.1 percent of their 3-point attempts.
Stephens and Haas scored 11 points each in a 60-point first half.
The Boilermakers, who defeated North Carolina A&T 81-40 in their Friday night opener, made 10 of 19 3-point attempts in the first half against Vermont, with six players making at least one.
Ernie Duncan led Vermont (0-2) with 18 points, and Trae Bell-Haynes added 17.
Purdue raced to a 17-4 lead only 5:40 into the game and was never seriously threatened, enjoying a 60-45 halftime lead. The Boilermakers made 17 of 31 field-goal attempts (54.8 percent), including 52.6 percent from beyond the arc, in the first half.
A.J. Hammons, Purdue's 7-foot senior center and leading returning scorer, was benched for a second consecutive game by coach Matt Painter, who has not given a reason why Hammons has not played. Hammons is neither injured nor in trouble with law enforcement. The benching is not expected to be prolonged.
"It's an internal thing, and hopefully, he can get things taken care of and play Wednesday night," Painter said. "We're trying to help him."
Even without Hammons, Painter liked his team's offense.
"Vermont helped with our low man and protected the paint," Painter said. "Tonight, we had the right guys shooting the threes, which was good to see. We have to have that balance between inside and outside."
The Boilermakers increased their lead to 68-52 on consecutive 3-pointers by Edwards and Swanigan with just over 15 minutes remaining. A dunk by Swanigan and a 3-pointer from Mathias expanded the lead to 75-54 with 12:44 remaining, promoting a Vermont timeout.
"I thought Stephens, Mathias and Ryan Cline could shoot, but with their big men, you have to do something," Vermont coach John Becker said. "We tried to take away their bigs and keep them under control. Then, they make 18 threes. I don't know the last night someone had 18 against us."
TIP-INS
Vermont: Purdue honored Catamounts recruit Josh Speidel of Columbus, Indiana, in a touching pregame ceremony. Speidel suffered serious injuries in an automobile accident on Super Bowl Sunday and is still receiving therapy for a brain injury. He played AAU basketball with Purdue freshmen Ryan Cline and Grant Weatherford. ... Duncan, a redshirt freshman, is from Evansville, Indiana.
Purdue: Purdue has won eight consecutive home games, including the final six of 2014-15. ... When North Carolina A&T was 0 of 15 from beyond the arc on Friday, it marked the first time since Dec. 4, 2010, at Alabama, that an opponent failed to make at least one 3-pointer, a stretch of 161 games. ... Purdue is 35-1 in November home games during Painter's 11 seasons at his alma mater.
STAR POWER
Swanigan has double-doubles in his first two college games. He had 11 points and 11 rebounds in the opener against North Carolina A&T and 14 points and 13 rebounds against Vermont. He has made 3 of 7 attempts from 3-point range.
RISING STAR
Cline, who considered redshirting, has made 7 of 13 shots from 3-point range, in Purdue's first two games and is averaging 11 points a game.
QUOTE OF THE NIGHT
"We have to be a lot better defensively when we sub, but come to think of it, our starters are going to have to be a lot better, too, especially containing the dribble," Painter said on giving up 79 points to Vermont after allowing only 40 on Friday.
UP NEXT
Vermont: Hosts Quinnipiac on Wednesday.
Purdue: Hosts Incarnate Word on Wednesday.
---
---