Prime Ticket, FOX Sports San Diego to televise 70 Anaheim Ducks games during 2018-19 season
September 14, 2018
Prime Ticket/FOX Sports West and the Anaheim Ducks announced today the club's local television schedule for the 2018-19 National Hockey League (NHL) regular season.

All 82 regular season games will be televised locally for the eighth consecutive season and ninth time in franchise history.

Seventy games will be carried live on FOX networks, including Prime Ticket and FOX Sports West as well as four games on KCOP-TV locally. FOX Sports San Diego will air all Ducks games broadcast on Prime Ticket and FOX Sports West for the San Diego market.

Eight additional games will also air nationally on NBC Sports Network. Ahead of the regular season, Anaheim's preseason games on Thursday, Sept. 20 vs. San Jose and Wednesday, Sept. 26 vs. Los Angeles will be broadcast on Prime Ticket locally as well as FOX Sports San Diego for fans in the San Diego region, bringing the 2018-19 broadcast total to 84 games.

All games produced by the regional sports networks will again be streamed live on the FOX Sports App.

https://twitter.com/FoxSportsWest/status/1040682673268617223

John Ahlers returns for his 17th season as the Ducks television play-by-play voice, having called 1,061 regular-season games since joining the club in 2002 and recently celebrated his 1,000th regular-season Ducks game on Nov. 12, 2017 vs. Tampa Bay. An original member of the team (1993-94), Brian Hayward opens his 26th consecutive season as the Ducks' color analyst, having called 1,550 regular-season games with the franchise. Ahlers and Hayward will return to the broadcast booth for their first telecast of 2018-19 on Thursday, Sept. 20 when Anaheim hosts the San Jose Sharks in the club's second preseason game (6:30PM pre-game show).

'Ducks Live' returns prior to and immediately following all home and road telecasts on Prime Ticket and FOX Sports San Diego. Kent French and Mike Pomeranz will again rotate at the host position, sitting alongside Hayward to offer viewers further analysis. Guy Hebert joins Hayward to provide analysis for all home shows as well. In addition, French and Jill Painter-Lopez will rotate to offer updates and reports throughout each telecast on the regional sports networks. Connected original, fast-paced and fun, the half-hour program brings fans closer to the team with player and coach interviews, game analysis and much more.

From the production truck, Bob Sipowich will produce all Ducks games for the regional sports networks; while Tom Connole serves as director.

Additionally, Prime Ticket and FOX Sports San Diego will deliver the following original Ducks programs to start the season: 'Anaheim Ducks Season Preview' debuts Wednesday, September 26 at 10PM, immediately following LA Kings vs. Ducks preseason coverage on Prime Ticket and at 11PM on FOX Sports San Diego; 'Ducks Weekly,' returning for its seventh season, will debut Saturday, October 13 at 8PM, following Ducks vs. Dallas Stars.

https://twitter.com/AnaheimDucks/status/1040650842024554497

In addition to telecast coverage on Prime Ticket, FOX Sports San Diego and KCOP-TV, all Ducks games on the FOX networks will also be available on the FOX Sports App.

The FOX Sports app, available to iOS and Android devices, provides live streaming video of FOX Sports content along with highlights and instant alerts for scores and key plays. Fans can download the mobile app for free from the Apple App Store and Google Play. Streaming on the FOX Sports app is also available on connected devices, including AppleTV, Android TV, FireTV, Roku and Xbox One.

The complete 2018-19 Anaheim Ducks television schedule can be found below, which is subject to change.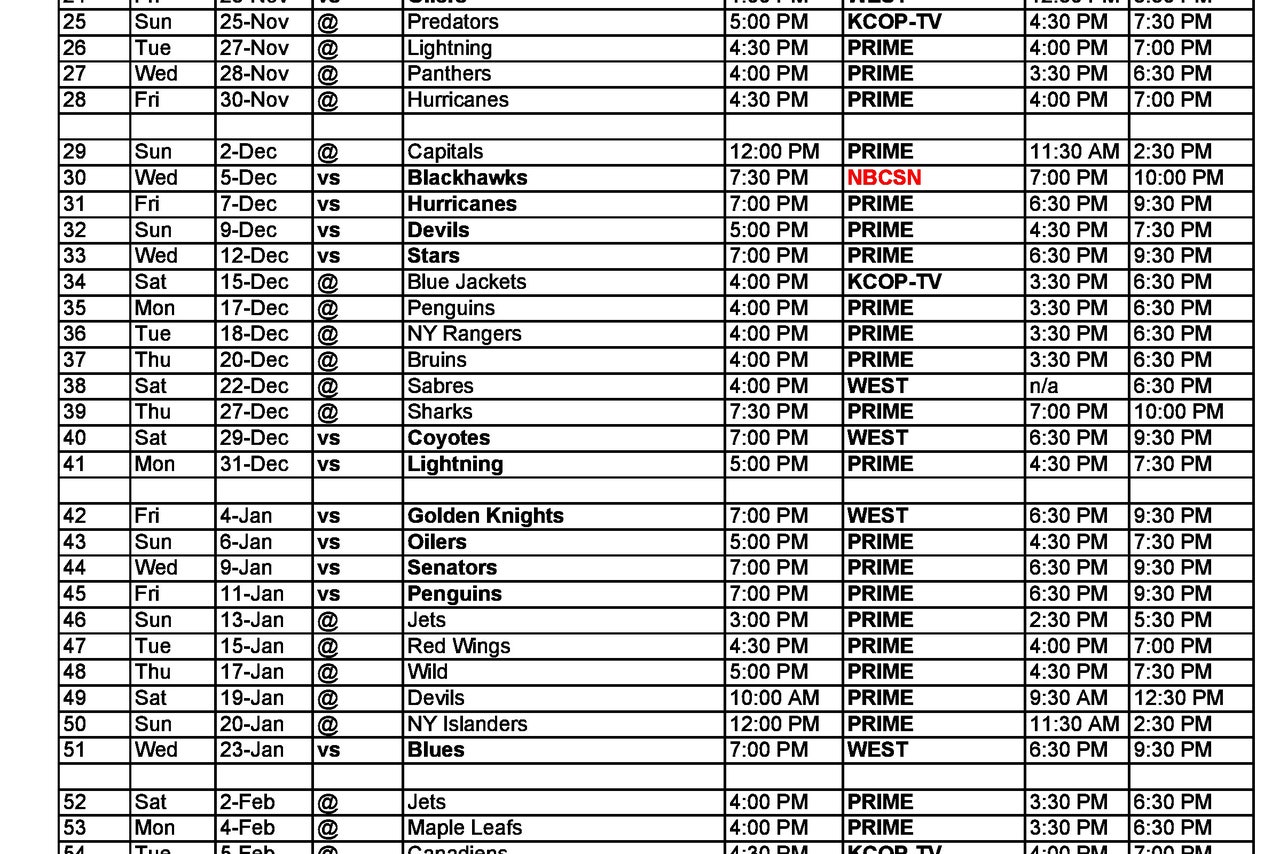 ---
---