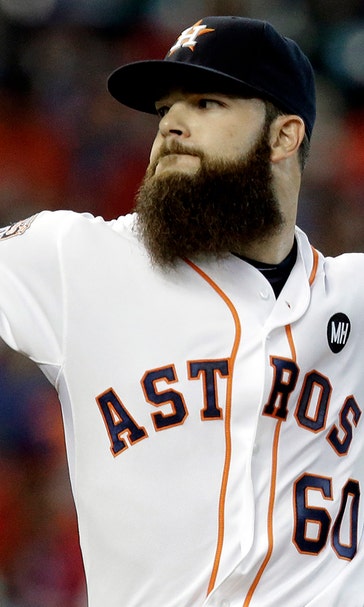 Preview: Brewers vs. Astros
BY foxsports • April 9, 2016
An awkward ending to their latest defeat only elevated the early frustration level of the Houston Astros.
They'll look to regroup and avoid a fourth consecutive loss Saturday night against the Milwaukee Brewers at Miller Park.
After being blanked for eight innings, Houston (1-3) scored four times in the ninth and looked for more with one out in the ninth Friday when Colby Rasmus was called for interference on the "Chase Utley rule," at second base. The result was a game-ending double play and a 6-4 defeat.
Rasmus was called for not trying to stay on the bag, part of the requirement under baseball's new rule governing slides on potential double plays.
"My interpretation is that it's a shame," a fuming Astros manager A.J. Hinch said. "The game ends on a play that the rule isn't intended to protect."
Ace Dallas Keuchel made his displeasure known via Twitter.
"Are we even playing baseball anymore??? Unbelievable," he tweeted.
The incident exacerbated the early troubles for the Astros, who have allowed 33 runs, own an 8.73 ERA and already struck out 42 times at the plate.
Following his second straight three-hit game, rookie first baseman Tyler White remains one of the few positives for Houston. He's 9 for 13 with two homers and seven RBI.
"I'm just going out there and playing my game and enjoying being out there and enjoying playing with these guys," he told the Astros' official website.
After Keuchel allowed two runs in seven innings of Tuesday's 5-3 win at Yankee Stadium, Houston's next three starters have a 13.50 ERA. Doug Fister hopes to halt that trend when he makes his Astros debut and first start since Aug. 3 -- after which he pitched out of Washington's bullpen.
The right-hander, who won a career-high 16 games for the Nationals in 2014, went 4-7 with a 4.60 ERA in 15 starts for them last year. Despite going 1-1 with an 8.27 ERA in five spring training starts, he earned the fifth spot in Houston's rotation.
Fister's only start against the Brewers (2-2) came in 2010.
Scooter Gennett had a hit in his only at-bat against Fister, and is 5 for 13 through four games.
"I feel good," said Gennett, who homered for the second time this week. "For the most part I am swinging at good pitches."
Ex-Astro Chris Carter homered for the second time in as many games in his first meeting against his former club since signing with the Brewers in the offseason.
Milwaukee's Wily Peralta hopes to fare better in this contest after he gave up four earned runs and six hits in four innings of a 12-3 loss to San Francisco on Monday.
"They just put some good at-bats against him," Milwaukee manager Craig Counsell said of Peralta, who has a 10.66 ERA while losing his last three starts.
The right-hander has never faced Houston.
Peralta's former Brewers teammate Carlos Gomez recorded his second straight 2-for-4 contest in his first game since Milwaukee traded him to Houston in July. Gomez said before Friday's game that he would like to retire as a member of the Brewers, with whom he spent five-plus seasons.
"The best of the memories, the best of my career, is in the Brewers uniform," he said.
---
---