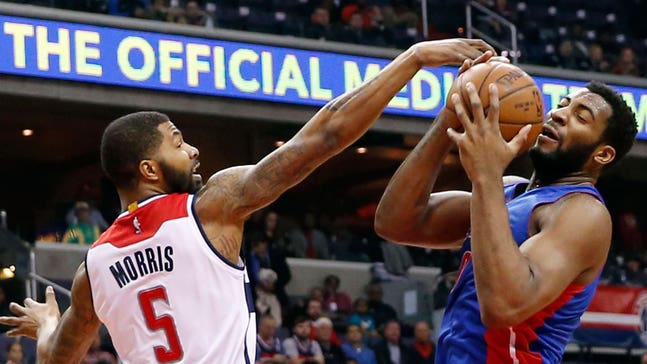 Pistons take it on the chin in Washington 124-81
Published
Mar. 15, 2016 7:42 a.m. ET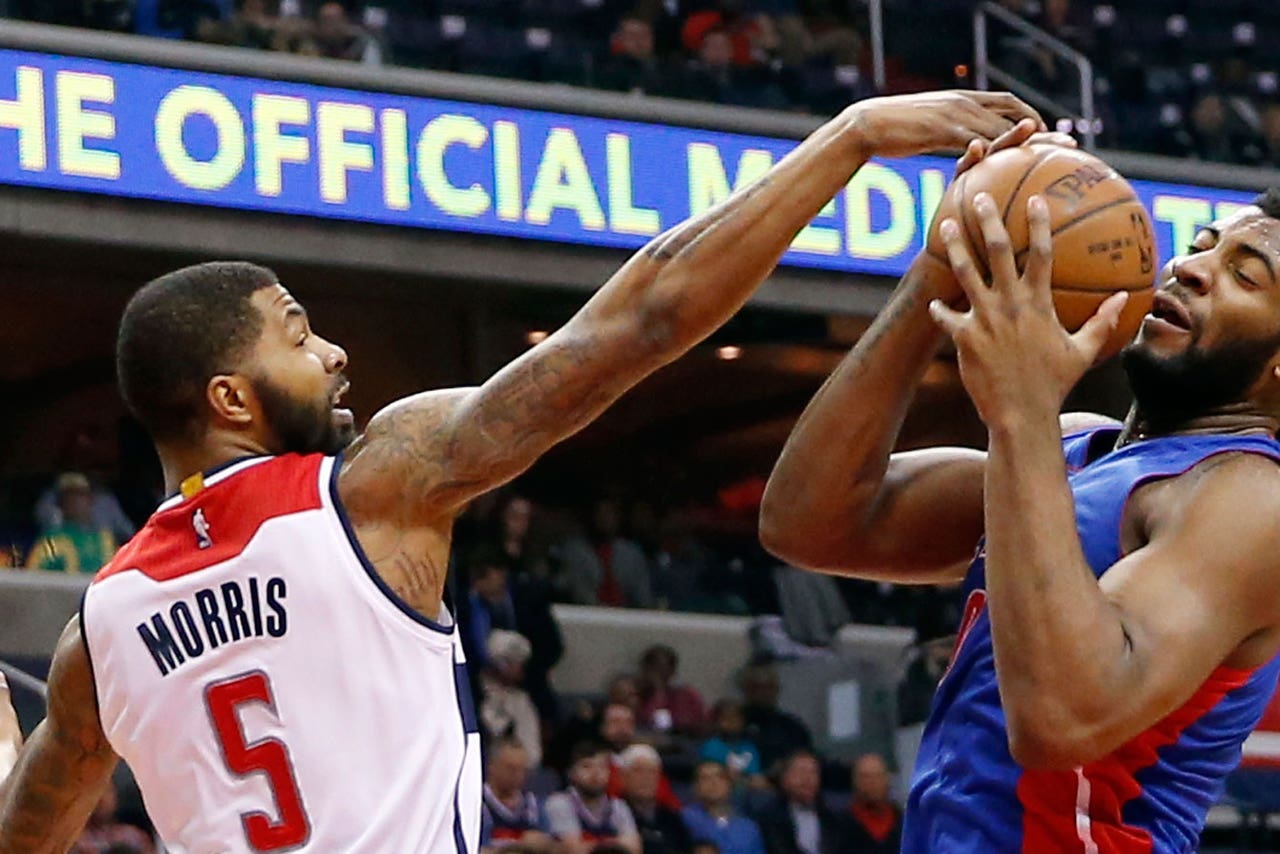 WASHINGTON (AP) -- After the Wizards' most dominant win in more than a decade, John Wall said an adjustment by coach Randy Wittman could turn Washington's season around.
Wall had 15 points and 12 assists as the Wizards routed the Detroit Pistons 124-81 Monday night to snap a five-game skid and gain ground in the playoff race.
Following a performance that allowed the All-Star guard to sit out the entire fourth quarter, Wall credited the victory to a new approach to defending the pick-and-roll, a trouble spot throughout the season.
"Just everybody coming in focused, locked in, and Coach simplifying what he wanted us to do," Wall explained. "We took away lobs, we took away extra penetration, and being in position helped."
Nene scored a season-high 20 points off the bench to lead seven Wizards players in double figures in Washington's largest victory since blowing out Boston by 45 points during the 2002-03 season.
Bradley Beal added 12 points in his return after missing three games with a sprained pelvis, helping 10th-place Washington (31-35) close within 2 1/2 games of a playoff spot after losing ground last week.
Chicago (33-32) leads Detroit (34-33) by a percentage point for the eighth and final Eastern Conference berth.
"We can't get this last week back," Wittman said. "As I told them, remember this, learn from it. They were locked in."
After the Wizards reached the Eastern Conference semifinals last season, missing the playoffs this year could cost Wittman his job.
But Wall thinks Wittman's move, which came after Washington allowed 100 or more points in five consecutive defeats, could lead to a turnaround.
"In the games we lost, all teams did was run pick-and-roll for most of the game, and we couldn't find a way to stop it," Wall said. "When we do the way we did tonight, . helping, chipping, taking away passing lanes and driving lanes, it makes the defense a lot tougher."
Kentavious Caldwell-Pope scored 18 points for the Pistons, who were handed their worst loss of the season and fell to 0-3 against the Wizards.
Darrun Hilliard added 10 points off the bench for Detroit, which shot 13 percent (3 of 23) from beyond the arc while allowing at least 110 points for the third straight game.
"Look, they dominated," Pistons coach Stan Van Gundy said. "I'm not going to do a lot of analysis on this. There is none."
Washington opened the game on a 30-7 run as the Pistons hit just one field goal over a 7:55 stretch. Before even 5 minutes were gone, Van Gundy had burned two timeouts in a 54-second stretch.
Detroit made only two of its first 15 shots, missed its first seven 3-pointers and committed six of its 21 turnovers during the first period, including three on unforced traveling violations.
The Pistons begin a franchise-record nine-game homestand Wednesday.
"That means nothing," Van Gundy said. "You play like that, you'll go 0-9."
DRUMMED OUT
Washington did another strong defensive job on Detroit center Andre Drummond, who finished with seven points and 12 rebounds. Drummond has 26 points in three games against the Wizards. He's averaging 16.7 points per game overall.
FREEZE FRAME
The Verizon Center scoreboard froze during the fourth quarter with 2:22 remaining and the score reading 119-77. The public-address announcer called out the score during the final stretch.
TIP-INS
Pistons: Steve Blake's 3-pointer from the left wing was the Pistons' first of the game and it closed the score to 39-18 early in the second quarter. ... The Pistons were held to 15 points in a quarter by Washington for the second time this season.
Wizards: G-F Alan Anderson (ankle surgery) played after sitting out Saturday but took another knock and had to be limited, Wittman said. ... F Kelly Oubre received a noticeable hand from the home crowd when he entered during the fourth quarter, with one fan holding a sign reading "(hash)freeOubre."
UP NEXT
Pistons: Home against Atlanta on Wednesday.
Wizards: Home against Chicago on Wednesday.
---
---