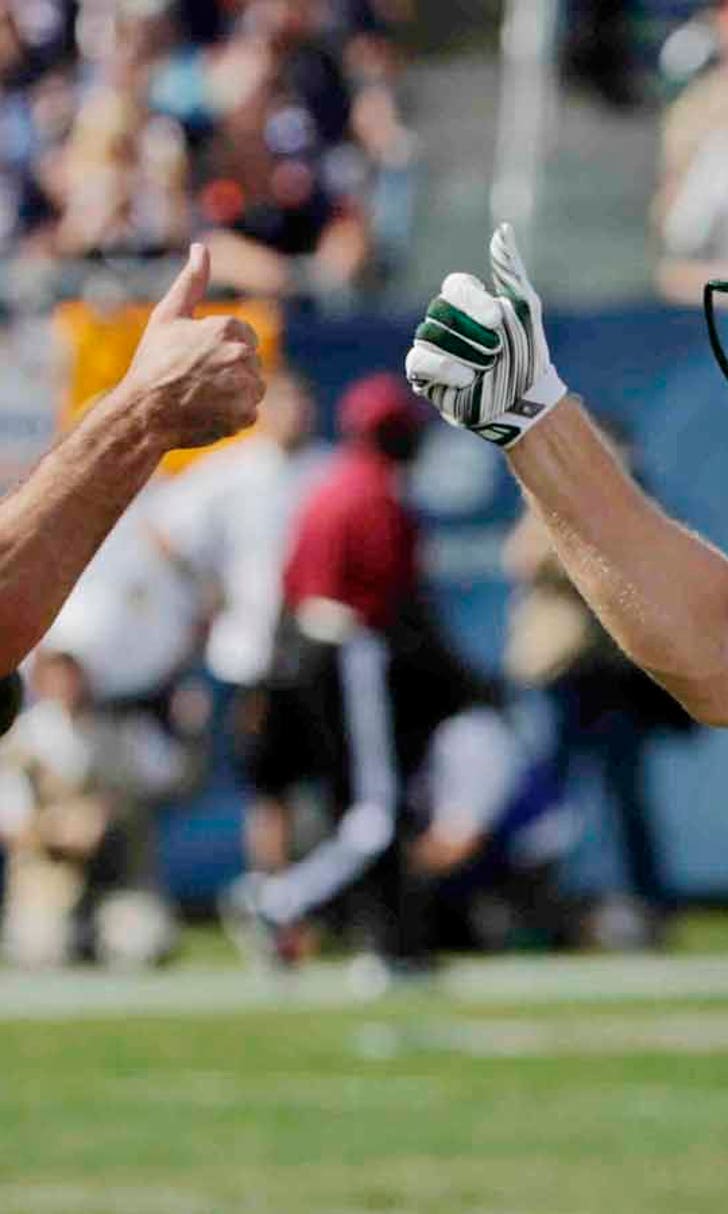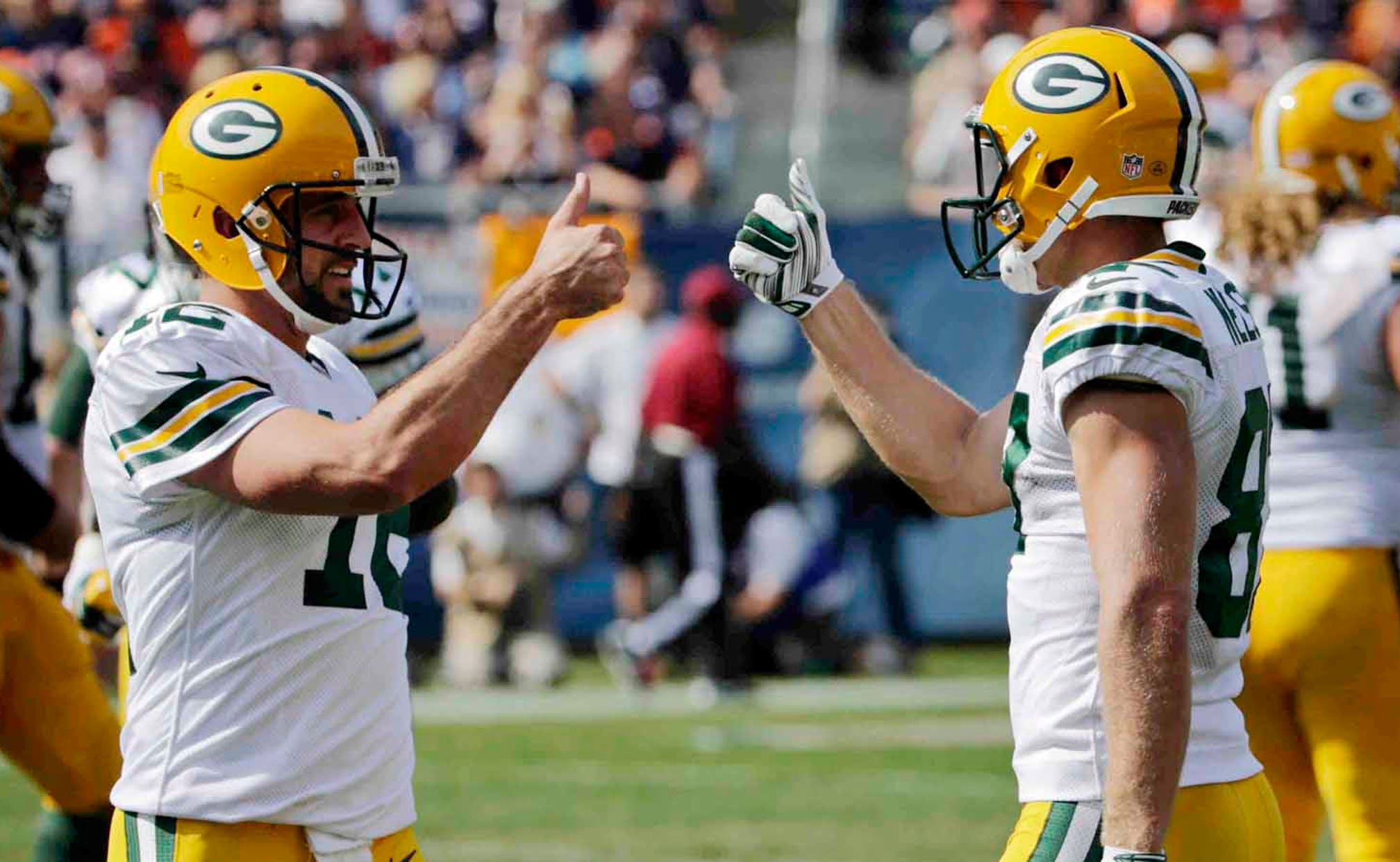 Packers report card: Rodgers back in elite form in win
BY foxsports • September 29, 2014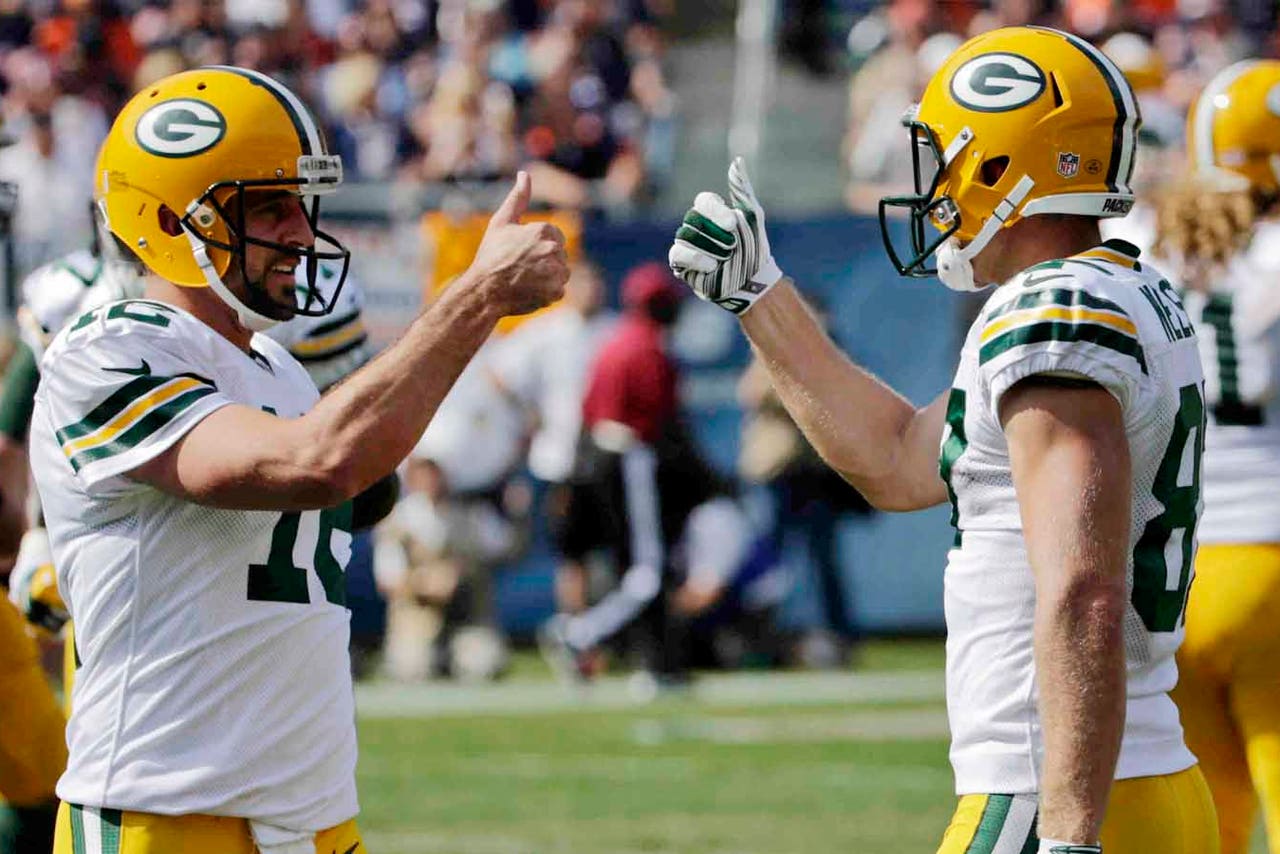 Handing out grades following the Green Bay Packers' 38-17 road win over the Chicago Bears in Week 4 of the 2014 season:
Passing Offense: A-plus
It was one of the best performances of Aaron Rodgers' career. Rodgers put the pressure on himself with his "R-E-L-A-X" comments and delivered in true MVP fashion. He completed 22 of 28 passes for 302 yards with four touchdowns, no interceptions and a near-perfect 151.2 passer rating. The only time Rodgers ever had a better passer rating in his career was Week 7 of the 2009 season in a win at Cleveland.
The pass protection for Rodgers was very good, as the Bears didn't have a single official QB hit. The only time Chicago touched Rodgers was when he extended the play and launched what would've been an all-time career highlight touchdown pass to Davante Adams. However, it was called back due to a penalty. The box score makes it appear as if Rodgers was sacked once, but that was when he ran out of bounds for a zero-yard loss (and yes, that still counts as a sack).
Jordy Nelson continued his tremendous start to the season, once again leading the Packers in receptions (10) and targets (12). Two of those catches were for touchdowns, as Nelson finished with 108 receiving yards. However, for the first time this year, Nelson actually had some help. Randall Cobb busted out of his mini-slump with seven catches for a team-high 113 receiving yards and two touchdowns. Cobb's juke move in the open field on rookie cornerback Kyle Fuller was an incredible athletic feat. The combination of Nelson and Cobb each having at least 100 yards and two touchdowns was the first time that a Green Bay receiver duo has done that in a game since 1969 when Carroll Dale and Boyd Dowler accomplished it.
Ultimately, this was Rodgers' game. It offered proof (after there had been some doubts) that Rodgers is still very much an elite quarterback who's capable of lifting the team up on his right shoulder and leading the Packers to a much-needed win.
Rushing Offense: D-plus
While Rodgers bounced back, Eddie Lacy still hasn't. Lacy's sophomore-season struggles continued, rushing for 48 yards on 17 carries (2.8 average). It seemed like Lacy made a couple questionable reads and cutbacks. That would play into the idea from Lacy's post-game comments in Detroit that he's unsure whether to speed up or slow down and that it's started to weigh on his decision-making. Lacy did not talk with reporters after the game. There's no doubt he's frustrated, even though he did finally score his first touchdown this season.
Josh Sitton, coming off a rare sub-par performance in Week 3, did a great job blocking for Lacy. According to data from ProFootballFocus, 12 of Lacy's 17 carries went inside left. When running between Sitton and center Corey Linsley, Lacy had the most success with 34 yards on nine rushing attempts (3.8 average). However, Lacy rarely ran to the right side of the offensive line and had no success when he did. In five rushing attempts to the right, Lacy had seven yards (1.4 average).
James Starks played just one snap and had no carries, while John Kuhn played two snaps.
Rushing Defense: D
Matt Forte and backup Ka'deem Carey got pretty much anything they wanted against the Packers defense. Forte had 122 yards on 23 carries (5.3 average) and Carey had 72 yards on 14 attempts (5.1 average).
Letroy Guion had the only tackle-for-loss all game, that being a 3-yard stop on Forte in the first quarter. Green Bay got overall-good performances in its run defense from A.J. Hawk and Ha Ha Clinton-Dix, but that's about it.
Through three games, Chicago passed the ball an alarming 68 percent of the time. However, in Sunday's game, the Bears ran it 41 times compared to 35 passes. There would have been even more runs than passes had the scoreboard not become so lopsided in the second half. It's obvious that Chicago saw a weakness in Green Bay's run defense and exploited it.
The Packers now rank last in the NFL in run defense, allowing 176.0 yards per game. There's a slight improvement in Green Bay's ranking at No. 23 in yards per carry (4.6). Still, there's obviously much improvement needed in this area.
Passing Defense: B
When the Bears were winning or tied, Jay Cutler was very good. Once the Packers took the lead, Cutler was not so good.
Cutler's costly mistakes came in the second half. With Green Bay up 24-17 in the third quarter, Tramon Williams deflected a Cutler pass into the air that was picked off by Clay Matthews and returned 40 yards. That was certainly a good test for Matthews' injured groin. The Packers capitalized on the turnover and scored a touchdown to take a 14-point lead. On Chicago's next drive, Cutler threw it right into the arms of Sam Shields, who returned it 62 yards and was just shy of a touchdown.
Shields had an up-and-down game. He won two tough one-on-one battles against Alshon Jeffery, who is four inches taller than him. However, he had two missed tackles and got completely lost on a unique play design by the Bears that led to an easy touchdown for Jeffery.
Tight end Martellus Bennett got anything he wanted, finishing with nine catches for 134 yards. However, holding Jeffery and Brandon Marshall to a combined six catches for 58 yards is a huge win for Green Bay's defense.
Matthews and Julius Peppers each provided two QB hits, but the only sack of Cutler came in the fourth quarter from Datone Jones. Cutler's passer rating of 82.5 was below his season and career averages.
Special Teams: B
No punts. That remarkable statistic happened for just the second time in NFL history. The last time was a 1992 game between the Buffalo Bills and San Francisco 49ers.
When the Bears went for a surprise onside kick in the second quarter, the Packers (specifically Sean Richardson) did a nice job reacting to it. A recovery by Chicago would've changed the dynamic of the game.
Mason Crosby drilled a 53-yard field goal, but he had a 38-yarder blocked.
Overall: B
The difference between 2-2 and 1-3 in the standings is a huge difference. Green Bay can thank Rodgers for making sure that it didn't have to rebound from being two games below .500 so early in the season.
Rodgers can't play at this level every game. This was one of those superhuman efforts from Rodgers that only a select few in the NFL are ever able to dial up. Lacy and the running game cannot continue to struggle like this. And, while the Packers' defense forced key turnovers to change a close game into a blowout, there are still issues that need fixing.
---
---