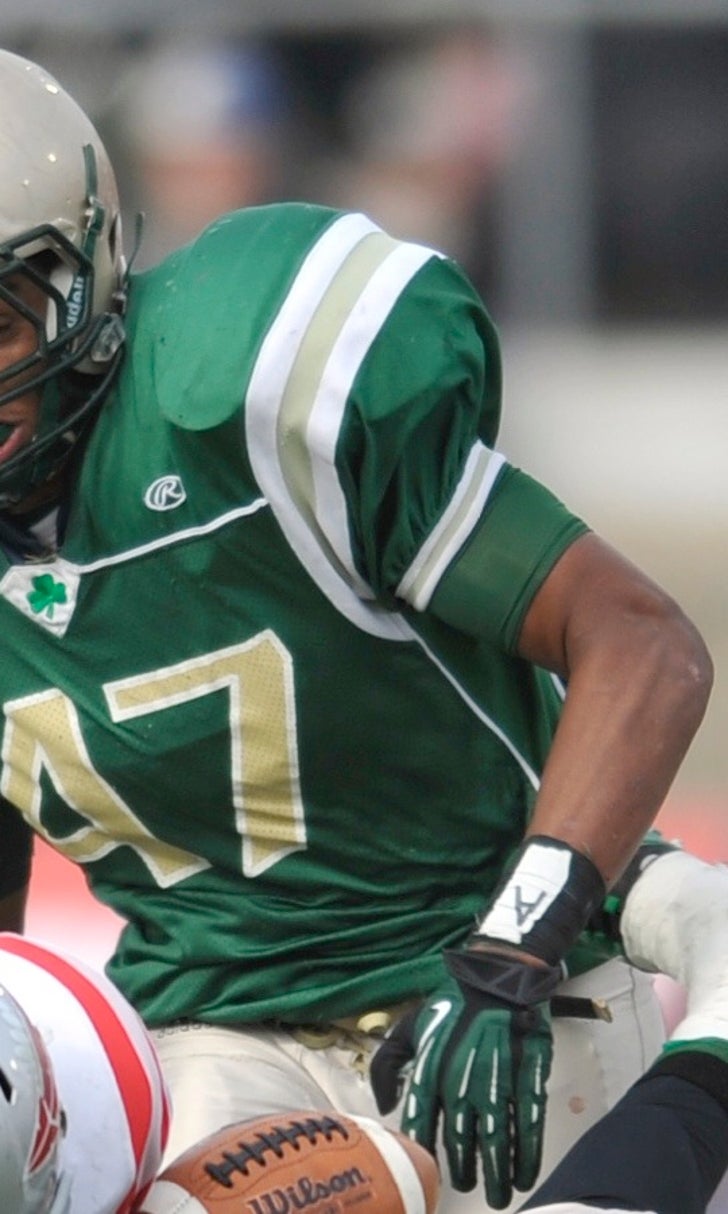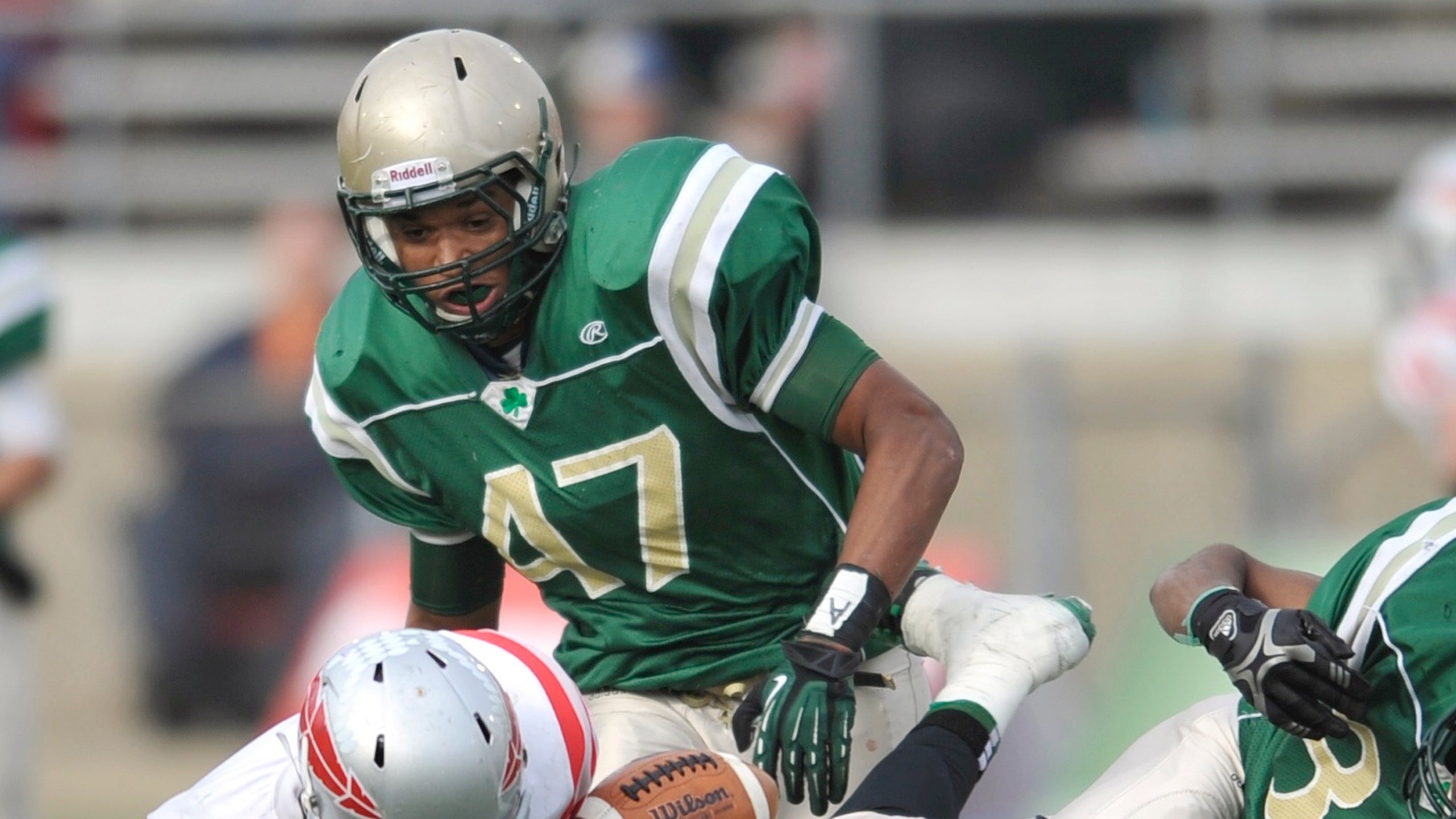 No sleep suiting Booker just fine
BY foxsports • December 12, 2013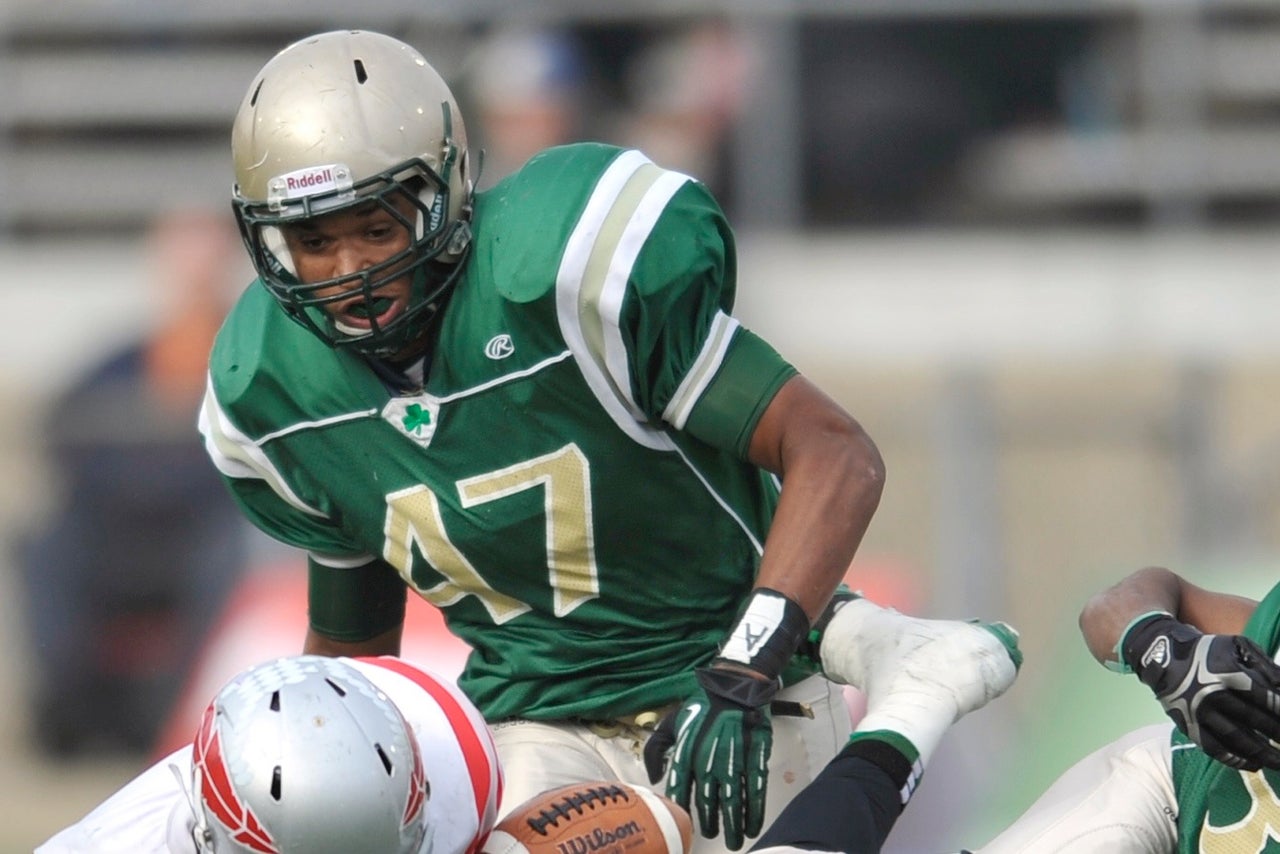 AKRON -- It's not that watching Ohio State lose the Big Ten Championship Game and its 24-game win streak last Saturday night was the worst thing to happen to Dante Booker Jr.

It's that Booker is on quite a run of nothing bad happening.

Maybe hitting a couple red lights in a row. Maybe a day out of school with a sore throat.

Maybe. The Akron St. Vincent-St. Mary senior linebacker's run of good fortune and good play culminated last week with Booker being named Ohio's Mr. Football and his team completing a 15-0 season with a 24-0 shutout of Trotwood-Madison to win its second straight Div. III state championship.

He's the first Mr. Football winner since Brandon Saine in 2006 to be committed to Ohio State, but for now he doesn't want to talk about the future or how quickly he might make an impact at the next level. A moment to enjoy all that's happened lately has been well earned.

"It's been incredible," Booker said. "The most enjoyable thing was just playing with these guys, these seniors, and getting to finish the way we did."

At 6'4, 220, he looks the part, and in the 2013 season he played the part of game changer, too. He finished the season with more than 130 tackles, eight sacks and three defensive touchdowns. With Booker playing inside linebacker next to Newman Williams, a rugged 245-pounder who recently committed to Akron, opponents found very little success trying to run on St. V-M. Booker used his athletic gifts -- long strides, long arms and a nose for the ball -- to make big plays and solidify his status as Scout.com's fifth-best outside linebacker prospect nationally in the class of 2014.

He even caught a long pass while lined up as a wide receiver in the state championship game. TV replays showed that he actually lost the ball on the turf while trying to complete the catch, but there are no instant replay challenges in high school football.

When things are going well, they're just going well. It was last Wednesday, the day before St. V-M's state championship game, when Booker found out he'd been named Mr. Football.

He found out the old-fashioned way: Via Twitter. He'd checked his voicemail and had a message from a reporter, and acting on a hunch he decided to scroll through Twitter.

There it was, the 27th winner of Ohio's Mr. Football award. Booker kept scrolling, just to make sure he was really seeing what he thought he was. Before he called anyone, he said he took a second to reflect on his journey.

"I'm growing up, starting to break out of my shell," Booker said. "I just feel more comfortable talking to people. Recruiting and (the spotlight), it's a lot to handle at first. I'm kind of a quiet guy. Getting the recruiting stuff overwith (last spring) was good. I had a clear head and good focus. I think it was good to have that out of the way.

"I don't shy away from the spotlight. I think I'm just growing up a little bit, understanding what's coming and what all of this has brought. It's cool."

"Last week, my focus was on the game. I celebrated Mr. Football with my teammates last weekend because I feel like that was a team award."

His rest was a quick one. Booker is playing basketball for St. V-M again this season after not playing his first two years of high school.

"Playing varsity football as a freshman, I thought I had to devote all my time to that -- to lifting, just getting ready for the next season," Booker said. "I stopped playing basketball and that was a mistake. I feel like it made me a lot faster. I think playing basketball is why I went out to Oregon last summer (for the Nike Opening) and ran 4.5 (in the 40-yard dash).

"Basketball really helped my feet, my speed. Plus, we lost in the basketball state championship game last year and I can't have it end like that."

Booker's father was a defensive tackle at Auburn in the late 1990s before a quick stint in the NFL and a longer one in the Canadian Football League. He's also known around Akron for the time he shattered a backboard as a high school basketball player.

"He was a beast, I know that," Booker Jr. said. "We play one-on-one all the time. He only beat me when I was younger; don't let him say any different."

"If we had the baskets (without the breakaway rims) they had back then I think I would break one, too."

He's probably right.

Booker Jr. said he spoke with Auburn coaches during the recruiting process, and out of the dozens of offers he also strongly considered Louisville and Notre Dame. Ohio State, though, already had a committment from his high school teammate Parris Campbell, has a need to upgrade the talent and depth at linebacker and has a bunch of momentum created by 24 wins in 25 games under Urban Meyer, who's building a third-straight strong recruiting class.

"Parris going there was a big deal, but it was more than that," he said. "What Urban Meyer has brought there is a whole new era and it seems like an exciting time, an exciting thing to be a part of. There's a pretty high ceiling there and I just want to keep getting better individually so hopefully I can be a part of it, help Ohio State go where we all want to go."

Next week, the St. V-M basketball team goes to Florida to play in the City of Palms Classic. A few days after Christmas, Booker heads to San Antonio to play in the Army All-American Bowl in early January.

On the weekend after winning Mr. Football and another state championship, he said he slept so long that he woke up "wondering where the time went." He woke up smiling, though.

"Life's very good right now," Booker said. "I'm just very blessed."

---