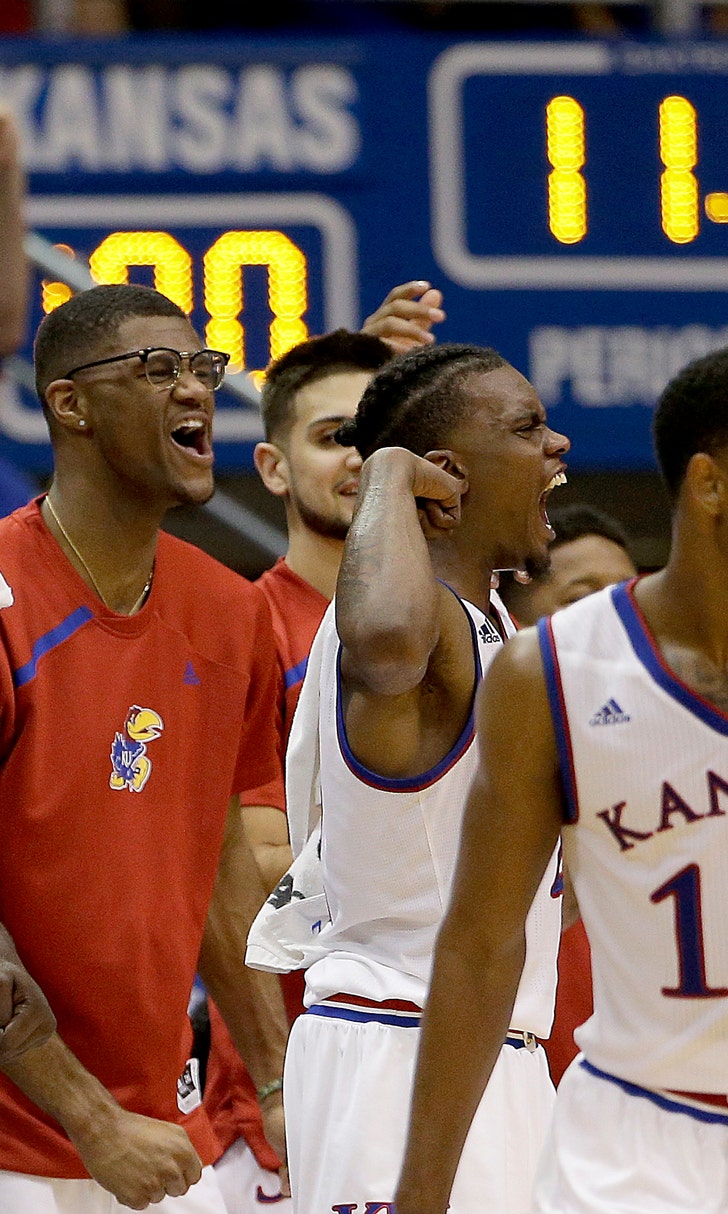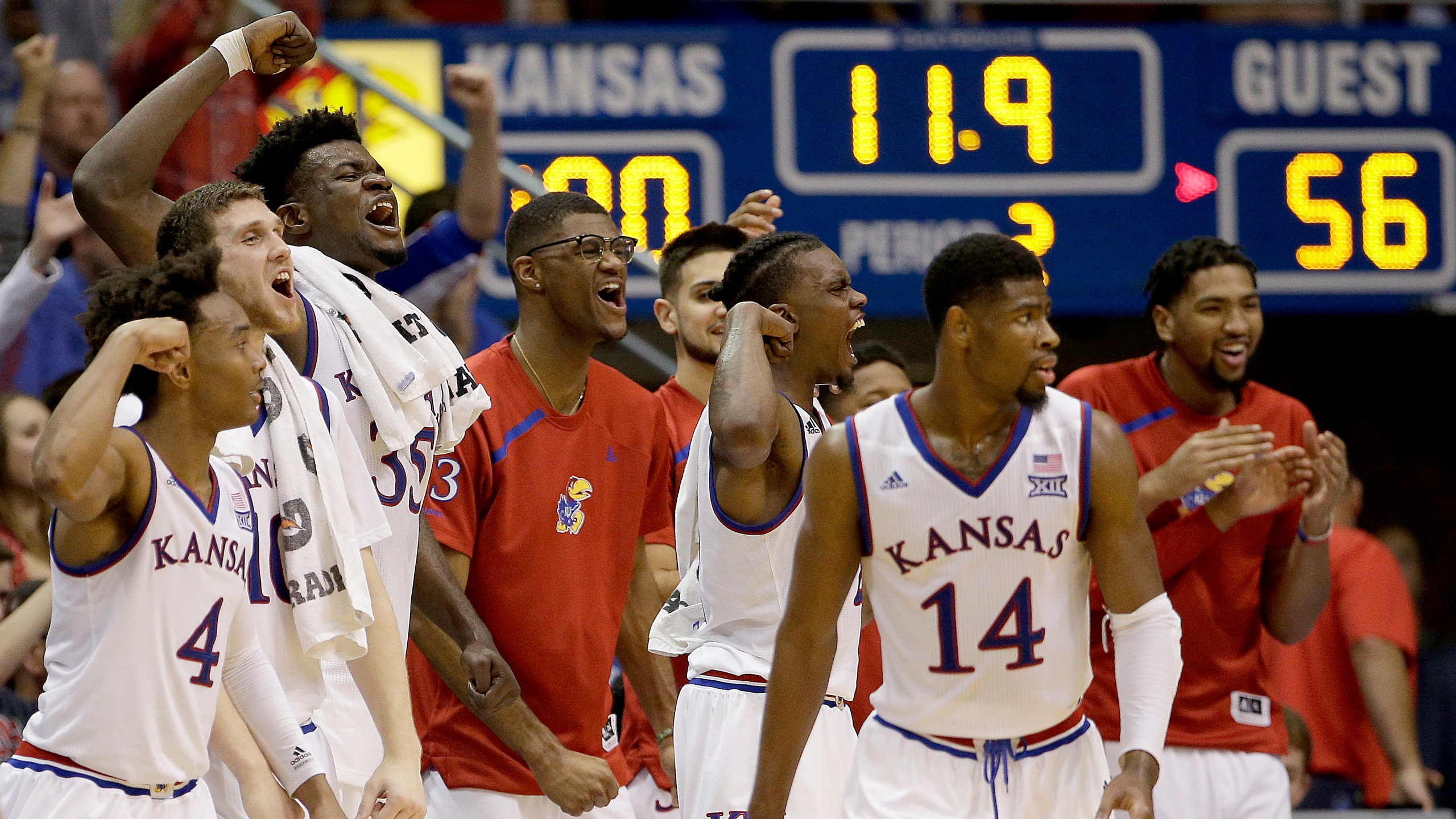 No. 3 Kansas bowls over Oakland in 102-59 win
November 24, 2017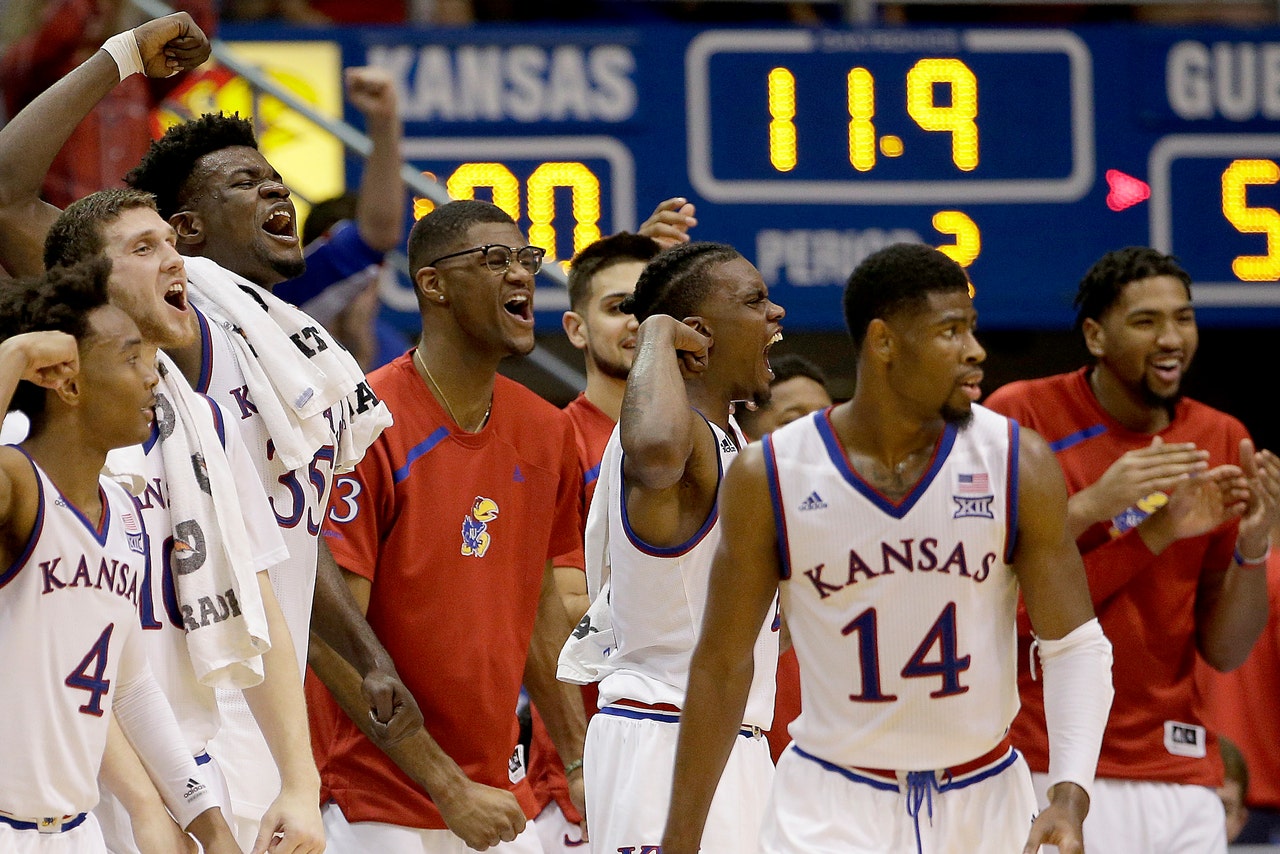 LAWRENCE, Kan. -- Udoka Azubuike was 10 of 16 from the field and his shooting percentage took a nosedive.

That happens when you spend most of your time dunking.

Oh, the Kansas big man still had plenty of dunks Friday night. But he also tried a few nifty hooks, drove to the basket a couple times and finished with a career-high 21 points and 10 rebounds, leading the third-ranked Jayhawks to a 102-59 rout of overmatched Oakland.

But after entering the game shooting a nation-leading 84.8 percent, now it's a mere 77.6.

"He did fine," Jayhawks coach Bill Self said. "He didn't shoot the ball quite as well because I thought a few of the shots he took were outside his range, but I thought he played pretty strong."

Azubuike had plenty of help.

Lagerald Vick had 15 points and seven rebounds, and Devonte Graham had 14 points and seven assists, as the Jayhawks (5-0) won their 24th straight non-conference home game without breaking a sweat.

Well, there was sweat.

The Jayhawks are still playing just seven scholarship players, a big reason why just about every regular logged big minutes and scored a lot of points.

Malik Newman also scored 15 points, Svi Mykhailiuk had 14 and Mitch Lightfoot had a career-best 11 points with eight rebounds. Freshman forward Marcus Garrett added 10 points.

"Hopefully we can get some pieces back, then it won't be like that much longer," Self said. "I do think we got six or seven guys, if they're playing well they can all get double figures very easily."

Kendrick Nunn scored 23 points for the Golden Grizzlies (2-3), who welcomed back three-time All-Horizon League forward Jalen Hayes from a four-game suspension. He finished with 14 points.

Azubuike set the tone with a dunk off an alley-oop pass on the game's first possession, then two more dunks in the next couple of minutes. But the rest of the Jayhawks were quick to join the party, Mykhailiuk doing it from beyond the arc and everybody else going right to the basket.

"The big fella, a bad lob is a good lob with him," Newman said of the 7-foot Azubuike. "He's always an outlet when we're in trouble, just throw it up to the rim and he can go get it."

Vick's 3-pointer pushed the lead to 24-8. Lightfoot's 3-ponter made it 36-14. And by the time Newman ripped away a steal and went coast-to-coast for a basket, the Jayhawks had a 55-26 halftime lead.



Even so, the hard-to-please Self wasn't totally satisfied.

He benched Azubuike after picking up a silly foul 90 feet from the basket. He got on Newman for his failure to help out on defense. He yelled at Graham for not being authoritative going to the hole.

If only Oakland counterpart Greg Kampe had such problems.

He looked at times exasperated and depressed sitting on the Golden Grizzlies' bench, especially as the Jayhawks slammed down one alley-oop pass after another. Kampe tried getting on the officials at one point, but in a game that spiraled out of control quickly, it was mostly a wasted effort.

"We do this a lot. We play games like this a lot," Kampe said, "and the results of today usually don't happen to us. To have a veteran, senior-laden team, to have Jalen back and to have that happen was very discouraging to me. Our execution was really, really bad."

Kampe was so disgusted that he used all his timeouts early in the second half.

"I probably wasn't going to need them in overtime," he said. "I wanted to use the timeouts as teaching moments. I wish I had six more. I almost took another one and took the technical."

CENTURY WATCH

The only question down the stretch was whether Kansas would hit the 100-point mark for the second straight game. The Jayhawks hit it on Garrett's layup with 52 seconds to go.

BIG PICTURE

Oakland isn't done facing talented opponents with a game against No. 4 Michigan State looming in a couple weeks. But their rough road to the Horizon League is certain to help once conference play begins.

Kansas has put up big points despite playing a shortened lineup, though help is on the way. Arizona State transfer Sam Cunliffe becomes eligible in a couple weeks, and the Jayhawks still hope the financial situation involving freshman Billy Preston's car is resolved soon so that he can play.

UP NEXT

Oakland heads south to face Oral Roberts on Monday night in Tulsa, Oklahoma.

Kansas wraps up a four-game home stand Tuesday night against Toledo.


---
---