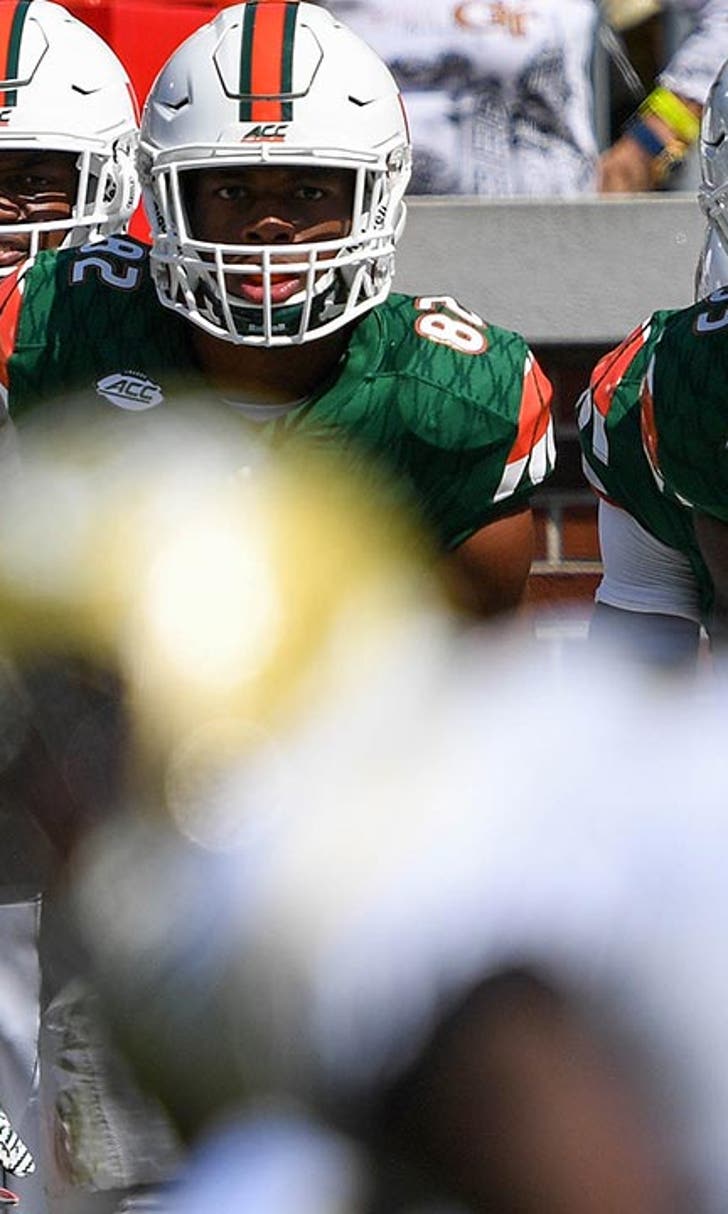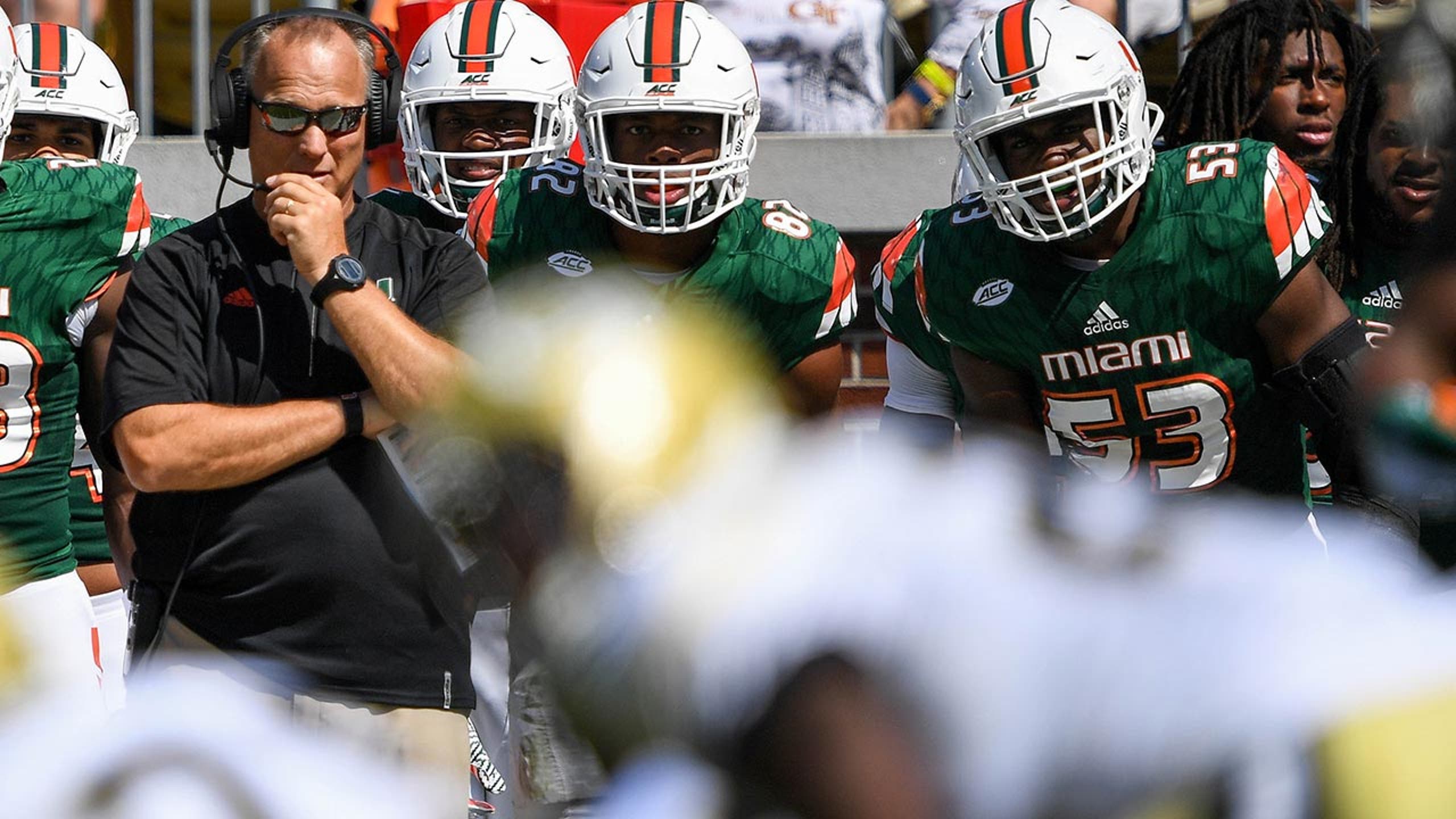 New school, same result, as Miami gives Mark Richt another win over Georgia Tech
BY foxsports • October 1, 2016
ATLANTA -- He'd been to Bobby Dodd Stadium so many times before, yet there was something unexpected that greeted Mark Richt as he returned to Georgia Tech for the first time as Miami's coach.
"My first impression, to be honest with you, was how good the grass looked, that's what I thought," said Richt, whose previous stops on the camps were in November with Georgia. "I was like 'I don't know who's in charge of the grass, but that thing looks good.'"
Other than that, it was different league, same result.
Richt owned the state of Georgia when he called Athens home -- beating Georgia Tech in 13 out of 15 tries -- but in Atlanta, well, it was another kind of domination. With the Bulldogs, Richt was unbeaten on The Flats and Saturday, he improved to 14-0 -- that's 8-0 with Georgia and 5-0 as a Florida State assistant -- as the No. 14 Hurricanes beat the Yellow Jackets 35-21.
"It was victory No. 1 in league play, which is even more important," said Richt as Miami improved to 4-0 overall with a date with No. 12 Florida State up next.
"I can promise you before we land I'll be watching some Florida State tape," he said as he concluded his news conference.
The Hurricanes have done their part to make sure that meeting will be hyped. That will be aided by stars like Miami quarterback Brad Kaaya, who with a 31-yard strike to Stacy Coley in the third quarter, notched his 50th career TD, breaking a tie with Stephen Morris for third on the program's all-time list.
Don't, though, sleep on what's become a truly surprising strength of this Hurricanes team: its defense.
Miami starts three true freshman at linebacker and two sophomores at the tackle spots, yet came in ranked first in the nation in scoring defense and fourth -- and second among Power 5 programs -- against the rush, allowing a paltry 65 yards per game. Yet that all came against lower tear teams.
It didn't get off to a strong start as Yellow Jackets ran for the as many yard as the Hurricanes were allowing in a game be the end of the the first quarter alone. Facing third and seven deep in their own territory with less than six minutes to play in the first half and trailing 14-7, Georgia Tech was over 100 yards.
"They don't know that they don't know what's going to happen to them somewhere along the way," Richt said. "They're going to get punched really good one time and we'll see how they react."
That blow didn't come Saturday
The Hurricanes defense would -- pardon any pun regarding the Jackets' iconic Ramblin' 1930 Ford Model A Sport coupe -- wreck that momentum with two touchdowns on the next three snaps to blow the game open.
"Viper" defensive end Trent Harris hit quarterback Justin Thomas from behind, and Shaq Quarterman, one of those three first-year LBs, picked it up and turned it into a 17-yard touchdown. Two plays later -- with a J.J. Green rush of 1-yard in between -- Thomas fumbled the pitch and end Joe Jackson took it 18 yards for a 28-7 edge.
"I wasn't expecting that to happen, but when I saw it I jumped at my chance to score," Jackson said. "When I got the ball, I wasn't looking back."
Richt is all too familiar with Paul Johnson's spread option offense, and how to disrupt it. But besides familiarity, Michael Pinckney -- one of that trio of freshman linebackers -- disclosed that the secret to Richt's preparation against Georgia Tech's offense may be in a wrinkle they use at practice.
"I ain't even going to lie to you: the speed was slower to me," Pinckney said of actually seeing the Yellow Jackets in person. "When we practiced, we didn't even have linemen at line. We had fullbacks and running backs at line, just shooting up the field. ... It was way faster to me with the scout team. When we got out there (Saturday), then I seen things slow down."
Miami gave up 267 yards on 54 carries, a total that falls in line with what's been an odd home/road split in the annals of Johnson-Richt.
In their previous four meetings on The Flats, the Jackets averaged 226.2 yards on the ground compared to 381.2 on the road. That includes last season when Richt's Georgia team allowed 194 yards, the lowest by Georgia Tech in the coaches' eight meetings. To Johnson's credit, Saturday's yardage was the most his team had ever run for vs. Richt at Bobby Dodd, beating out 2013 by four yards.
But it was Richt who came out on top, again, and he has Miami unbeaten and looking like contenders in the ACC Coastal Division. Meanwhile, at his old post, Georgia is scrambling after falling to 3-2 following a last-second loss to Tennessee.
As Richt saw when he arrived in Atlanta, sometimes the grass is greener.
Follow Cory McCartney on Twitter @coryjmccartney and Facebook. His book, 'Tales from the Atlanta Braves Dugout: A Collection of the Greatest Braves Stories Ever Told,' is out now, and 'The Heisman Trophy: The Story of an American Icon and Its Winners' will be released Nov. 22, 2016.
---
---