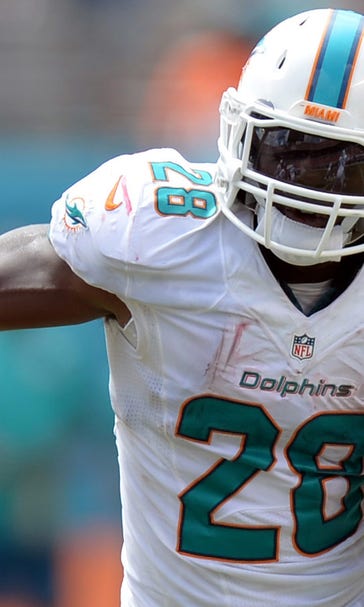 New-look offense makes mark in Dolphins' big victory
September 7, 2014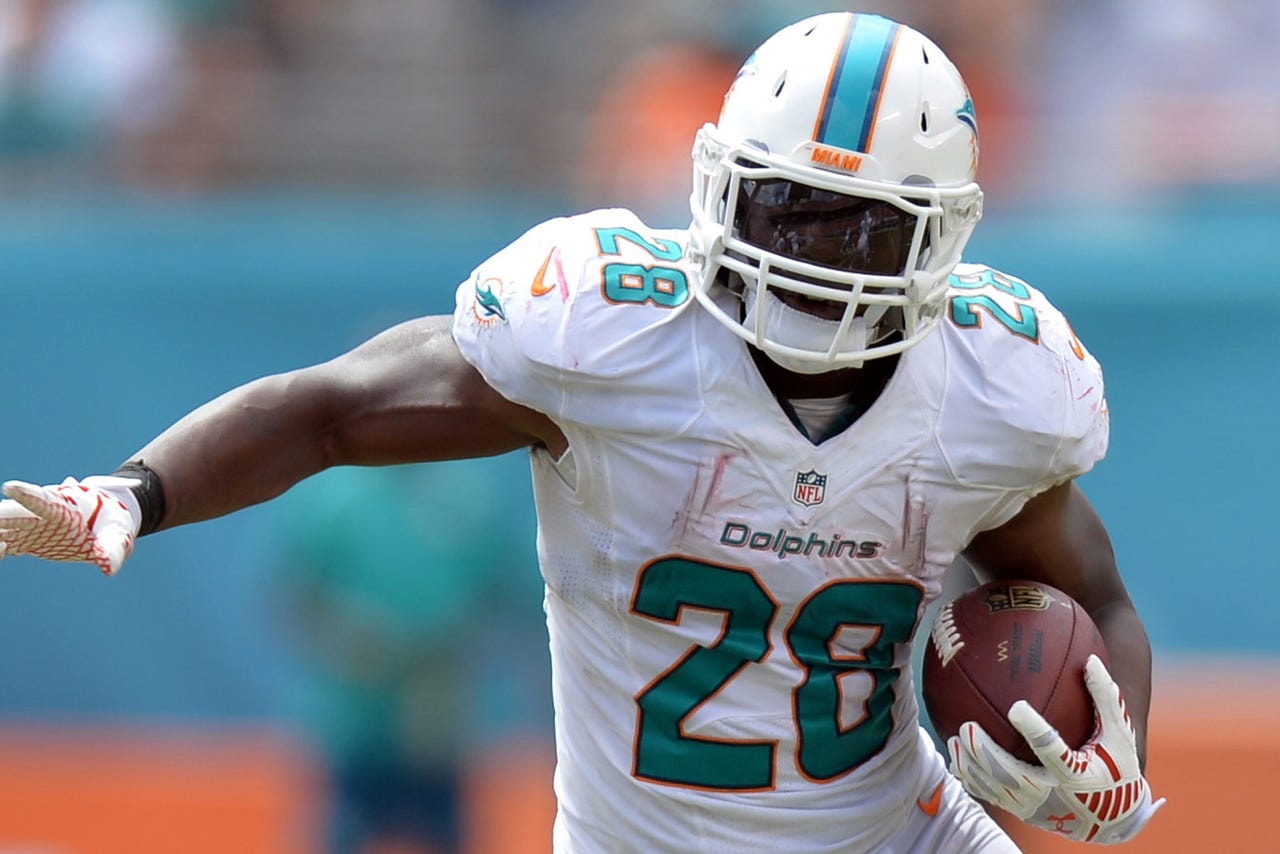 MIAMI GARDENS, Fla. -- It was the Miami Dolphins defense that delivered the first blow to the New England Patriots, stopping them dead in their tracks on their first drive and proceeding to block the ensuing punt. Then the offense came in with 15 yards to work with and scored a quick touchdown to give them their first lead of the day, to the delight of the announced crowd of 70,630 at Sun Life Stadium.
That was the easy part. The offense surely was going to have to work a lot harder then that to score against such a fearsome foe.
Indeed, it looked that way for the rest of the first half, with the Dolphins managing just one field goal. Penalties weren't so much the issue as three turnovers, bobbled plays, and dropped catches were. As halftime approached, the game had a feeling of missed opportunities for the Dolphins that weren't going to come back.
"We told them last night we thought it was going to be a 60-minute football game," head coach Joe Philbin said. "We told them at halftime, we've been in this situation before, we've been down at half. We've got to play good, solid, fundamental football. We've got to tackle well, we've got to block well. I really thought we kind of controlled the tempo in the second half."
Not only did they control the tempo, they also manhandled the once-mighty Patriots in every way. With a reliable running game on display led by a recharged Knowshon Moreno, the Dolphins offense opened up and suddenly looked unstoppable.
After closing the first half with 65 rushing yards and 138 total yards, the Dolphins finished with 191 rushing and 360 total after a second-half onslaught resulting in two touchdowns and three field goals to secure the comeback victory. Moreno ended up rushing for 91 yards in second half, while the entire Patriots team only totaled 28. He mixed it up too, showcasing a variety of moves to free himself up with the aid of the offensive line, themselves a much-maligned group that has been the focus of constant criticism.
"They opened up some great holes and sometimes when it wasn't there, I think that the backs did a good job of just finding it and getting what we can," Moreno said. "They get paid, too. They practice and do some great things also, so they're going to make their plays. It's just going to be what we're going to do after that just to keep on track and get some points on the board."
None of it would be possible without the hard work put in by the new-look offensive line that kept Tannehill upright and able to work comfortably in the pocket to make big plays time after time.
"I think we all just worked together today," said tackle Branden Albert, one of the bigger offseason acquisitions by new general manager Dennis Hickey. "All the running backs, they ran the ball hard. We all played together. Lazor called a good game and (Philbin) did a good job coaching. We did a good job executing the game plan."
The defense will always be the heart of this year's Dolphins squad, but coordinator Bill Lazor's system has reinvented what was last year a stale, predictable offense. No trick plays or complicated schemes here, just quick-hitting action that mixed up the attack and allowed a protected Tannehill free reign to get his receivers involved while letting his running backs do their thing. When Moreno came through with the defining play of the day as he muscled his way into the end zone in the fourth quarter, the hard-fought victory was secured.
"It was a great team effort," Moreno said. "We prepared throughout the whole week knowing that it was going to be a tough game versus a really good opponent. So we were able to come out and execute some things and get the win. I know we're going to look at the tape and see that we made a lot of mistakes that we have to correct. All in all, we're happy with the win but it's just the beginning."
You can follow Surya Fernandez on Twitter @SuryaHeatNBA or email him at SuryaFoxSports@gmail.com.
---