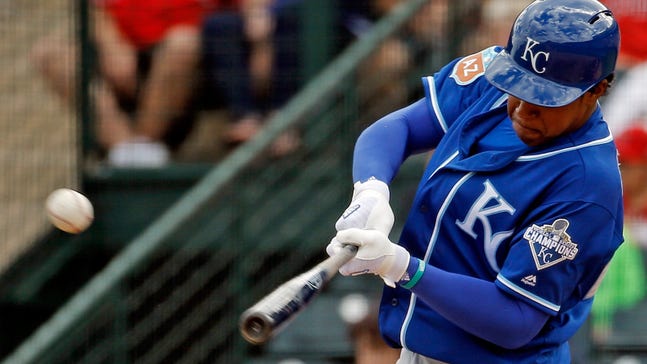 Mondesi leads Royals split squad over Angels split squad 7-4
Published
Mar. 18, 2016 7:19 p.m. ET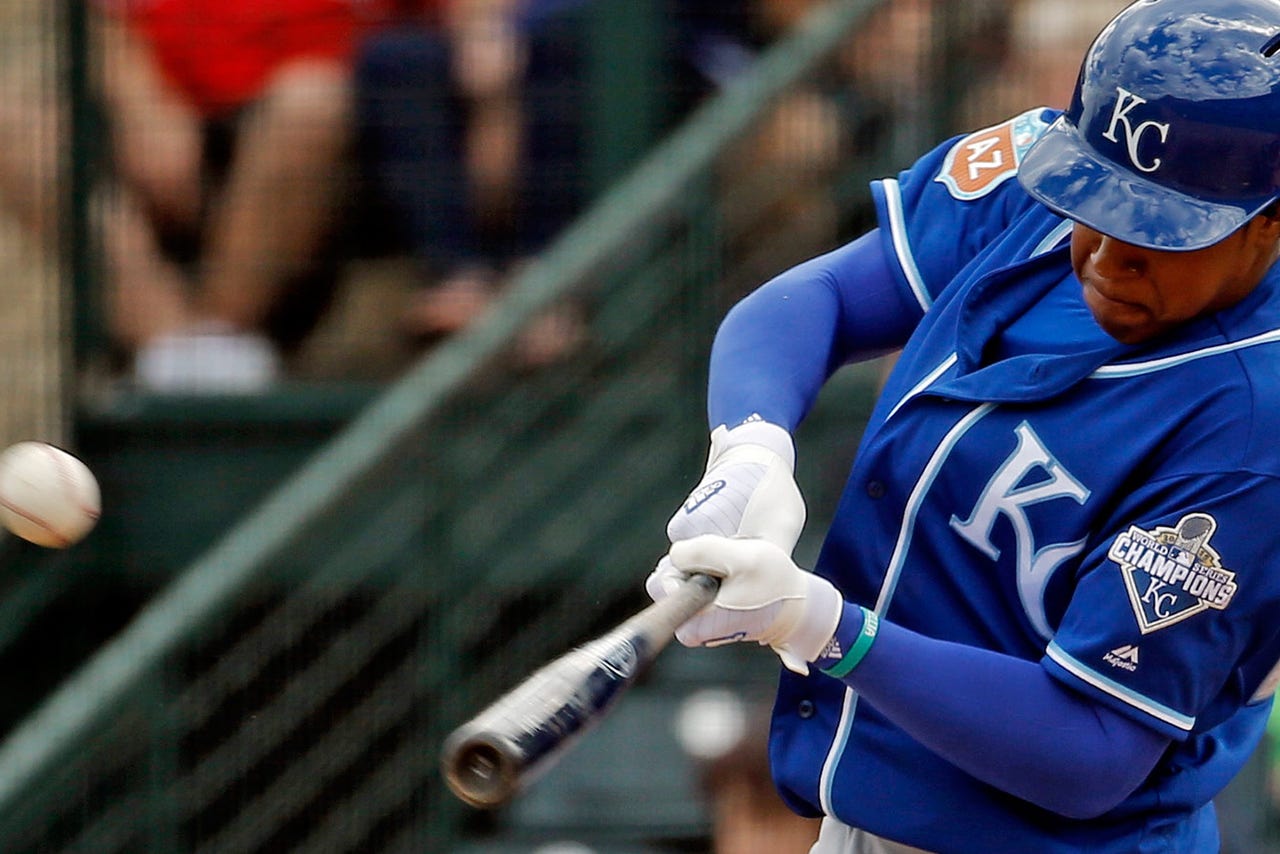 SURPRISE, Ariz. -- Top Royals prospect Raul Mondesi tripled, singled and drove in two runs as Kansas City beat the Los Angeles Angels 7-4 Friday in a game between split squads.
Mondesi, who made his major league debut in last year's World Series, tripled to lead off the third inning and scored on Tony Cruz's double. Mondesi's fourth-inning single scored Jorge Bonifacio and Bubba Starling.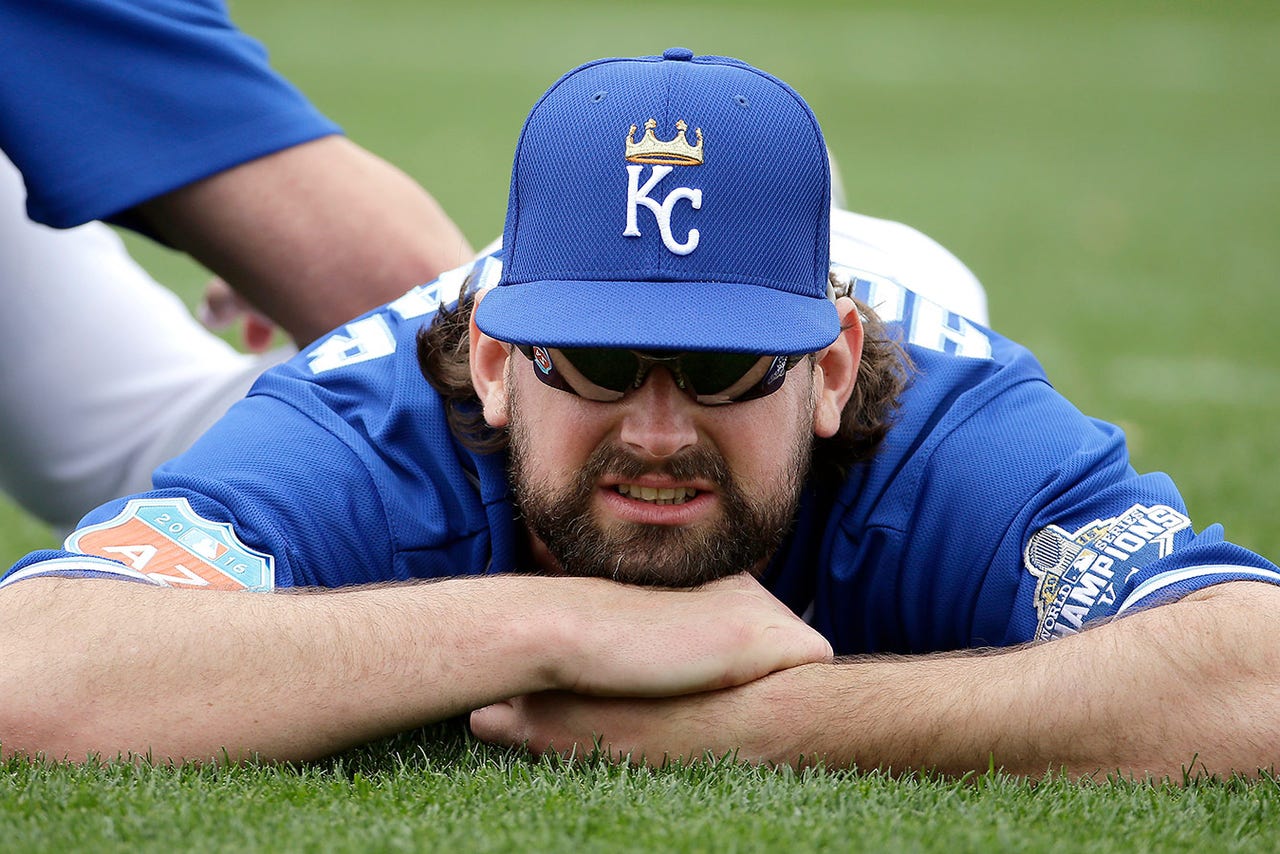 THE CHAMPS ARE BACK: Royals Spring Training 2016
"Mondesi has put on a show the last couple of days, just showing his athleticism and speed," said Royals bench coach and acting manager Don Wakamatsu. "He has such maturity for a young kid. He has a lot of power for that frame and he's just going to get stronger with maturity."
Playing second base, Mondesi also had a part in three of the Royals' five double plays.
"That was really the story of the game for us, five double plays," Wakamatsu said. "Defensively, we did a nice job."
Cody Decker and Frank Schwindel homered for the Royals. Decker hit a prodigious drive to left field on Al Alburquerque's first pitch in the sixth.
Angels starter Matt Shoemaker gave up four runs and seven hits over five innings, striking out five and walking none.
"Strikeouts and no walks is always great," Shoemaker said. "Overall, I'm definitely happy with the outing, but I always want to be better. I'm very close to where I need to be. Hitters hit a few good pitches and hit a few bad pitches today, so that's a little frustrating. It's just something to learn from, get better from."
Minor leaguer Brandon Bayardi hit a three-run homer in the ninth for the Angels.
STARTING TIME
Angels: Shoemaker, who was a 16-game winner in 2014, has an 8.36 ERA in four outings, allowing 13 runs on 21 hits and six walks in 14 innings. "It was a good outing for Matt," manager Mike Scioscia said. "I think once he adjusted to some things on the mound, he made some really good pitches. The results we're looking at isn't the linescore. We're looking at executing of pitches, repeating a delivery. He took some steps forward today." Steps toward another 16-win season? "I'd be completely OK with that," Shoemaker said.
Royals: RHP Miguel Almonte allowed one run on three hits and two walks over four innings, throwing 34 strikes in 60 pitches. "I thought his stuff was real good," Wakamatsu said. "He had an inconsistent release point, struggled a little bit early and his tempo wasn't real good and then I thought from the second inning on he was pretty dang good."
TRAINER'S ROOM
Angels: RHP Jered Weaver (neck issue) is scheduled to throw in a minor league game Sunday. ... SS Andrelton Simmons (sore arm) was the DH again, the fifth straight day he has not played in the field.
Royals: LHP Brian Duensing is penciled in to pitch Saturday after being struck in the left ankle by a hard one-hopper on Wednesday and leaving the game. "Straight off the ankle bone, no really meat, just bone," Duensing said. "There's been no swelling, just a bone bruise. It hurt, but it just stung at first and the more I was on it, the more it tightened up. We got fortunate. We're doing some treatment and I'm going out to see if I can push off without any pain and hopefully still be on track. " He said "it's still a possibility" to pitch Saturday.
CROWNED WITH GOLD
The Royals announced that they'll wear specially designed jerseys and hats commemorating their World Series title when they face the Mets for their opening series on April 3 and 5. The jerseys will feature a gold script "Royals" across the front, and the numbers on the back will be embossed in gold. The "KC" on Kansas City's blue caps will also be gold, and both the jerseys and hats will include a World Champions logo.
Kansas City plans to unveil a banner at Kauffman Stadium before first pitch.
NEXT UP
Royals: LHP Matt Strahm will start against the Mariners at Surprise.
RHP Chien-Ming Wang will face the Rangers at San Antonio in a split-squad game.
---
---