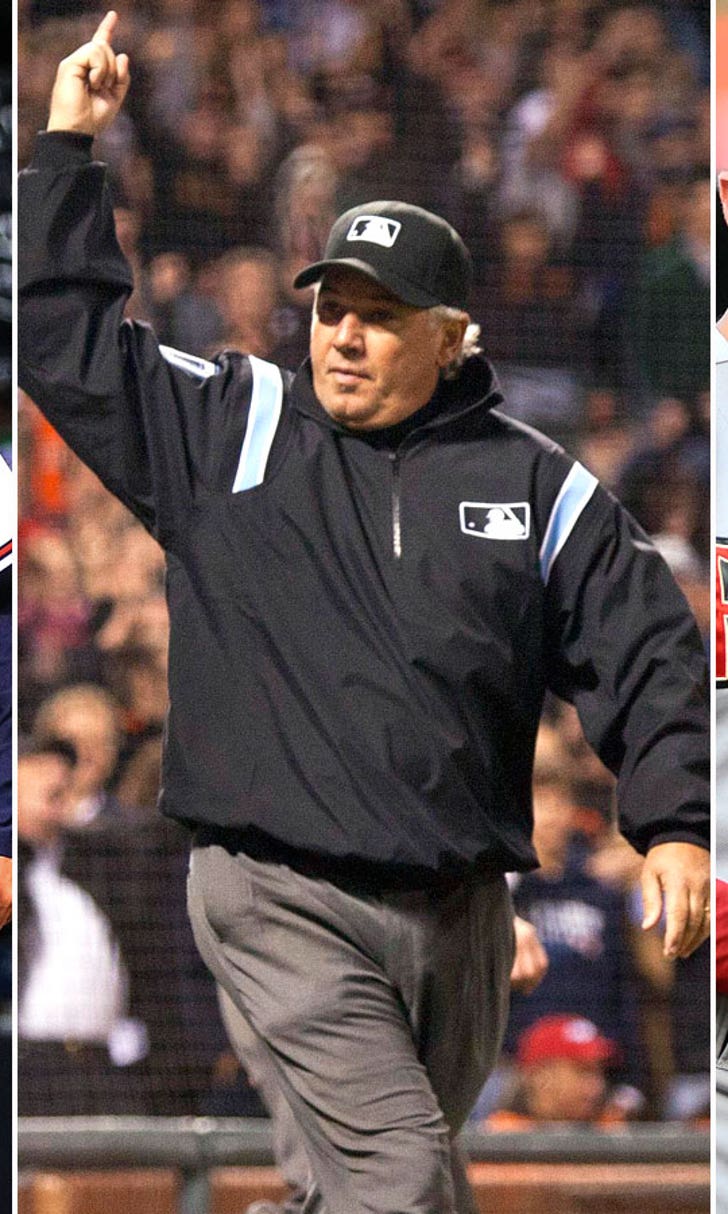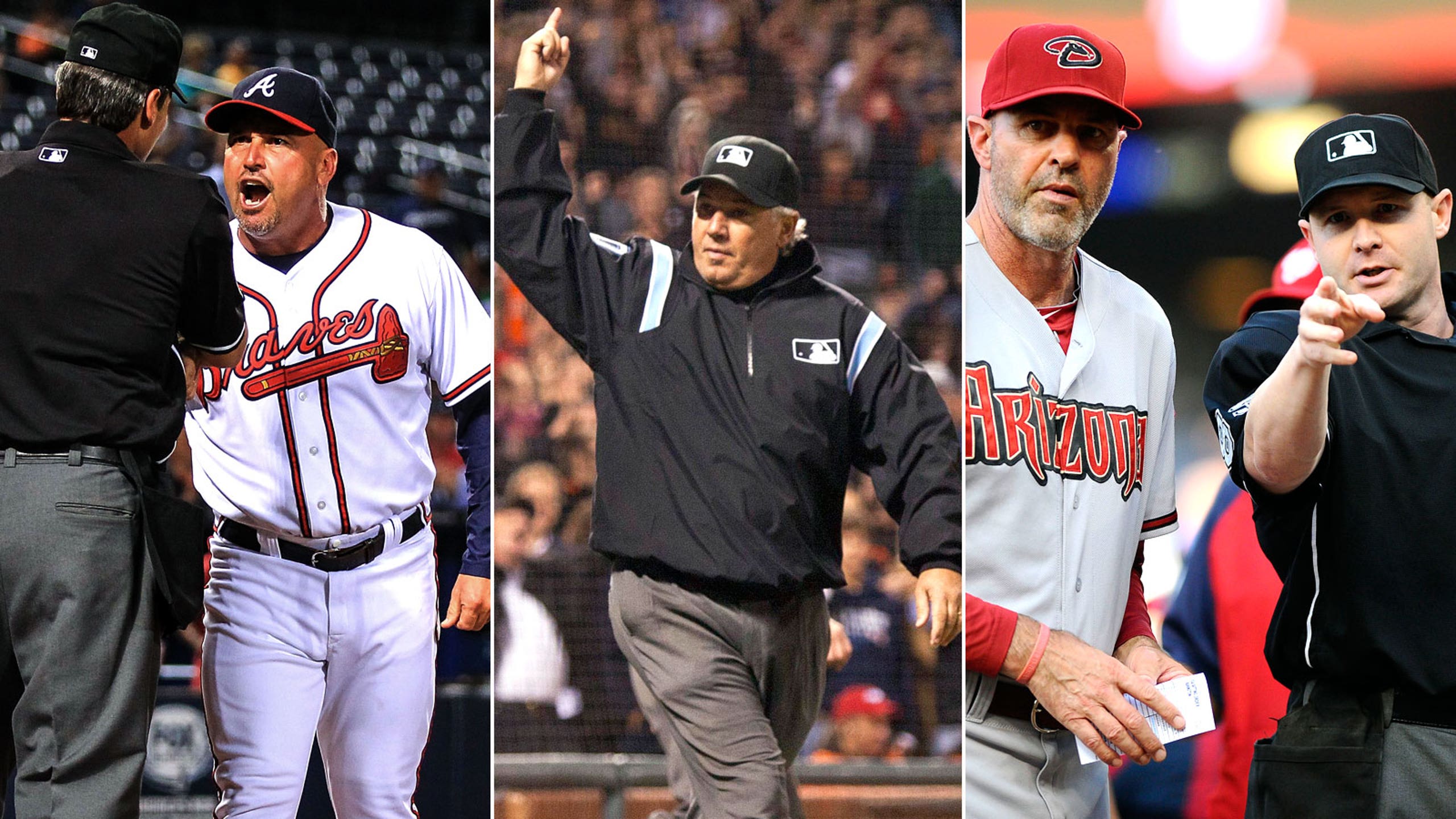 MLB's enhanced replay set to go under spring training microscope
BY foxsports • February 22, 2014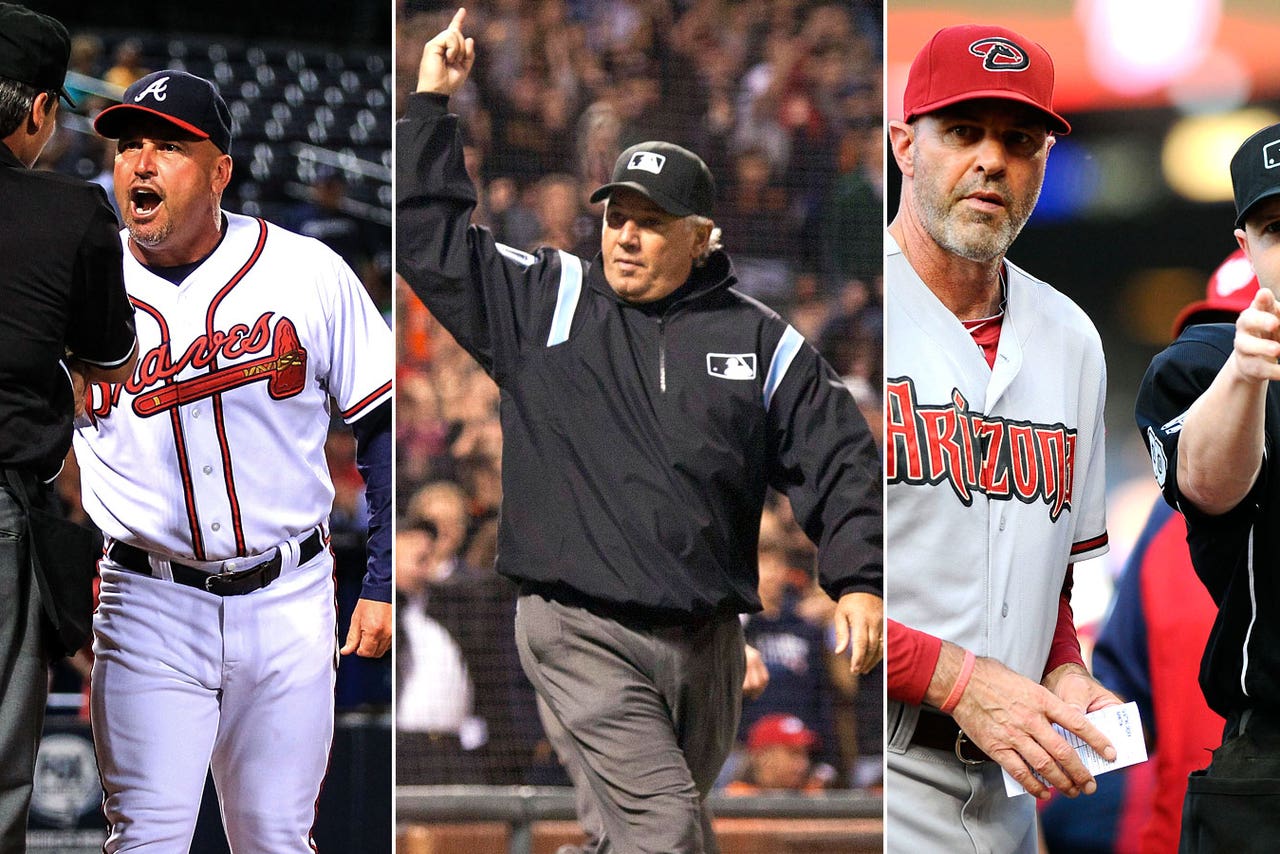 LAKE BUENA VISTA, Fla. -- Braves fans shouldn't be concerned if manager Fredi Gonzalez steps out of character and engages in multiple on-field arguments with umpires during the exhibition season.
There's a method to his madness.
For the first time in history, Major League Baseball will institute a comprehensive instant replay system — one that's more thorough than previous years, when umpires had a limited scope of reviewable calls.
The expansive program was ratified in January.
As such, MLB will test drive the new system during spring training, with each club getting exposure to the ins and outs of enhanced replay for five games apiece.
And for these hand-picked outings, there will be no limit on how many disputed calls can be overturned (or upheld), via instant replay.
* * *
In previous seasons, video review was permissible for boundary calls involving home runs, with the umpires having final say on the isolated matter — after viewing the sequence via replay.
But this year, spanning Innings 1-6 of each game, managers will be granted one optional challenge. If a protested call via instant replay is upheld, that manager maintains the option to challenge a second play within the six-inning window — with a caveat that no more than two challenges can be requested.
The second phase of replay kicks in for the seventh, eighth and ninth innings (and beyond), with the umpire crew chief reclaiming control of when reviews can be implemented.
Loosely modeled after the NHL's protocol for instant replay, all video reviews will be handled by MLB officials, specifically the Major League Baseball Advanced Media headquarters in New York City.
Each ballpark will have a customized technology center near home plate, allowing the umpires easy access to view the disputed call. From there, at least two umpires must confer with MLBAM officials about the play, with the New York officials rendering the final verdict.
As Gonzalez understands it, each "replay" game will feature approximately 12 or 13 distinctive camera angles.
It's worth noting: Running concurrently with these umpire-MLBAM reviews, the ballparks will be required to air the video replays on the in-park video scoreboards (punishment by fine). It's a significant sea change for clubs that routinely don't air replays which go against the home team.
The NFL, for what it's worth, adopted a similar stance — in terms of in-stadium entertainment — a few years ago.
"Our fans will love it," said Commissioner Bud Selig back in January. "You know, the thought that, in the past, I could be sitting at home watching a game and get all the replays. And (somebody else) could be sitting at the ballpark and couldn't see any of these replays. That's just wrong."
Not all disputed plays will be eligible for review — a list that includes subjective decisions like balls and strikes, runner's interference and obstruction.
And ambiguous calls -- like the infamous "infield fly rule" controversy for the Cardinals-Braves wild-card game in 2012 — cannot be overturned, via instant replay.
In other words, the replay system may claim dominion over a vast majority of empirical calls — like boundary calls, ball-strike counts, the number of outs per inning, substitutions, hit batsmen, home runs, force plays, tag plays, fair-foul disparities, plays at first base, trap plays in the infield/outfield, runners passing one another on the base paths and disputes with runners and fielders touching the respective bases.
But it won't eradicate the potential for video-aided controversy.
For example, "neighborhood" calls will reportedly not be subject to review in games. A neighborhood call involves a middle infielder fielding a ball in the general vicinity of second base, while in the process of turning a double-play opportunity (typically of the ground-ball variety).
* * *
Now for the fun part: To initiate a review from Innings 1-6, the managers must request instant replay in a "timely manner" — essentially before the next pitch of an at-bat ... but could face discipline measures from the league if they're invoking deliberate stall tactics before formally asking for a review.
A manager's motive for stalling is quite clear: He's simply buying time, while his supporting staff gets a more definitive word on the disputed call.
Within this process, clubs will allow each club to tap a specific employee for video reviews, while also granting him/her the chance to communicate with the manager on whether replay is necessary for that particular sequence.
According to Gonzalez, the Braves are still mulling options for hiring a full-time replay aide.
The club might even expand the pre-game duties of the new replay aide, in terms of adding fungo-bat or defensive-drill responsibilities to the mix. In other words, the new hire would be viewed as an extra coach.
"I don't think it's an intern-type position," says Gonzalez, starting his eighth season as a manager (four with the Braves). "Not for me, at least."
Both teams will have equal access to the available videos (read: camera angles).
To launch the review process, a manager must verbally inform the umpire crew chief of his replay intentions. According to MLB.com, the challenge may involve multiple portions of the same play, but each must be specified during the appeal.
For NFL replay, head coaches are required to toss red "challenge flags" onto the field of play, initiating the replay request.
"We'll see how it works out," says Gonzalez, with a tinge of optimism. "If I go to the field to dispute a play, I've got all the time in the world" to ask for a review — within reason.
* * *
Change often occurs at the spark of a single incident.
On May 8, 2013, with the Indians clinging to a 4-3 lead against the Athletics in the ninth inning (bases empty), Oakland shortstop Adam Rosales stroked a long double off the top of the left-center fence at Cleveland's Progressive Field.
But upon further review — via the A's broadcast on that day — the ball clearly clanged off the railing above the yellow line on the outfield wall, indicating Rosales's blast should have been ruled a game-tying home run.
And even after the umpires left the field to confer with replay officials, the call was upheld (sans explanation), with Rosales stranded at second base ... and Athletics manager Bob Melvin getting tossed from the game, after boisterously arguing his club's justified-through-video case. (Cleveland eventually won.)
That controversial ending, which elicited a firestorm of national attention (and criticism), might have singlehandedly launched the need for MLB's latest replay evolution, a process that may include more layers of sophistication in subsequent years, according to Gonzalez.
* * *
In a recent interview with Arizona sports radio (98.7 FM in Phoenix), Diamondbacks manager Kirk Gibson expressed restrained optimism about enhanced replay.
"We've made a lot of good decisions in the game over the years and they've been good for the game. This one can work, too," Gibson said. "I know they don't want (the game) to get bogged down where we're sitting and looking at replays all the time. I think they'll have a quick fashion to resolve it.
"They're virtually going to review these plays, is my understanding — it'll be going on before I even go out there to dispute it."
For two more official games at least, Gibson will get to experience the best of both worlds with replay — past and present.
On March 22, the Diamondbacks and Los Angeles Dodgers will take the Major League Baseball brand to Sydney, Australia, playing a two-game set in the same 24-hour period (starting times 16 hours apart).
Given the logistics of playing on the other side of the world, there will be no expanded replay for this regular-season pair of games involving NL West rivals.
* * *
There are some lingering questions regarding the league-wide implementation of replay during Grapefruit and Cactus League games:
a. Will MLB uniformly choose five specific dates on the spring training calendar to do replay — involving all 30 teams?
b. Does MLB plan to front-load its slate of replay games, allowing for certain quirks in the system to be rectified before spring training concludes?
c. Would MLB consider adding more "replay" games during the 2014 spring training, if the new system encounters more bugs/problems than expected?
d. Will MLB spread the replay test dates amongst its TV network partners — FOX Sports (national/regional), ESPN, MLB Network, NESN, Root Sports, etc.?
e. Will MLB cover the added TV expense of local networks employing enough camera workers/technicians to fulfill the need for approximately 12-13 camera angles during exhibition "replay" games?
f. For these replay broadcasts, will TV networks be obligated to show the disputed call before a commercial timeout? Or can the process not begin until the TV timeout has concluded?
---
---