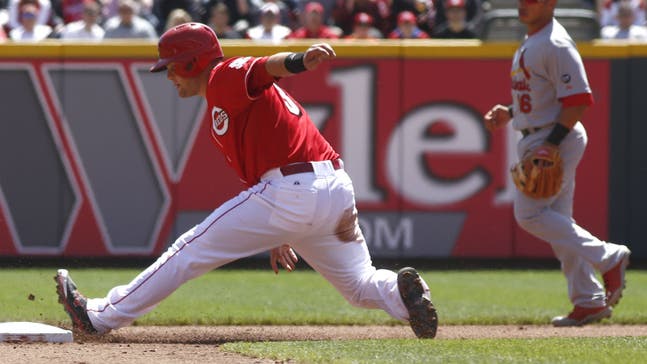 MLB Quick Hits: Reds' Mesoraco set to DH
Published
May. 8, 2015 6:27 a.m. EDT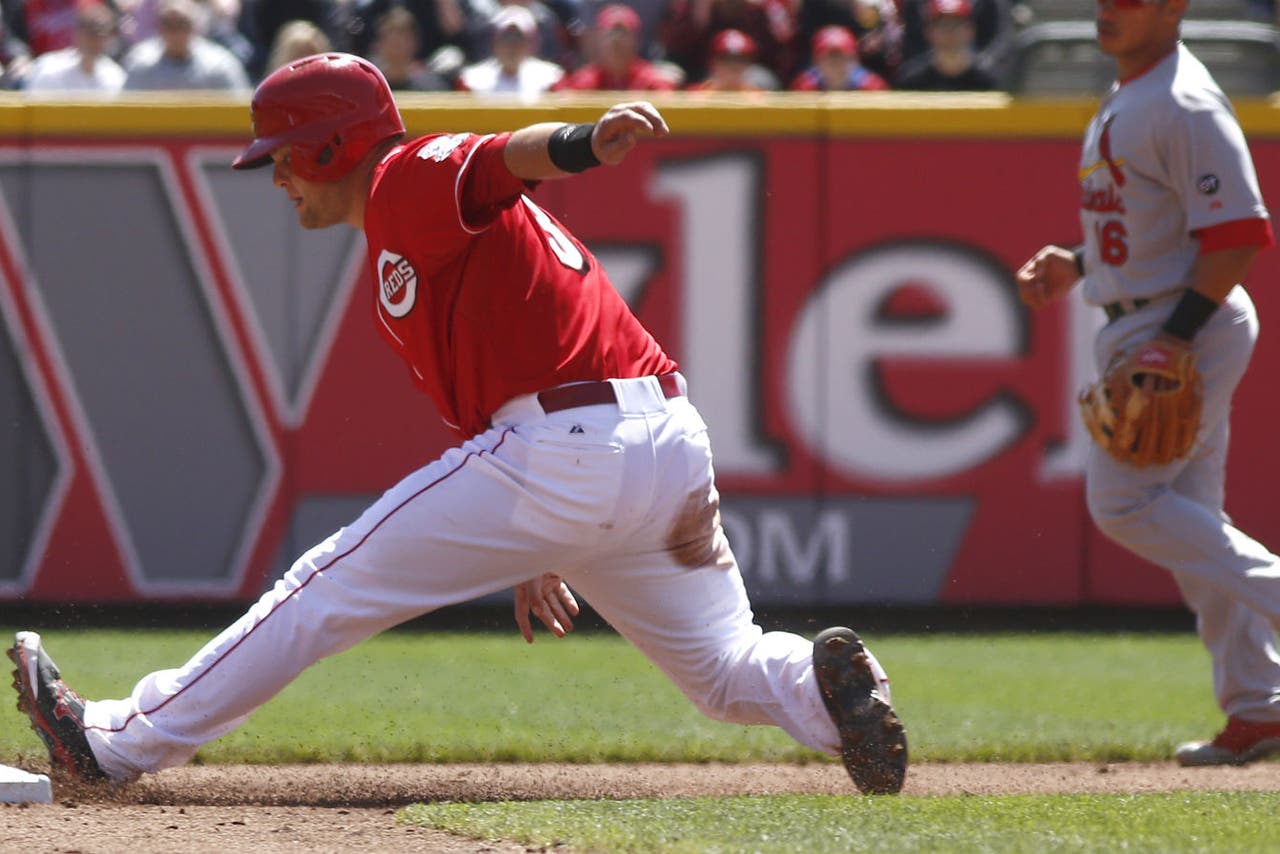 Still waiting for Devin Mesoraco to play? You're a patient - or extremely stubborn - person. The Reds' catcher, who has been limited to pinch-hitting duties over the past month because of a hip injury, is likely to DH for most or all of this weekend's series against the White Sox in Chicago. The Reds haven't definitively stated this week that Mesoraco will DH all weekend, but if he can't do this, they wouldn't still have him on the active roster ... we think.
Mesoraco has had eight plate appearances since April 12, so it's hard to be optimistic about his readiness. He's not recommended for this series unless you're desperate, and that means keeping him is unwise outside of NL-only leagues or setups that include quite a few bench spots. This is a lost season for Mesoraco, and you need to move on.
In other news ...
Dodgers C Yasmani Grandal had quite a day on Thursday, with four hits, two homers, three runs scored and eight RBI. He's owned in just 34.8 percent of FOXSports.com leagues.
Look for OF Christian Yelich (back) to return to the Marlins' lineup tonight.
White Sox SP Chris Sale dropped the appeal of his five-game suspension, and will be able to start again on Tuesday. Which makes it not really a suspension.
Rangers OF Delino DeShields made a rare start on Thursday, and stole three bases. Despite only 31 plate appearances, DeShields has six steals on the season. How badly do you need speed in your deep mixed league?
Rays 3B Evan Longoria was out of Thursday's lineup due to the flu. Hopefully, he'll be back tonight.
Reds SS Zack Cozart (wrist) didn't play again on Thursday, and is still day to day. If you own Cozart, his absence gives you more time to sell high. Remember that even though he's batting .304 with five home runs, he's not a good hitter.
Alex Rodriguez hit his seventh home run on Thursday, and trails only the amazing Todd Frazier among fantasy third basemen. The Yankees should pay A-Rod double on his home run bonuses.
The Diamondbacks have signed C Jarrod Saltalamacchia and assigned him to Triple A. Salty's stats might look good in the PCL, but he hasn't been even a decent hitter since 2013.
Fifteen hits in six-and-two-thirds innings, Tim Hudson? Yeesh.
Some AL-only owners might want to know that Royals RP Kelvin Herrera began serving a six-game suspension on Thursday.
Rubby De La Rosa was a strong streaming starter pick on Thursday, tossing seven scoreless innings with seven strikeouts against the Padres. The weekend selections are Jimmy Nelson (owned in 17.8 percent of FOXSports.com leagues) against the contact-averse Cubs on Friday; Cubs' lefty Travis Wood (30.6 percent owned) at Milwaukee on Saturday; and underrated Met Dillon Gee (2.1 percent owned) at Philly on Sunday. Fun stat on the Wood pick: The Brewers have a .481 OPS against LHP this season.
Friday DFS advice (salaries from DraftKings): Nelson is an interesting low-priced SP option at $6,200, and he'll help keep your costs down as a complement to sure thing Matt Harvey ($11,000) against the hapless Phillies ... You kind of have to start Troy Tulowitzki ($4,900) at home against lefty Brett Anderson, right? Rox 3B Nolan Arenado ($4,600) is a solid choice, too ... Jayson Werth's shoulder has impacted his play, but if he plays I'd still start him at $4,400 versus Braves LHP Eric Stults ... Werth's teammate, C Wilson Ramos ($4,100), isn't cheap but is still a strong play, and you can add 2B/SS Danny Espinosa ($3,400) to your Nats' tournament stack ... Brandon Moss ($4,900) is another solid OF play against Mike Pelfrey ... Save money up the middle with Astros 2B/3B Luis Valbuena ($3,600), who will probably bat second or third against the awful Jeff Weaver ... Your OF bargain of the day is Astros' rookie Preston Tucker ($2,000). Tucker batted eighth in his MLB debut on Thursday, but IF he plays tonight against Weaver, he's worth considering depending on how much you want to spend elsewhere.
See you back here Monday morning.
---
---