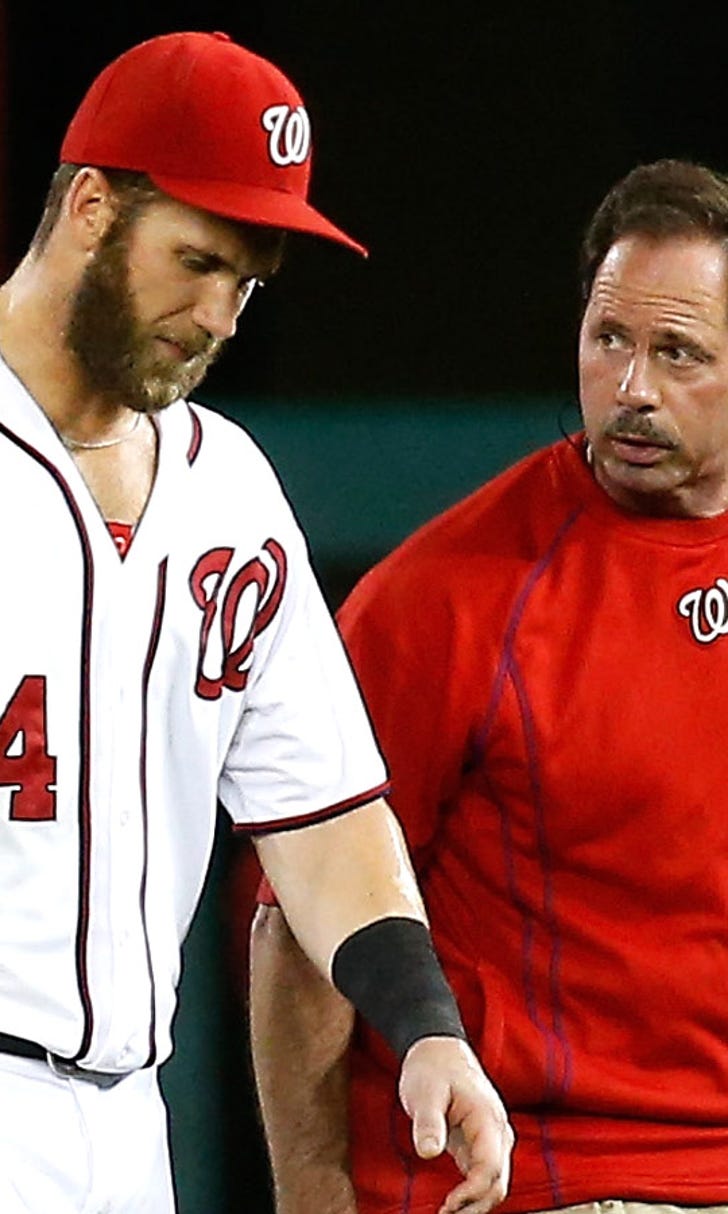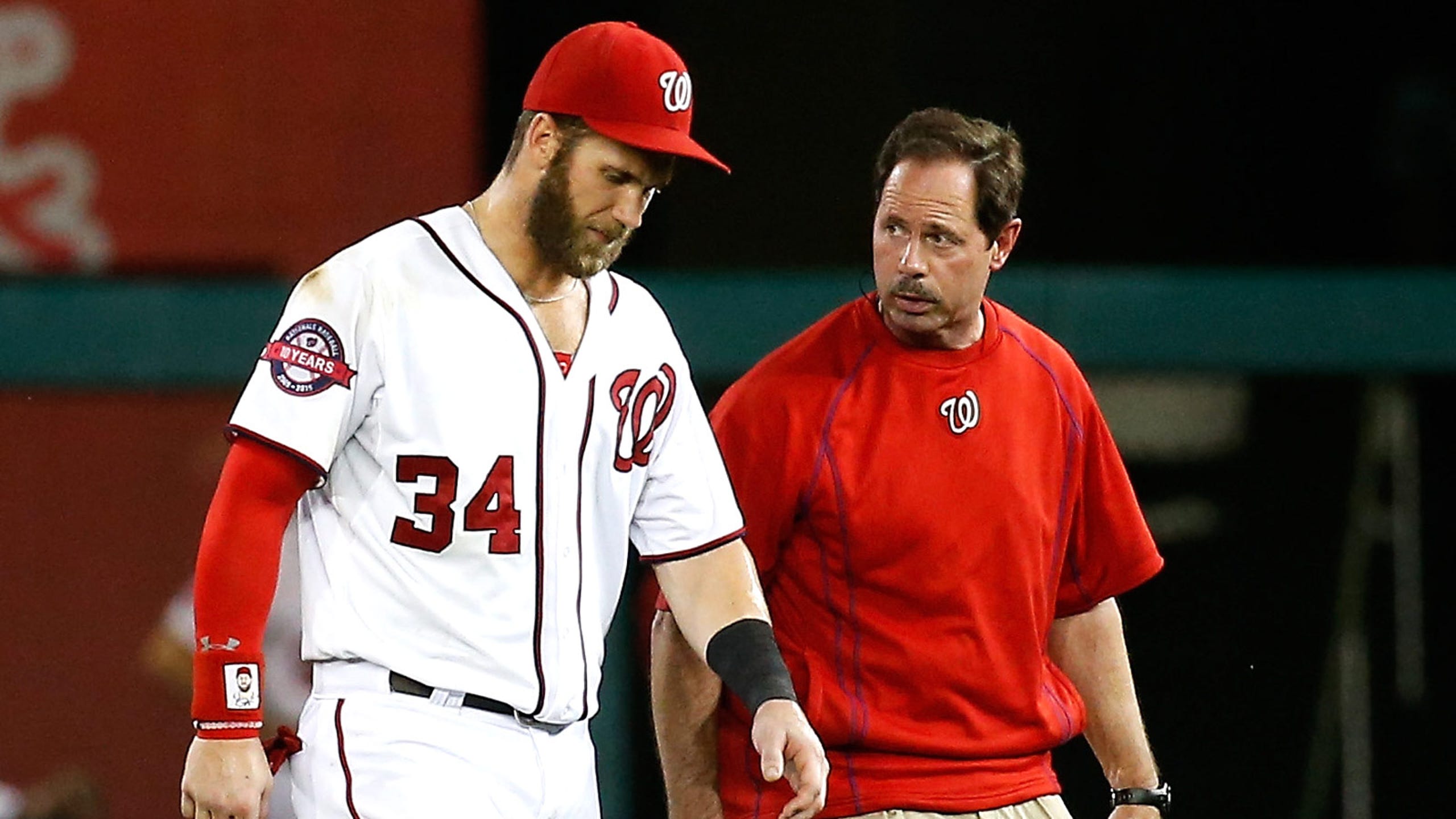 MLB Quick Hits: Harper day to day with strained hamstring
BY John Halpin • June 19, 2015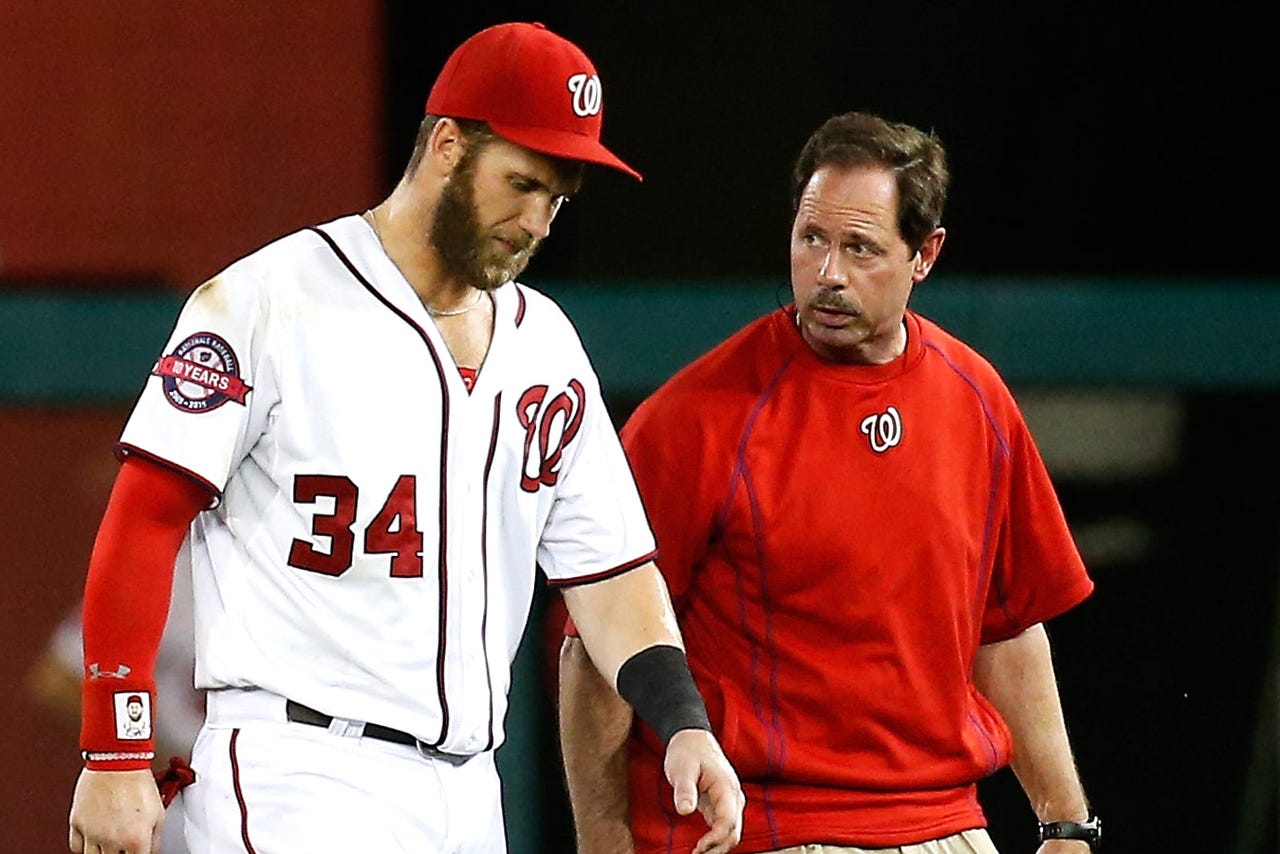 Billions of fantasy baseball owners gasped Thursday night upon seeing Bryce Harper collapse in a heap while making a throw from the outfield. It looked bad, but it appears that Harper is day to day with what the team's website calls a "mild hamstring strain." According to the site, Harper "didn't rule out a day off on Friday against the Pirates, but beyond that, it's unclear how much time he will miss." Even if Harper has dodged a bullet, keep him out of your fantasy lineup until you know the Nats include him in theirs.
In other news ...
DH Victor Martinez (knee) comes off the DL tonight for the Tigers. Are you excited? Me neither.
Astros SS Carlos Correa stole three bases on Thursday. I think he might be pretty good.
Phillies ace Cole Hamels has been scratched from his Friday start due to a hamstring strain, but it sounds like he'll avoid the DL. Phillippe Aumont (2.35 ERA, 58K/41BB in 65 IP at Triple A) will make a spot start in Hamels' place, and stands a real chance of getting pummeled by the Cardinals.
What is with all the hamstrings this week? The Astros are being very cautious with 2B Jose Altuve, to the point where he might not play this weekend if he's not 100 percent. 
Look for Orioles OF Adam Jones (shoulder) to return tonight after a three-day absence.
You know how Jake McGee got three saves last week for the Rays? On Thursday, McGee pitched the eighth inning while Brad Boxberger closed out the Nats in the ninth. Thanks for confusing everyone, Kevin Cash. I don't know what's going to happen moving forward, but a closer timeshare seems like a good bet, at least for awhile.
The Mariners hope that 2B Robinson Cano (lower back stiffness) will be ready to go tonight. 
Braves rookie SP Matt Wisler will make his big-league debut tonight against the Mets. Don't be fooled by Wisler's 4.29 ERA at Triple A, as it's skewed by a terrible recent outing. Wisler is a pretty good prospect, even if he doesn't miss enough bats. He's worth your NL-only time, but probably shouldn't be considered beyond that in redraft leagues.
Royals SP Yordano Ventura is on the DL with a nerve/numbness issue. It doesn't sound too serious.
Reminder: The Cubs say that rookie slugger Kyle Schwarber is heading back to the minors next week. Yes, we know that Schwarber is 6-for-10 with a homer already. He's still going back to Triple A. Really.
The Marlins have placed 3B Martin Prado (shoulder) on the DL. Look for Derek Dietrich to handle most of Prado's duties.
Here's an update on some injured Rangers. Josh Hamilton could begin a rehab assignment next week.
Jaime Garcia was strong as Thursday's streaming starter, even if he was on the high end of the ownership range that we usually prefer. The weekend selections are: Rubby De La Rosa (owned in 15.6 percent of FOXSports.com leagues) tonight against the Padres; the still-underappreciated Taijuan Walker (27.9 percent owned) on Saturday against the Astros; and Charlie Morton (30.9 percent owned) at Washington on Sunday. Morton's matchup isn't the greatest, but there are currently a lot of TBDs on the probable starter slate, and the certain alternatives aren't good.
DFS adbice (based on 50/50 games, salaries from DraftKings): Chris Sale ($11,900) is the strong ace call if you want to pay for him. Carlos Carrasco ($8,800) also looks good, and Seattle's Roenis Elias ($6,700) can save you money against an Altuve-less Astros' lineup ... Ryan Braun ($4,900) is 10-for-14 with three homers against Rockies LHP Jorge De La Rosa, with tonight's game at Coors Field. No-brainer, even if you don't consider BvP ... Stacking Rockies or Brewers will get no argument from us; Jonathan Lucroy ($4,000) has a particularly attractive price ... Cardinals 3B Matt Carpenter at $3,700 vs. Aumont is a steal. Maybe his price assumed Hamels would start? ... Ditto for Kolten Wong ($3,400) ... The O's-Jays game has an O/U of 9.5, suggesting a high score. Beyond the big hitters, Chris Parmelee is only $3,100 for the O's.  ... If Jeff Francoeur ($2,400) is in the Phillies' lineup vs. Tyler Lyons, he's a money saver.
See you back here Monday morning.
---
---