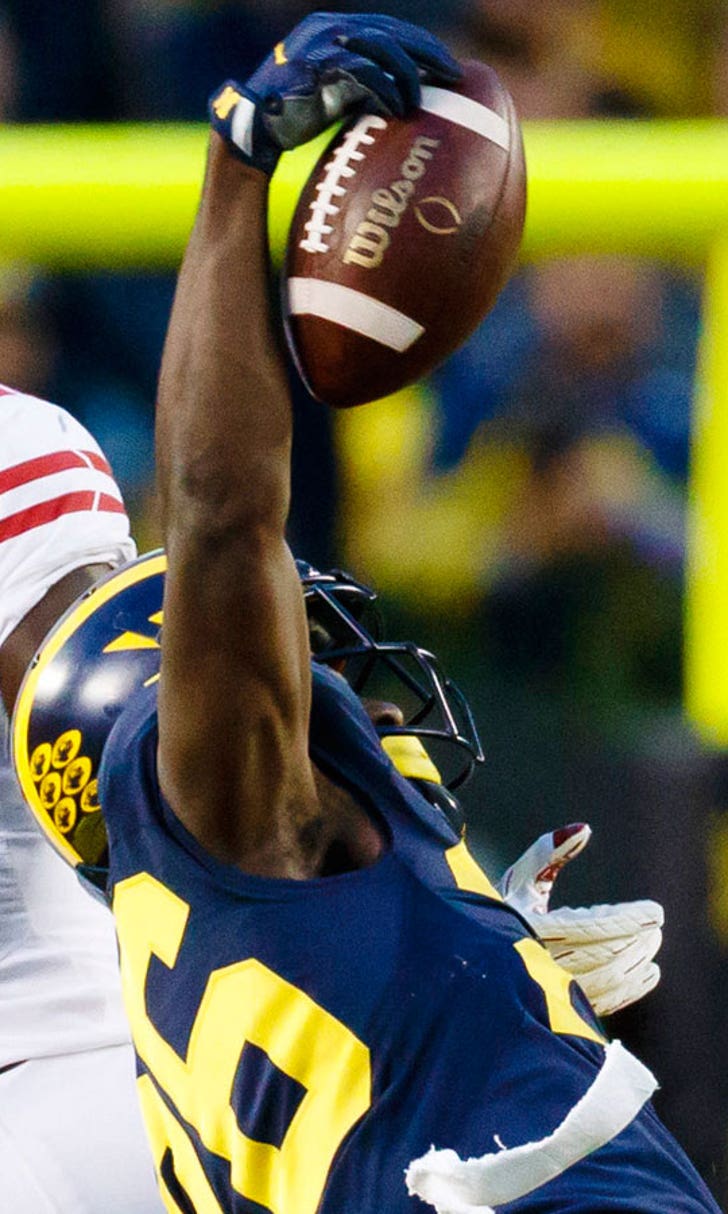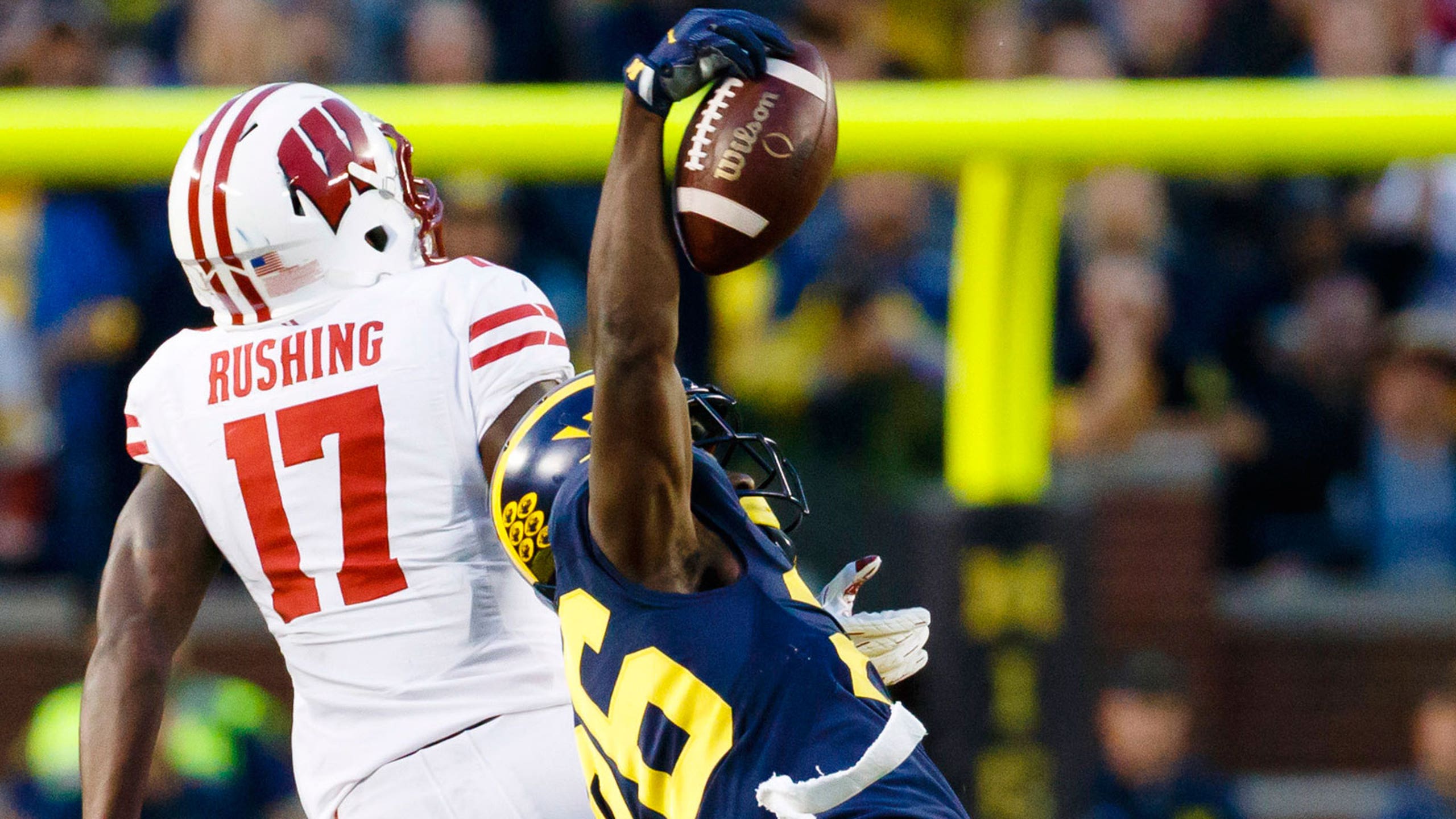 Michigan defense firing ahead of Rutgers game
BY foxsports • October 7, 2016
The Michigan offense is receiving a lot of credit for a terrific 5-0 start in which the No. 4 Wolverines won by an average of 32 points per game.
The defense is certainly doing its part, too.
Michigan ranks fifth in total defense (247.6 yards per game) and sixth in scoring defense (12.4 points per game) as it takes to the road for the first time this season when it faces Rutgers on Saturday at Piscataway, N.J. (7 p.m. EDT, ESPN2).
The Wolverines (2-0 Big Ten) are fresh off a 14-7 victory over Wisconsin last Saturday in a top-10 showdown. And it was the Michigan defense that led the way by allowing a season-low 159 yards and recording three interceptions -- two by senior cornerback Channing Stribling and the game-clinching pick by senior All-America cornerback Jourdan Lewis.
"It was a game ball for Don Brown," Michigan head coach Jim Harbaugh said of his defensive coordinator. "I was very impressed with our defense, and our defensive coaches and the character of our defensive players and their talent -- A-plus-plus."
The Wisconsin game marked the second time the Wolverines held an opponent below 100 passing yards this season. And the play on third downs has had been incredible, as Michigan leads the nation in opponents' third-down conversion rate at 15.4 percent.
Opponents have converted just 10 of 65 third downs.
Making the season-long defensive performance even better is the fact that Lewis is now fully healthy after missing the first three games with three different injuries. He announced his presence in a loud manner by making an acrobatic, one-handed interception that sealed the victory over Wisconsin.
Lewis sees the success of the defense as something that is built on teamwork all the way through the unit.
"I know the D-line believes in us," Lewis said. "The linebackers believe in us, and I know that we believe in those guys. That's that trust that's been built over the years, and it's understanding that those guys are going to get their jobs done."
The Wolverines figure to have an easy time with Rutgers (2-3, 0-2 Big Ten) based on the Scarlet Knights' troubles last Saturday in a 58-0 loss to No. 2 Ohio State.
Rutgers was outgained 669-116 by the Buckeyes and completed just three passes. Ohio State had a 32-9 edge in first downs while thoroughly dominating the Scarlet Knights.
The poor performance dropped junior quarterback Chris Laviano's completion percentage to 49.6 percent. Laviano has passed for 680 yards and five touchdowns against two interceptions while receiving hefty criticism from the team's fan base.
"Everybody talks about a football teams's quarterback," Rutgers coach Chris Ash said. "That's just the nature of the business. If you don't want to be in that (conversation), don't be a quarterback. Can some of our passing issues be attributed to Chris? Absolutely. Are they all attributed to Chris? Not at all."
The Scarlet Knights have a solid running back, junior Robert Martin (398 yards in four games). But Rutgers has been badly hurt by the loss of senior game-breaking returner Janarion Grant.
Grant sustained a season-ending ankle injury against Iowa on Sept. 24. He holds the school record of 2,606 kickoff return yards and shares the NCAA FBS record of eight career kick-return scores (five kickoffs, three punts).
The defense is led by sophomore free safety Kiy Hester (36 tackles), senior defensive end Julian Pinnix-Odrick (four sacks) and senior strong safety Anthony Cioffi (two interceptions).
One week after being battered by Ohio State, Rutgers will attempt to slow down a Michigan offense ranked 10th nationally with a scoring average of 44.4 points per game.
Wolverines sophomore quarterback Wilton Speight has been solid with 10 touchdowns against two interceptions while completing 63 percent of his passes. Speight teamed with senior receiver Amara Darboh on the decisive 46-yard touchdown pass in the win over Wisconsin.
Darboh is Michigan's leading receiver with 23 catches for 335 yards and five touchdowns. Senior tight end Jake Butt has contributed 22 catches for 265 yards and three scores.
"It's always fun to go into somebody's house," Butt said, "and you're kind of backed up against the wall. You've got a lot of adversity because you're going against their home crowd."
The teams have split two previous meetings, and a 2014 visit to New Jersey wasn't the least bit fun for Michigan. The Scarlet Knights notched a 26-24 victory in a stunning outcome that went a long way toward putting intense heat on then-coach Brady Hoke before he eventually was fired.
Harbaugh was hired as Hoke's replacement, and now the Wolverines are rolling in his second season.
"He's taken it to another level," Ash said. "He's very creative, thinks outside the box. Finds new ways to get his brand out there, and give him a lot of credit, he's done an outstanding job. That whole staff has done an outstanding job."
---
---