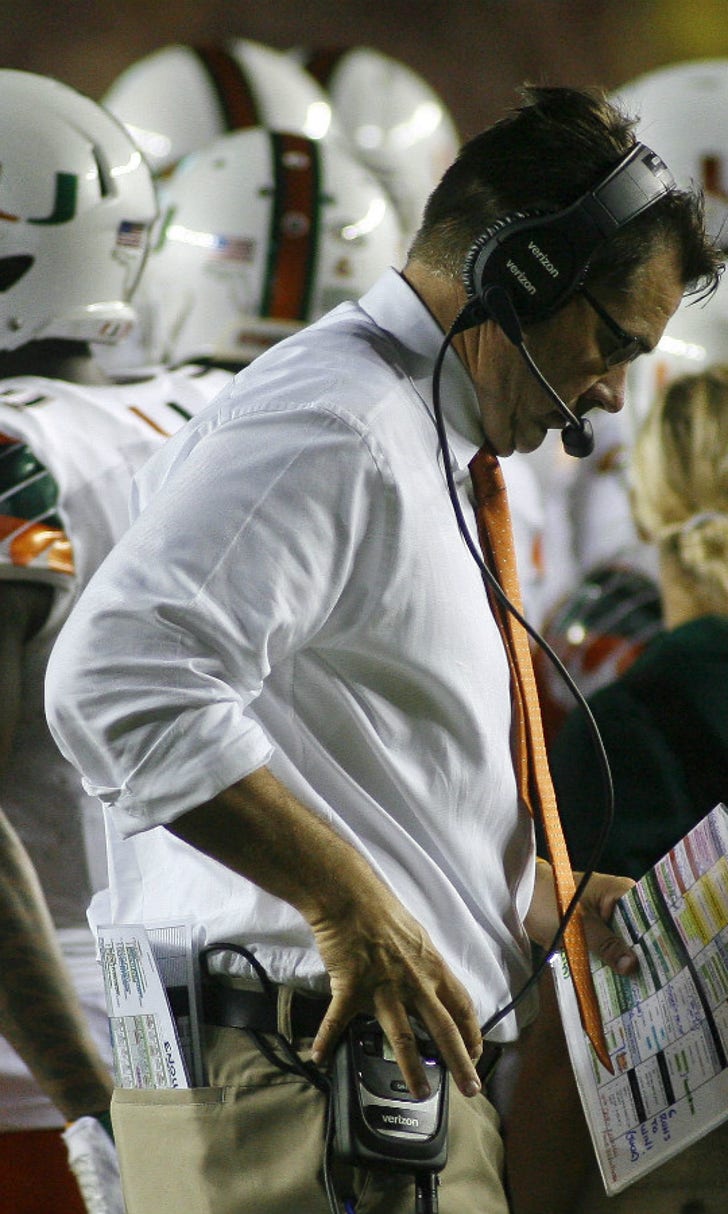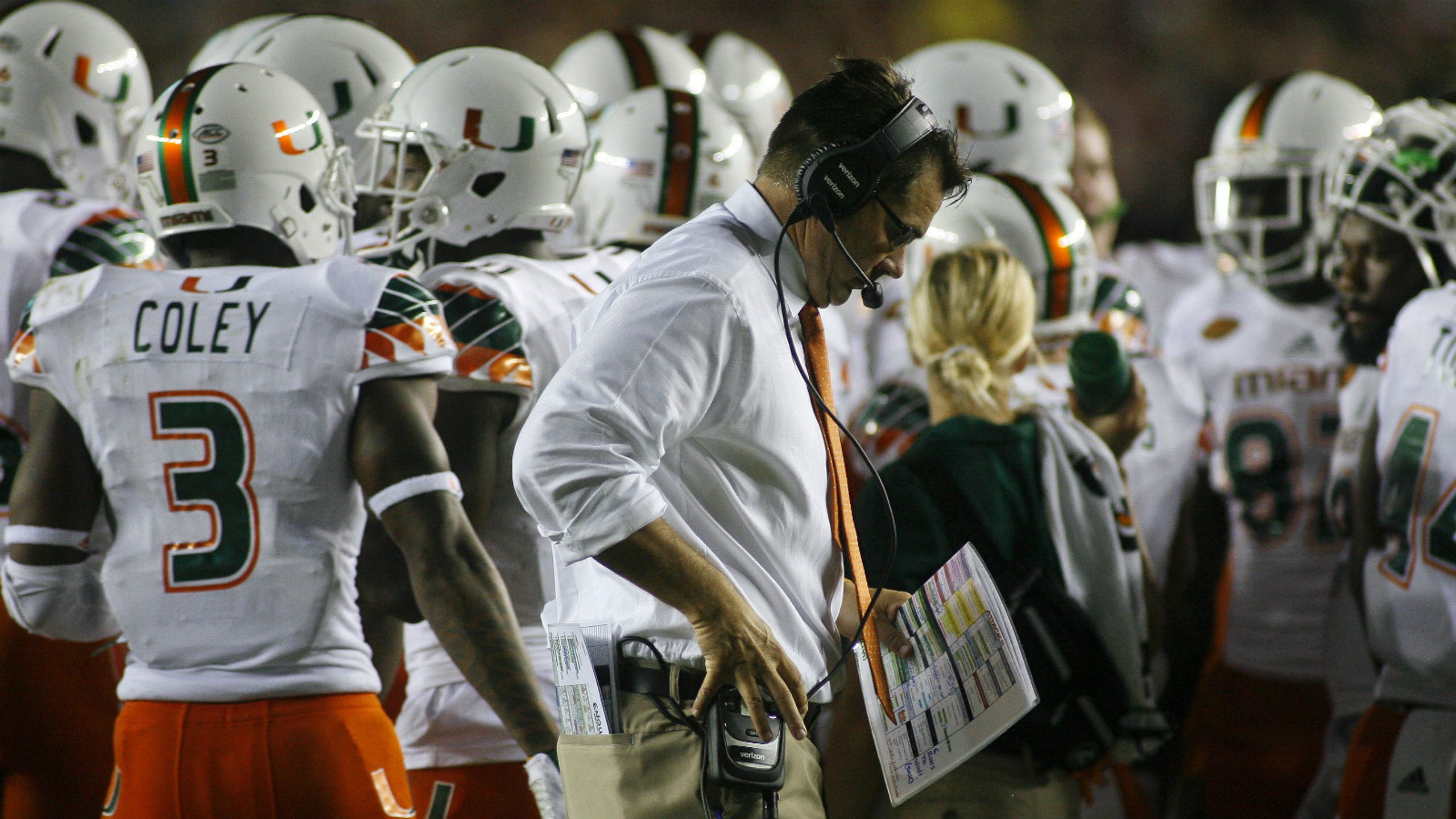 Miami hopes to avoid another post-Florida State tailspin
BY foxsports • October 13, 2015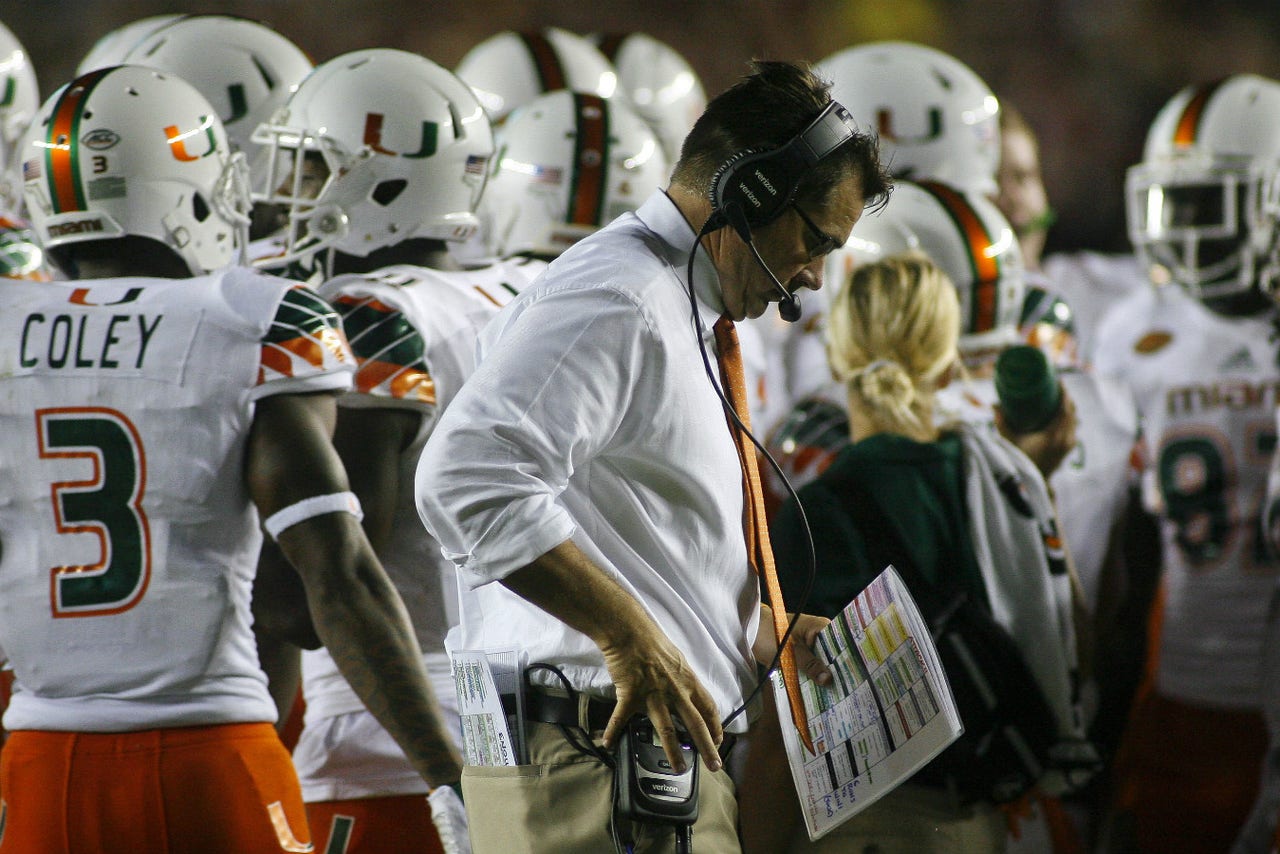 CORAL GABLES, Fla. (AP) -- For the Miami Hurricanes, the toll of six consecutive losses to Florida State is compounded because lately they've let the losses linger.
The past two defeats sent Miami into a tailspin that ended only when the season did. Embattled coach Al Golden's many detractors wonder whether 2015 will be a repeat as the Hurricanes digest the latest loss to their biggest rival.
"We're trying not to think about it," receiver Braxton Berrios said Tuesday. "It's not easy. It's not something you just walk away from. Nobody is supposed to be used to losing. That's a problem if you are."
But Berrios and his teammates believe this year will be different and the season will be salvaged, beginning Saturday at home against Virginia Tech.
The Hurricanes (3-2, 0-1 Atlantic Coast Conference) have lost two games in a row but still harbor hopes of winning the ACC's Coastal Division. Virginia Tech (3-3, 1-1) will be their first division opponent.
"It's all forward thinking," Golden said. "Yes, we'd love to have things back in the last two games. Yes, we had opportunities. But we have to move forward. We need the leaders to lead. We need the alpha dogs to continue to step up and demand the ball, and make a sack at the end of the game."
In the wake of recent losses to Florida State, alpha dogs were in short supply.
Two years ago, the Hurricanes dropped three of their last five games after being beaten in Tallahassee. Last season, a loss at home to the Seminoles started a season-ending four-game losing streak.
This time there's more of the season left to play -- seven games, all in the ACC, followed perhaps by the league championship game, which Miami has never reached.
"We understand we haven't yet played a Coastal game," defensive lineman Ufomba Kamalu said. "Our season has barely started. We all understand what we can achieve as a team, so no one is down."
But the Hurricanes are also coming off only their third losing season since 1980, so they know things can get worse, especially with Golden's job already in jeopardy. He is now 0-5 against Florida State.
Issues he must address this week include the Hurricanes' latest fourth-quarter fade. They gave up a late 84-yard touchdown drive at Florida State to lose 29-24.
Golden said he's considering a change in his substitution patterns, with a rotation in the offensive line one possibility.
"We've got to get deeper and stay fresher," Golden said.
There were two lineup changes among the blockers in practice Tuesday.
"Our focus today was to get things right, to understand there's always competition out here, and there's not a mentality that a guy has accomplished anything," offensive coordinator James Coley said.
Changes in playing time might also give the ground game a needed boost. Miami rushed 19 times for 20 yards at Florida State.
On defense, issues include inconsistency and a susceptibility to big plays.
Defensive coordinator Mark D'Onofrio said he was optimistic his unit would bounce back after giving up 539 yards to the Seminoles.
"We've got fight in us," D'Onofrio said. "We have guys who are resilient and unified. Let's not lose that. Let's just execute a little better."
---
---