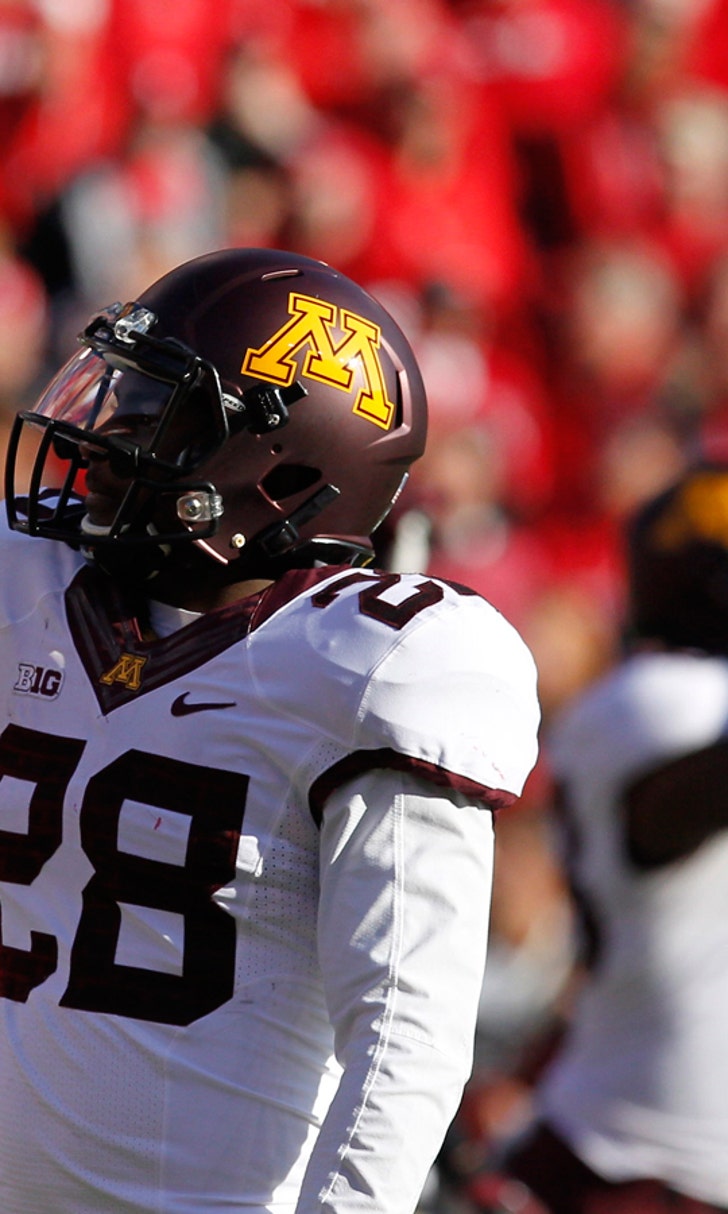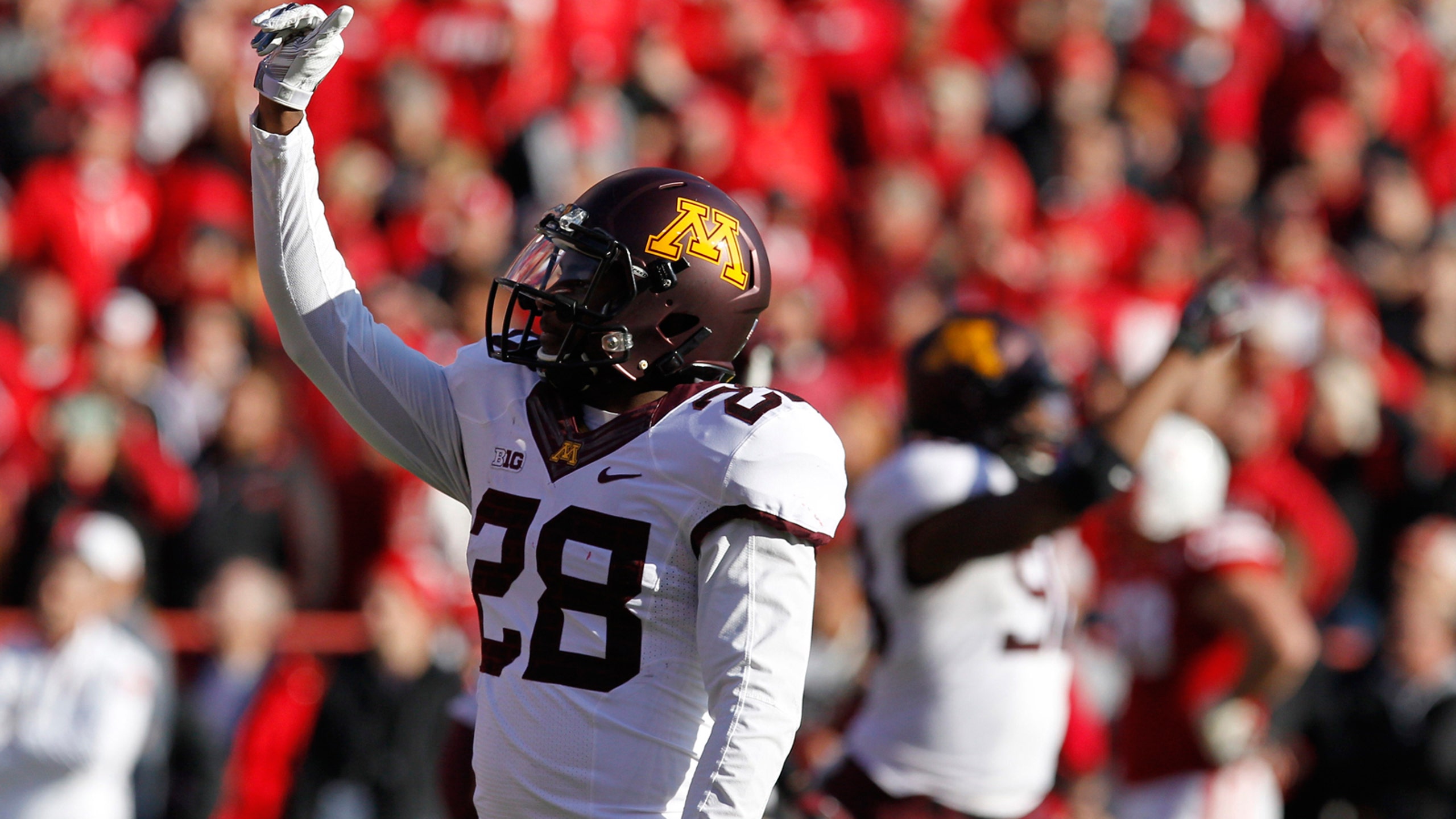 Mental toughness propels Minnesota to historic win at Nebraska
BY foxsports • November 22, 2014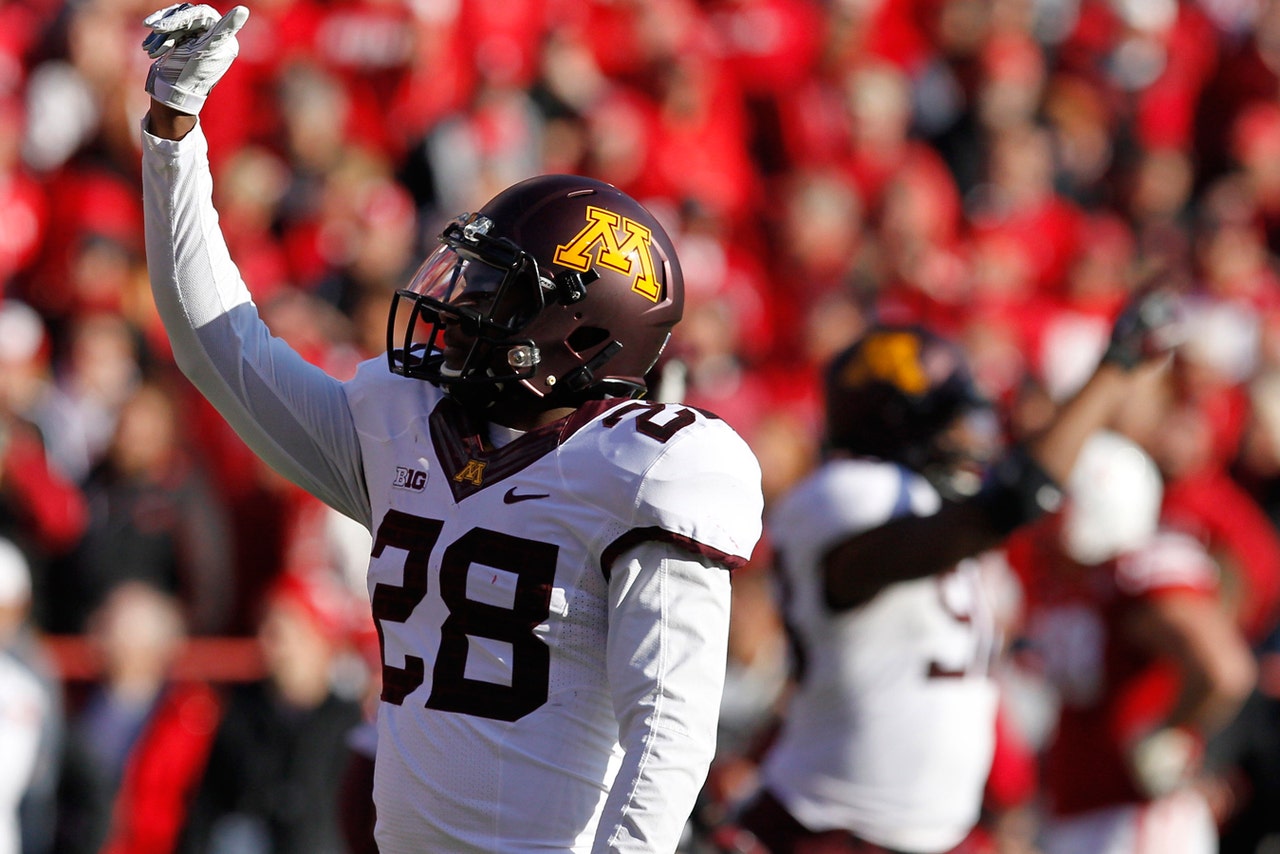 LINCOLN, Neb. -- Ask Briean Boddy-Calhoun, and he'll tell you the biggest game yet in Minnesota's steady ascent wasn't won when he tore the ball out of Nebraska wideout De'Mornay Pierson-El's hands, and the heart out of an entire state of college football fanatics Saturday afternoon.
It wasn't won when the Golden Gophers lost the FBS' No. 7 rusher to injury and rode two battering rams to overpower Nebraska in the second half. Nor when embattled quarterback Mitch Leidner set up his game-winning touchdown plunge with the throw of his life. Not even Minnesota's ball-hawking defense, which held the high-octane Huskers attack to three points after halftime on their hallowed home turf, gets all the accolades in a 28-24 victory they'll be talking about up and down Interstates 35 and 29 for a long time.
No, the Gophers' rumble into a de facto Big Ten West championship game next weekend in Madison began on a slushy, cold spring day in Minneapolis. Take away the shining sun in the Cornhusker State's capital city, the 91,186 fans and the fireworks before Nebraska's infamous "Tunnel Walk" and replace it with four yards of artificial turf between bragging rights and suicides.
Coach Jerry Kill would give the No. 1 offense four plays to score from four yards out. Fail, and run. Succeed, and the defense receives similar punishment.
"Adversity isn't just something that happened today," said Boddy-Calhoun, whose takeaway gave Minnesota possession with 1 minute, 19 seconds remaining.
Two punishing runs by reserve running back Donnell Kirkwood and a kneel-down gave the Gophers (8-3, 5-2 Big Ten) their first win here since 1960 and their first road victory over an AP Top-25 team since 2000. "Happens the whole year," Boddy-Calhoun finished.
And not just in spring drills. Try a demoralizing loss at Illinois, a team the No. 21 Huskers (8-3, 4-3, No. 23 College Football Playoff) crushed 45-14 earlier this season. Or a quarterback under constant scrutiny for maddening inconsistency. Or a fan base that's accustomed to disappointment and is quick to inch toward the ledge with each passing, seemingly-season-derailing defeat.
So when Memorial Stadium threatened to serve as a Big Ten elimination station on senior day, Minnesota's throwback ground game and opportunistic defense turned it into a sun-soaked celebration for the few hundred maroon-and-gold clad fans seated in the venue's northeast and southwest corners. "Jer-ry," they chanted in honor of beloved coach Jerry Kill as Nebraska's supporters -- who render this concrete football monolith the state's third-largest city on game days -- streamed toward the exits.
"To come in here, it is difficult," said Kill, whose first try in Lincoln as the Gophers' head coach resulted in a 38-14 drubbing in 2012. "But our kids, I don't know. I'd like to tell you how and why, but they're a mentally tough group."
That bunch rallied from a 21-7 halftime hole to outscore Nebraska 21-3 after the break. Minnesota outgained Nebraska 281-174 on the ground and recovered a pair of second-half fumbles. It bounced back from a roughing-the-passer call that gave Nebraska new life as it sought its own late, game-deciding drive. And it didn't waiver after the Huskers blocked a field goal and ran it back for a touchdown in the second quarter, stopping them before halftime before an authoritative start to the third.
The most significant road win of the Kill era, now in its fourth year, inscribed "spot in the Big Ten championship game" on the handle of Paul Bunyan's Axe. Whichever border rival wins that game will secure a spot in the Big Ten title tilt against Ohio State, which clinched the East by beating Indiana on Saturday.
"From our standpoint coming in here four years ago, I was telling the administration that it's going to take seven or eight years," Kill said. "We still have a lot of work to do and a lot of areas to get where we want to be. But I think it's gone a lot faster than I certainly would think. We've come a long way, but that's because of the players and their effort and what they've done in the offseason."
And after sucking the life out of one of college football's most revered destinations, the question in Gopher country -- which hasn't laid claim to so much as a share of the Big Ten title since 1967 -- has become "why the heck not?"
"It's telling us that we've made tremendous strides and we've worked hard throughout the offseason," said Boddy-Calhoun, a 2012 junior-college transfer who showed up for a 6-7 season. In Tim Brewster's final year and Kill's first, the Gophers went 3-9. "I came here two years ago, we got smashed, and right now, it's a completely different team with completely different leadership."
Said Kill: "I wouldn't put anything past our kids right now, that's for sure."
Not even snatching the game away when its opponent was chugging late. Nebraska quarterback Tommy Armstrong hit Pierson-El for a 28-yard strike to the Gophers' 2-yard line. But Boddy-Calhoun ripped the ball away before Pierson-El -- who was flagged for illegal touching on the play -- was tackled. "It just happened so fast," said Boddy-Calhoun, who made up for a dropped interception earlier in the afternoon. "I saw I'm sticking a guy and the next thing I know it's in his hands, and it's right there in front of me, and the first thing I thought about was get the ball."
Boddy-Calhoun's monumental play came after Leidner led a 10-play, 80-yard, 5:09 drive that gave his team the lead for good. A wildly inconsistent, 51.5-percent passer coming in, the gritty sophomore from Lakeville, Minn., threw perhaps the best pass of his collegiate career to date, a 38-yard, third-down strike to K.J. Maye on a double move that set up the Gophers at the Nebraska 25.
Five plays later, Leidner dove in from 2 yards out for his second touchdown run of the day.
It would've never been possible had left guard Zac Epping not pounced on a Leidner fumble on the drive's first play.
"We ran a zone read, and Mitch kept it, he saw me wide open, decided to pitch it to me, and I grabbed it and got five yards out of it," Epping joked. "So I'm happy with it. No, unfortunately he fumbled it and I was in the right place at the right time."
Taking advantage of gaping holes in the Huskers' run defense -- which yielded a then-FBS record 408 rushing yards to Wisconsin's Melvin Gordon last Saturday -- Leidner ran 22 times for a game-high 110 yards. The threat of running back David Cobb, who came into the day 114 yards short of Minnesota's top single-season mark, allowed Leidner to gain ample chunks of yardage on zone-read keepers.
Cobb injured his left leg on his 17-yard touchdown run early in the third quarter that brought the Gophers within 21-14 and didn't return. Backup Berkley Edwards became shaken up earlier in the game and wasn't available, either.
But reserves Donnell Kirkwood and Rodrick Williams, used only sparingly during Cobb's sterling senior season, came in and combined for 54 yards in his stead. Williams cruised in from 19 yards out on fourth-and-1 to make it 24-21 with 5 minutes, 25 seconds to go.
"You'll never see this team give up," Kirkwood said.
To the senior's point, the tide could've turned for good with one sky-high leap by Nebraska defensive end Randy Gregory.
The potential first-round draft pick at defensive end got his paw on a 30-yard Ryan Santoso field-goal attempt with 5 minutes, 18 seconds left in the second quarter. Defensive back Nate Gerry scooped it up and followed a wall of blockers down the left sideline into the end zone for an 85-yard touchdown return.
On the legs of Leidner, Minnesota had driven 74 plays in 11 yards, chewing up 5:36 of clock time. But instead of cutting the Huskers' lead to 14-10, Nebraska went up 21-7 at the second quarter's 5:18 mark.
The play could've changed the game, Kill said. "But . . . we came in at halftime, we didn't come in screaming or yelling or anything. We thought we were playing pretty good. They just had a couple of breaks."
Leidner ran for 82 yards in the first half alone. His 1-yard sneak over the goal line tied the score at 7 after Armstrong's 73-yard pass to Kenny Bell set up a 2-yard Ameer Abdullah touchdown run.
Armstrong threw for 223 yards on 12 completions, largely thanks to his elusiveness in the pocket. He scrambled right and threw back across the field to Pierson-El for an 18-yard score that made it 14-7 with 10:57 left in the second quarter. The ball initially popped out, but after video review, the officials ruled Pierson-El had secured the ball and reached it across the goal line before losing it.
The Gophers punted on their next possession after Gerry's field-goal return, and Nebraska drove into field goal range with less than a minute left in the half. But Pierson-El fumbled after a 25-yard reception, and safety Damarius Travis -- starting in place of injured Antonio Johnson -- recovered to ensure Minnesota's halftime deficit wasn't larger.
Defensive coordinator Tracy Claeys' halftime adjustments included sending more pressure at Armstrong rather than spying to contain him. The fruits were immediate, as Nebraska went 15 yards backwards on sacks by Damien Wilson and Michael Amaefula.
A 34-yard field goal gave the Huskers their only points after halftime. The Gophers held them to 164 second-half yards. Ballyhooed Nebraska running back Ameer Abdullah carried 20 times for 98 yards.
To stymie Gordon, a Heisman Trophy candidate, and the Badgers at an equally-hostile Camp Randall Stadium in a week would be even more surprising. So would deploying an effective offense which remains largely one-dimensional; Leidner only accounted for 135 yards through the air and completed 8 of 17 passes.
Just don't tell anyone who crammed into the visiting dressing room Saturday to celebrate another program building-block that.
"Sold out crowd, playing for the Axe, playing for a Big Ten championship, that's all that needs to be said," Boddy-Calhoun said. "There's no motivation needed."
Follow Phil Ervin on Twitter
---
---