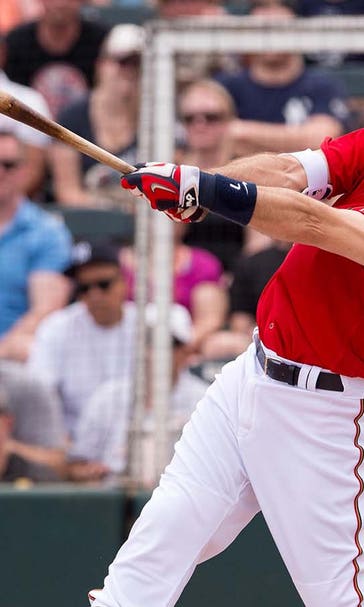 Mauer powers Twins split squad past Orioles with first homer of spring
March 22, 2016

FORT MYERS, Fla. -- Joe Mauer hit his first homer this spring, a two-run drive that sent a split squad of Minnesota Twins past the Baltimore Orioles 5-1 Tuesday.
Mauer connected in the first inning for an opposite-field shot to left. Trevor Plouffe added a two-run homer in the fifth for the Twins.
Logan Darnell started for the Twins, throwing two perfect innings and striking out two.
"The starting pitcher set the tone in that game," said Twins bench coach Joe Vavra, managing in place of Paul Molitor, who was with the other squad in Clearwater. "He got results right away. And Mauer, two-run homer, that's a pretty good start in that ballgame."
"For the most part, guys got ahead in the counts and got some quick outs. Guys don't have to stand around on defense too long and it's a quick-flowing game, that's kind of nice," he said.
Mike Wright, competing for a spot in the Orioles' rotation, went four innings, giving up three runs on five hits and a walk with three strikeouts.
"Mike was good. Gave up one run. I'm not even counting the routine flyball to left field which blew out," manager Buck Showalter said. "Had a walk there before that you don't like to see, but he really only gave up one run today. The conditions elevated his pitch count a little bit."
Caleb Joseph had two of the Orioles' four hits.
STARTING TIME
Orioles: This was Wright's fifth spring appearance and his fourth start. The Orioles were off on Monday, which Wright thought may have affected his mechanics.
"My pitches felt pretty good," he said. "As a whole, that's probably the worst I've felt. But I thought I attacked pretty well. Got behind in some counts, but didn't give up anything for free. Overall, felt pretty solid."
Twins: With Phil Hughes pitching against the Phillies in the split-squad game in Clearwater, to avoid facing the Orioles -- Minnesota plays Baltimore to open the season, Darnell started the game. He has started previously in his career, but doesn't figure in the Twins' rotation to start the season.
"It's definitely good that I started a lot in my career so it's an easy transition, since I've been in the `pen this spring training," Darnell said. "But it wasn't a big deal to start the game. Really, I felt like I was the first reliever almost."
TRAINER'S ROOM
Orioles: RHP Kevin Gausman reported he feels better two days after he received a cortisone injection to treat tendinitis in his right shoulder. ... LHP Brian Matusz had a cortisone injection in his lower back on Sunday, the day he pitched for the first time since March 2. Showalter isn't sure if Matusz will be ready when the season begins. ... INF/OF Jimmy Paredes, who's been out with a bruised right wrist since March 3, swung a bat on Tuesday, but still felt sore. He will be examined again.
Twins: OF Max Kepler, one of the Twins' top prospects, was in the original lineup, playing center field, batting second. He was scratched with a migraine.
UP NEXT
Orioles: RHP Miguel Gonzalez faces the Pirates in Bradenton on Wednesday. LHP Jeff Locke gets the start for Pittsburgh.
Twins: RHP Ricky Nolasco, competing for a spot in the rotation, will start on Wednesday when the Twins host the Rays. RHP Erasmo Ramirez starts for Tampa Bay.
---
---