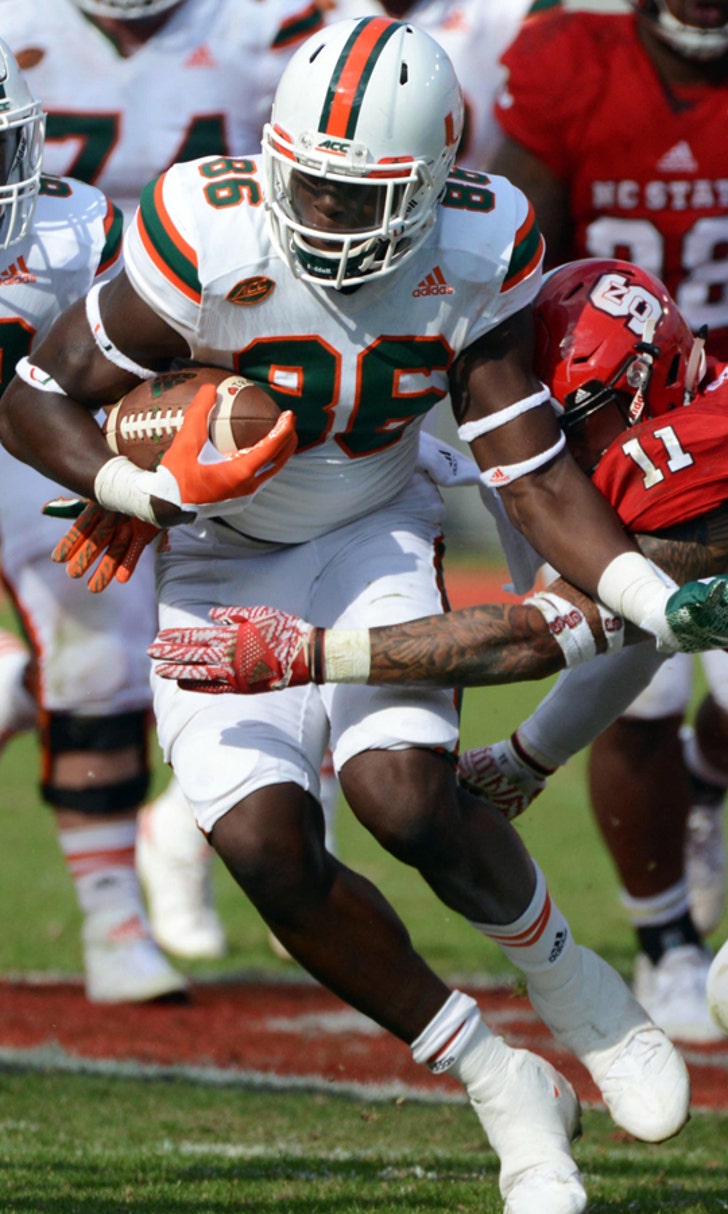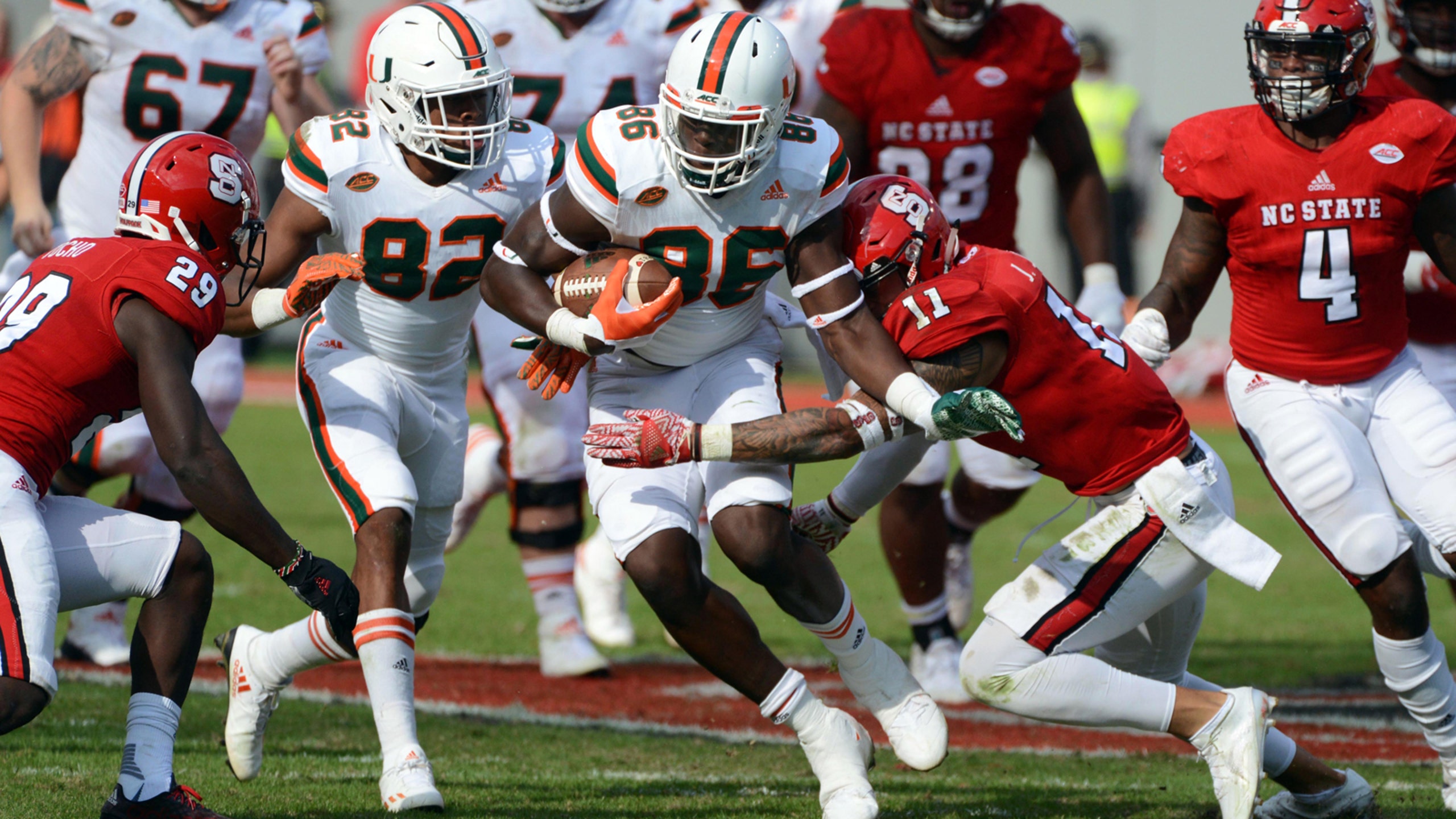 Mark Walton, Miami step up in 2nd half to beat NC State
BY foxsports • November 19, 2016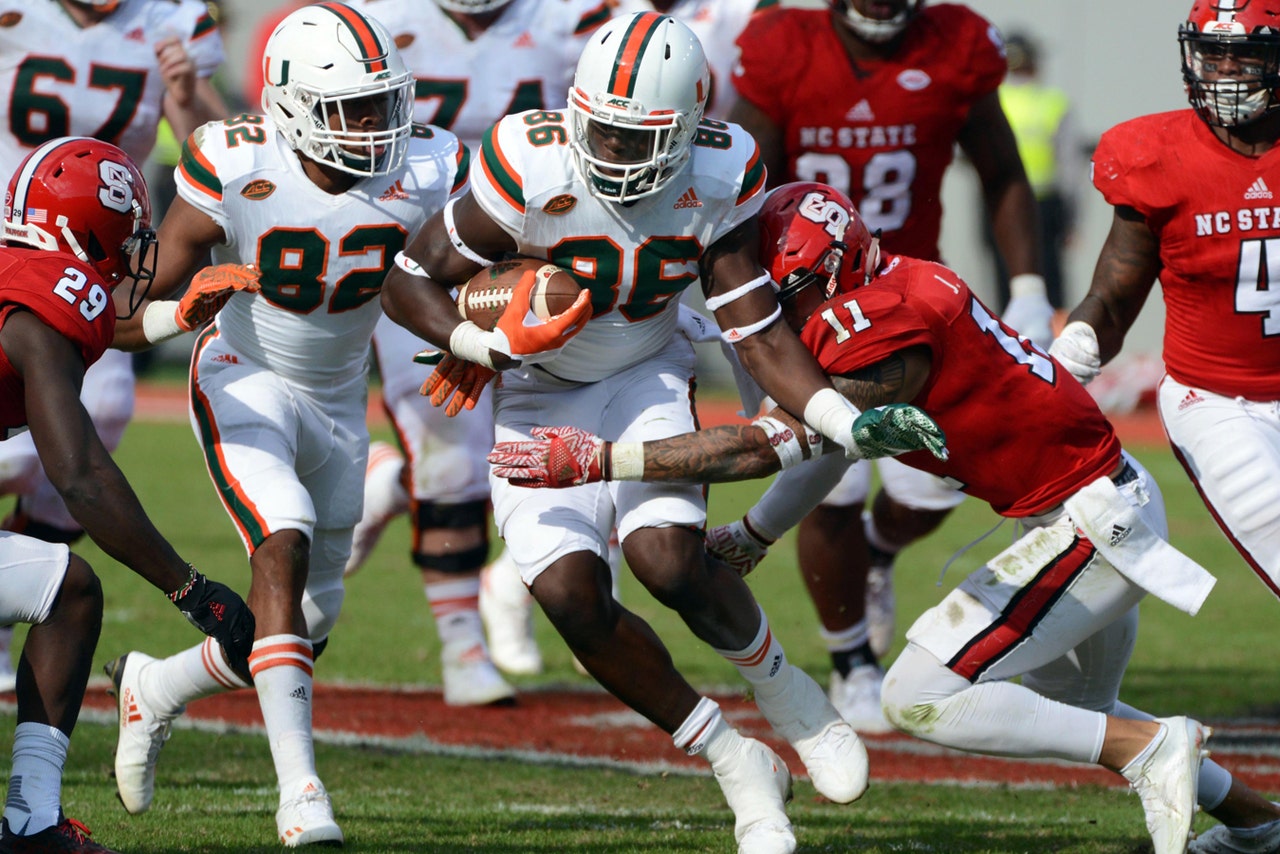 RALEIGH, N.C. (AP) -- Miami didn't back away from its ground game, even as it went nowhere against one of the nation's top run defenses through Saturday's first half.
Eventually, coach Mark Richt figured, the Hurricanes would break a few runs.
Mark Walton responded by running for three second-half touchdowns, turning in a huge performance to help the Hurricanes beat North Carolina State 27-13.
Walton ran 120 yards for the Hurricanes (7-4, 4-3 Atlantic Coast Conference) to crack the 1,000-yard mark on the season. The last of that production came when he bounced off two tacklers and sprinted free for the 24-yard clinching score with 2:06 left.
"The line did a great job for me, coach was trusting in me," Walton said. "The first half, it didn't go so well for our running game. The second half we came out and we ran the ball well."
Indeed. Walton ran for 102 yards after halftime, including a 30-yard score as one of two third-quarter touchdowns against a run defense ranked fourth in the Bowl Subdivision and tops in the ACC by holding opponents to 99.4 yards per game.
Those two TDs broke a 3-3 halftime tie to put the Wolfpack (5-6, 2-5) in catch-up mode.
"Sometimes you've got to chip away -- you've got to chip away and eventually something will break," Richt said. "And you've got to stay patient running the ball. You can't just avoid the running game completely and chuck it every down. It's not healthy for anybody."
Matt Dayes ran for 76 yards and a touchdown to become N.C. State's first 1,000-yard rusher since 2002. But the Wolfpack committed just too many mistakes to make comeback, including an end-zone interception thrown by Ryan Finley, a penalty negating a fourth-quarter TD run by Dayes and Bra'Lon Cherry's fumbled punt return -- all in the second half.
Finally, cornerback Jack Tocho committed a pass-interference penalty on third down with 2:56 left, giving Miami a first down and setting up Walton's clinching run.
"We didn't make enough plays when we needed to," Wolfpack coach Dave Doeren said. "It was a hard-fought first half but we just didn't play well enough to win."
BIG PICTURE
MIAMI: A week after securing bowl eligibility for the ninth straight season, the Hurricanes closed the regular season at 4-2 on the road after managing a combined three road wins over the past two seasons -- another positive sign in Richt's first year.
N.C. STATE: This game just about summed up the Wolfpack's season full of missed opportunities as N.C. State tried to become bowl eligible for the third straight year, falling right in line with a dropped late interception to potentially seal a win against Florida State and a missed short field goal to upset Clemson on the road.
"It's tough right now because there's a lot of mistakes made out on the field and a lot of missed opportunities," Dayes said. "That's why it hurts so bad."
MILESTONES
In addition to Dayes and Walton reaching 1,000 yards on the season, Miami receiver Ahmmon Richards broke the Hurricanes' single-season freshman receiving record (840 yards) set by program great Michael Irvin in 1985. He finished with nine catches for 117 yards.
UP NEXT
MIAMI: The Hurricanes close the regular season at home against Duke, a year after beating the Blue Devils on an eight-lateral, final-play kickoff return that officials later determined shouldn't have counted in a controversial finish.
"Hopefully we won't get to that point next week," said Walton, who was on the field during that final return. "We're not trying to get to that moment again. ... I don't want to revisit that play."
N.C. STATE: N.C. State closes the regular season with a trip to rival North Carolina for a Friday afternoon matchup over the Thanksgiving holiday weekend in a final shot to go to a bowl. The Wolfpack won the last visit there, a 35-7 romp in 2014.
"We've still got one more game left," safety Josh Jones said. "It's not too late."
---