MadFriars' June Players of the Month
BY Marcus Pond, MadFriars • July 3, 2018
In June, the Padres saw their already loaded farm system take a step forward, as short-season Tri-City (Low-A) and both AZL Padres squads began play. While many high-profile draft picks such as shortstops Xavier Edwards (38th overall) and Owen Miller (84th overall) are already off to hot starts in their professional careers, we'll focus on the prospects who played the full month of June, and give the new guys some time to earn their stripes for July.

As always, this month's listings are not meant to replace or update the MadFriars Top 20 prospects list, but rather call out individual performances worth noting.

El Paso Chihuahuas (Triple-A)

As the summer has heated up, infielder Luis Urías seems to be shaking off his cold month of May, when he batted just .239 (though his performance was buoyed by a robust 12.4% walk rate during that stretch). The 21-year-old, who was named to the Triple-A All-Star team, continued to walk at a high rate in June, and batted 41 points higher, hinting that he is getting used to the advanced pitchers in the Pacific Coast League. It's telling that even with a "rough" first half, he still owns a .375 OBP.

Fellow PCL All-Star Brett Kennedy came back from a minor ankle injury, and in limited time (four starts, 22.1 innings), has shown that he may be the next in line to audition for a full-time job in San Diego.  If the Padres don't add Kennedy to the 40-man roster this offseason, the team could lose the 2015 selection to the Rule 5 draft. The Fordham graduate has shown the ability to keep hitters from barreling the ball, allowing a paltry .361 slugging percentage this season, all while striking out almost a batter an inning. Rotation-mate Dillon Overton, who struggled in a lone start with San Diego in 2017, was almost untouchable in June, putting up a 0.83 WHIP and a 1.88 ERA. Luis Perdomo has continued to show improved control, dropping his BB/9 rate from 5.8 in four starts with the Padres to 2.1 through 11 starts in El Paso.




Through the ups and downs on the offensive side, no player on the Chihuahuas has been as consistently solid as catcher Brett Nicholas. Though buried on the organizational depth chart behind Austin Hedges, A.J. Ellis, and Raffy Lopez, Nicholas put up an .821 OPS in June, and leads the team in hits, home runs, RBI, and total bases (though had Franmil Reyes not been called up to the Padres for a month, it would be a much different story). While the MLB veteran, who turns 30 this month, may not get the call to play at Petco, he provides solid depth at the top of the system and adds experience and leadership to a young team.

El Paso Player of the Month: Brett Kennedy

San Antonio Missions (Double-A)

Fernando Tatis Jr. continues to impress in the Texas League, though he was unable to sustain the 1.054 OPS he posted in May, settling instead on a still stellar .941 mark. The 19-year-old has increased his walk rate every month this season, from 5.9% in April, to 9.6% in May, and 12.5% in June, all while providing stellar defense at short. On top of that, he also stole eight bases in ten attempts during that stretch, three more than he had in the first two months of the year. There is no reason to not be very excited about his future in the Padres organization.

While teammates Josh Naylor and Austin Allen both lit the Texas League on fire in April, both cooled off quite a bit in May. Though Naylor rebounded by hitting .310 in June, he had just four extra-base hits for the month. Allen, on the other hand, was the catalyst for San Antonio's offense in June, and his five homers contributed to a .984 OPS. His continued improvement behind the plate has been noticeable, as (partially) witnessed by his 36.6% caught stealing rate – a 16% increase from his mark in Lake Elsinore last season.

The Missions bullpen hasn't quite recovered from the promotions of Robert Stock and José Castillo, who have since made their Major League debuts. However, the rotation has benefitted from the return of Logan Allen from a DL stint, a resurgence from Cal Quantrill, latecomer Jacob Nix was pitching exceptionally well before hitting the 7-day DL after the All-Star break.

Sidelined early in the year with a groin injury, Nix was nearly unhittable in June, posting a 1.48 ERA in four starts, while allowing a .148 batting average against. His success has come while inducing a ton of ground balls and lasting further into games than his counterparts. In just two games (11 innings), Allen recorded nine strikeouts without allowing a run, and Quantrill posted a 28:4 K:BB ratio in 29 innings for the month. While the Missions just barely missed out on a first half Texas League division title, they'll be poised to make a run in the second half if their pitching holds, though the continued success could lead to a promotion or three.

San Antonio Player of the Month: Austin Allen

Lake Elsinore Storm (High-A)

There are plenty of prospects in the Padres system off to hot starts this year, but none has been more surprising than Buddy Reed. After putting up a .685 OPS in Fort Wayne a year ago, he hit the ground running in Lake Elsinore with a reworked swing and improved approach at the plate and on the basepaths e. His .500 slugging percentage in June actually lowered his OPS on the season to .925. He's seeing continued success even as his BABIP has begun to normalize, and is stealing bases, walking more, and striking out less.

Highly-touted righty Michel Báez got off to a bit of a slow start to the season, after dominating in Fort Wayne a year ago, sporting a 3.38 ERA while posting a 27:17 K:BB rate through his first 32 innings. In June, things began coming together for him, as he improved to a 25:6 K:BB rate in 21.1 innings. The six-foot-eight Cuban has received rave reviews from Trevor Hoffman and has allowed two runs or fewer in eight of his last nine outings. He's almost matched the number of innings he threw last year, so the Padres will be creative with limiting the number of innings he throws the rest of the way.

No other player on the Storm has been as "can't miss" as Chris Paddack. Like Báez, the Padres will be cautious with his workload, especially coming off Tommy John surgery, but the early results have been phenomenal. Though he made just three starts in June (which covered just 14.2 innings), his strikeout totals for each game were 10, 9, and 9. His walk totals for each game: 0, 1, and 1. He limited hitters to a .170 batting average and allowed just one run, leading to a microscopic 0.61 ERA.

Lake Elsinore Player of the Month: Chris Paddack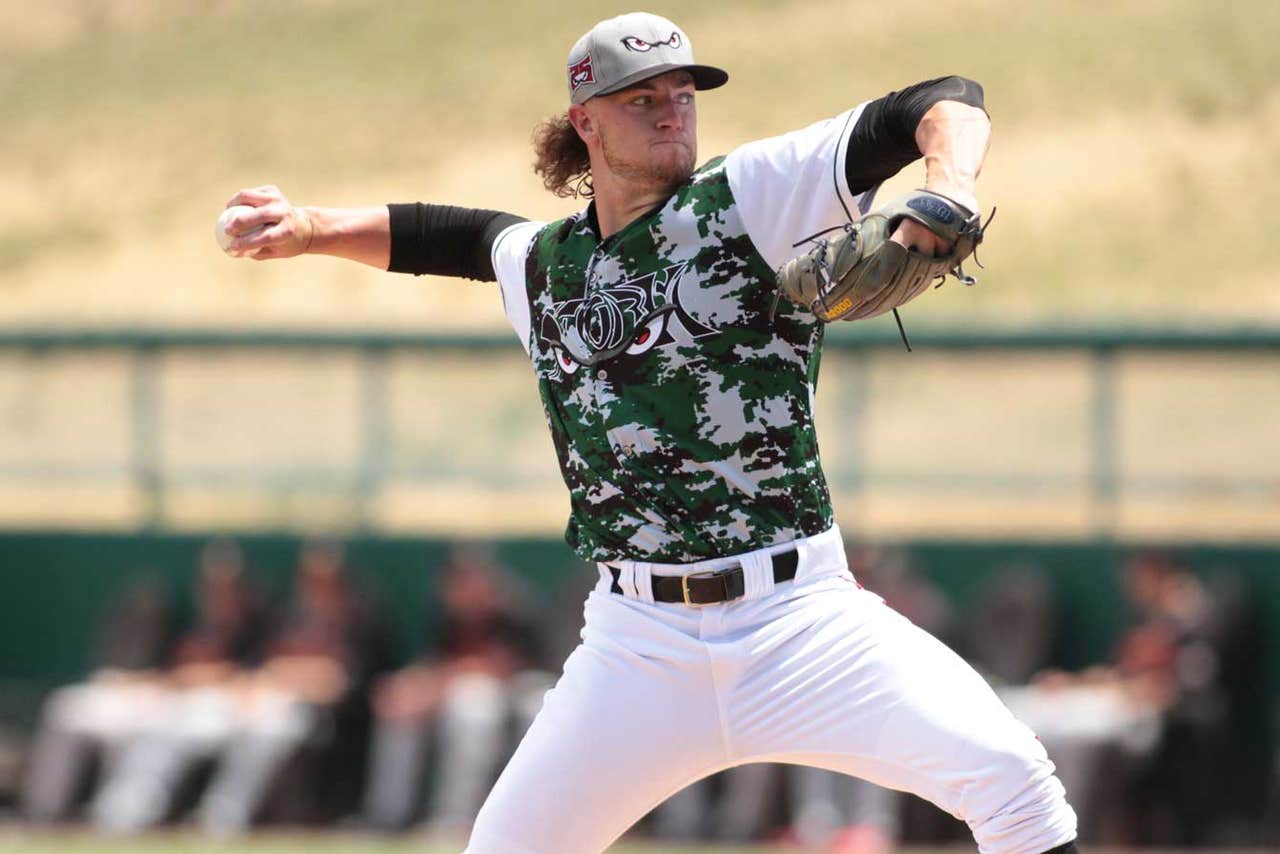 Fort Wayne TinCaps (Single-A)

The collection of players in Fort Wayne this year is incredibly young, with one of the main exceptions being outfielder Robbie Podorsky. The five-foot-seven speedster out of McNeese State was the Padres 25th round pick last year, and after scuffling a bit in a five-game stint in Lake Elsinore this year, has wreaked havoc in the Midwest League, to the tune of a .378/.414/.500 slash line. Being successful in 11-of-13 stolen base attempts and providing solid defense may push him past players with higher ceilings.

Speaking of high ceilings, no position player on the TinCaps has a higher one than Tirso Ornelas. While he started out the year slowly, the 18-year-old Tijuana native has begun to find his power stroke, hitting four homers and slugging .462 in June (76 points higher than the two previous months). He was able to add power without sacrificing plate discipline, as he increased his walk rate to 16.1%. He is definitely a player to keep your eye on as he moves through the system.

While the TinCaps offense has stalled its fair share of times this year, the starting pitching has been very impressive. 2017 draft picks Nick Margevicius and Aaron Leasher were Midwest League All-Star game representatives for Fort Wayne, but it was a pair of recent international signings who befuddled TinCaps opponents in June.  20-year-old lefty Osvaldo Hernandez put up a 1.67 ERA, while striking out 20 in 27 innings. The young Cuban has the lowest ERA in the TinCaps rotation this year and hasn't allowed more than three walks in any of his starts. Luis Patiño, an 18-year-old right-hander out of Columbia, has been even more impressive, racking up 30 Ks in 23.1 innings for Fort Wayne in route to posting a 1.54 ERA.

Fort Wayne Player of the Month: Luis Patiño

System Player of the Month: Chris Paddack

If the majority of other MLB farm systems had Fernando Tatis Jr., he'd likely be winning this award every month until he was promoted to the majors, and it seems criminal to not even mention talents like Top 100 prospects MacKenzie Gore and Adrian Morejon, or third baseman Hudson Potts, who had a .916 OPS in June.

Still, despite stellar performances at every level, Paddack has shown almost complete dominance in the hitter-friendly Cal League. That he's done this well after not pitching since June of 2016 makes it even more impressive, as most pitchers recovering from Tommy John surgery take more time to get back to 100%. Like a slew of other Padres prospects, he's now garnering attention from national writers and is shooting up Top 100 rankings, and it shouldn't be long before the 22-year-old is promoted to Double-A. That Padres GM A.J. Preller was able to snag him from the Marlins organization for a half a season of closer Fernando Rodney is nothing short of highway robbery. Not that the fans in San Diego are complaining.


---
---