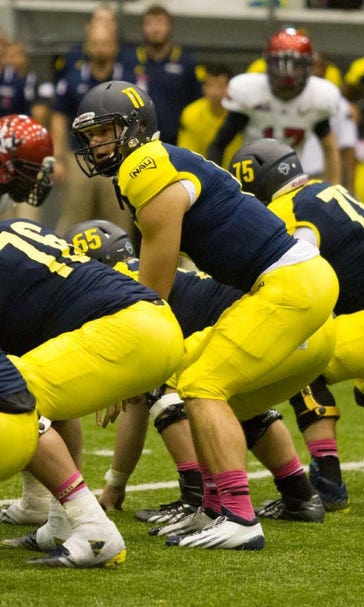 Lumberjacks stunned in final seconds
BY foxsports • November 15, 2014
GRAND FORKS, N.D. -- Jer Garman rushed for a career-high 235 yards and Reid Taubenheim kicked the winning 35-yard field goal to lift North Dakota to a 30-28 win over Northern Arizona on Saturday.
Trailing 28-27 in the closing minutes, North Dakota (4-7, 2-5 Big Sky) marched 62 yards in nine plays to set up Taubenheim's game winner with 4 seconds left, then recovered a fumble after the kick off to cement the win.
"Our guys showed a lot of heart out there and never gave up," NAU coach Jerome Souers said. "We were able to stick with it, which led to a one-point lead for us. Give North Dakota credit. They moved the ball well on the last drive and set themselves up to be able to win the ball game in the end, which is exactly what they did."
Garman had 28 carries and two touchdowns, including a 78-yarder in the second quarter, to help North Dakota snap a three-game skid and get its first-ever win over Northern Arizona (7-4, 5-2). North Dakota struggled in the air, though, with Keaton Studsrud completing just 4 of 11 passes for 61 yards but adding 32 yards on the ground, including a 1-yard touchdown.
Northern Arizona's Chase Cartwright had 316 yards and a touchdown on 22-of-39 passing.
Blake Bailey finished with a career-high 13 tackles and one sack for the NAU defense, which picked up three sacks. Darius Lewis registered 10 tackles to round out the top two tacklers.
---