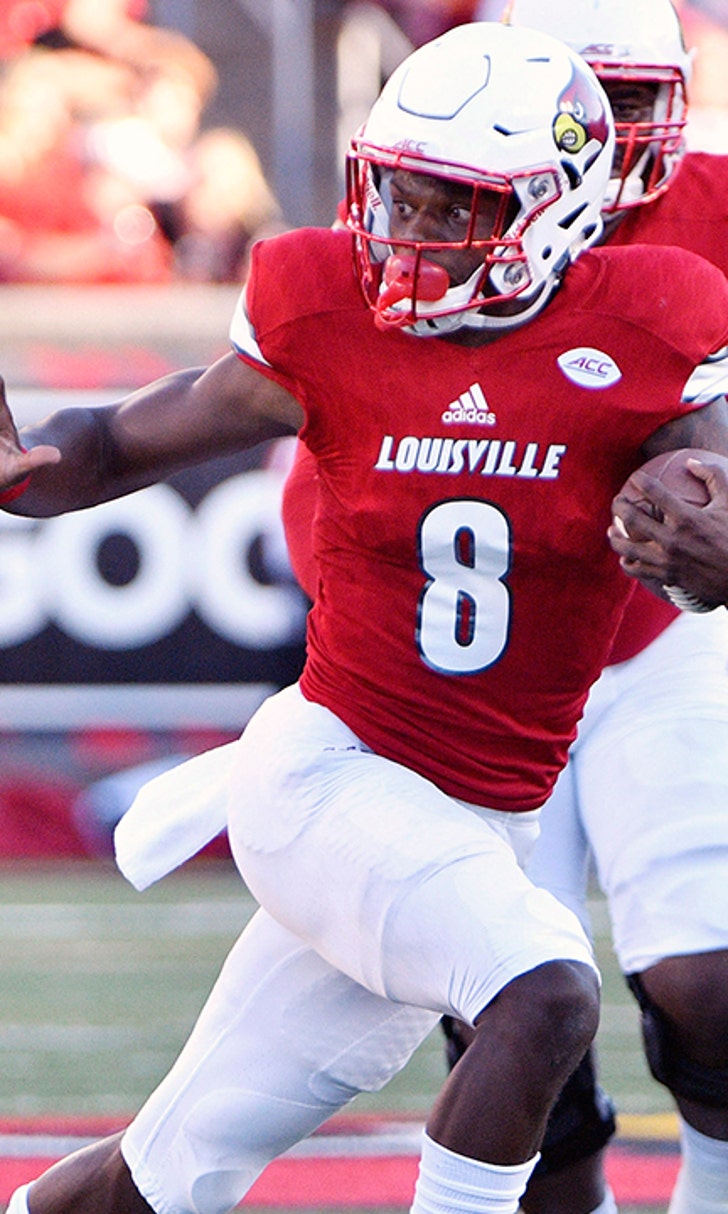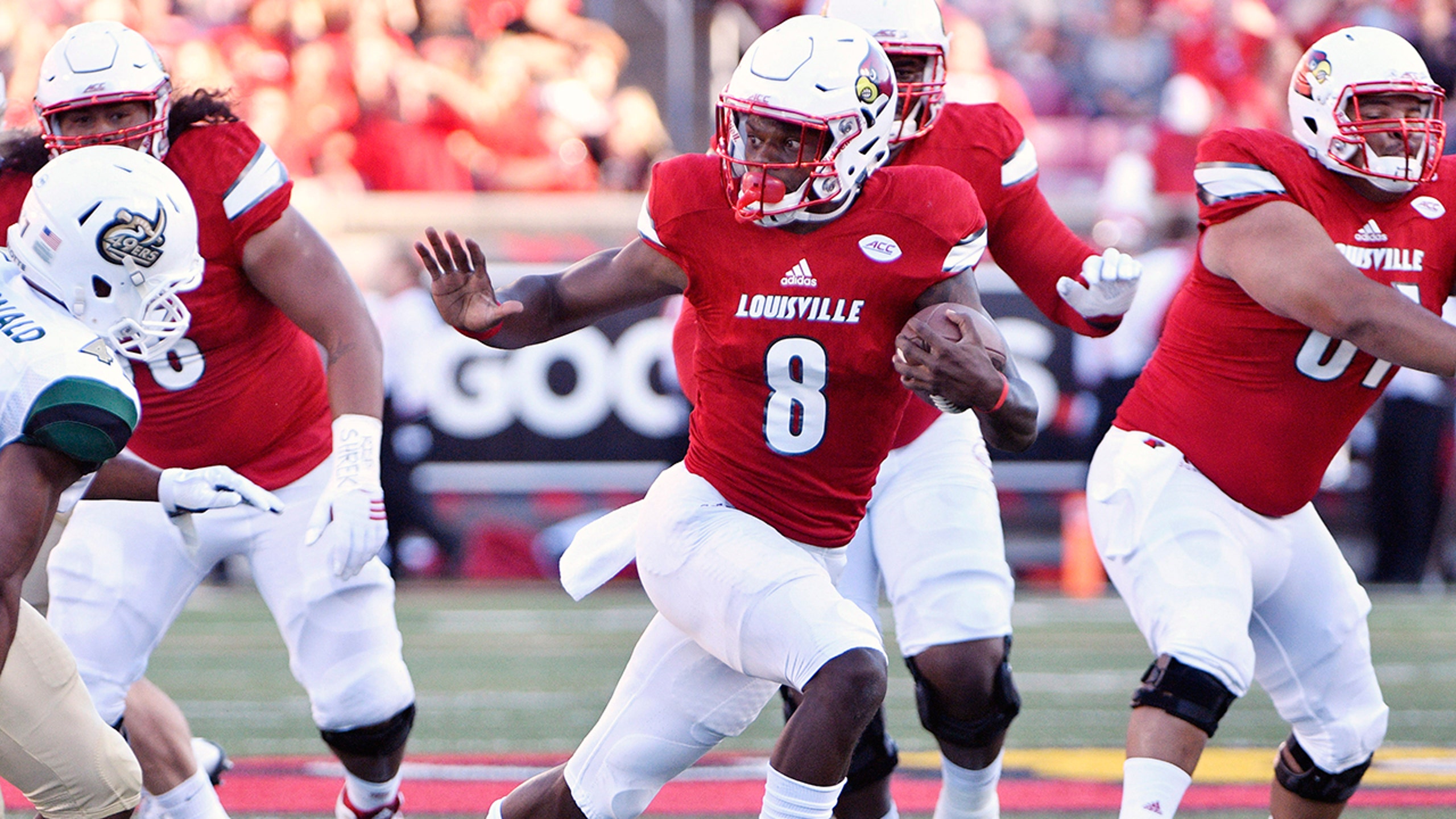 Lamar Jackson sets Louisville record with eight TDs, but one element missing in his game
BY foxsports • September 1, 2016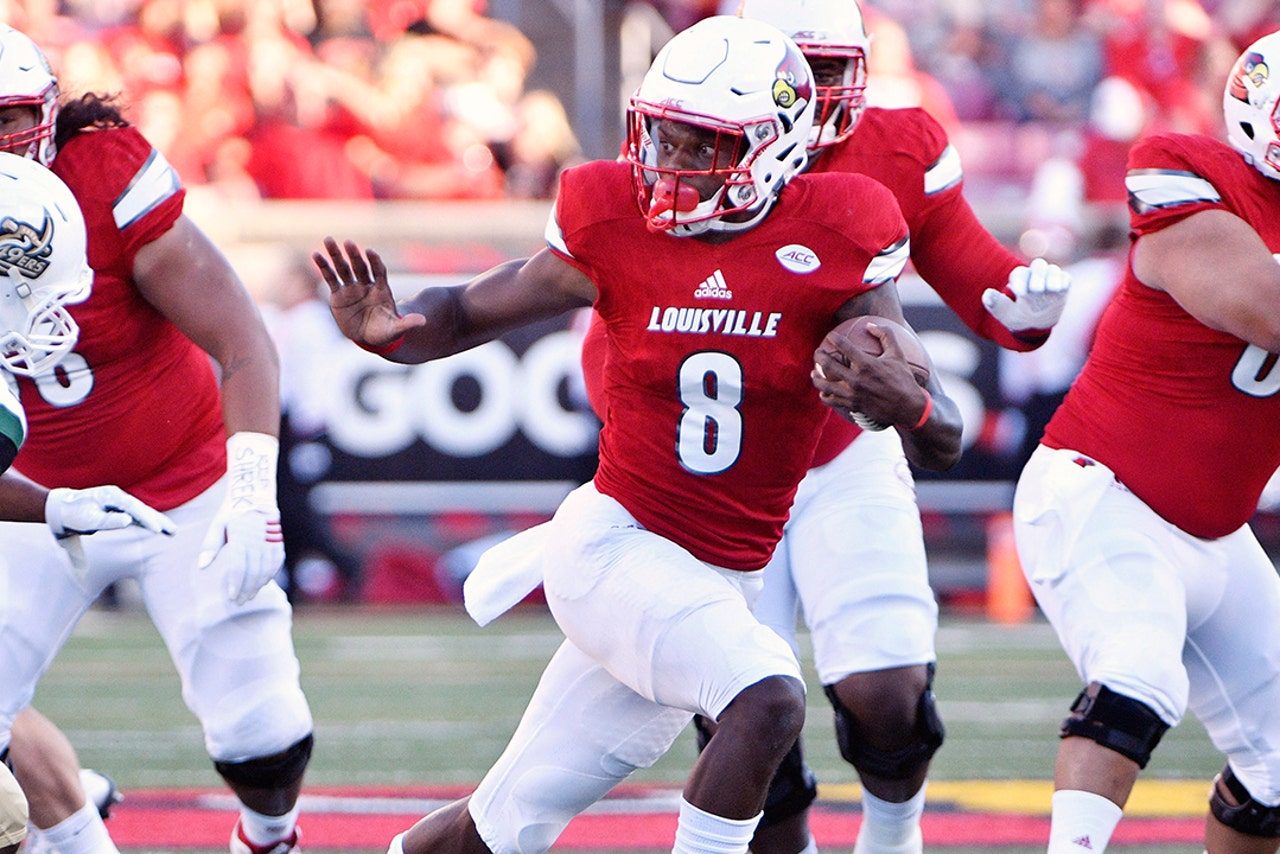 Six plays. That's all Lamar Jackson needed to hit the end zone for the first time in 2016, jump-starting a season in which No. 19 Louisville's sophomore quarterback is positioned to become a household name.
Jackson put on a show Thursday night, following a 36-yards touchdowns on the Cardinals' first possession by setting a school record with eight scores -- he tied the previous mark of six with six minutes left in the second quarter in leading the Cardinals -- in a 70-14 dismantling of the overmatched 49ers.
He racked up 405 yards of total offense -- 286 through the air with scoring strikes of 13, 24, 16, 20, 32 and 1 yard, and ran for 119 and TDs of 36 and 1 yard -- a sign of his comfort level in Bobby Petrino's offense after he averaged 233.3 a game as a freshman, with what his coach admitted was little to no grasp of the playbook.
Further, when you combine it with what Jackson left us with in his last two outings of 2015, in which he torched Kentucky for 316 yards and three touchdowns and Texas A&M for 453 yards and four scores, this QB performing at this level is a devastating thought for the rest of the ACC
But here's the thing, and the reason to -- at least until we get to mid-September -- hold off on jumping on the Jackson/Cardinals bandwagon.
He has to show us some consistency.
During his first season, Jackson chased good performances with bad, or at least somewhat maddening. He had 206 yards against No. 6 Auburn the opener, then threw two picks and ran for only 16 yards in a loss to Houston and after throwing for 307 yards and three TDs against No. 11 Florida State on Oct. 17 he tossed a pair of interceptions and in a narrow win over Boston College.
The only time in in '15 in which he had back-to-back games with completion percentages of 60 percent or higher was vs. the Eagles (60.0) and Wake Forest (73.1), and in those monster games vs. Kentucky and Texas A&M, he hit at rates of just 38.1 and 46.2 percent.
Any criticism comes with the understanding that Jackson was a true freshman a year ago, and his 73.9 percent (17 of 23) day vs. Charlotte can't, and shouldn't, be cast aside. But this was a 49ers defense that was 112th in FBS last season in giving up 12 plays of 50 or more yards and allowed 419 yards per game (which came in a year in which they were reclassifying to FBS, but would have ranked 88th in the nation).
Jackson has a strong chance at supplying another steady performance next weekend at Syracuse, which was 98th in total D in '15 (439.1) and whom the QB missed last season with an ankle injury. It's that next game that is the first step toward defining his and Louisville's season as they host No. 4 Florida State on Sept. 17.
Two weeks after the Seminoles, Jackson and Co. have a date with No. 2 Clemson in Death Valley. Basically, by Oct. 2, we'll know whether the Cardinals and this passer are, respectively, legitimate College Football Playoff and Heisman Trophy candidates.
Those decisive games will have to wait, and with it the chances to show consistency can be a weapon in Year 2. In the meantime, let's revel in just how electric Lamar Jackson has become at the helm of this offense, with a how dangerous the best team of Petrino's second go-round at Louisville looks like it could be.
Follow Cory McCartney on Twitter @coryjmccartney and Facebook. His book, 'Tales from the Atlanta Braves Dugout: A Collection of the Greatest Braves Stories Ever Told,' is out now, and 'The Heisman Trophy: The Story of an American Icon and Its Winners' will be released Nov. 1, 2016.
---
---