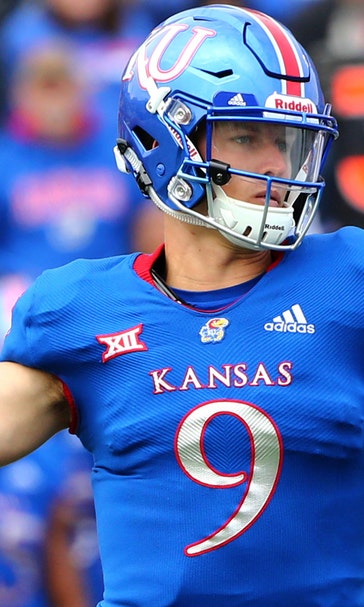 Kansas remains winless in Big 12 play with 48-28 loss to Oklahoma State
September 29, 2018

LAWRENCE, Kan. — After last week's 24-point loss to Texas Tech that knocked them out of the top 25, the Oklahoma State Cowboys came to Kansas on Saturday needing a big win. Almost right away, you could tell that wouldn't be a difficult goal.

Taylor Cornelius passed for 312 yards and four touchdowns, Justice Hill ran for 189 yards and the Cowboys (4-1, 1-1 Big 12) cruised to a 48-28 win over the Jayhawks (2-3, 0-2 Big 12).

Oklahoma State found the end zone on each of its first three possessions and scored on their first four, setting the tone early.

"I was proud of how our guys started the game," coach Mike Gundy said. "Sometimes we've not played real good up here in the first half. I thought our defense and offense really took the field and motivated themselves and played well early in the game, which was very important."

Kansas' defense was simply no match.

"They had a really good gameplan, and they executed it," coach David Beaty said. "That was the key."

Cornelius got things going early, throwing to Tylan Wallace on a slant route for the 11-yard touchdown before hitting Landon Wolf for a 42-yard score on a deep ball the next drive.

Cornelius' first incompletion didn't come until the third drive, when he overthrew a wide-open Braydon Johnson streaking down the field. Kansas would not learn from that lucky break, though, as Tyron Johnson got open on almost an identical route on the next play on his way to a 64-yard score.

"It was just something we worked on all week, those shot plays," Cornelius said. "Missed Braydon on the first one, then we were confident enough to come back with a different little scheme the next time. Tyron did a great job getting open. Just made the throw that time."

Hill was a steady counterweight to the passing game, averaging 6.1 yards per carry on 31 rushes. He scored in the third quarter, running in from 10 yards out after a pair of big passes got the Cowboys in the red zone.

"Our plan going in was to let him carry the load, and it worked out well for us," Gundy said. "He made the extra guy miss several times. We're lucky to have a guy special enough to do that."

Kansas turned to Carter Stanley for his first start under center all year, benching Peyton Bender who had previously started all four games. Stanley responded well, throwing for 247 yards on 24-of-32 passing and three touchdowns.

"I was definitely happy to be out there, no doubt," Stanley said. "Felt good. But me personally, I know I can -- on some simple stuff, some simple stuff that may not seem like a big deal -- I know I can be a lot better in certain situations."

True freshman Pooka Williams shined once again, picking up 97 yards rushing and 60 yards in the passing game. This included a 60-yard ground burst for a score in the Jayhawks' first drive of the second half, his fourth touchdown on the year.



MISSING MILES

Kansas quarterback Miles Kendrick did not play after sustaining a shoulder injury last week against Baylor. Kendrick had been in a timeshare with the now-replaced Peyton Bender all season, but seemed to be earning a larger role after playing the entire second half in Week 3 before going down.

PENALTY PROBLEMS

Oklahoma State finished with 92 penalty yards to Kansas' 43. There were multiple instances in which the Jayhawks got significant help from the Cowboys' mistakes, most noticeably in the passing game.

"Eight penalties for 92 yards, that's crazy," Gundy said. "We gave up a plus-40 in the penalty (margin). So way too many penalties, off a couple offensive pass interferences. But we've got to improve in that area."

WOLF'S WELCOMING

Wolf entered the game with just four catches on the year for 41 yards, all coming in Oklahoma State's first two games against lesser competition. As a two-year walk-on put on scholarship before this season, his role in the offense seemed firmly limited.

But when Jalen McCleskey announced his plans to redshirt and transfer, opportunity arose for Wolf. He wouldn't let that go to waste, finishing with 116 yards on six catches including the 42-yard score.

"That dude, he stepped up today," Cornelius said. "He played good. He knows how to get open, he runs good routes. I'm so happy for him."

THE TAKEAWAY

Oklahoma State grabs a much-needed first Big 12 win after taking a drubbing last week at the hands of Texas Tech. Big victories like these will help the Cowboys make it back into the Top 25.

Kansas slides to 2-3 and 0-2 in the Big 12. After a promising start to the year, one has to think Beaty's leash is growing shorter with every loss.

UP NEXT

Oklahoma State returns home to face Iowa State on Saturday.

Kansas hits the road Saturday to take on No. 12 West Virginia.


---
---