Jungmann yields 3 homers in 6-5 Brewers loss to Rockies
Published
Mar. 22, 2016 8:38 p.m. ET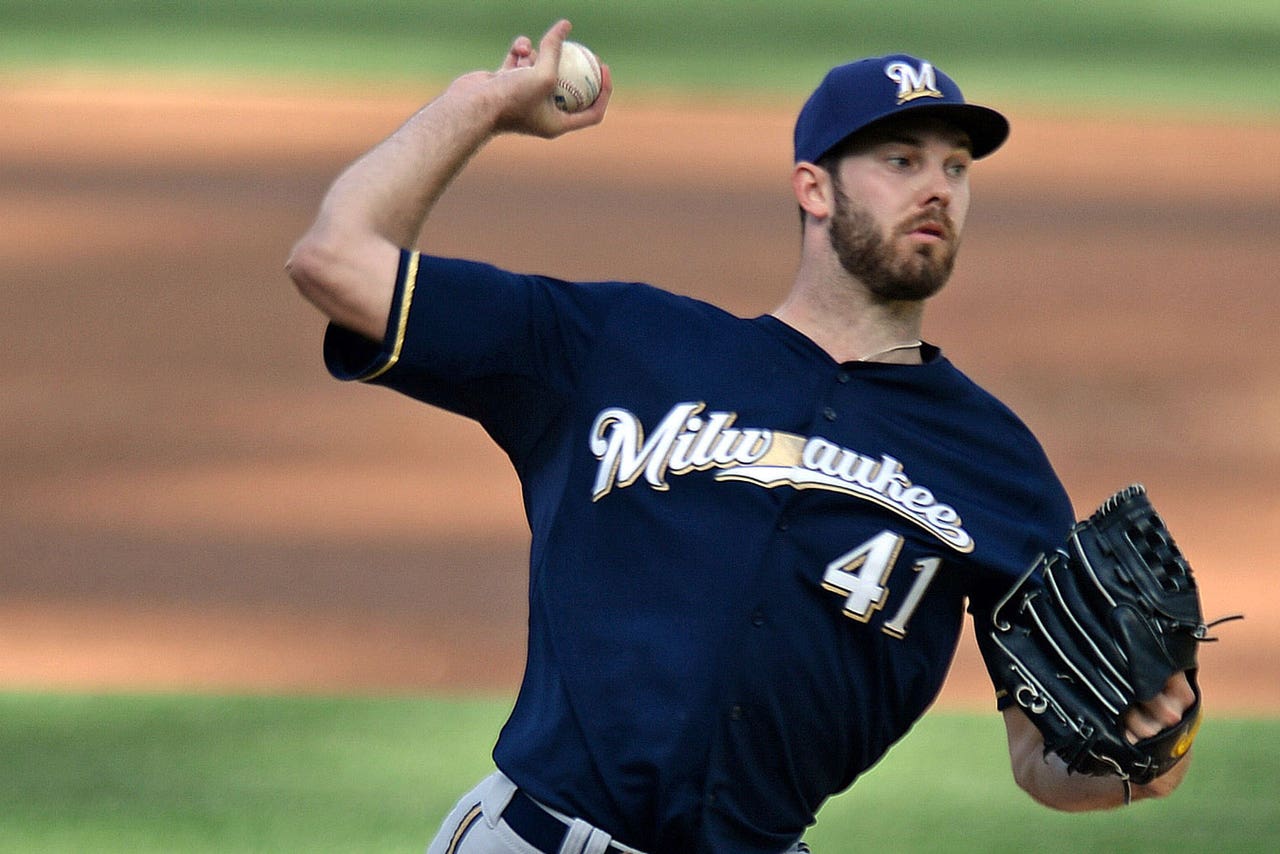 SCOTTSDALE, Ariz. -- Top Rockies prospect Jon Gray left with abdominal tightness after facing only three batters and Nolan Arenado homered in Colorado's 6-5 victory over the Milwaukee Brewers on Tuesday.
Gray, the third overall pick in the 2013 draft, was penciled into a rotation spot. When Jonathan Lucroy tapped his 97 mph fastball to the mound for a likely double play, Gray threw it high and wide of second base and a run scored.
Manager Walt Weiss and the training staff came out to check on the 24-year-old Gray, who was quickly removed after 16 pitches.
Gray was to undergo an MRI.
"He said he was feeling it on certain pitches," Weiss said. "When you hear that you just take him out."
Gray gave up a double to Scooter Gennett and walked Ramon Flores.
Arenado, Charlie Blackmon and Gerardo Parra all homered against Brewers starter Taylor Jungmann. Arenado went 1 for 3, ending a streak of eight straight multihit games and dropping his average to .605.
Alex Presley hit a three-run home run off Rockies reliever Scott Oberg.
STARTING TIME
Brewers: Jungmann, slotted fourth in the rotation, lasted 4 1/3 innings. He gave up six runs and six hits with two walks and three strikeouts.
"Didn't get a whole lot of anything accomplished today," Jungmann said.
Rockies: It was Gray's fifth appearance and third start of the spring. Gray made nine starts with an inning restriction in his big league debut over the final two months of last season.
"Anytime you're dealing with an injury it's not ideal," Weiss said, "but it could be worse."
TRAINER'S ROOM
Brewers: OF Rymer Liriano joked with his teammates in the clubhouse, two days after suffering multiple facial and nasal fractures when he was hit in the face by a pitch. Liriano, his eye still nearly swollen shut, wants to wait a few days before talking to reporters. He'll see doctors this week to determine if surgery is necessary. ... LHP Seth Norlin (elbow) has been shut down for a week, further depleting the bullpen.
Rockies: LHP Boone Logan (elbow) threw a perfect sixth in his second spring appearance. ... LHP Chris Rusin (finger) will throw a live batting practice Wednesday. ... RHP Jairo Diaz, arm in a cast, was in the clubhouse for the first time since undergoing Tommy John surgery Friday.
SPRING RARITY
Both benches were warned when Colorado's Christian Bergman came inside on Jungmann in the fourth. Jungmann hit Mark Reynolds with a pitch an inning earlier after Arenado and Parra hit back-to-back homers.
"If it makes them feel better to throw at me, getting a little something back, that's fine," Jungmann said. "You could say I deserve it. Whatever, it's spring training. I'm not trying to hit anyone on purpose."
ALL-AROUND ARENADO
While the focus has been on the 24-year-old Arenado's sizzling bat, he's also aiming for a fourth straight Gold Glove.
"The best way to describe Nolan is you take the best tools you've seen from all the third basemen over the years and you put them into one player. That's who he is," Weiss said. "Whoever you saw had the best arm, best range, best hands, best feet, then you put all that into one player, and that's Nolan at third base."
UP NEXT
Brewers: RHP Wily Peralta will start Thursday against Kansas City.
Rockies: RHP Tyler Chatwood starts Thursday against Seattle.
---
---