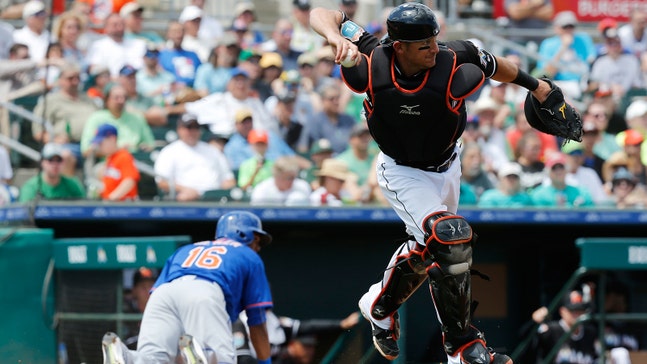 Jose Fernandez starts hot, slows down in Marlins spring loss to Mets
Published
Mar. 17, 2016 4:52 p.m. ET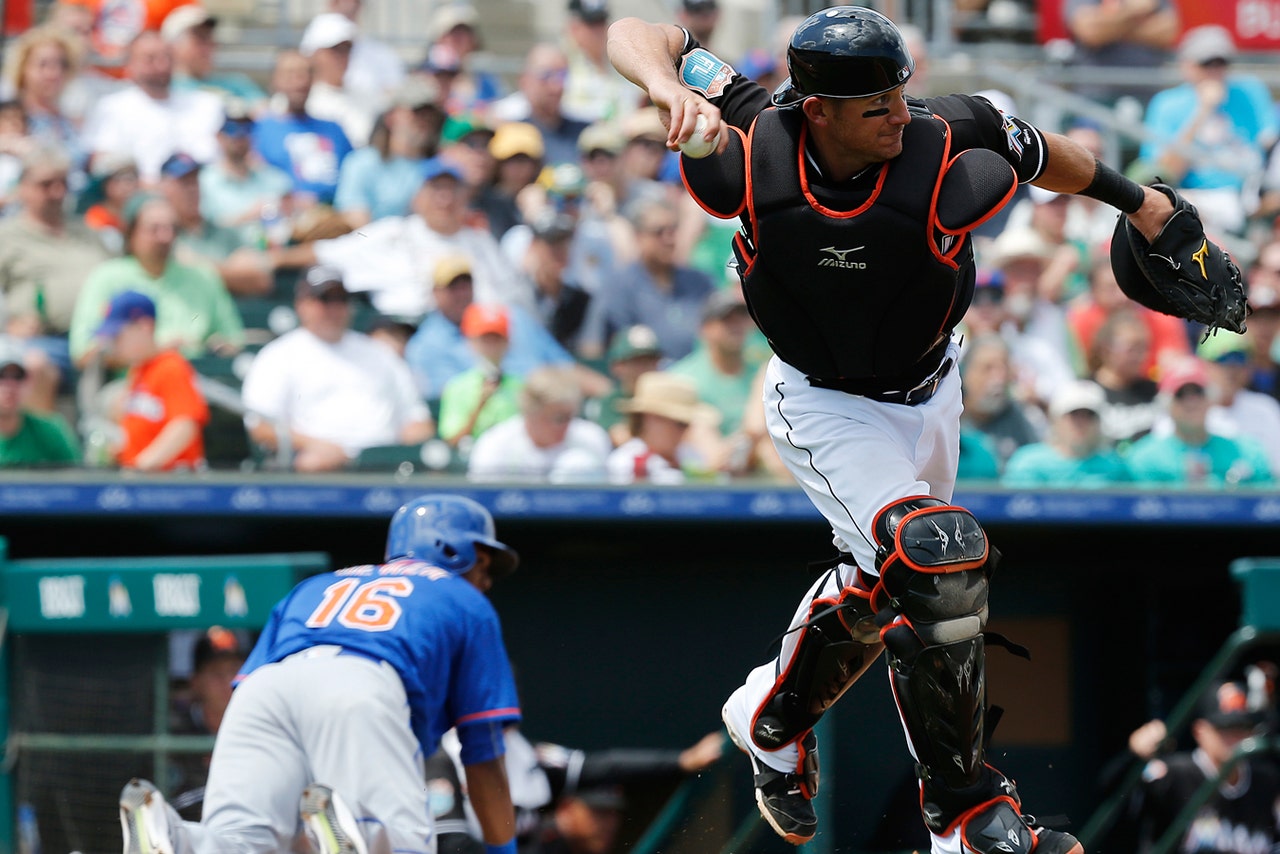 JUPITER, Fla. (AP) -- New York Mets right-hander Jacob deGrom showed no lingering effects from the back tightness that forced him to miss Monday's start, outpitching Miami Marlins ace Jose Fernandez in a 6-5 win Thursday.
DeGrom limited the Marlins to one hit in three innings while striking out three, then attributed his relatively quick recovery to a comfortable chair.
"I wanted to change something up, so I took a nap sitting up in a chair and I think it might have helped," said deGrom, an All-Star last season in his first full year in the majors.
Fernandez struck out four over two perfect innings to start the game before struggling through the next two frames. Travis d'Arnaud served as his biggest nemesis.
In the third inning, the Mets catcher laced a double into the right field corner that scored Alejandro De Aza from first. D'Arnaud scored from third when Curtis Granderson ripped a one-hopper off the glove of Marlins first baseman Derek Dietrich and into right field.
An inning later, d'Arnaud lined a bases-loaded single into left field, driving in two more runs and ending Fernandez's afternoon.
"It happens," Fernandez said following his 3 2-3 inning, six-earned run, six-strikeout performance. "I'm sure not happy about it. I don't care if it is spring training or an intrasquad game or whatever it is. You still have to go out there and give your team a chance to win and I didn't do that today."
Despite the rough outing, and with two weeks of spring training left, Fernandez pronounced himself prepared for the regular season.
"I'm ready to pitch right now," he said.
STARTING TIME
Marlins: Miami has yet to name its opening day starter. Fernandez wants to be the guy. "Anybody as a pitcher would love to pitch opening day, of course," he said. "Everybody does, including me."
Mets: Originally scheduled to start, Steven Matz followed deGrom on Thursday. Matz allowed three runs on five hits while striking out three and walking one in four innings.
TRAINER'S ROOM
Marlins: Slowed early in the spring by soreness in his calf, closer A. J. Ramos didn't feel any ill effects after Wednesday's first spring training appearance, in which he set the Nationals down in order. "Nothing came up today -- and I wasn't expecting anything either," manager Don Mattingly said.
Mets: Third baseman David Wright will play the field when he makes his spring debut on Friday, manager Terry Collins said. He went 0 for 3 with a sacrifice fly during a minor league game Thursday.
DARK OPENING KNIGHT
Collins announced before the game that Matt Harvey will make the Mets' April 3 opening day start against Kansas City. It will be Harvey's first opening day start.
CLUBBIE OLYMPICS
Four hours before first pitch, the Marlins divided their young clubhouse attendants into teams for a three-day Olympic-style competition. Catching pop fouls while wearing catcher's gear, the Gatorade bucket toss and the fastest/most accurate relay home from the outfield were the first three events -- with all the Marlins players and coaches dressed in uniform on the backfield cheering vociferously. Video coordinator Dan Budreika's backward leap to snag a foul pop before landing flat on his back highlighted the opening events.
UP NEXT
Marlins: Miami heads north to face Atlanta on Friday, with Chris Narveson scheduled to start.
Mets: Bartolo Colon will get the start when Washington comes to Port St. Lucie on Friday.
---
---