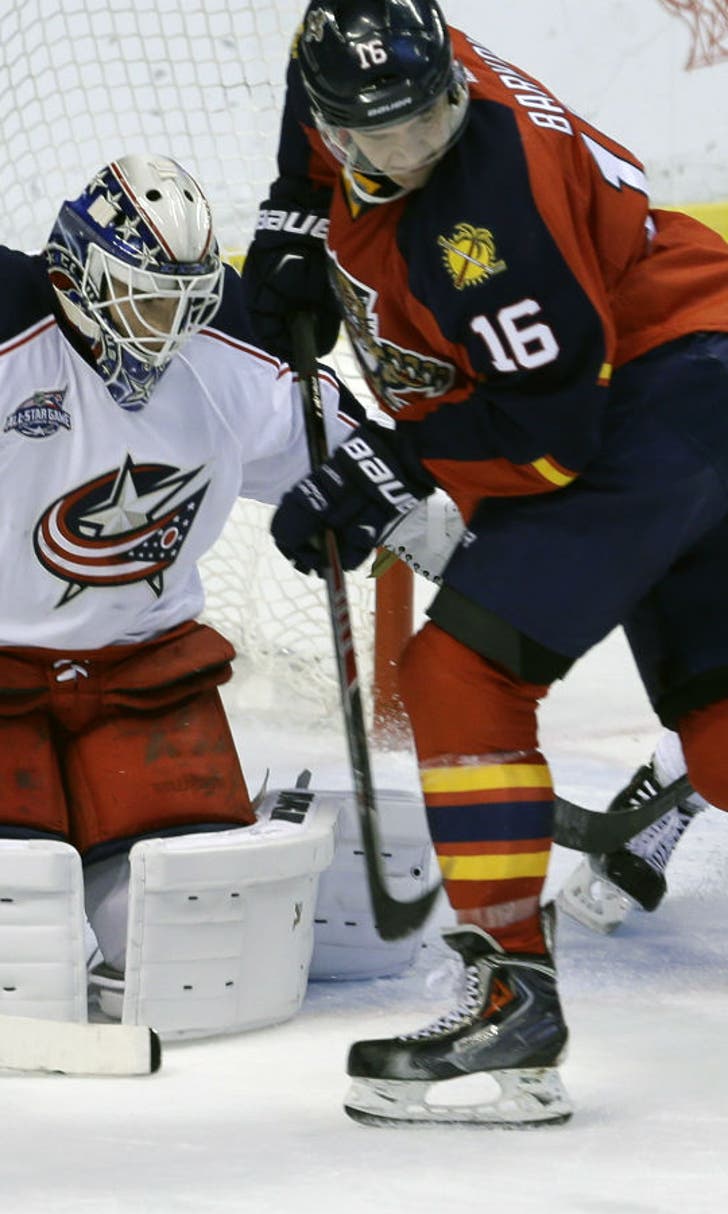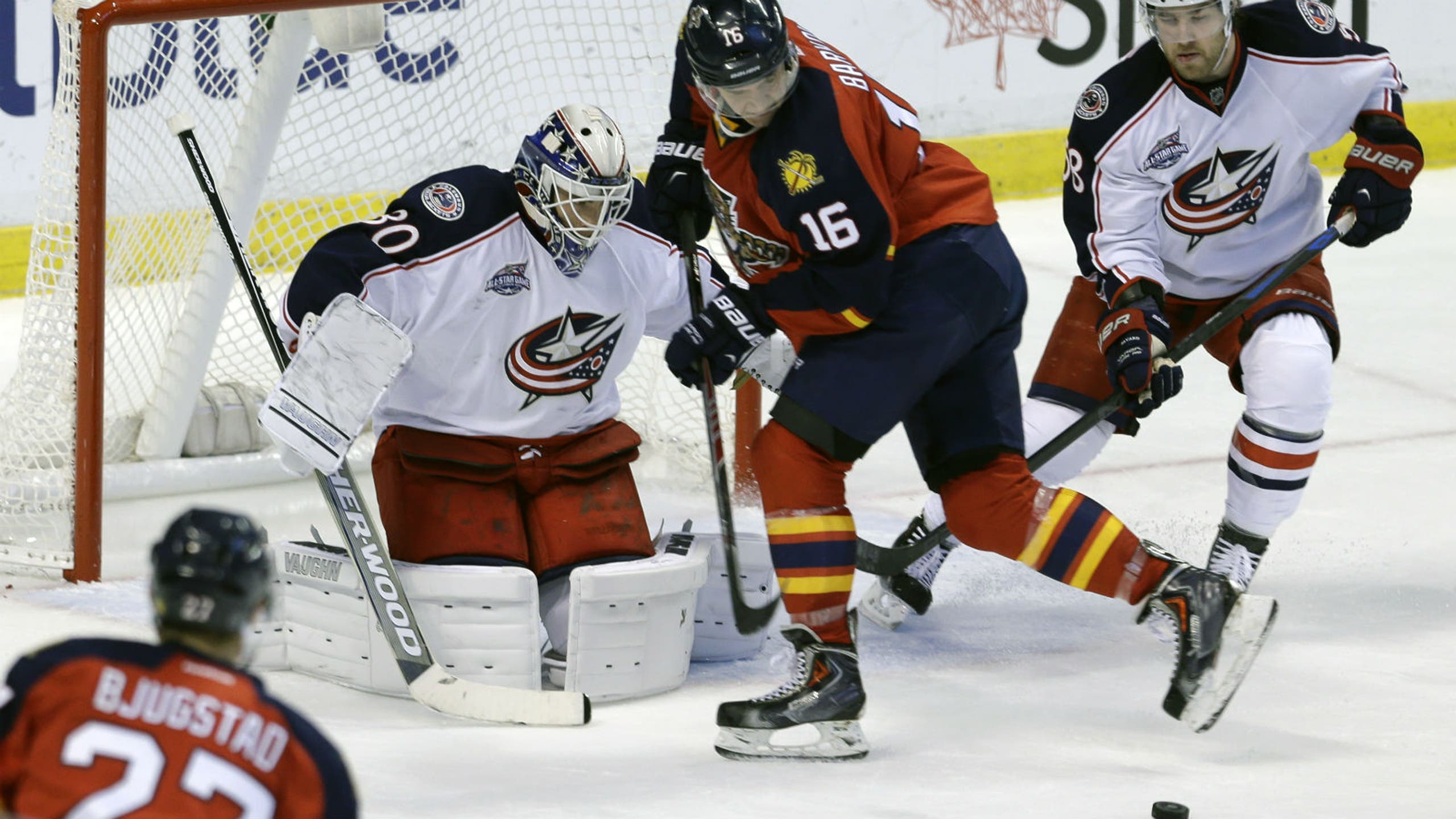 It's McElhinney's net as Forsberg awaits his chance
BY foxsports • January 30, 2015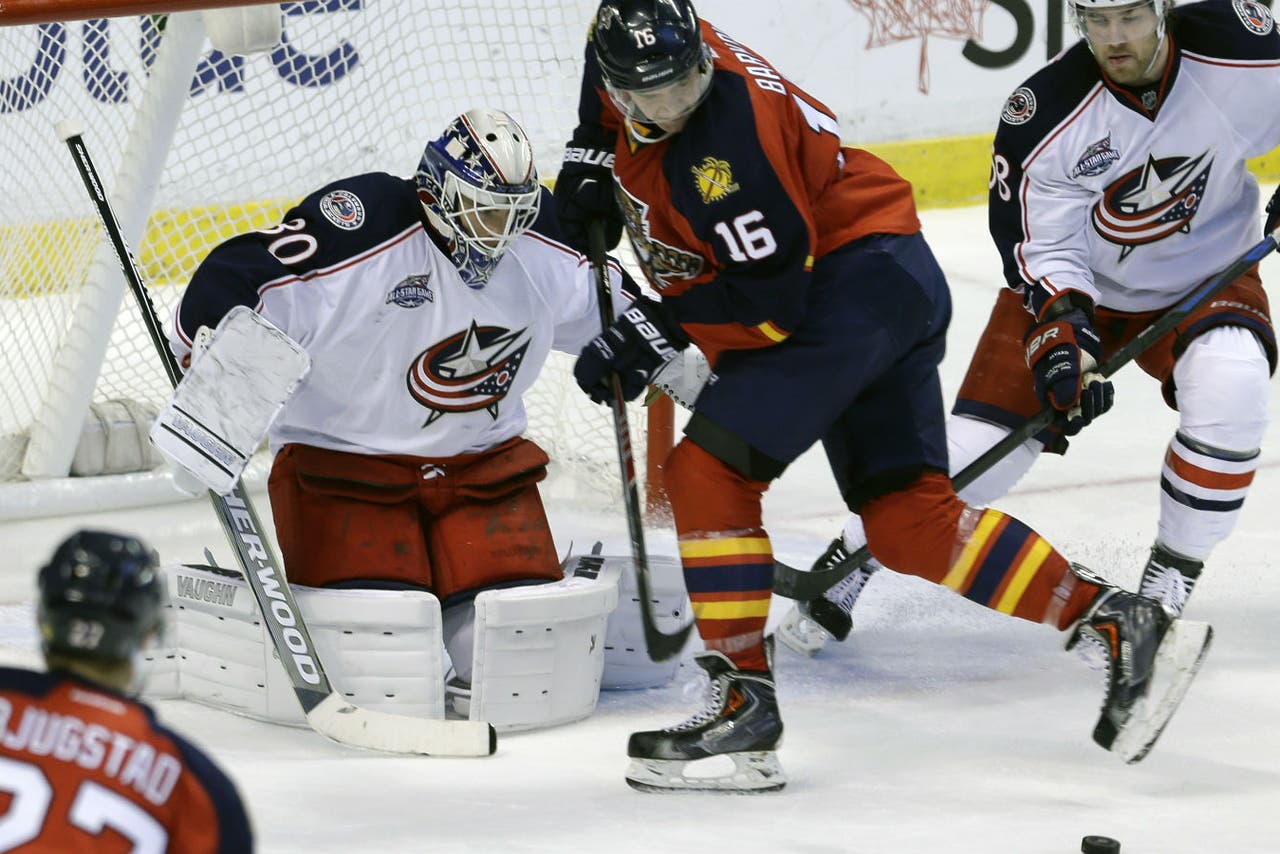 In a season with a seemingly never-ending succession of injuries, goaltender Sergei Bobrovsky was placed on Injured Reserve retroactive to January 21. The Blue Jackets now have their backup goalie as the number one and the goalie of the future, playing with the AHL Springfield Falcons, as his backup. Savvy?
Curtis McElhinney, 5-7-1 in 17 games played this season, has a .906 save percentage and 2.99 goals against average. He was injured earlier in the season after being run into by teammate Nick Foligno in Ottawa. The consensus was that might have come back from that injury to quickly, which accounted for his less than stellar play at the time.
"I feel pretty good," said McElhinney. "Obviously, the team playing better in front of me has certainly helped the cause. I feel a lot more comfortable in the net. It took a few games after the injury to come back, but everything feels like it's going pretty well right now."
With Bobrovsky on IR with a groin injury for the next four-six weeks, the net is McElhinney's to lose. He's played better since about mid-November, as has the team in front of him. But how much of the load will McElhinney be responsible for while Bobrovsky is sidelined? And how much faith will they show in Anton Forsberg, called-up from the Springfield Falcons on January 26?
"Right now," said Richards about how much of the load McElhinney will shoulder, "I don't know how much that is. Right now, it's his ball. Right now, he's the number one guy. If he plays the way he did (Tuesday night), finds ways to win hockey games, we'll see how much he can handle."
McElhinney knows he has the future Blue Jackets goaltender breathing over his shoulder, anticipating his chance at getting between the pipes and showing what he can do. Forsberg, 18-7-1 in 27 games played for the Falcons, has a .927 save percentage and 2.04 goals against average.
"It's tough," he said. "I mean, Anton is a pretty young kid. He's in the NHL a heck of a lot earlier than I certainly was. He's a very good goalie. Our styles aren't too similar, but he's got a pretty good thing going right now and he's been having a heck of a year down in the American league. As far as advice for him? I think he's taking care of business pretty well himself from what I've seen so far."
Forsberg was called-up earlier this season for the Blue Jackets, making his NHL debut November 1 against the New Jersey Devils (3-2 loss). The 22 year old from Harnosand, Sweden was selected 188th overall in the 2011 NHL draft by Columbus.
"It's never good when someone gets hurt," said Forsberg. "But, it's an opportunity. It's been great being down there (Springfield) and I've played a lot of games. The team has been doing really well. I've improved my game a lot and gained confidence. It's really good to be up here again and be with all these guys."
He knows that this is not only an opportunity for him, but it's also an audition of sorts to see if he may be ready to play in the NHL next season. McElhinney is a UFA this summer, while Forsberg still has another year under contract before reaching restricted free-agent status in 2016.
He understands there are expectations of him to perform at this level. But those expectations pale in comparison to the pressure that he foists upon himself to make a favorable impression ahead of next season.
"Of course, I put a lot of pressure on myself," Forsberg said. "I want to be good at this level (NHL). It's a real important thing to put pressure on myself to improve all the time."
McElhinney is not worried about what may happen months from now, as he's focusing on getting his game to where it needs to be. He's playing the puck a bit more than he has in the past, too.
"I don't know about that," McElhinney laughingly said when asked if Bobrovsky has been taking lessons from him on playing the puck. "I think there's a little bit better communication with the defense. I'm just trying to pick-up where he left off. It's certainly an area of my game that I need to improve on. But, I feel a little more comfortable and I hope the 'D' are getting used to me now."
And Forsberg feels right at home coming into a dressing room that has seen so many faces traipse through its doors this season due to the many injuries.
"The guys are really taking care of me," said Forsberg. "They're used to taking care of new guys with a lot of players coming and going (this season). It's a part of the job, taking care of the new guy."
Might this 'new guy' be the 'new' backup guy when September rolls around, heralding the start on the 2015-16 season? Stranger things have happened, although another year of seasoning with the Springfield Falcons would not be a bad thing for the young goalie.
"I'm just trying to win games," said Richards about the two goalies, "so whatever the best lineup is, whichever goaltender it is, whether it's Mac or whether it's Forsberg... you've got to be smart, you've got to keep Mac energized as long as he's running with it. But, we'll manage it no differently than if it were Bob."
Forsberg will get his chance between the pipes, of that you can be certain. It will also give fans the opportunity to see one of the Blue Jackets future goalies perform at the highest level.
The Blue Jackets return to action Saturday at 7:30 p.m. as they take on the Tampa Bay Lightning. Catch all the action on FOX Sports Ohio beginning at 7:00 p.m. with the "Blue Jackets LIVE" pregame show.
---