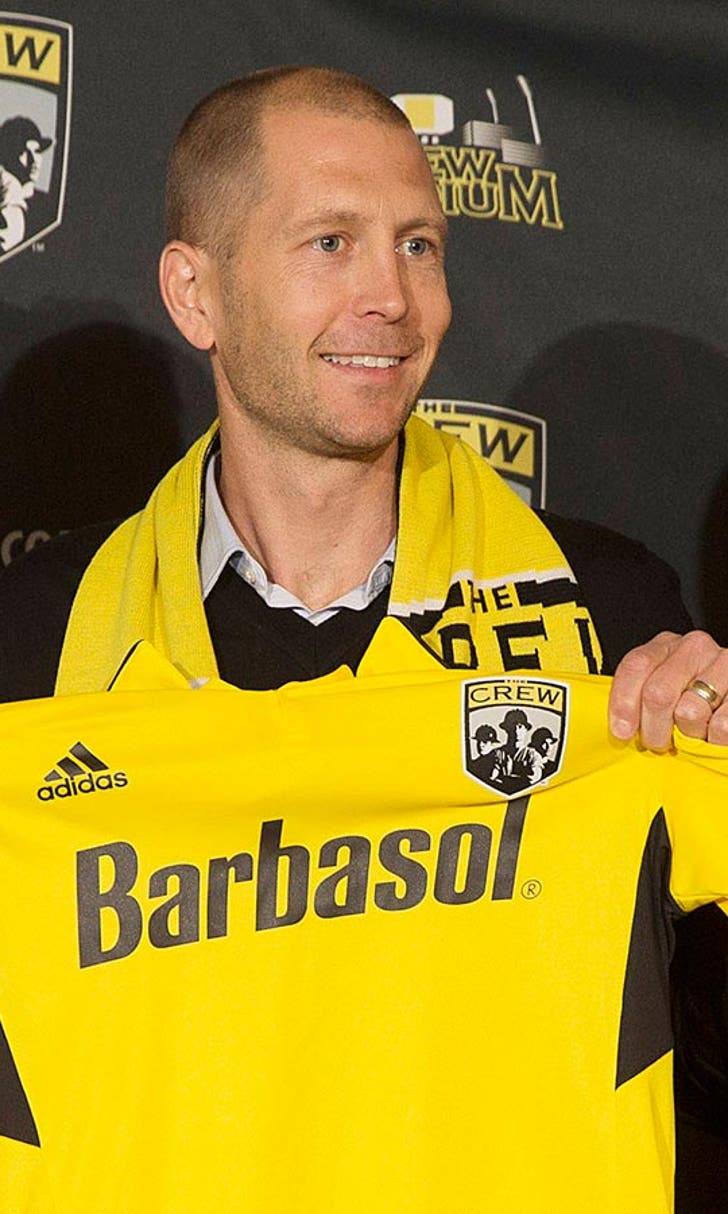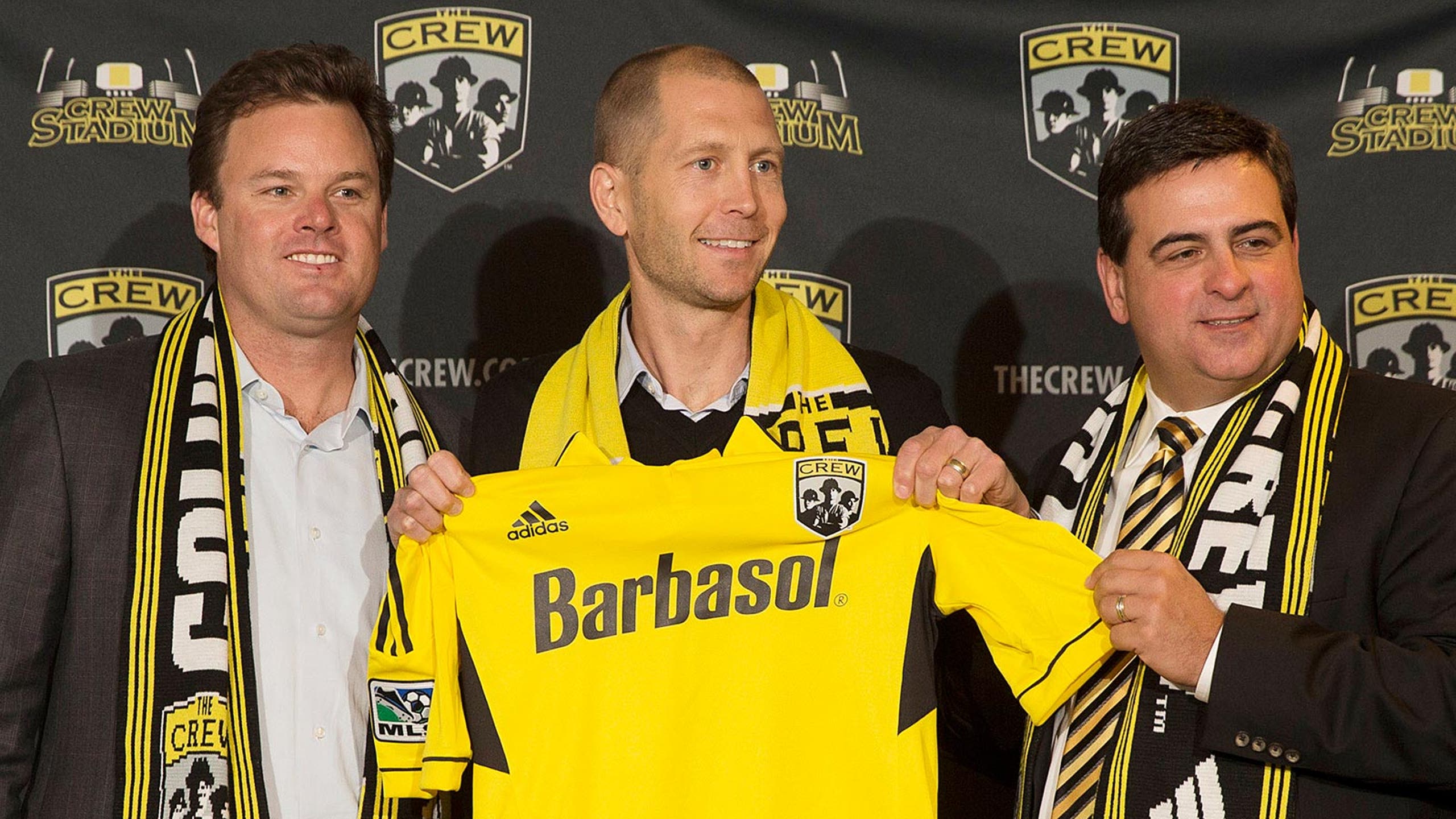 Inside MLS season preview: Columbus, Gregg Berhalter forge their vision for the future together
BY Kyle McCarthy • February 25, 2014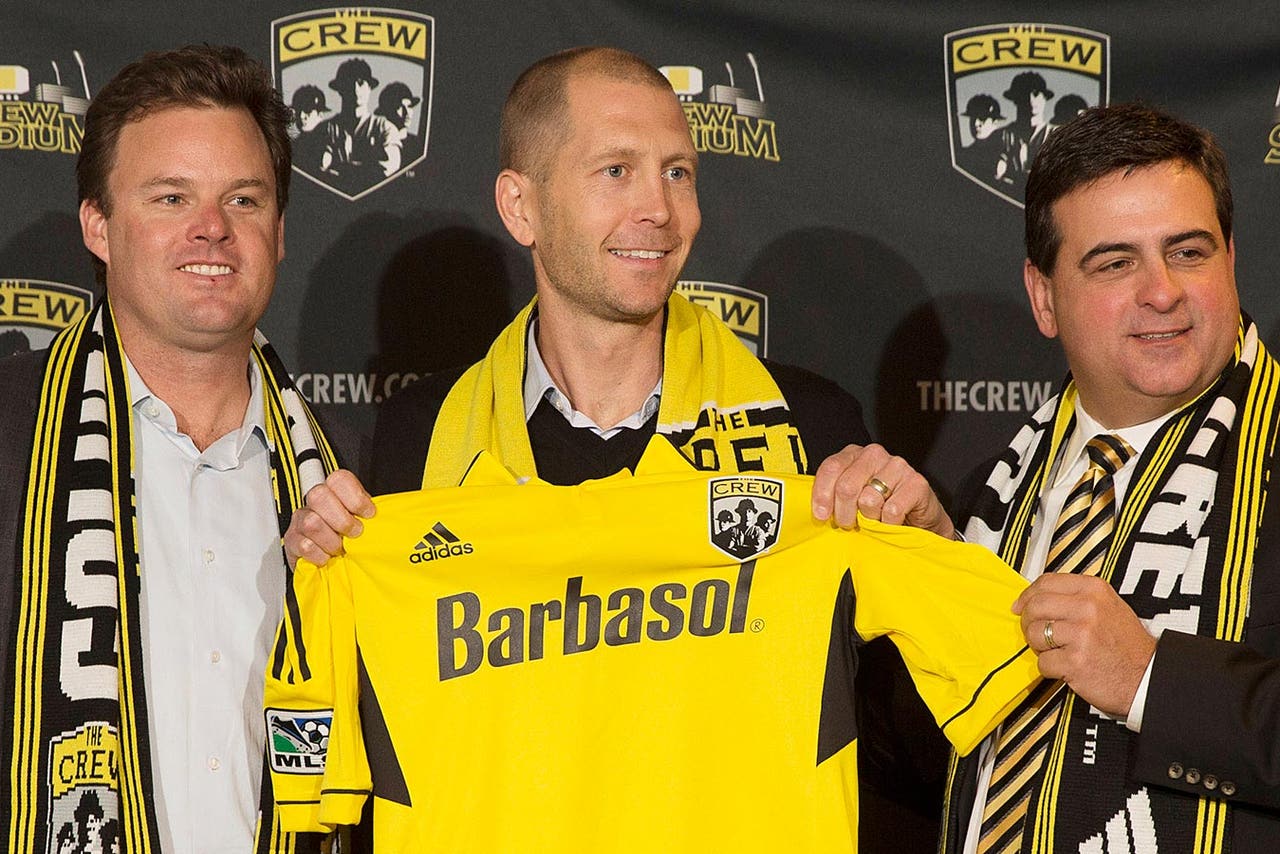 BRADENTON, FLA.
Gregg Berhalter stood off to the side in late January and watched his nascent Columbus side take its first steps together. He tracked his players carefully with a clipboard in hand and a stopwatch nearby. He urged them along here and there, laying the foundation to implement his grand vision for the club in modest increments along the way.
The former United States international defender found himself in this position on a sunny Florida afternoon because he dared to think differently. He left North Carolina after his junior year in college to sign with Dutch side Zwolle well before it turned into a trend. He moved from the Netherlands to England to Germany as his career progressed to sample different cultures and settings. He ended his playing days with LA Galaxy and soon started his managerial career with AEG-owned Swedish giants Hammarby IF. He sat at a turning point in his career after Hammarby ended his 18-month tenure last July and wondered what the future might hold.
"I was at a point where I was reflecting on a year and a half's work, reflecting on what went well, what didn't go well," Berhalter told Inside MLS during an interview prior to the MLS SuperDraft. "And then I was at a crossroads. There was a step to stay in Scandinavia and coach. There was an option to go to Germany and get my UEFA Pro license. Or I could explore opportunities back in America. What I did was just take a step back, explore part of Europe, learn from other clubs and not rush into the opportunity."
Berhalter's desire to reflect upon his tenure with Hammarby eventually placed him on a path to return to the United States, though he didn't know it just yet. His respite from the game coincided with a series of changes in Columbus, creating the opportunity he would eventually seize with both hands.
Crew investor/operator Anthony Precourt officially took charge of the club six days after Berhalter completed his tenure with Hammarby. Precourt spent his first few weeks talking with every key person to assess the team's strengths and weaknesses and reinforce the diligence he carried out prior to completing the deal. His moves over the next few months – including parting ways with coach Robert Warzycha in September to pave the way for an extensive coaching search – reflected his desire to enact broad and sweeping changes throughout the organization.
Warzycha's exit created a critical turning point in the early stages of the Precourt regime. A new coach would alter the direction of the club in the short- and the long-term. Precourt – accustomed to the practices of the investment world and all of the carefully tailored practices required to succeed within it – did not plan to squander the opportunity.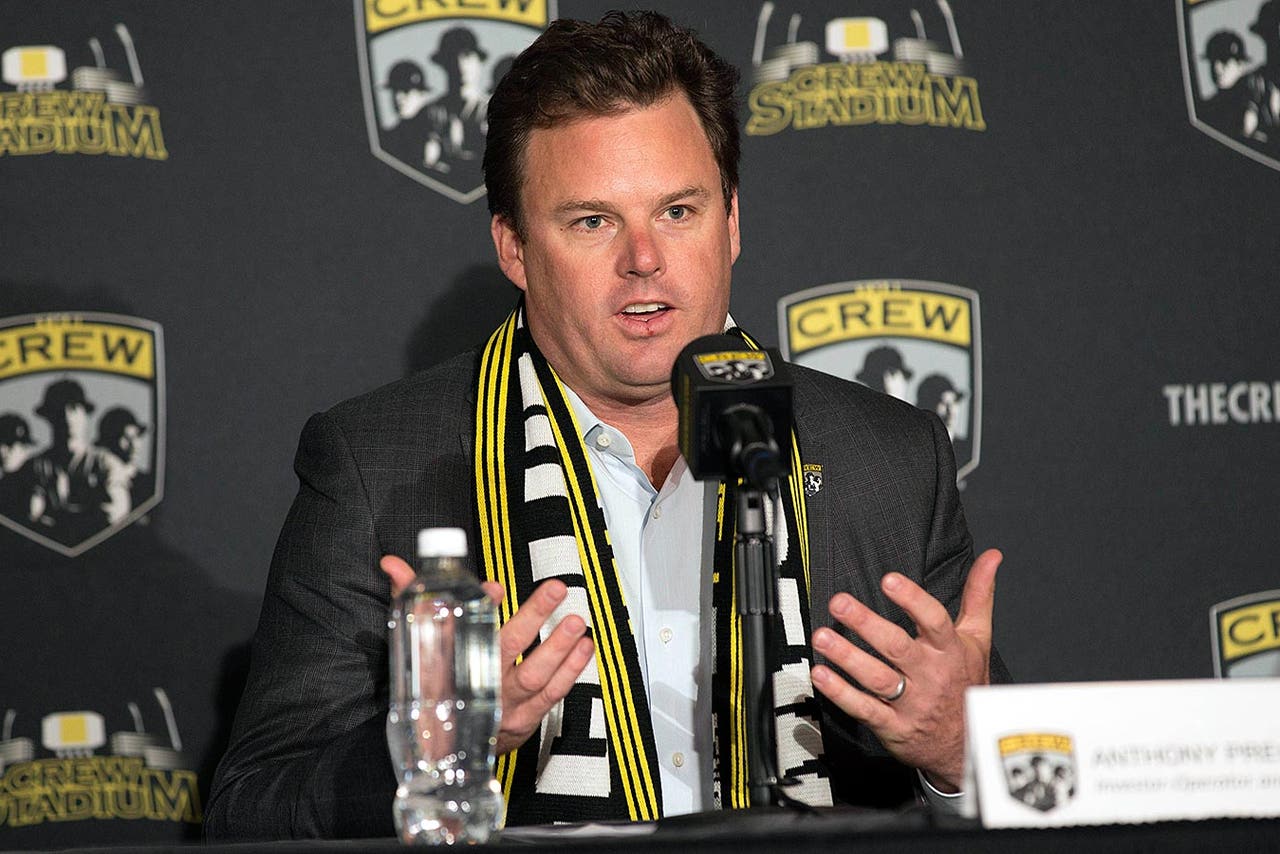 Crew investor/operator Anthony Precourt understood the importance of finding the right coach. "It was a critical hire, our first hire in this new era," Precourt said. "We wanted to make sure we had the time to do it right."
"We put together an exhaustive list of criteria. You're talking about the perfect man," Precourt told Inside MLS with a chuckle last month. "But you know what? That's what you have to do. We set up a scoring criteria based on leadership, experience and personality traits. There were 10 criteria within each of those buckets. We just started talking to the network we created within our circle and built a list."
Precourt, then-general manager and president Mark McCullers and the other members of the search committee spent hours researching and interviewing candidates. They relied on their criteria and their instincts to guide them. They monitored interim coach and technical director Brian Bliss – a candidate for the full-time position even before he took over the team – carefully as the Crew made a late playoff push. They started the interview process – Precourt said he interviewed candidates in Chicago, Los Angeles, New York and San Francisco (his home base) as it unfolded – and worked their way down the list all the while.
As the Crew brass pondered the merits of their candidates and ticked the corresponding boxes, they weighed the benefits of revamping their executive structure. McCullers planned to move away from his general manager duties entirely (he noted he had transitioned many of his previous day-to-day functions on the technical side to Bliss over the previous two to three years) and train his focus on his role as president well before Precourt arrived. The job hunt created an opportunity to revamp the entire setup if the right candidate emerged.
"In the back of our minds, we knew that we wanted to have separation of president and general manager responsibilities," McCullers told Inside MLS late last year. "We remained open to how it could manifest itself, in terms, well, we could find the head coach first. We thought if the head coach and the sporting director could be combined roles, that would be ideal. But we had to hear the vision and see the person with that skill set to bring that role together."
The vast scope of the potential alterations intrigued Berhalter as he proceeded through the interview process. Unlike a few of his competitors for the gig, he wanted a fair amount of control over salary budget concerns and selection issues. He plotted a future with detailed plans on and off the field within a united department. And he increasingly felt his grand designs coincided with how the Crew wanted to move forward.
"I needed to see what direction the club wanted to go in," Berhalter said. "That was important to me. I want to know what resources would be there, what the goals and the objectives of the ownership would be. That was important to me. Once I felt it aligned, I was confident I could put together and share a vision with the owner of where we wanted to go."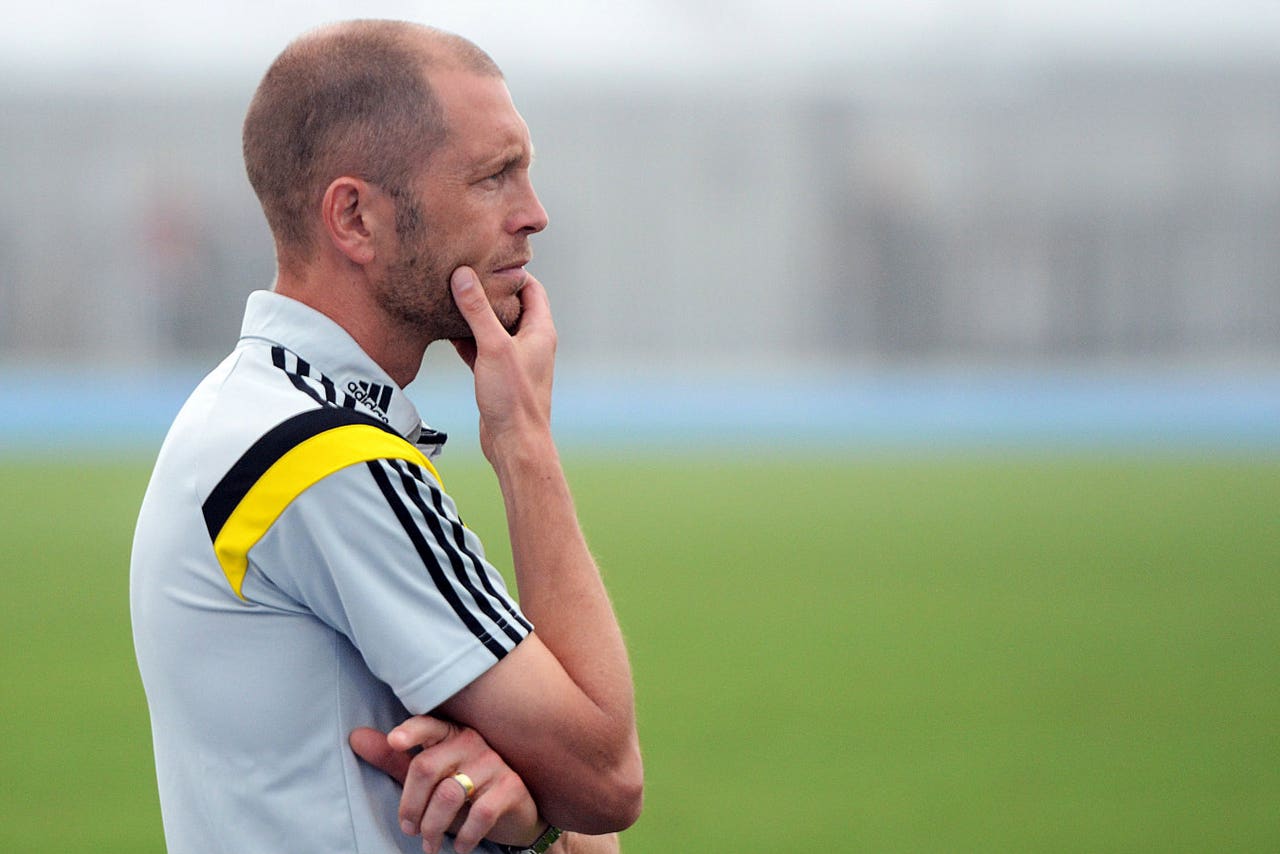 Columbus boss Gregg Berhalter convinced the Crew to hand him a combined role as head coach and sporting director by thoroughly detailing his plans during the interview process.
All of the finalists eventually gathered in Columbus to make their final pitches for the job. Berhalter separated himself from the pack with a comprehensive presentation that included not only his proposals for the first-team, but the entire operating structure on the technical side. Precourt ultimately decided to appoint Berhalter as head coach and sporting director in November, a decision designed to consolidate accountability and hand him the control he sought.
"I like to do my research in a pretty detailed and thoughtful way," Precourt said. "I like to have as much information as possible before I make my decisions. We were sort of just like-minded in that regard. Gregg is very thoughtful and thorough. It just felt right. We hit it off."
The ensuing stretch brought a host of changes to a club actively seeking them. Berhalter assumed control with a technical staff (Bliss joined Chicago as its technical director in early December) and a squad to build in short order. He hired wisely (director of soccer operations Asher Mendelsohn, assistants Rob Maaskant, Pat Onstad and Josh Wolff) to accentuate his abilities and made some painful roster decisions (dealing stalwart defender Chad Marshall to Seattle, for instance) to facilitate the construction to follow.
"Our challenge in changing the direction of this club is being able to create the [salary budget] resources to do it," McCullers said. "We couldn't maintain the same roster and allow Gregg the opportunity to put his stamp on it and bring his players in. We had to create those resources and the only way to do that was to make some changes. Those were some tough decisions. There are some good players who are not on our roster now."
In their wake comes a mix of new faces and returning figures charged with implementing Berhalter's possession-oriented ideal. Some of the projected key pieces – defenders Giancarlo Gonzalez and Michael Parkhurst plus playmaker Federico Higuaín to highlight just three – are already in place. Others will surface as Berhalter continues to evaluate the players at his disposal and learn how they might fit into his approach over the long term.
This project isn't expected to yield the end product in short order, though Precourt said he preaches both patience and production at the same time. Early returns suggest Berhalter's methods are taking hold within the ranks, though preseason results hardly constitute a reliable indicator of anything. The real measure of progress will arrive in the season opener at D.C. United on March 8 and the 33 league matches poised to follow it.
Every carefully planned step offers another chance to gather data in the present and inch Columbus toward the overall objective of lifting MLS Cup once more. It is how Berhalter obtained the job. It is how he plans to bring his vision to fruition. And it is how the Crew will proceed until the end product is finally produced.
2014 INSIDE MLS SEASON PREVIEWS
FEB. 24: Chicago Fire – Mike Magee's encore – Chivas USA
FEB. 25: Colorado Rapids – Exploring the new vision in Columbus – Columbus Crew
FEB. 26: D.C. United – FC Dallas
FEB. 27: Houston Dynamo – LA Galaxy
FEB. 28: Montréal Impact – New England Revolution
==
MARCH 3: New York Red Bulls – Philadelphia Union
MARCH 4: Portland Timbers – Real Salt Lake
MARCH 5: San Jose Earthquakes – Seattle Sounders – Sporting Kansas City
MARCH 6: Toronto FC – Vancouver Whitecaps
---