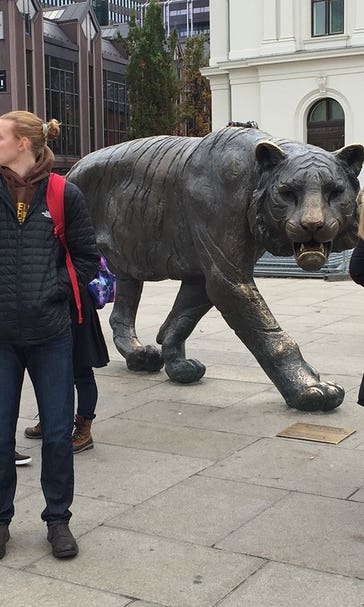 I am a better-looking gingery version of Alice
October 30, 2015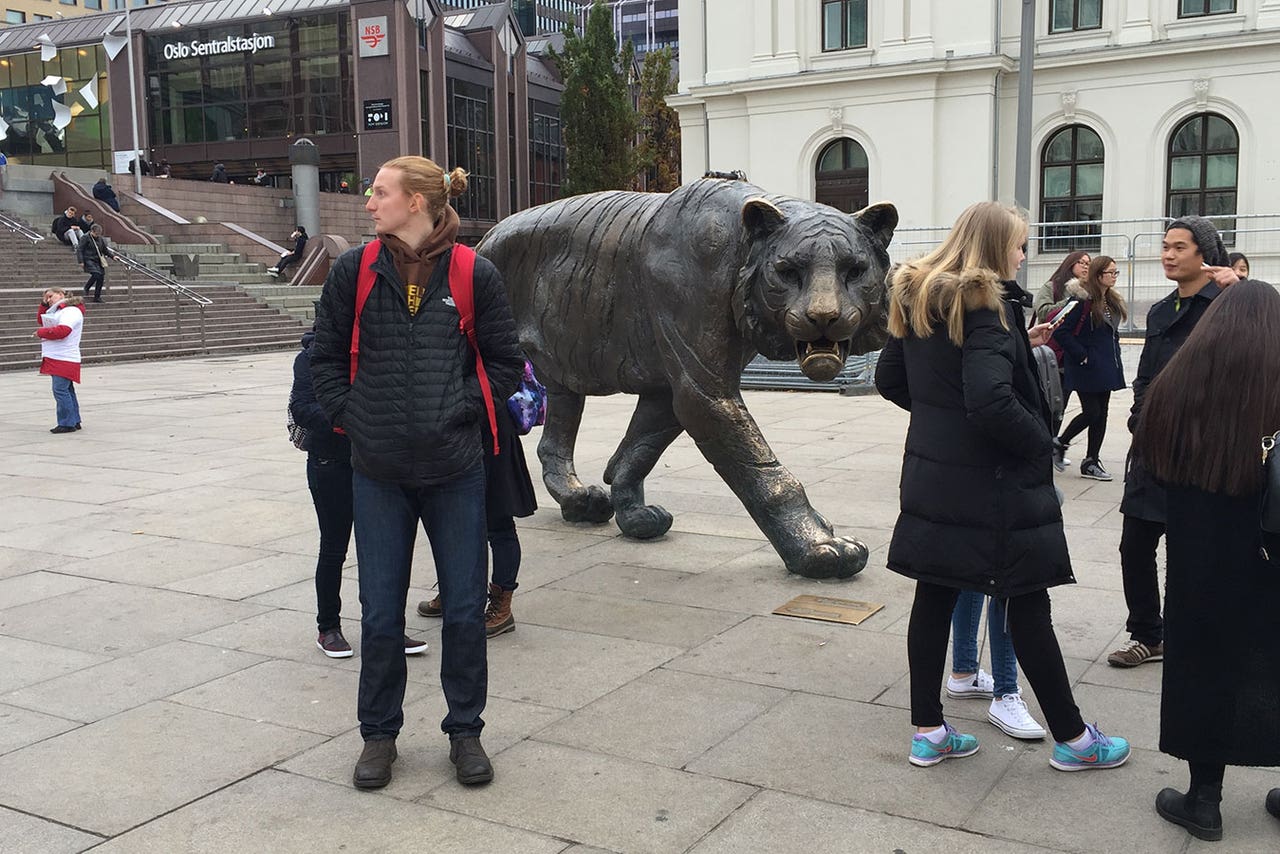 "Not all who wander are lost." -- J.R.R. Tolkien
"Which road do I take?" --€" Alice
"Where do you want to go?"-- Cheshire Cat
"I don't know." -- Alice
"Then it doesn't matter." -- Cheshire Cat
During my last three years of travel I have lots of down time to do whatever I shall please since my only real responsibilities are to be at practices and games on time and to take care of my body. This has allowed me ample time to read, write and explore my ever-changing surroundings. The two passages above have become every-day reminders that in each new place I call home, I am going to be lost for a while and it is completely ok.
Fast forward to my first day off in Oslo. I was four days into my stay and still pretty messed up from jetlag so I knew I was going to be up for quite a few hours. I just finished my first practice of the one of the two youth teams I am coaching for the season. It was 8:15 p.m. and I have been cooped up in my apartment for far too long. I checked the bus schedule and figured out that it is 50 minutes to downtown and I only had to catch one bus. I put on a nice pair of slacks and grab some cash (Norwegian Kroner) and headed towards the bus stop.
After a 10-minute walk to the bus stop and another 50 minutes into downtown I arrived in central Oslo. Over half-a-million people live in the Oslo area and the center has plenty of restaurants, bars, shops and nightlife. Before I left I did a little research to find out what places would be popping on Thursday night in hopes of finding a cool place to hang out. I had about four hours till I needed to catch my bus back home so when I first got off the bus I had just planned on wandering around for about an hour before heading to a place called Hager's.
The center has several open large squares with fountains and statues. The buildings are a high and the main tourist drag has several high-end shops and knick-knack stores for people to spend their hard earned money on.
I made my way through the streets and decided to just forget about heading to the bar since it was only 10 p.m. and found it way more fun to stumble upon interesting shops and statues that are all around. This is one thing I really enjoy about Europe: the commitment to making cities have beautiful art and architecture, and Oslo is no different. Although this city is extremely modern it still has a very European feel to it with lots of coffee shops and bars with live music.
My exploration continued as I walked to try and get a really good feel for the city itself. This was when things went very badly. I normally have a pretty decent sense of direction and I thought I was making my way back towards the central bus station after about three hours of wandering. During my adventure I staggered into a few bars just to check them out but decided against spending 90 NK ($12 USD) on beer and just enjoyed some live music and some very beautiful people.
It was 11:45 p.m. and I needed to get back to catch the late bus home at 12:30 a.m. Unfortunately my inner compass went haywire and I kept on walking in a giant circle, rhombus or any other algebraic shape that did not lead me back to my original starting point.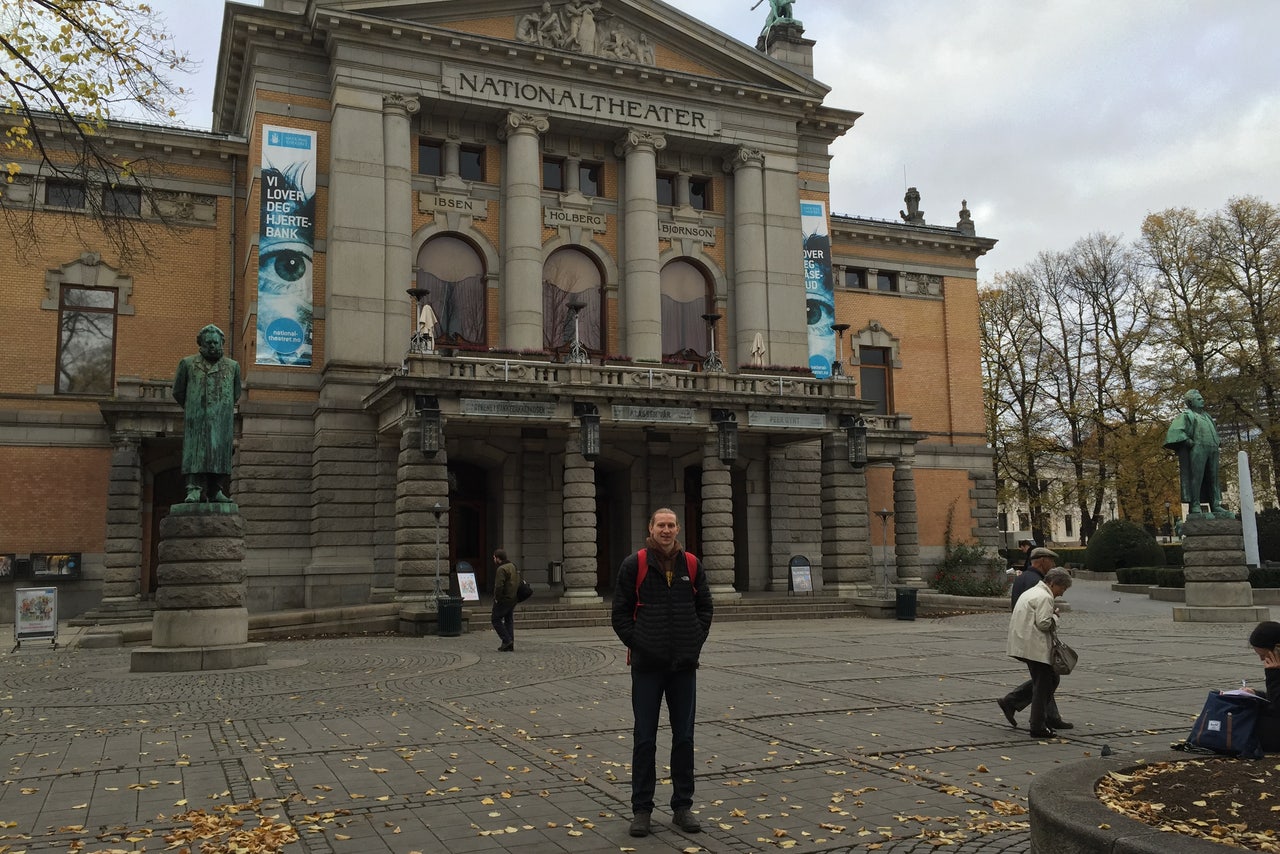 I was being a typical male and refused to ask for directions because I wanted to figure it out myself. The use of a smart phone was out of the question since my phone had no service. This led me to wander around for another two hours. I eventually did as for directions but "follow the tracks" was not much help when the street has three different tracks going in three different directions. I was finally able to get my bearings and found the center of town once again.
At this point I had been wandering around for several hours and all I wanted was my bed. I walked up to the nearest taxi and asked how much it would cost for a ride back to Rykkinn. This was met with a confused look because he had no idea what I was talking about. We eventually agreed upon the drop-off location and he told me the fair would be at least 500 KR ($60 USD), which was not the best use of my paycheck. I wandered around a little longer and asked about 10 more cabs and the price was set at 500 KR minimum. 
I felt like sleeping on a bench would be frowned upon so I flagged down a cab. As the cab pulled up a very cute and very inebriated girl eating a bacon-wrapped hot dog asked me where I was headed and if we could split the cab far. I of course obliged and we made our way home. I had no idea the girl's name and I do not think she did either. She gave pretty terrible directions to the cab driver and eventually got out of the car in the middle of a neighborhood. She paid for her half of the cab ride (350 KR) and then was on her way.
I arrived back at my apartment at 3:20 a.m. and instantly collapsed on my bed. As frustrated as I was at the expensive cab ride, I knew that this night of aimless wandering would help me in the months to come in my new home. I discovered several interesting looking shops, bars, and cafes and would from now on have a much better sense of direction on my next adventure to the center.
My next blog will feature what it is like to be Billy Madison in real life.
---
---