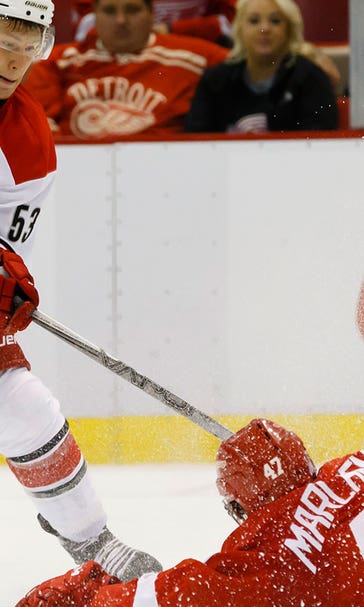 Hurricanes beat Red Wings again at the Joe
October 27, 2015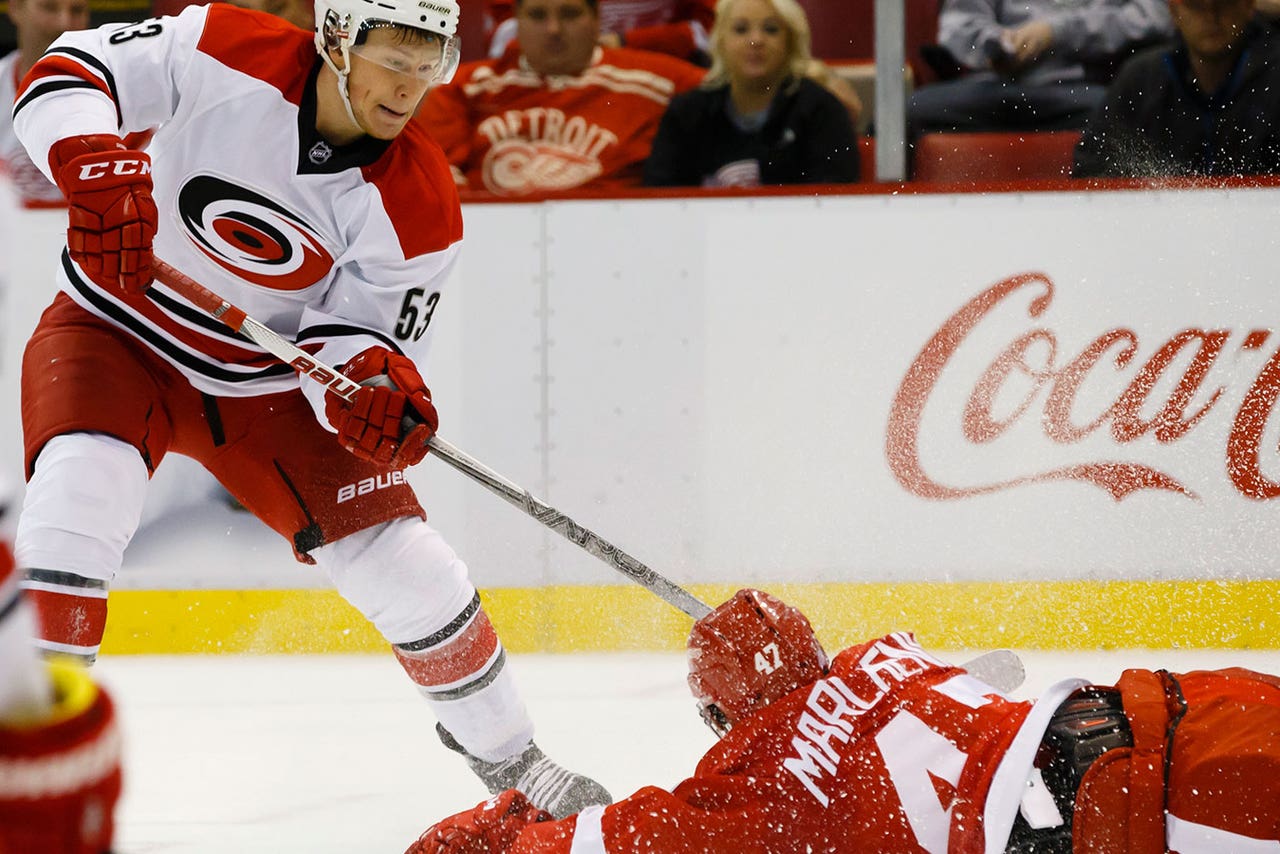 DETROIT (AP) -- The Carolina Hurricanes have felt right at home in Detroit this season.
Victor Rask and Ron Hainsey both scored to lead the Hurricanes to a 3-1 victory over the Red Wings on Tuesday night.
Carolina has won two of the teams' three meetings, with both wins coming in Detroit. The Hurricanes are 1-6 outside of Detroit.
"We've skated pretty well against them this year," Hainsey said. "Obviously, three out of our nine games have been against them already."
Hainsey's third-period goal put Carolina ahead, Eric Staal added an empty-net goal with 30 seconds left, and Cam Ward stopped 24 shots.
"The game is so tight right now that it seems like every game is decided by one goal," Ward said. "We really came to play, and we got a lucky break on one goal."
Jakub Kindl scored and Petr Mrazek stopped 18 shots for Detroit.
"I was happy with our defense, for the most part," Red Wings coach Jeff Blashill said. "We didn't give up many chances, but we didn't create anything."
Hainsey's slap shot beat a screened Mrazek for the tiebreaking score at 4:36 of the third.
Neither team put together many quality scoring chances in the first period, but Staal had a breakaway in the final minute. Detroit defenseman Alexey Marchenko, though, reached past Staal and hit the shaft of his stick, preventing him from getting off a shot.
The Red Wings had their first great chance in the second, putting together a 2-on-1 break, but Ryan Murphy lunged back to get a stick on Dylan Larkin's shot.
Carolina broke the deadlock as it dumped the puck down the ice and went for a line change. Mrazek came about 10 feet forward to clear the puck, but fired it right into Rask's chest. He skated past the helpless goalie and scored into the empty net with about 7 1/2 minutes left in the period.
"I like to play the puck," said Mrazek, whose long pass set up Gustav Nyquist's overtime goal Saturday night in Vancouver. "I just didn't see their guy until the last second, and I fired it right into him."
Mrazek almost made the same mistake later in the period, hitting Elias Lindholm while trying to clear the zone, but the puck bounced away from him. Moments later, the Red Wings took advantage of a Carolina turnover to tie it on Kindl's shot from the point with 2:16 to go.
The Hurricanes regained the lead on Hainsey's goal.
"They tried to make a tight little passing play, and it got away from the winger," he said. "I was just coming off the bench and I got a lot on it."
Kindl took a penalty with less than 3 1/2 minutes left, but Drew Miller forced Ward into a tough stop to keep Carolina ahead.
NOTES: Both teams were playing their ninth game of the season, and have already played each other three times -- their entire season series. Detroit has played its last two home games against Carolina, with a trip to western Canada in between. ... Hainsey's only other point this season was an assist in Carolina's previous trip to Joe Louis Arena.
---
---