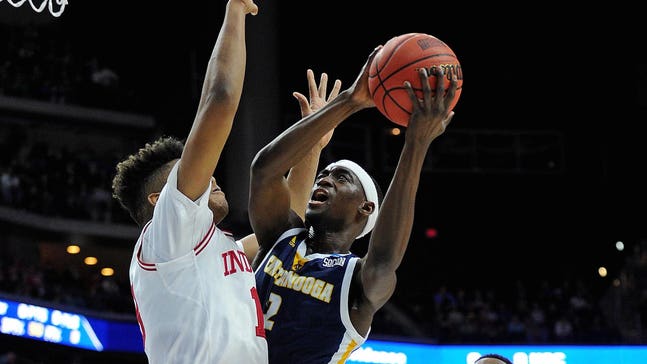 Hoosiers open tourney run with 99-74 win over Chattanooga
Published
Mar. 17, 2016 9:45 p.m. ET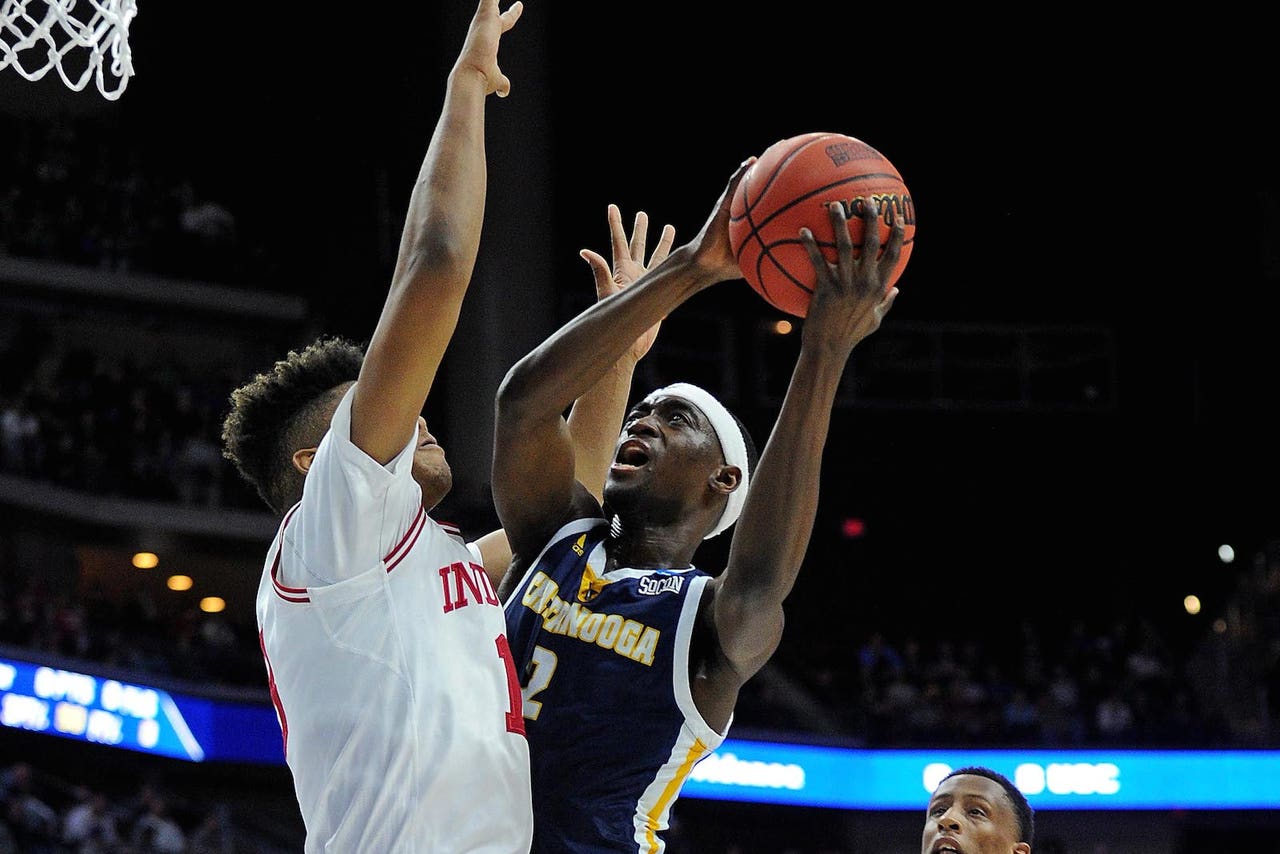 DES MOINES, Iowa -- Savvy senior Yogi Ferrell was the catalyst. Flashy freshman O.G. Anunoby was the finisher.
Indiana showed off its sharp shooting from the start and kept right on going in its opener in the NCAA Tournament.
Ferrell had 20 points and a season-high 10 assists, Anunoby pitched in 14 points and the No. 5 seed Hoosiers used their high-powered offense to take charge of Chattanooga for a 99-74 victory on Thursday in the East Region and a much-anticipated matchup with Kentucky.
"We all just tried to make the right plays," said Anunoby, the long-armed forward who went 6 for 7 from the floor with a highlight reel of 3-pointers and dunks.
Thomas Bryant scored 13 points and Troy Williams had 12 points and eight rebounds for the Hoosiers (26-7), who shot 37 for 57 from the floor for 64.9 percent.
"It's hard to match up with how we run and how athletic guys are and how we can create for other people," said Collin Hartman, who chipped in eight points and five of Indiana's 23 assists.
Duke Ethridge had 14 points and Justin Tuoyo scored 12 for the No. 12 seed Mocs (29-6), whose stellar first season under 34-year-old coach Matt McCall came to a screeching end.
The Hoosiers (26-7) dodged the 5-12 danger that eliminated Baylor and Big Ten rival Purdue earlier in the day and did their part to set up a marquee second-round game against No. 4 seed Kentucky. The border-state rivals have not faced each other since 2011 because of a disagreement about where to play.
"They're going to make a really deep run into this thing," McCall said of the Hoosiers.
After a last-second loss to Michigan in their conference tournament opener, the Hoosiers were an unusually low seed for a team that went 15-3 in Big Ten play.
"That loss to Michigan really got to us because you never know, playing in March Madness, a game like that can happen," Bryant said.
Anunoby's first NCAA Tournament game was a rousing success.
"It definitely brings the level of intensity up," Ferrell said.
He has endured a predictable learning curve, only reaching double-digit points five times this season. But he has a pile of potential as high as his 6-foot-8 frame.
"He's grown up a lot," coach Tom Crean said.
Ferrell, the first Indiana player in more than 20 years to win more than one Big Ten regular-season title, has never advanced past the round of 16 in the NCAA Tournament. Nicknamed Yogi because he liked to eat like the picnic-basket-loving cartoon bear, transcending his given name Kevin, Ferrell played just like a senior should on this stage by directing the diverse Hoosiers offense with a deft vision and a quick step.
The Hoosiers entered the tournament as the third-best shooting team in the nation and would have had a larger halftime lead than 46-37 had it not been for some sloppy turnovers.
The sure sign this was Indiana's night occurred midway through the second half, when Anunoby's 3-pointer bounced high off the back of the rim and straight down through the net for a 63-45 lead. He scored on the next possession for the Hoosiers, too, with a 360-degree finger roll off a fast break.
Only No. 1 overall seed Kansas brought more wins into the field than Chattanooga, and the future appears bright under McCall, a former assistant at Florida. The Mocs will have another strong team to try next year for the program's first NCAA Tournament win since 1997.
"We know what it takes to get here, and with everybody returning, we've got the same feel we had leading up to this season," Tuoyo said. "We're not satisfied with what we did this year. I mean, we had a great run, but we're not done."
TITLE TILT
This was the only first-round game of the NCAA Tournament this year to feature two teams that won their regular-season conference title outright.
TIP-INS
Chattanooga: The Mocs finished 3 for 17 from 3-point range. ... Senior Casey Jones should be back in 2016-17. The Southern Conference Preseason Player of the Year, who hurt his ankle in December and was done after eight games, applied for a medical redshirt.
Indiana: Ferrell tied former teammate Jordan Hulls for the most games played in Hoosiers history with 135. ... Guard Robert Johnson returned from a four-game absence due to a sprained left ankle and had seven points and six assists.
UP NEXT
Indiana plays Kentucky in the second round on Saturday.
---
---