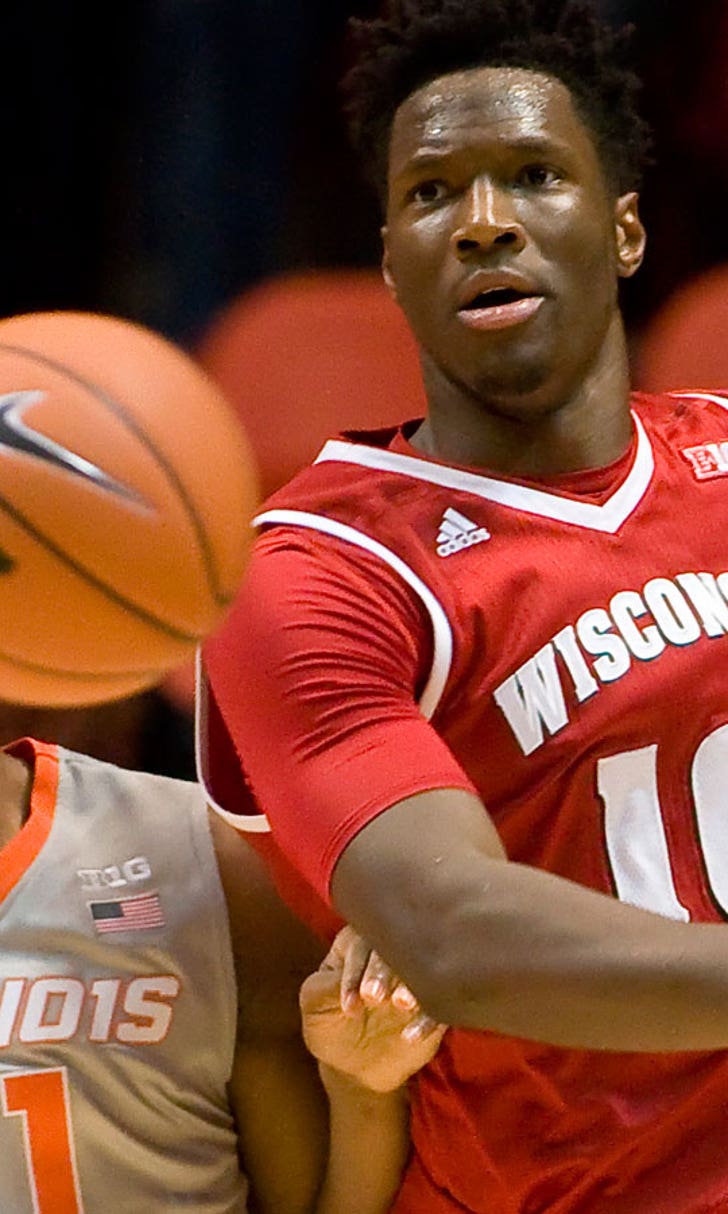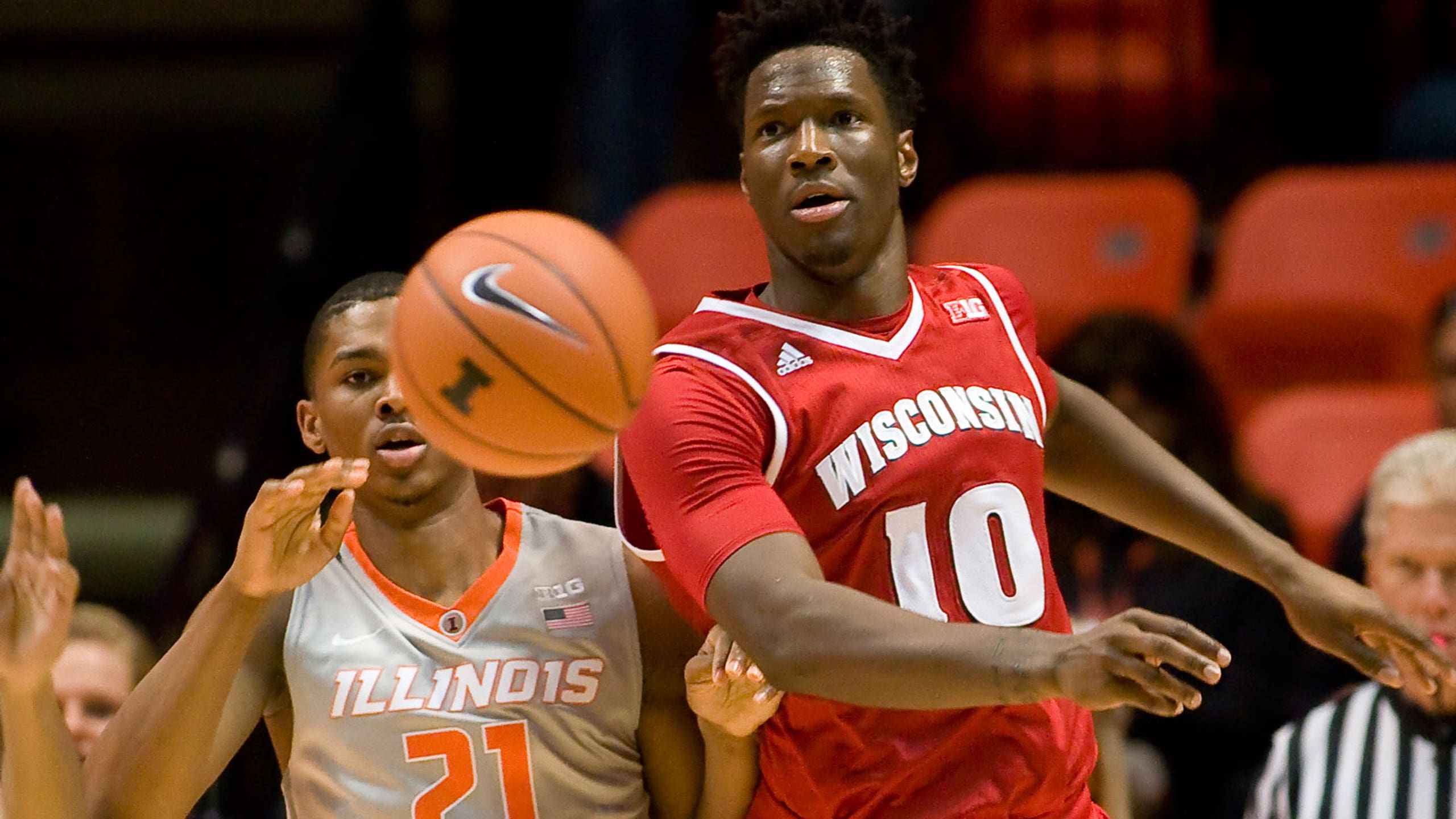 Hayes, Koenig pace Wisconsin in road win at Illinois
BY foxsports • January 31, 2016
CHAMPAIGN, Ill. --  Just before the halftime buzzer, Wisconsin forward Nigel Hayes launched a long, hopeful shot from the top of the 3-point line that bounced up off the rim and dropped into the basket.
After his unlikely buzzer-beater, Hayes dropped his head and pumped his right fist -- appearing relieved as much as anything.
The Badgers had some breathing room for the first time with a five-point lead, on their way to a 63-55 win over Illinois on Sunday night.
Wisconsin (13-9, 5-4 Big Ten) fell behind early and, after taking its first lead late in the first half, struggled to shed Illinois.
"It wasn't a masterpiece, but like I said, any time you get (a win) on the road ... it's good," Badger coach Greg Gard said.
"I've always told the guys we're a much better team than what our record is saying," Hayes added.
For Illinois (10-12, 2-7), which lost its fourth in five games, Hayes' clanker-turned-bucket was just par for the course, coach John Groce said.
"The kid makes a tough 2, it bounces on the rim and goes in," Groce said. "It is what it is."
Hayes scored 17 points and Bronson Koenig added 11 for Wisconsin, which won its fourth straight.
Wisconsin took its first lead at 23-22 on a dunk by Khalil Iverson with 4:56 left in the first half and never trailed again. Iverson finished with a career-high 10 points off the bench and had five rebounds.
He and Vitto Brown combined for 19 points off the bench. But Iverson's performance in particular surprising. He had nine total points in Wisconsin's seven Big Ten games before Sunday night and the dunk was his first points in three-plus games.
"It gave me some confidence," he said. "I think that helped a lot."
The Illini closed to within 55-50 with 1:02 in the game to play on a 3-pointer by Kendrick Nunn. But Hayes hit six free throws in the last minute to ice the game.
Malcolm Hill led Illinois with 22 points and Nunn had 15.
Hill and Nunn are Illinois' leading scorers, averaging 18.3 and 17.9 points a game, respectively. But Sunday, Gard said, the Badgers at least slowed them down. The two were a combined 11 for 26 from the field. Nine of Hill's points came at the free-throw line.
"We had to make them work for what they got," Gard said.
Starting Illini forward Michael Finke left the game with an apparent knee injury in the second half after a collision with Hayes. Nunn also struggled after a collision, leaving for the locker room during the second half with what Groce said was a hip injury but returning late.
Groce said he believed both injuries were bruises but that Finke would have an MRI.
The Badgers only hit two 3-pointers on the night, going 2 for 14, but they scored 22 points in the paint against an out-manned Illinois. The Illini scored just eight points inside.
BADGERS AT THE LINE
Wisconsin averages 22.4 free-throw attempts a game, second in the Big Ten. The Badgers were 17 of 20 on free throws Sunday -- all in the second half.
ILLINI DEFENSE
Illinois has now held its last three opponents to 69 points a game, including an overtime win against Minnesota and an overtime loss to Ohio State. That's after giving up 103 to Indiana.
"We've defended well enough to win," Groce said. "We need to finish a few more of those field goals."
TIP-INS
Wisconsin: The Badgers have played in eight games decided by three or fewer points, the most in the country. They're 3-5 in those games, including recent wins over Michigan State and Indiana. ... Wisconsin has won nine straight over Illinois and 16 of the last 20. ... The first team to 60 in Wisconsin-Illinois games has won 27 of the past 28 games over a span of 13 seasons.
Illinois: After allowing Indiana to score 103 points in a Jan. 19 loss, the Illini have tightened up on the defensive end. The past two opponents, Minnesota and Ohio State, averaged 69.5 points against Illinois in a pair of overtime games. ... With Mike Thorne Jr. missing his third straight for Illinois, Illini players have now missed a combined 62 games due to injury this season. ... Freshman guard Jalen Coleman-Lands did not start due to an unspecified violation of team rules, Groce said.
UP NEXT
Wisconsin hosts Ohio State on Thursday.
Illinois plays at Rutgers on Wednesday.st nine.
---
---