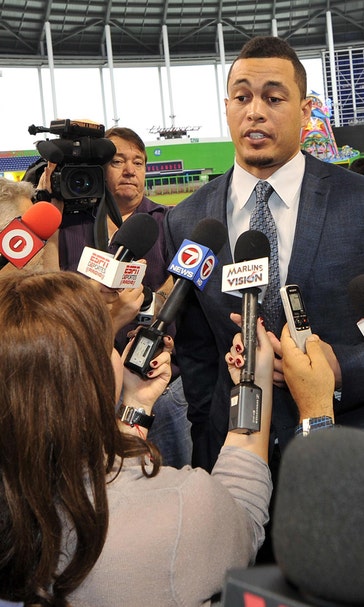 Hana's Huddle: Giancarlo Stanton -- who else? -- dominates week
BY Hana Ostapchuk • November 20, 2014
Marlins Man, meet the $325 million Marlins man.
The Miami Marlins and Giancarlo Stanton officially announced his 13-year, $325 million contract at a press conference Wednesday at Marlins Park. And though everyone is still trying to wrap their heads around the concept of $325 million, Stanton didn't hesitate to say what he aims to do with this new agreement.
"I know I have a lot of expectations to live up to, which I need to do and am willing to do," Stanton said. "This isn't like a lottery ticket."
But if the pressure of winning weighed heavily on Stanton before, throw a few hundred million on top of that and watch as the real heavy lifting begins.
With the 25-year-old signing off on the biggest contract in the history of North American professional sports, it's no surprise he was in a celebratory mood this week.
That would be Stanton at the Delano Hotel in downtown Miami on Monday night with a gigantic bottle of rare champagne worth $20,000. And just in case you're thinking this guy isn't lucky enough, turns out he allegedly didn't even pay for the big bottle of bubbly.
HEAT VS. MAGIC
The Orlando Magic host the Miami Heat on Saturday in the first of four regular-season meetings between the in-state rivals.
The teams met in the preseason, with the Magic pulling out 108-101 vicotry in overtime. However, the Heat have won the past nine regular-season meetings.
Be sure to tune in on Saturday to catch the rivalry action at 6:30 p.m. on FOX Sports Florida (North/Central Florida markets) and Sun Sports (South Florida).
NEWS AND NOTES
-- Despite their crown as the reigning national champion and the fact they have yet to lose a game over the past two seasons, Florida State did not ascend to No. 1 in the latest College Football Playoff rankings following top-ranked Mississippi State's loss to Alabama. Instead, the Crimson Tide jumped into the top spot and the Seminoles remained No. 3 behind Oregon.
-- After a much-needed win over rival Buffalo Bills last Thursday, the Miami Dolphins are prepping for their coldest game of the season in Denver on Sunday.
-- Jacksonville Jaguars tight end Marcedes Lewis will be back in action Sunday against the Indianapolis Colts after a high-ankle sprain kept him out for nine weeks. Last time Lewis played, he scored a career-best 63-yard touchdown in Week 2.
-- Orlando Magic rookie forward Aaron Gordon is out indefinitely after suffering a fracture in his left foot during Saturday's game against the Washington Wizards.
-- Tampa Bay Buccaneers quarterback Josh McCown and head coach Lovie Smith will return to the Windy City to play against the Chicago Bears on Sunday for the first time since joining Tampa Bay.
VIDEO OF THE WEEK
Orlando Magic players proved that posting on social media is only half the fun as they shared who they follow on Instagram and Twitter.
Check out this quick video that takes a peek into the likings of Victor Oladipo, Elfrid Payton, Maurice Harkless, Kyle O'Quinn, Ben Gordon and Dewayne Dedmon.
And leave it to the Magic to point out members of their own team as personal favorites (loyalty at its best).
You can follow Hana Ostapchuk on Twitter @HanaOstapchuk or email her at HANAMARIE13@AOL.COM.
---