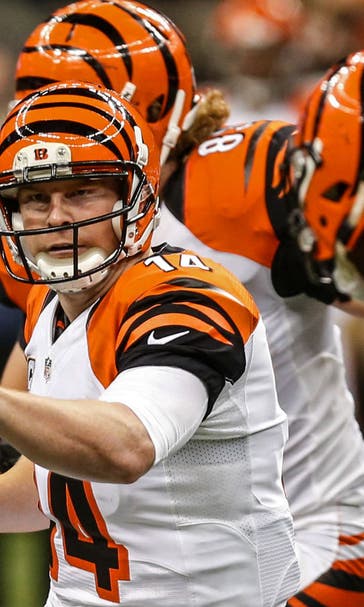 Good Andy shows up to lead Bengals
BY foxsports • November 16, 2014
Very few quarterbacks have had as poor of a football game as Andy Dalton had 10 nights ago. There aren't too many who had better games than Dalton did on Sunday.
Dalton was on target from his first pass attempt of game and didn't stop as the Bengals bounced back from a sour 24-3 loss to Cleveland last week with a dominant 27-10 win at New Orleans. Dalton completed 16 of 22 passes for 220 yards, three touchdowns and no interceptions. While his passer rating against the Browns was a historically-low 2.0, he couldn't have been much better against the Saints as he finished with a career-best 143.9 rating.
There is Bad Andy. There is Prime Time Andy (which has been a subset of Bad Andy). And then there is Good Andy, who showed up against the Saints.
"We put last week's game behind us, and now we know we have seven games left," said Dalton. "Regardless of what everyone else does, as long as we take care of our own business over these next seven games we'll put ourselves in a good position.
"This is one. We've got six more games to go."
A running game that produces 186 yards, including 152 yards on 27 carries by rookie Jeremy Hill, certainly helps matters but Dalton made good decisions and was accurate all game.
The Bengals answered a game-opening 14-play drive that netted the Saints a field goal and 3-0 lead with a 12-play, 77-yard touchdown of their own to take a lead they never relinquished. Dalton's first pass was for eight yards to rookie James Wright on third-and-8. Two more times on the drive the Bengals faced third-and-8. Two more times Dalton's throws were on the mark, the last one to tight end Jermaine Gresham for what turned out to be a 12-yard touchdown pass after Gresham recovered his own fumble in the end zone.
Dalton and Gresham later connected on a second touchdown pass to give the Bengals a 20-3 lead in the third quarter. Dalton's 24-yard throw to A.J. Green in the fourth quarter sealed the win. Two previous completions from Dalton to Green on the drive produced 56 yards, including 38 on third-and-18 from their own 12-yard line. Dalton put the ball on the money in between two New Orleans defenders and into Green's hands.
There was no continuity in the Bengals offense against the Browns, and that started with Dalton. There was never no continuity against New Orleans. As bad as Dalton was against Cleveland, he was that good and better against the Saints.
"We have his back, no matter what. We respect him as our quarterback," said Green, who caught six passes for 127 yards and his fourth touchdown. "Like I said, last week we didn't play great, he didn't play great, and hey I didn't play great. You can't put all the blame on the quarterback when things don't go well. As wide receivers we all have to run better routes --€" myself included. Last week I didn't do a great job, but like I said we all have to be accountable and come back out the next week and play a whole lot better and that's what we were able to do today."
Green was held to 23 yards on three receptions against the Browns, with cornerback Joe Haden drawing the majority of the coverage responsibility against Green. Sunday was Green's third 100-yard game of the season and 18th of his career.
The win combined with Cleveland's loss at home against Houston puts the Bengals back in first place in the AFC North with a 6-3-1 record. They've got road games the next two weeks at Houston and Tampa Bay. One week after being vilified, Dalton is back to being praised for his resiliency."
"That's the way this league is – it's so week-to-week," said Dalton. "You lose and everyone wants to run you out. And when you win everybody's going to like you. You know, I'm not too worried about that. It was a big win for us, so, it's good to bounce back and get a big win on the road."
---
---