Godley punished by Giants as D-backs drop series opener
June 5, 2018
SAN FRANCISCO -- Madison Bumgarner will be coming back to a team in the thick of the NL West race.

Andrew McCutchen and Brandon Crawford opened a seven-run fourth inning with back-to-back home runs, and the San Francisco Giants got back to .500 on the season by beating the first-place Arizona Diamondbacks 10-3 on Monday night.

Pinch-hitter Alen Hanson and Buster Posey each added two-run doubles in the big inning to help the Giants win their fifth straight game to move within 1 1/2 games of the Diamondbacks in the division. That's the closest they've been since April 7.

"That means we did our job," starter Derek Holland said. "With all the injuries that have happened, everyone has come in and filled their spots. They've done a good job to keep us in this race."

The Giants get a big boost Tuesday with the return of their ace. Bumgarner is set to make his season debut after breaking the pinkie on his throwing hand at the end of spring training. The Giants managed to stay in striking distance in the division over 60 games without the 2014 World Series MVP and are hoping his return can keep them in contention.

https://twitter.com/FOXSPORTSAZ/status/1003877779622879232

"We missed him, no question about it," manager Bruce Bochy said. "He's excited about coming back. We're a better club with him. That really improves this rotation. It's good to get our guys back."

Pablo Sandoval and Nick Hundley also homered for the Giants.

Pierce Johnson (3-2) pitched two scoreless innings to get the win after Bochy's decision to pull Holland after just four innings paid off.

With the bases loaded and one out in the fourth in a tied game, Bochy opted to pinch hit for Holland, who is hitting .053 this season. Hanson made his manager look good when he slapped a double down the third-base line against Zack Godley (5-5) to give the Giants a 4-2 lead.

"It's always tough to take your starter out," Bochy said. "He had worked pretty hard. He had some pitches. I knew if it came down to bases loaded there, one out, the way he swings the bat, I'd have no choice. I was kidding him about it. I said, `Once you get to .200 batting average, I'll let you hit there."

Reliever Fernando Salas allowed another run to score on a wild pitch, and then Posey's hit made it 7-2, with all seven runs charged to Godley.

https://twitter.com/FOXSPORTSAZ/status/1003875096795099136

"He got clipped for a couple back-to-back home runs and then just lost maybe a little bit of command," manager Torey Lovullo said. "He started to fall behind hitters and there was a run of batters where there were several base runners on. The big hit was Hanson. I thought that was a mistake over the plate with two strikes. Just a very unfortunate timing."

Holland struck out the first four batters he faced but ran into trouble in the fourth when Ketel Marte hit a two-run double to open the scoring. Marte has eight extra-base hits and eight RBIs in his past seven games.

TRAINER'S ROOM

Diamondbacks RHP Shelby Miller (elbow) made his second rehab start, allowing one run, four hits and four walks in 4 2/3 innings for Double-A Jackson. He struck out six and threw 79 pitches. ... OF A.J. Pollock had a CT scan on his injured thumb. The injury is healing but not enough to remove the soft cast.

UP NEXT

Bumgarner struck out 15 in 8 1/3 innings of two minor league outings. Bochy said he can probably throw about 90 pitches against the Diamondbacks in his first start of the season. Patrick Corbin (5-2) starts for Arizona.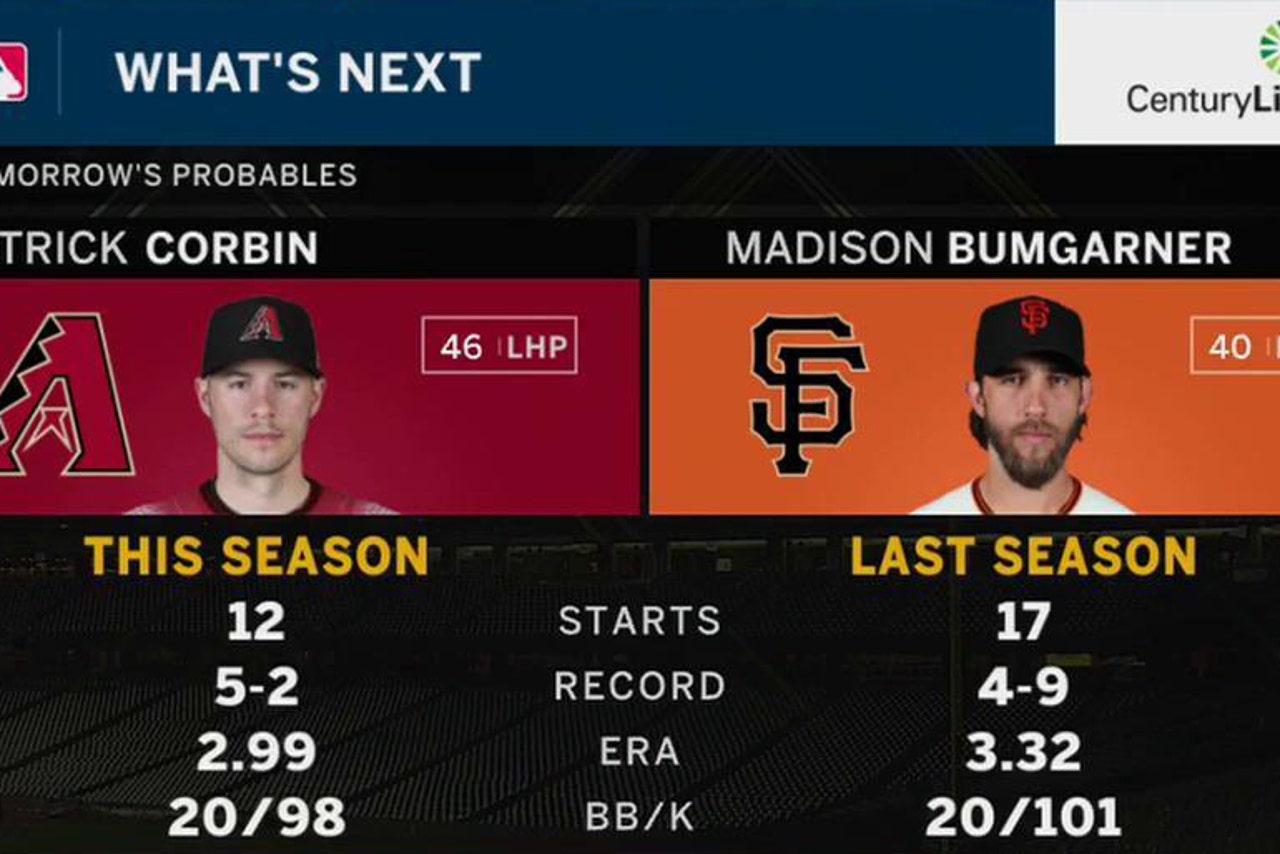 ---
---