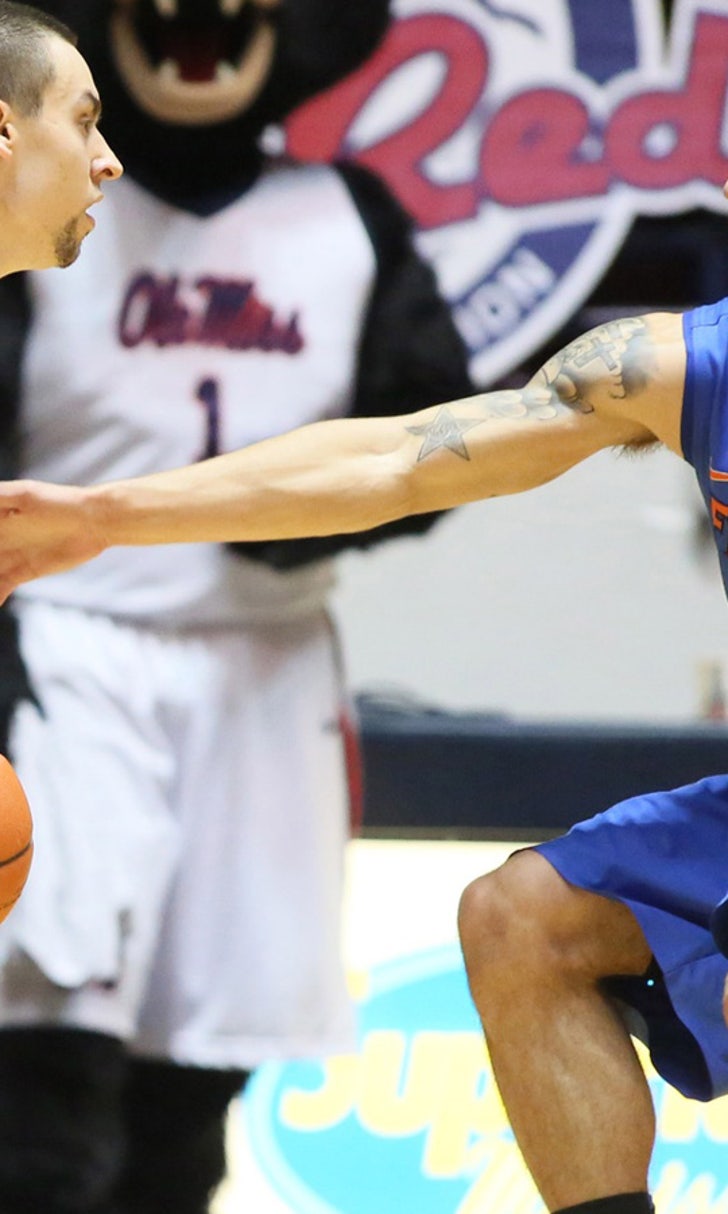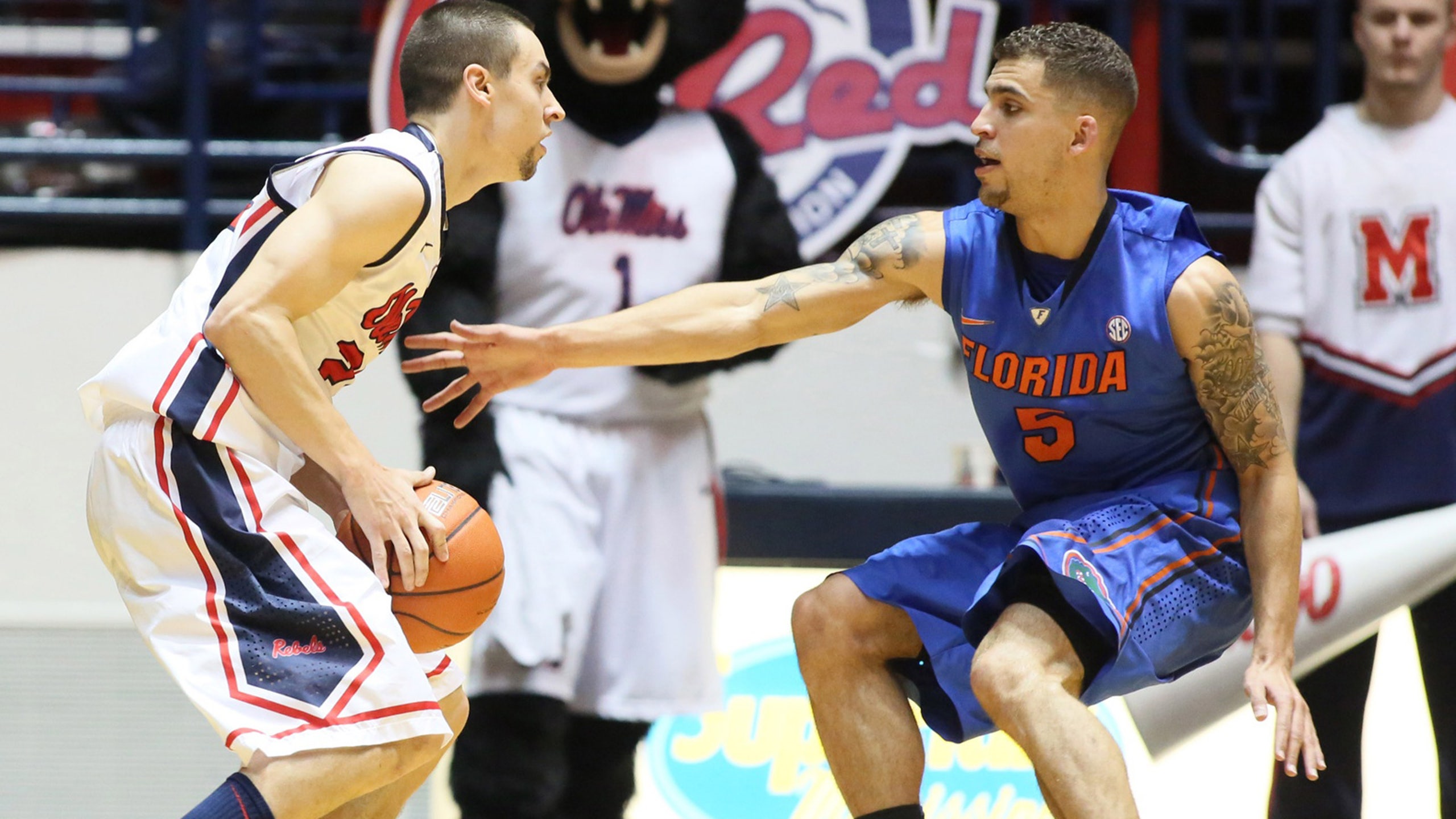 Gators blanket Henderson in second half, survive road scare
BY foxsports • February 22, 2014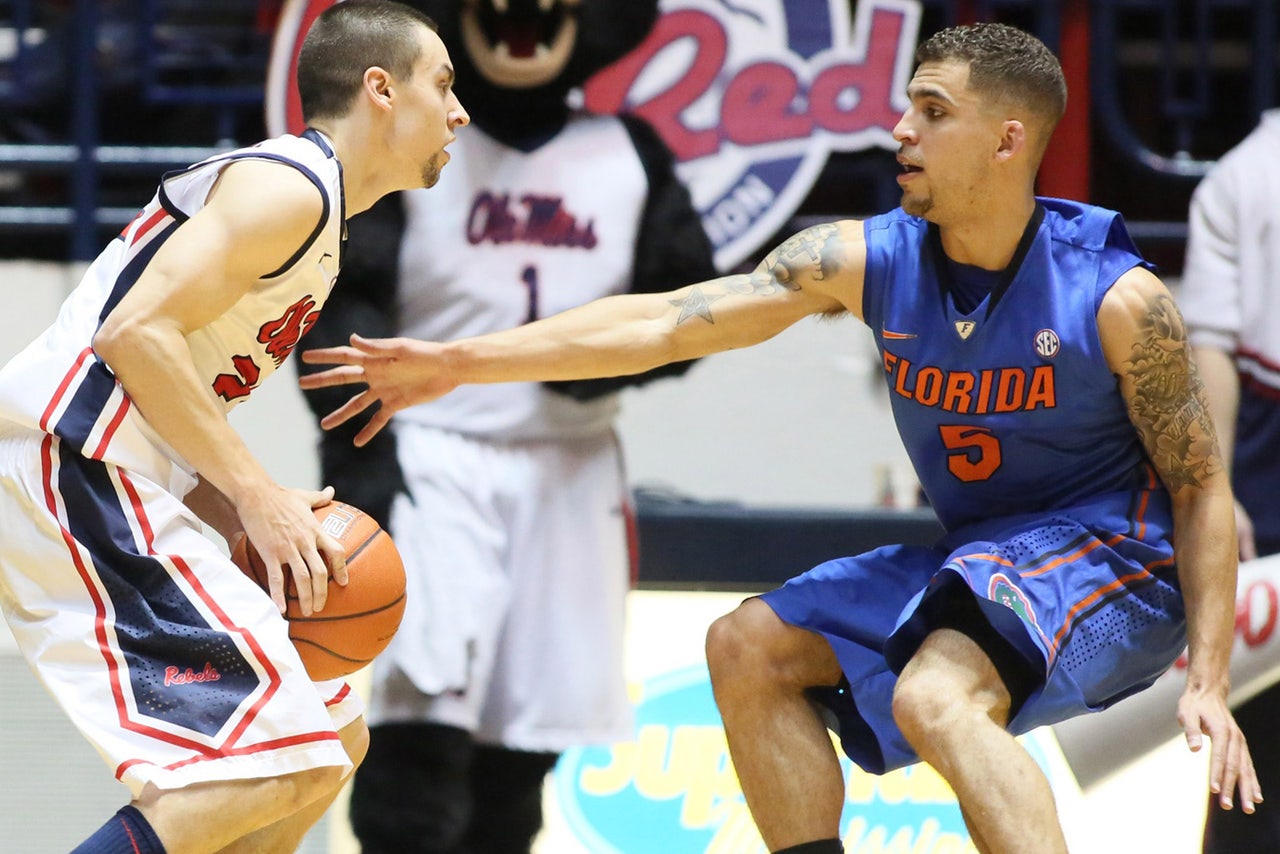 OXFORD, Miss. -- At halftime Saturday, Florida coach Billy Donovan didn't spend much time crunching numbers or reviewing strategy. Didn't need to. Everyone in the locker room knew what the problem was.

Marshall Henderson.

''He's gonna try to get 40 tonight,'' Donovan told his team.

Henderson, the Ole Miss guard with unlimited range and zero conscience, had 22 points through 20 minutes, had the Rebels locked in a high-scoring tie with second-ranked UF, and had the attention of everyone inside Tad Smith Coliseum.

He quickly became the single focus of the Gators.

UF threw a second-half net around Henderson, not only shutting down the Mississippi lightning rod after the break, but shutting him out. Instead, the Gators dared his teammates to try and chip away inside the 3-point line and that kind of managed scoring contest suited the Gators just fine. The backcourt of senior Scottie Wilbekin and sophomore Michael Frazier combined for 35 points, including nine 3-pointers, and led Florida to a 75-71 Southeastern Conference victory over the Rebels that extended its school record for consecutive wins to 19.

Wilbekin scored 18 points on 6-for-12 shooting and dished seven assists. Frazier, who played through a sprained left wrist, threw in 17 points on 5-for-10 marksmanship from distance. But it was what UF did on the defensive end -- especially to Henderson -- that altered the game.

''We played harder and with more of a purpose on Henderson,'' Wilbekin said of the guy who tormented the Gators in the SEC Tournament title game last year. ''Simple as that.''

Henderson was 7-for-14 from the floor and 5-for-11 from the 3-point line in the first half. In the second, with Wilbekin guarding him nearly the entire period, Henderson missed all five of his 3-point shots and all six shots from the floor overall.

''You're not going to prevent him from shooting the ball,'' Donovan said. ''He's just going to shoot it from wherever he gets it and a lot of times you're at the mercy of whether it goes in or not. In the second half, it didn't go in.''

Instead, UF let Wilbekin extend the defense and chase Henderson, thus sacrificing some tough 2-point shots to the likes of hard-driving point guard Jarvis Summers (14 of his 20 in the second half) and forward Anthony Perez (10 points). While the tradeoff wasn't ideal -- especially as Florida made just 37 percent in the second half -- the Rebels went just 2-for-12 from the 3-point line in the second half, while the Gators went 4-for-17 and closed the game out making nine of 10 free throws, including their last seven over the final 4:43 to protect the lead.

For UF (25-2, 14-0), it marked the seventh win on the road in SEC play this season and padded its lead over Kentucky in the league race to three games with four to play. One more win will clinch at least a piece of the SEC title for the third time in the last four seasons, but the Gators want no part in sharing the crown.

There's more, of course.

The chances are very good that come Monday afternoon the Gators will be voted the No. 1-ranked team in the nation, by virtue of top-ranked Syracuse's home loss to Boston College earlier in the week. That would be a first since UF captured its second straight NCAA title in 2007.

''I haven't been No. 1 since I've been here, so that would be pretty cool,'' senior center Patric Young said with a smile and shrug. ''But you don't get a trophy for that.''

Added Wilbekin: ''We're the same team, no matter what number we are, so it really doesn't matter.''

Wilbekin and Frazier accounted for 17 points in the first half, thanks to five made 3s. Reserve guard DeVon Walker also had two and Dorian Finney-Smith, with 21 straight long-distance misses spanning eight games, also hit one to break his drought. Those eight bonus shots helped the Gators stay in the game while Henderson, the Ole Miss bombardier, was launching his arsenal. It didn't help that Young and power forward Will Yeguete played just 10 and 11 minutes, respectively, due to foul trouble.

''Even though Henderson was going nuts, it was a kind of a wash, him against our team,'' Donovan said.

Like the nine straight points Henderson scored in barely 70 seconds, thanks to a 4-point play, a 3-point shot, then a steal and slam-dunk.

''Sometimes it's hard to tell when you're dealing with Marshall,'' Ole Miss coach Andy Kennedy said. ''All of his shots were pretty difficult. ... He's always going to have difficult shots because of the way teams play him. In the second half, we had our chances, but you have to make plays to beat what will be the No. 1 team in the nation.''
Defense has been the hallmark of that team, though Donovan pointed out the Gators guarding has not been on point of late. Ole Miss was the fifth straight opponent to hit over 45 percent from the floor.

But UF has been at its best late in games and with handling pressure when teams come charging.

Like Ole Miss did.

The Rebels (16-11, 7-7) twice led by three in the second half, but the second time Frazier and Wilbekin nailed back-to-back 3s to push the Gators back in front.

Consecutive baskets off turnovers by Perez had Mississippi ahead 57-56 with 10:32 to play, when Wilbekin made another 3 for the lead. Perez against answered with a baseline move to tie the score for the ninth time. 

The last time, as it turned out.

The next basket belonged to the Gators. After a UF turnover, Wilbekin stripped Summers near midcourt and fed Young (12 points, 5 rebounds) for a dunk -- one of the team's 19 assists, equaling its second-most of the season -- with 6:32 to go. It was the 14th lead change of the game.

And the last.

That play jump-started a 12-4 run that Frazier ended by swishing a trey for 71-63 lead with just over three minutes remaining. The closest the Rebels came after that came when one of their guards sank an oh-by-the-way 3-pointer with four seconds to play.

It was Martavious Newby.

Not that other guy.

''We had a heightened sense of urgency to start the second half, especially on Henderson," Frazier said. "We did a better job of staying locked in on him and staying locked in as a whole."

They'll need even more urgency come Monday with the polls.

Donovan won't need to crunch that number, either. Every Florida foe will be out for No. 1.
---