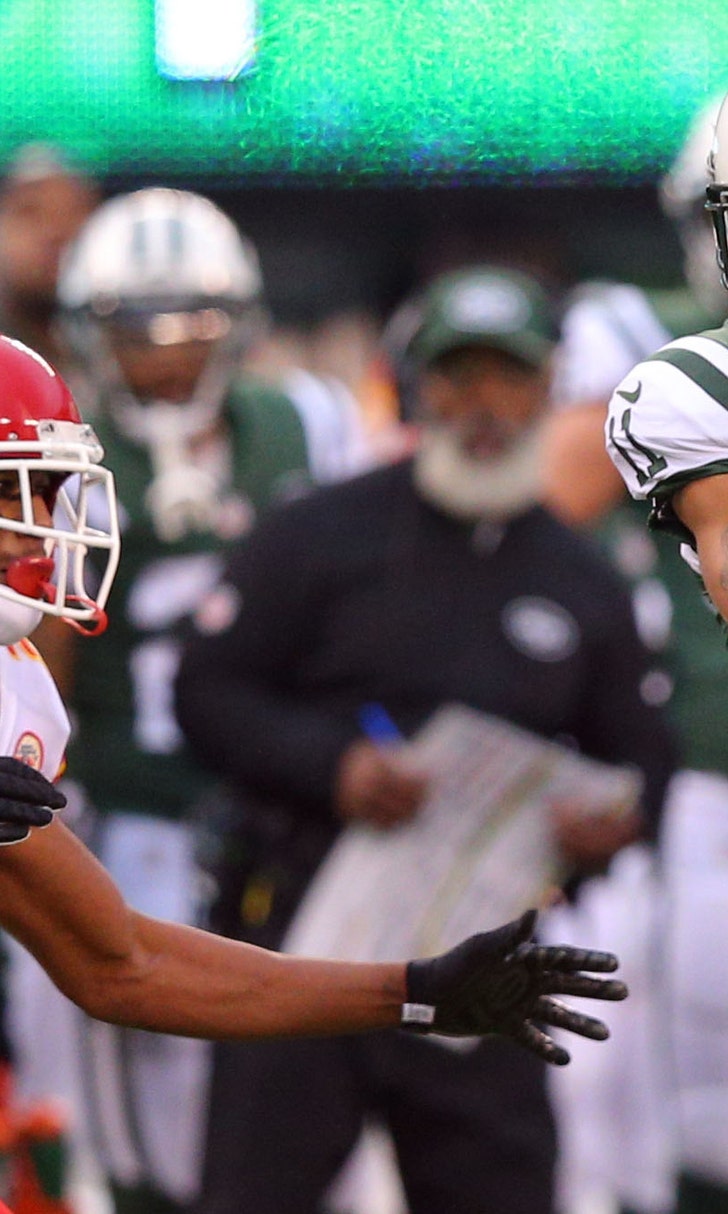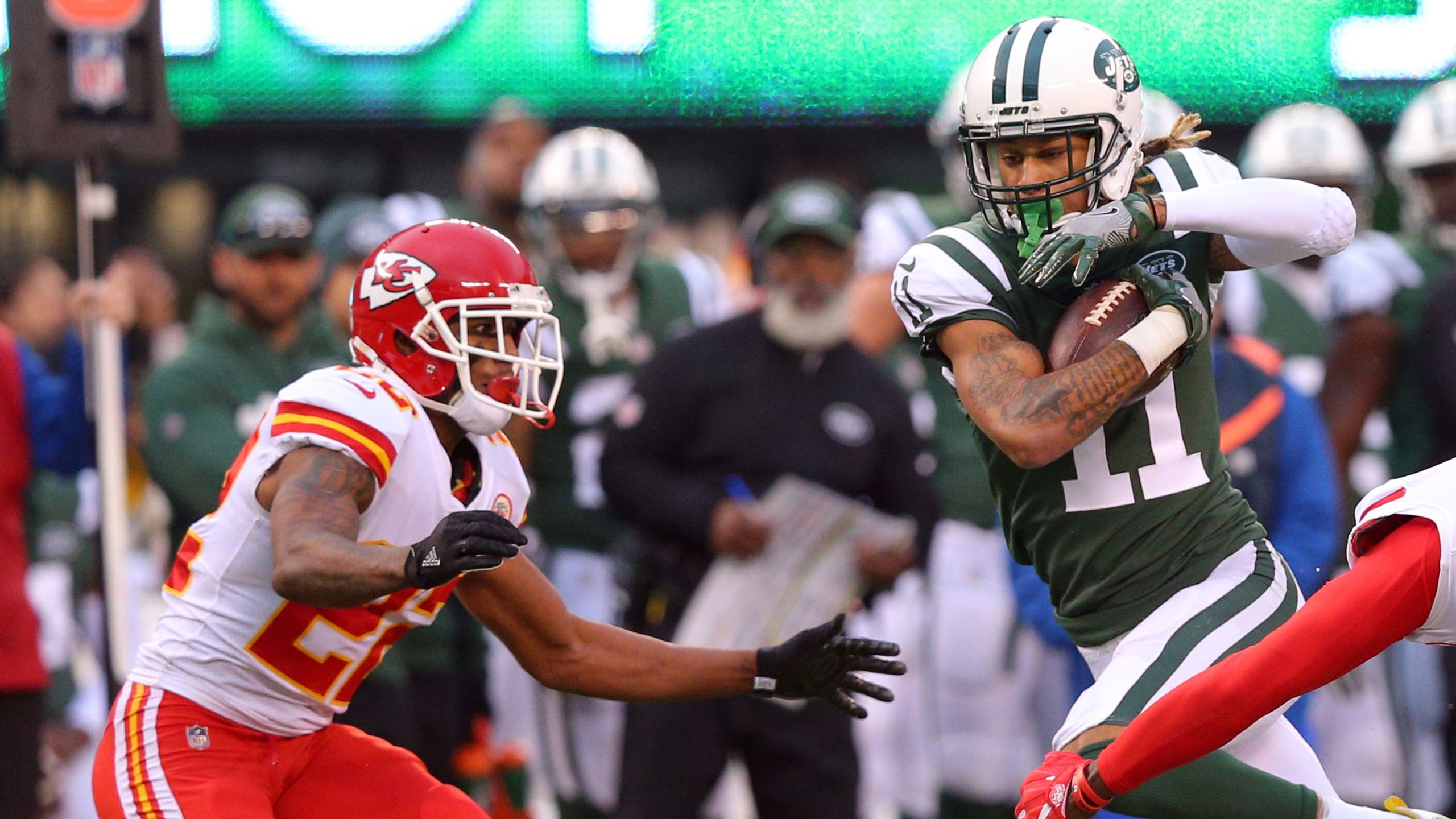 Frustration getting the best of Chiefs as struggles continue in loss to Jets
December 4, 2017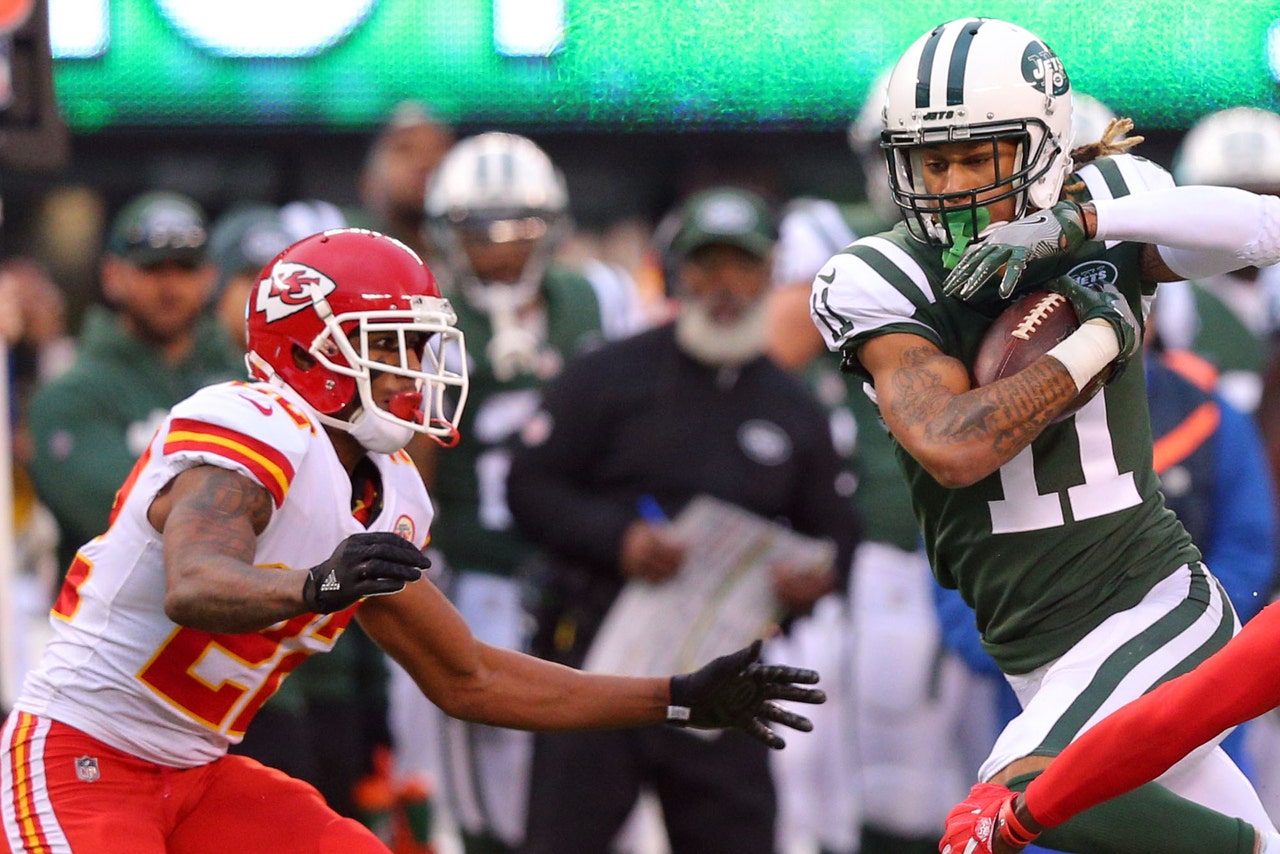 EAST RUTHERFORD, N.J. -- Marcus Peters saw another yellow penalty flag fly, and he couldn't take it anymore.

The Kansas City Chiefs cornerback picked up a flag, angrily tossed it into the stands and walked straight across the field at MetLife Stadium and into the locker room.

One problem: Peters wasn't ejected. He just thought he was. So he had to race back to the Chiefs' sideline without his socks on.

That's the type of day it was for Peters and the Chiefs, who lost a wild one to the New York Jets, 38-31 on Sunday.

"We definitely can't show frustration," wide receiver Tyreek Hill said, "because if we do, it'll definitely get the best of us."

Just as it did with the game on the line against the Jets. A lack of discipline dropped the Chiefs (6-6) to their sixth loss in seven games.

Chandler Catanzaro kicked a 21-yard field goal to put the Jets (5-7) ahead 33-31 with 3:55 left. But Kansas City's Bennie Logan was called for a personal foul for hitting long snapper Thomas Hennessy in the head on the play. That gave the Jets the ball at the 1 with a new set of downs.

After two running plays, Josh McCown threw incomplete -- but Steven Nelson was penalized for defensive holding, making it first-and-goal from the 2. Three plays later, McCown kept the ball and shoved his way into the end zone.

McCown's pass on the 2-point conversion was incomplete, but Nelson was called for holding. That's when an enraged Peters lost it, drawing an unsportsmanlike conduct penalty. Elijah McGuire ran it in moments later to convert the 2-point play and make it 38-31.



"A little frustration there," Chiefs coach Andy Reid said. "I'm not saying that they shouldn't have been called. I've got to look at the tape on that. But they were called and after a while, you're down there, you're competing and we've had a couple of those games where we've had that. It's a bit frustrating."

Especially knowing that your team started 5-0 and now will need to rebound in a hurry to stay in the playoff mix.

"That was a very unusual ending," quarterback Alex Smith said. "Between the field goal, the third down and the extra point -- all those flags. For them to just continue to be able to mow down the clock, it was hard to sit there and watch."

It appeared early on that the Chiefs were going to make this a laugher, marching down the field 75 yards on five plays on their opening drive and capping it with a 22-yard touchdown catch by a wide-open Travis Kelce just 2:38 into the game.

After the Jets went three-and-out on their opening possession, the Chiefs wasted no time getting back on the scoreboard. Smith found Kelce -- wide open, again -- and hit him in stride in the end zone for a 36-yard TD to make it 14-0 less than five minutes in.

"Everybody (was) bringing in energy," said Hill, who finished with six catches for 185 yards and two touchdowns. "Kelce scoring those quick two early TDs, the offensive line protecting, receivers blocking on the perimeter. I think everybody was clicking. Everybody was aggressive."



Reid confirmed an ESPN report before the game that he handed the offensive play-calling duties to coordinator Matt Nagy, and it appeared to work well early. Reid, who said the first 15 plays were all scripted, wouldn't reveal whether Nagy would again call the offensive plays Sunday against Oakland.

"We'll see," Reid said. "I take it game by game. We evaluate everything. But I saw some good things."

Smith has been heavily criticized for his subpar play during the Chiefs' skid, but he was mostly solid against the Jets. He finished 19 of 33 for 366 yards with four touchdowns, and even had a career-best 70-yard run in the second quarter.

"Alex played a heck of a game," Kelce said. "Guys were making plays and catching the ball. Guys were in the right place at the right time. There's still room to get better between the receiving corps and myself. Alex played his tail off and is one of the best competitors in the NFL.

"I'm sick of hearing Alex Smith is the reason we aren't winning. We went out and battled."
---
---