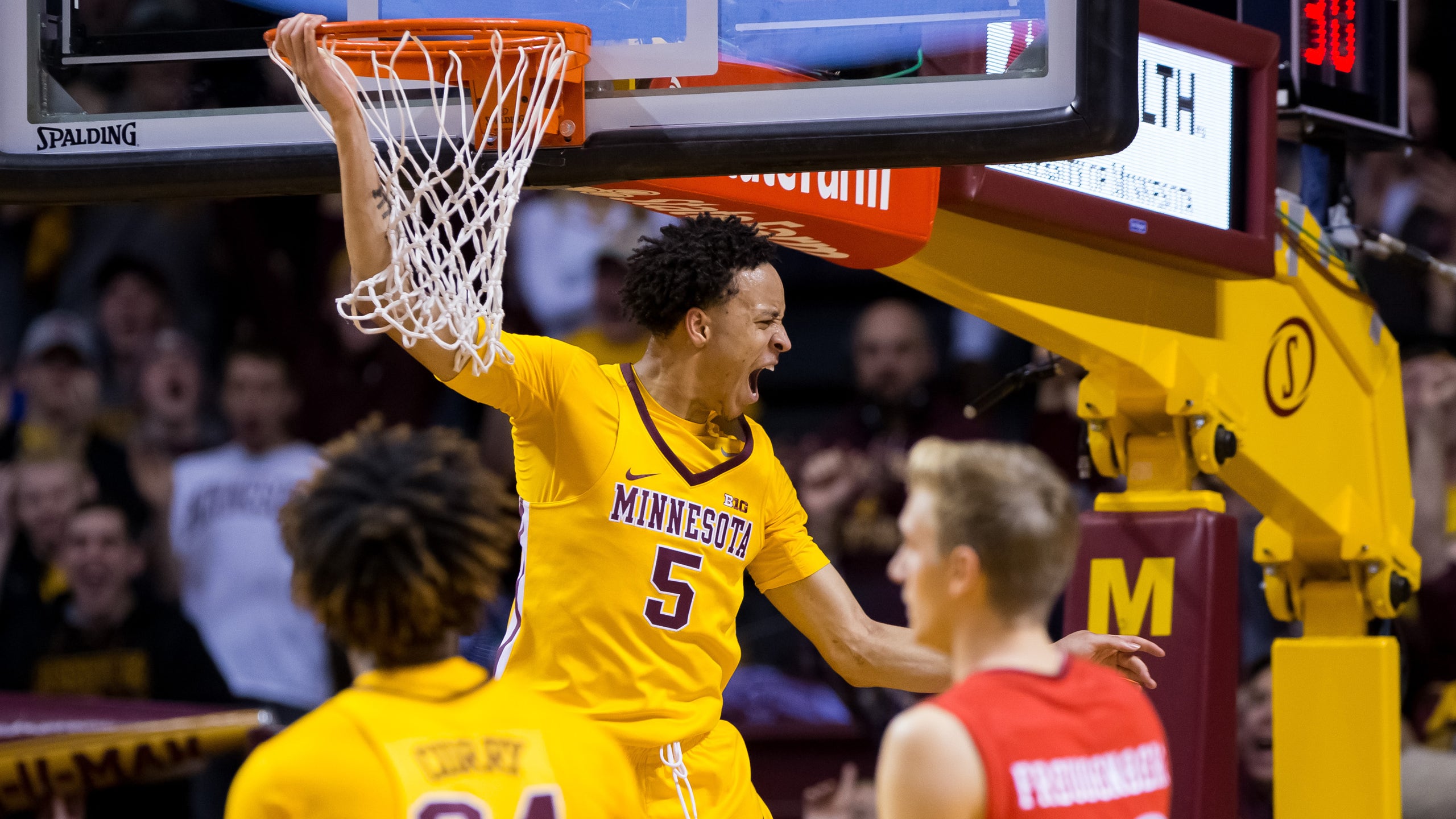 Freshman Coffey leads Minnesota over St. John's, 92-86
BY foxsports • November 18, 2016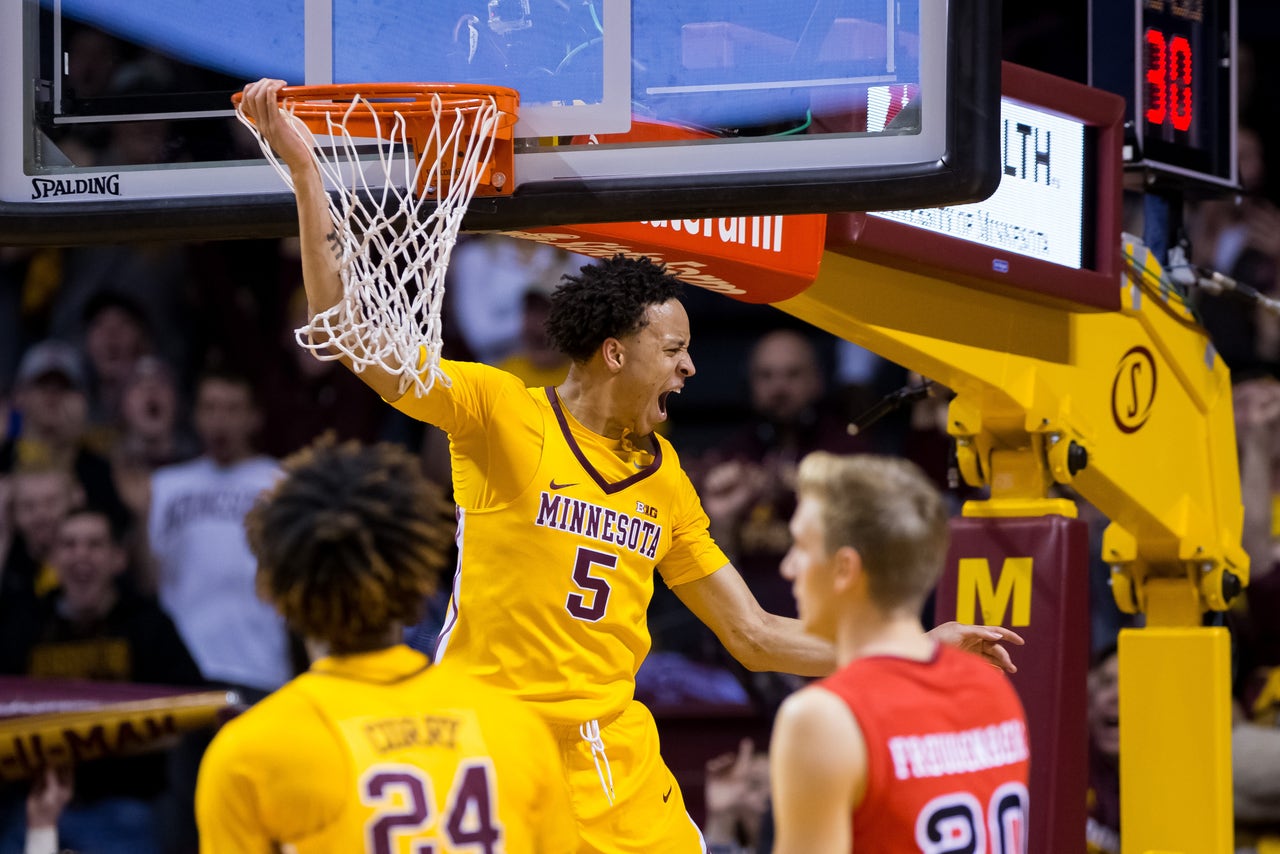 MINNEAPOLIS -- Minnesota coach Richard Pitino started this season with a rule many college coaches have used before -- no media interviews for freshmen.
It didn't take long for Amir Coffey to force Pitino to change his mind.
Coffey scored 30 points on just 14 shots to lead Minnesota to a 92-86 over St. John's on Friday night.
"When you play like that, you've got to change that rule," Pitino said, later adding that "it was as impressive a freshman performance as I've seen."
Dupree McBrayer had 18 points, five rebounds and five assists, and Nate Mason added 13 points, seven assists and five rebounds for the Golden Gophers (4-0), who only turned the ball over six times.
Marcus LoVett scored 31 points on 11-for-27 shooting and Shamorie Ponds had 23 points and eight rebounds for St. John's (2-1). The Red Storm led by 13 points midway through the first half, but shot just 37 percent to let the lead slip away.
"We didn't get the quality shots I would like," St. John's coach Chris Mullin said after his team had just nine assists on 29 field goals. "When you get down, guys start trying to do it themselves. I would like more ball movement with some high pick and rolls, which was working."
Coffey made 9 of 14 shots and was 11 for 12 on free throws.
"Just trying to find myself. It's a new system, new offense, new teammates," said Coffey, the son of former Minnesota standout Richard Coffey and a star at Twin Cities prep power Hopkins. "Just getting comfortable playing with these guys."
St. John's blitzed the Gophers out of the gates, leading 22-9 eight minutes into the game. But Coffey keyed the Gophers response, a 32-9 finish to the half that helped them take control.
"I thought we helped him a little bit. We got him going," Mullin said. "But he's got nice length. He's got a nice touch. He killed us."
Bashir Ahmed added 15 points and 10 rebounds for St. John's, which pulled within three points in the second half but couldn't get closer.
BIG PICTURE
St. John's: It's back to the drawing board after falling flat in its first real test of the season. The Red Storm cruised to victories in their first two games against Bethune-Cookman and Binghamton by a combined 63 points. It only gets tougher from here for a team that went 8-24 in Chris Mullin's first season last year, including 1-17 in the Big East.
Minnesota: The momentum continues for a program badly in need of it. After going a disastrous 2-16 in Big Ten play last year, the Gophers are struggling to put fans in the seats at once-raucous Williams Arena in Richard Pitino's fourth season. Those who did show up on Friday night saw an entertaining and fast-paced brand of basketball with local standout Coffey trying to inspire the masses to return to the Barn.
LYNCH'S BULK
Reggie Lynch grabbed 11 rebounds and blocked nine shots for Minnesota. Seven of those swats came in the first half as the Gophers climbed back into the game. It's been a long road back for Lynch, who sat out last season after transferring and endured a knee injury that kept him from playing for most of the summer.
"He's a game-changer for us in the back of the defense," Pitino said.
TOUCHING MOMENT
As the crowd stood for the "Star Spangled Banner," the singer's microphone appeared to malfunction. So she just kept right on singing and the entire crowd joined in.
UP NEXT
St. John's stays in the Big Ten with its next opponent, facing Michigan State on Wednesday in the Battle 4 Atlantis tournament in the Bahamas. The Gophers host another opponent with name recognition when Arkansas comes to town on Tuesday.
---
---