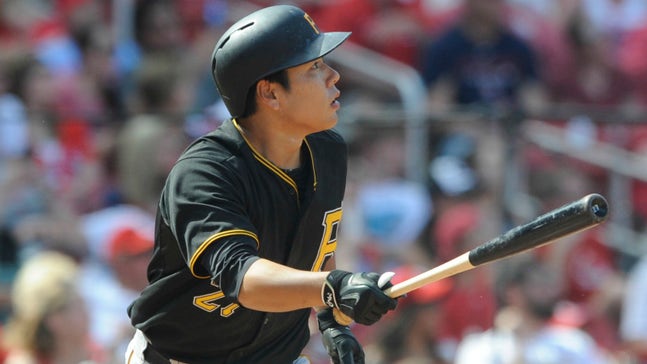 Free Agent Frenzy: Bucs SS Kang gets his chance
Published
May. 22, 2015 5:21 a.m. ET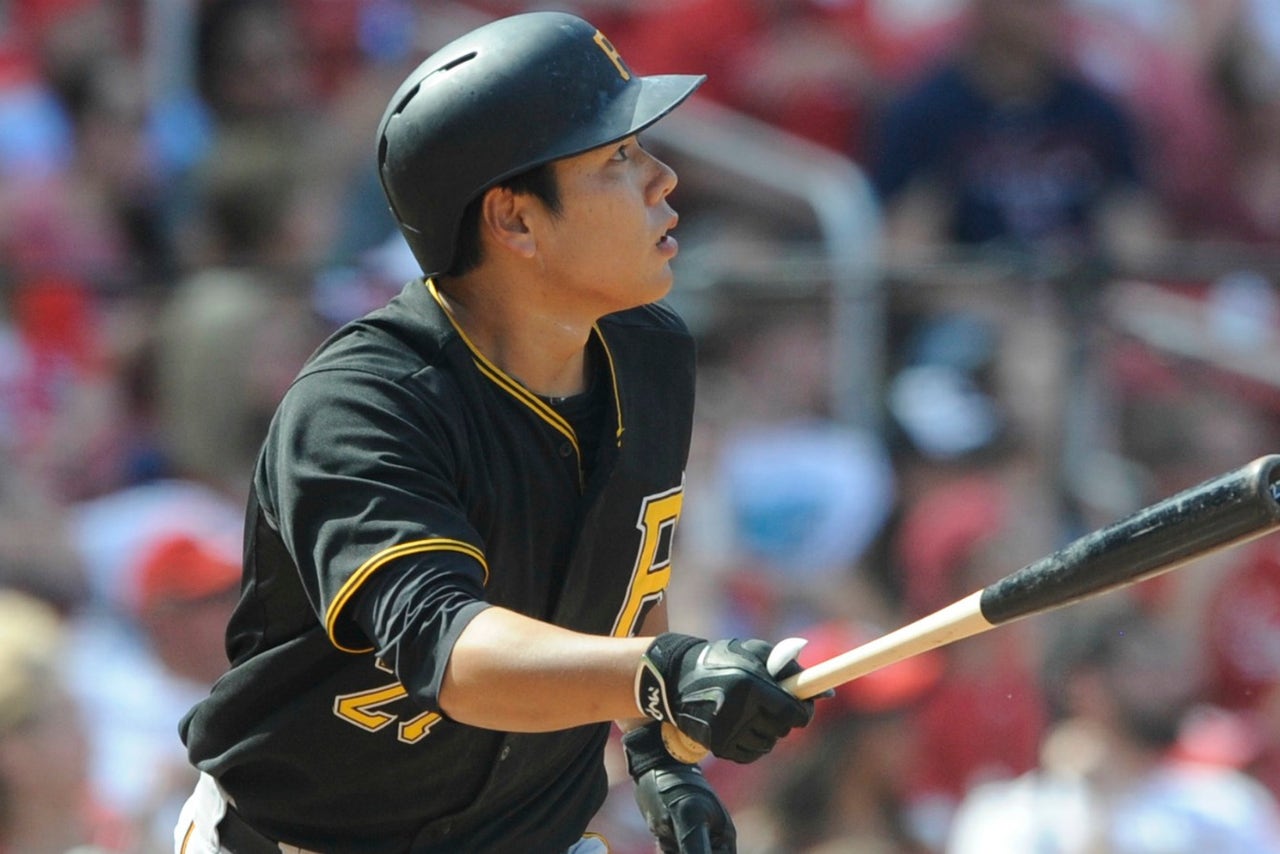 MLB.com used the word "deGrominance" in a headline to describe Jacob deGrom's excellent Thursday outing. As a writer who enjoys clever wordplay, I'm impressed, and will henceforth use that term whenever possible. See if you can find it in the article below.
With that out of the way ... here's this season's sixth edition of Free Agent Frenzy. Please note that, as in past seasons, no player will be mentioned in this space more than once in a four-week span, because we don't want to beat you over the head all year long about the same players. Also, we'll limit our discussions to players owned in fewer than 50 percent of FOXSports.com leagues. Let's get going!
Catcher: Wilin Rosario, Rockes (owned in 30.5 percent of FOXSports.com leagues)
While Justin Morneau (concussion) is on the DL - probably for at least a few more days - Rosario should continue to bat fifth and play first base for the Rockies. As a catcher-eligible, he's a terrific short-term pickup.
Digging deeper: Thanks to the struggles of teammate Chris Iannetta, Carlos Perez (1.2 percent owned) has been getting 2-3 starts per week for the Angels. Perez doesn't have much power, but projects to hit for a less-than-terrible BA. Need a warm-bodied catcher, AL-only owners? Here you go.
First base: Brandon Belt, Giants (owned in 39.7 percent of FOXSports.com leagues)
Belt has hit a modest three homers in 34 games, but he's slashing .305/.383/.483 for the season. I can never quit Belt for some reason, so I'm in again.
Digging deeper: Max Muncy (0.1 percent owned) has great command of the strike zone, but hit just seven home runs at Double A last season after clubbing 25 across two minor-league levels in 2013. Muncy looks to be the lefty part of the A's first-base platoon while Ike Davis (quad) is on the DL, and AL-only owners should grab him while they still can.
Second base: Yangervis Solarte, Padres (owned in 12.1 percent of FOXSports.com leagues)
Solarte has been playing first base and batting fifth during Yonder Alonso's absence, but he carries 1B/2B/3B fantasy eligibility. In deep mixed leagues, Solarte's decent power bat will play at second or third. Maybe he can help you replace Devon Travis, who was placed on the DL this week.
Digging deeper: Tommy Field (0.1 percent owned) is a 28-year-old journeyman minor leaguer who is suddenly the Rangers' regular second baseman. Field possesses decent power and speed for a middle infielder, and AL-only owners with an opening at his position should snap him up.
Third base: Chase Headley, Yankees (owned in 27.5 percent of FOXSports.com leagues)
Before the season started, we suggested around here that Headley would hit 20-plus homers thanks to Yankee Stadium's tiny dimensions. Headley has five homers so far, so he's on pace to make us look smart.
Digging deeper: Eric Campbell (0.3 percent owned) is back in Queens to assume some third-base duties while David Wright (hamstring) remains out for another 10 days or so. Campbell has 1B/3B/OF fantasy eligibility, so grab him for a short-term fix in daily lineup leagues.
Shortstop: Jung-ho Kang, Pirates (owned in 8.2 percent of FOXSports.com leagues)
Shifting between third base and shortstop, Kang has played just about every day over the last three weeks, and for the month he's batting .333 with a couple of home runs and a .910 OPS. He hit 38 home runs in the Korean League last season, showing a level of deGrominance that hinted at decent MLB power. If the Pirates are trying to find ways to keep Kang's bat in the lineup, you can, too.
Digging deeper: After being a trendy spring sleeper, Tampa's Nick Franklin (0.2 percent owned) strained an oblique and didn't return to the majors until last week. Now, he's stuck behind Asdrubal Cabrera, Tim Beckham and Logan Forsythe in the Rays' middle infield. However, since neither player in the keystone tandem of Beckham/Forsythe presents an insurmountable obstacle, AL-only owners might want to take a chance on Franklin now. He's got some power and some speed, and could have a more significant role pretty soon.
Outfield: Dexter Fowler, Cubs (owned in 26.9 percent of FOXSports.com leagues)
Joe Maddon has Fowler running, with nine steals in 13 attempts so far. Fowler also has four home runs and 28 runs scored in 38 games. It's nice to hit in front of Kris Bryant and Anthony Rizzo.
Digging deeper: The oft-injured, frequently disappointing Cameron Maybin (0.4 percent owned) has been a nice surprise for the Braves. He's batting .255 with four home runs, 17 RBI, 13 runs scored and five stolen bases, and those numbers are worthy of your deep mixed league consideration. Maybin has mainly been batting eighth in the order, which will limit his stolen-base opportunities, but he can still be a fantasy asset.
Starting pitcher: Jose Quintana, White Sox (owned in 48.2 percent of FOXSports.com leagues)
Quintana's K, BB and GB rates suggest that he's basically the same guy he was last season, and that's not bad at all. The lefty's main statistical blemish this year was a nine-run outing on April 19; otherwise, he's allowed two earned runs or fewer in six of seven starts. Look for Quintana's 4.13 ERA and 1.35 WHIP to keep dropping.
Digging deeper: Phil Klein (0.1 percent owned) has spent almost all of his four-plus professional seasons as a reliever, but was recently moved to the rotation because that's where the Rangers need him. Klein made two starts at Triple A before pitching for the Rangers on Wednesday, when he allowed one run on five hits and a walk with four strikeouts in five-and-a-third innings against the Red Sox. Nobody thinks Klein will be a star, but his history is strong strikeout rates makes him worth a pickup in your AL-only league.
Relief pitcher: Brad Ziegler, Diamondbacks (owned in 1.3 percent of FOXSports.com leagues)
Hard-throwing Enrique Burgos got his first two career saves at Miami on Monday and Tuesday, but when it came time to close things out against the Marlins on Thursday, the sidearming Ziegler got the call. Ziegler isn't perfect - his walk rate is just so-so, and he doesn't miss many bats - but managers have trusted him with closer roles before. It's not easy to predict how this situation will work itself out, but Burgos' penchant for bases on balls makes Ziegler the slightly better bet.
Digging deeper: Speaking of confusing bullpen situations, the Rangers recently embraced a "no roles" approach. We've all seen this before, and the roles always get defined before too long. Shawn Tolleson saved the Rangers' win on Wednesday, but hard-throwing rookie Keone Kela (0.4 percent owned) seems to fit the typical closer profile a bit better. Grab him in your AL-only league before your friends pick up the scent.
---
---