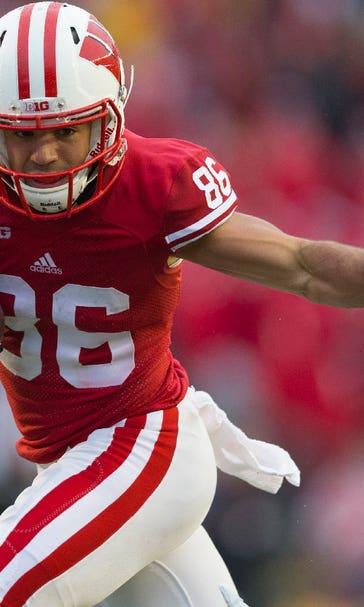 Former Badgers receiver Erickson fitting in with Bengals
May 16, 2016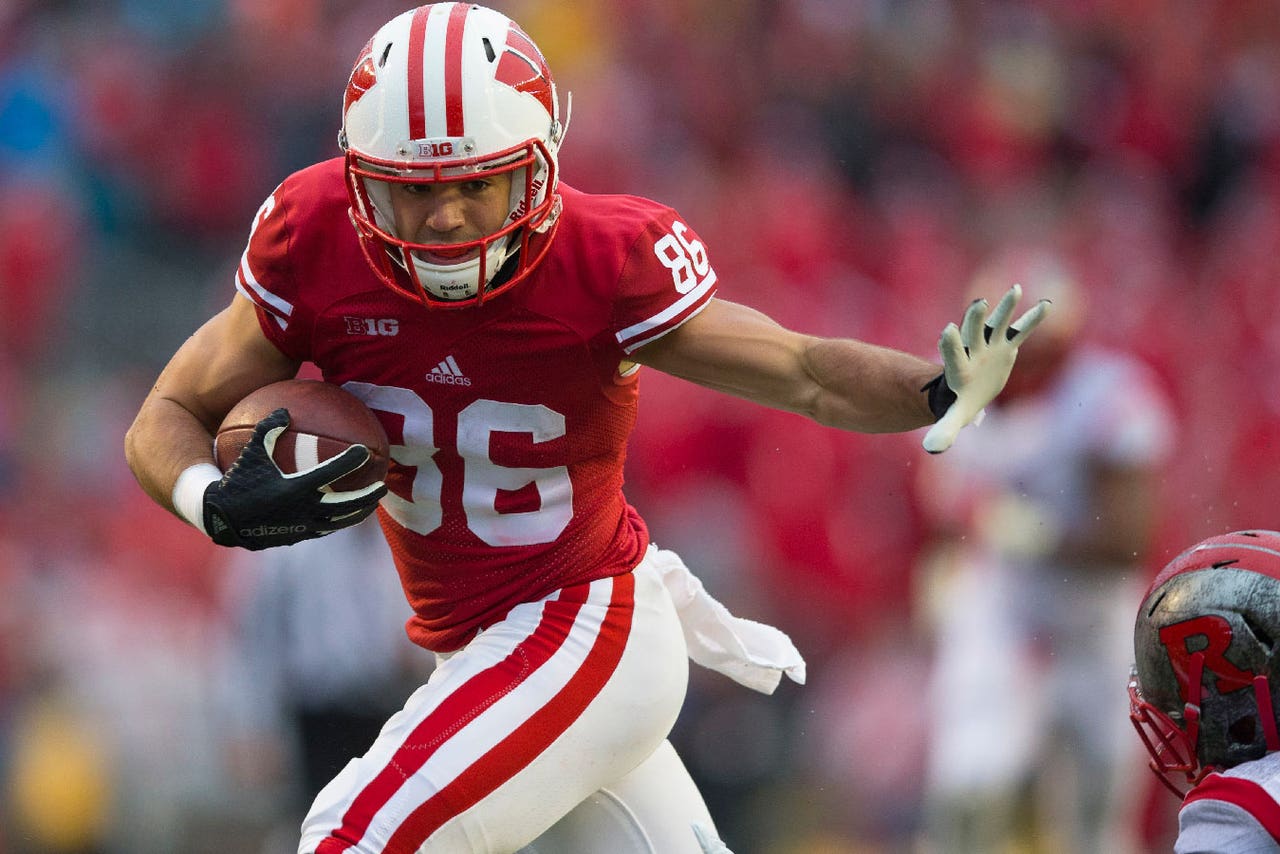 Alex Erickson settled in with his family and friends at his parents' house in Darlington, Wisconsin to watch the NFL Draft. Present at all times with Erickson was a list with 10 teams on it.
This list was Erickson's draft cheat sheet.
The teams on the list those he and his agent knew had shown interest in Erickson, and thus teams the former Wisconsin Badgers wide receiver would be interested in signing with if he didn't get drafted.
The order would change throughout the third day of the draft, thanks to the selection of other wide receivers in the later rounds.
The calls that were trickling in at the end of the draft picked up once the free-agent signing period began. By that point, Erickson's list had been whittled down to just a few teams, but one had always stuck out to him.
"Cincinnati was a team I always liked," Erickson said. "So when they called it was a no-brainer for me."
The Bengals were one of the teams Erickson had visited during his pre-draft visits, so they were a must-list team as it was. But he liked the way he fit into their system and had struck up a good rapport with their wide receivers coach, James Urban.
"In Cincinnati the coaches do a lot of the scouting as well, so the coaches know what kind of player you are," Erickson said. "So they really look for guys who fit in their system, who will be good fits. So that's another reason I felt comfortable with Cincinnati. Coach Urban did a lot of scouting, he watched a lot of my film and he could pick out certain games and remember certain clips. That was like, wow, that's impressive. With all the stuff he watches he still remembers you in a certain spot in a certain game. That jumped out to me as well."
One thing Erickson knew was no matter where he signed there would be a crowd of wide receivers. Most teams will have at least a dozen receivers on the 90-man roster and only keep five or six on the 53-man roster. Cincinnati is no exception.
The Bengals lost two of their top receivers from last season -- Marvin Jones and Mohammed Sanu, both of whom signed elsewhere in free agency -- but added veteran Brandon LaFell and drafted Tyler Boyd in the third round and Cody Core in the sixth round.
Cincinnati also has one of the top receivers in the NFL in A.J. Green.
Also in camp are veteran Brandon Tate, who is more of a return specialist, plus youngsters James Wright, a 2014 draft pick who spent last season on injured reserve, 2015 seventh-round draft choice Mario Alford, a pair of undrafted free agents who were on the practice squad last season in Michael Bennett and UW-Whitewater's Jake Kumerow, plus a couple of other undrafted free agents from this year, Alonzo Russell and Antwane Grant.
In case you weren't counting, that's 12 receivers battling for likely five spots, with Green, LaFell and Boyd going to fill three of them (barring injury).
"I looked at the numbers game but every team is going to have a lot of guys," Erickson said. "No matter where you go you're going to have to compete and beat some people out to have a spot.
"I knew they had interest in me and the things they saw in me as a player are things I see in myself as a player, so I felt comfortable with the roles they were going to put me in. It felt like a good spot."
Erickson has, for the most part, felt comfortable in Cincinnati from the get-go.
He was joined on the Bengals by a Wisconsin teammate, as Darius Hillary also signed there. Former Badgers guard Kevin Zeitler is a mainstay in Cincinnati as well and he and Erickson connected early on and discussed Wisconsin, among other things.
But that comfort extends to the field, too, where Cincinnati has Erickson lining up in the same wide receiver positions he played at Wisconsin -- in the slot and at the Z wideout position. Erickson has even been defended by Hillary, who is playing a lot of nickel, so he goes up against the receiver in the slot.
"It felt like we were back in Madison at good old Camp Randall," Erickson said with a chuckle.
While he admits he has a lot to learn, including the terminology, Erickson said he's been helped by the fact Wisconsin ran similar schemes with its pro-style offense. And if he has any questions, the veterans are more than happy to offer advice.
"It's been great being around them. Because the rookie camp was all rookies, so it was a hodgepodge of guys that are running routes the way they ran in college, and now you are seeing guys -- obviously A.J., best in the league -- who have had success and the way they do things technique-wise," Erickson said "Not only that, but the way they work, the way they take care of business, the way they go about each day. As a young guy you just have to be able to able to absorb and see how guys are doing things and ask them questions, because they are willing to help you out. You have to be willing to ask questions and be a sponge."
Erickson not only has to be a sponge, but also an amoeba. He's been willing to do whatever, which of course in his case means playing on special teams. He said he played on every unit at Wisconsin except punt -- he even served as a blocker for the punt returner -- and while Cincinnati hasn't ramped up its special teams work yet, there's every indication Erickson will be participating on every unit. His two main roles right now it would appear is as a gunner and punt returner.
"That was something they saw from the film, something they want me to. I enjoy catching punts," Erickson said. "Special teams will be such a huge aspect, you got to be able to do it if you want to make the team. I'll be doing all the special teams stuff that I can."
Erickson had to bide his time to be Wisconsin's punt returner after serving as a backup to Jared Abbrederis and Kenzel Doe, but last season he got his chance and averaged 7.3 yards on 24 returns (13th-most in the nation). Getting that experience last season could be a boon for his chances in the NFL.
"I think that's going to be a big part of it, special teams," he said. "If you're not one of the 1, 2, 3 receivers you're going to be playing a lot of special teams. I played a lot of special teams in college and high school. I'm open to all that stuff. Anywhere where I can help or anywhere I can be of value, I'm going to jump in and do what I can."
Erickson made a good impression early on at rookie camp. He even was mentioned by head coach Marvin Lewis during a press conference, a rarity for an undrafted free agent.
"Alex is very productive. We were encouraged to be able to sign him after the draft." Lewis said. "We're excited to get him for what he's able to do as a receiver and returner."
Erickson hadn't heard that comment from Lewis, but it wouldn't have mattered to him anyway. He knows it is only May and there is a lot more to happen between now and August. Heck, the team hasn't even yet practiced with pads.
"The biggest thing for me is to learn as much as I can," Erickson said. "But you have get it all down now so then when training camp comes, you're not worried about 'what formation is this, what thing is that?' You just go and you play and you play as fast as you can.
"So no matter what you're putting good film out there and you're just giving yourself a chance to make the team and giving yourself a chance to continue playing in the league. That's all you can do, control what you can control. Control your effort, control the mental errors and just make plays. As a wide receiver that's what it comes down to. It comes down to making contested catches because the windows will be tight with the DBs. You just have to be a playmaker."
It has been all football for Erickson since he's arrived in Cincinnati. He's living across the river from the stadium, a short trek back and forth, and is immersing himself in all things Bengals while going through the recent rookie minicamp and Organized Training Activities, with more OTAs upcoming in June.
He hasn't even had a chance to try the famous Cincinnati chili he's heard so much about ("I have to stay fast, I can't be eating too much chili."), but hopes to sample some once he gets a break from football. Or, better yet, come September as a member of the Bengals.
Follow Dave Heller on Twitter
---
---