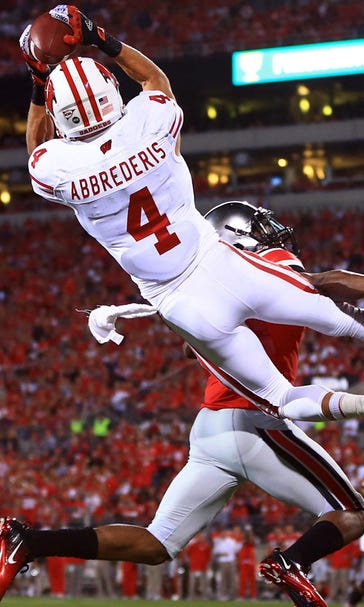 Former Badgers land in NFL with plenty of opportunities
BY foxsports • May 12, 2014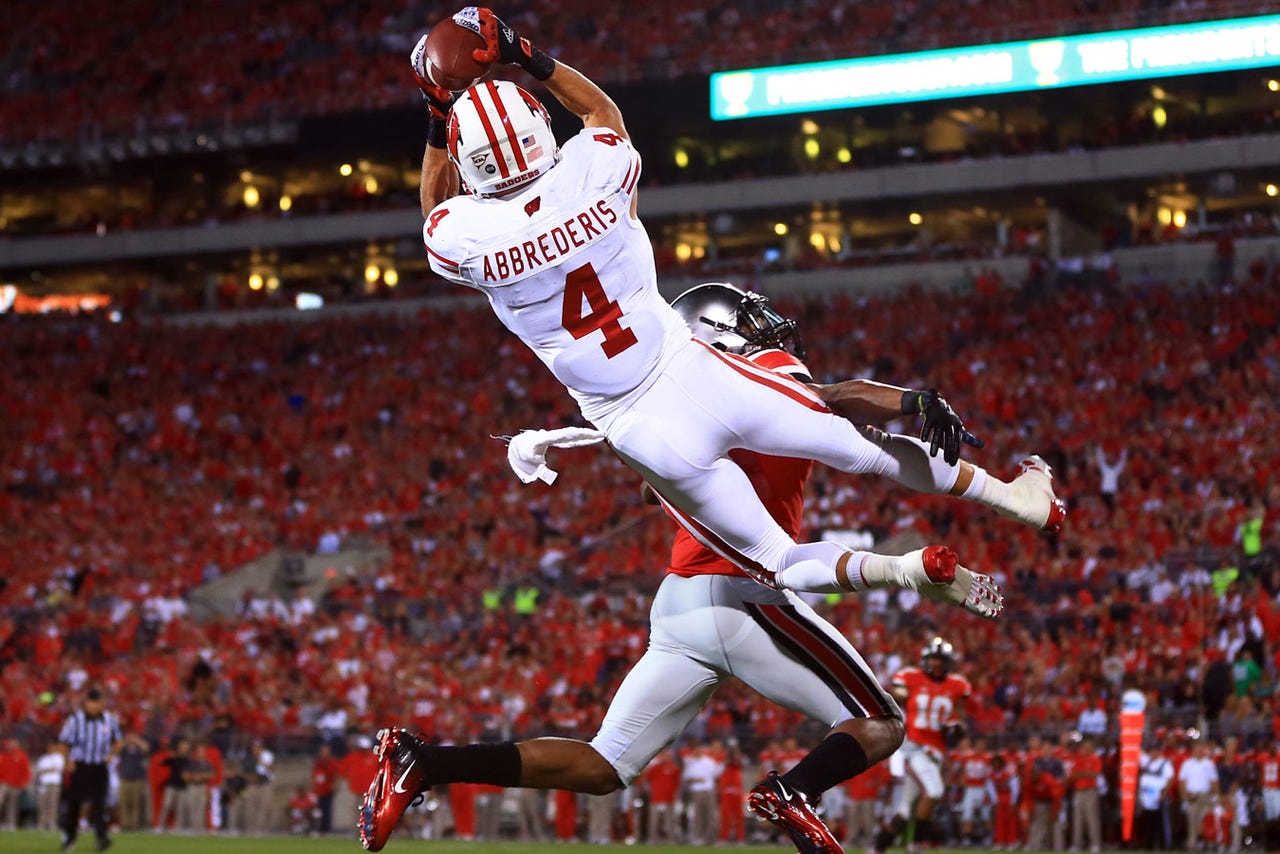 Wisconsin's football program had five players selected in the 2014 NFL Draft, adding to the growing list of former Badgers taken by professional teams. Storylines abound, with safety Dezmen Southward 's third-round selection perhaps the biggest shocker of the three-day draft.
Southward went No. 68 to Atlanta, linebacker Chris Borland No. 77 to San Francisco, James White No. 130 to New England, Jared Abbrederis No. 176 to Green Bay and Beau Allen No. 224 to Philadelphia. Other former Badgers signed in free agency were offensive lineman Ryan Groy (Chicago), tight end Jacob Pedersen (Atlanta), tight end Brian Wozniak (Atlanta) and defensive lineman Ethan Hemer (Pittsburgh).
Here's what media outlets that cover each of those teams is saying about Wisconsin's newest NFL contingent:
Dezmen Southward
Southward is a physical marvel, but defensive backs coach Tim Lewis must turn him into a NFL free safety.
"€œDezmen, we had him at the Senior Bowl as well,"€ Falcons general manager Thomas Dimitroff said. "€œThis is a guy who is big and fast, really good natural agility and movement for a bigger safety. He has had one of the best three cone times, which is usually an indicator of body control and movement. He has cover skills and very good range for us, so we think he has some real upside to continue to bolster this secondary group."
Southward has some incredible upside, but the weaknesses listed in the Nolan Nawrocki'€™s NFL Draft 2104 Preview are troubling: "€œShort arms. Average Flexibility and range. Still developing positional instincts and diagnostic skills. Man-coverage limitations --€" dull transitional quickness and closing burst. Ordinary production on the ball -- not a playmaker. Does not punish or intimidate. Reliability should be looked into."
Falcons fans have to hope they are flat out wrong about the "€œdoes not punish or intimidate" part.
Chris Borland
San Francisco Chronicle
The statistics attached to the 49ers second third-round pick is what should be noted first. Wisconsin linebacker Chris Borland started 45 games in his college career and forced 15 fumbles throughout during that time, which is second in FBS history. Borland was also named the Big Ten Defensive Player of the Year last season for his 112-tackle effort and over his career, he has 50 tackles for a loss.
With such a resume and with the injured NaVorro Bowman still recovering from knee surgery in January, one would expect Borland to compete as Bowman'€™s replacement.
"œI expect Bowman to make a comeback," Borland said. "€œI'€™m not even thinking about (being a starter)."
Borland might have more of a head start than other rookies. When Wisconsin made a switch to a 3-4 defense, Wisconsin coaches showed film of the 49ers'€™ defense. Borland said the Badgers ran a few of the 49ers'€™ pressures.
If there's a knock on Borland, it'€™s his height at 5-11, and his short arms and 40-yard dash time at the combine (4.78). Also, Borland does not have much experience in coverage. But Borland said that had to do more with his ability as a blitzer than any perceived lack of coverage skill.
Borland said he proved at the Senior Bowl that he could cover, which is a requirement for the 49ers inside linebackers.
Even though Borland might not want to think about it, he's likely to compete with Michael Wilhoite for Bowman'€™s spot, should Bowman fail to start the season. And no matter how much progress Bowman makes, the 49ers have a recent history of going slowly with their injured players.
It means whether Borland is thinking about it or not, he could very well be a starter at inside linebacker to open the season.
Jared Abbrederis
Abbrederis sees no pressure in being the once-a-decade rare, in-state Packer. Again, he reiterated his faith. Let go to God, he said, and there's no reason to stress.
Very, very soon, he'll need to bring that walk-on temperament to the weight room at 1265 Lombardi Ave. One reason he fell in the draft was a lack of strength. At the NFL scouting combine, Abbrederis bench-pressed 225 pounds four times --€" dead last among all 35 wide receivers. Surely, teams fear he can't beat press coverage.
Abbrederis says he "definitely" must add strength, and Packers receivers coach Edgar Bennett cautioned that Abbrederis isn't a finished product.
(Wisconsin receivers coach Chris) Beatty believes Abbrederis projects best in the slot, where he wouldn't see as much press.
"Does he need to get stronger? Sure he does," Beatty said. "And he knows that. I don't think there's any doubt he'll do what he needs to do to get stronger and be as physical as possible."
---
"His first couple of years," (Packers GM Ted) Thompson said, "he did everything but sell hot dogs down there. He did all the returning on kicks and punts, and then you watch him play his junior and senior year and every game they played, the opponents in the Big Ten, quality corners are on him and he still gets open, he still catches the ball and he still runs with it."
---
Originally projected as a second-day draft choice, Thompson admitted he was somewhat surprised Addrederis was available with the fifth-round compensatory pick the Packers received for losing outside linebacker Erik Walden to free agency last year.
They were happy to get him, though. One of three receivers the Packers drafted this year, receivers coach Edgar Bennett feels Abbrederis is versatile enough to line up both in the slot and perimeter, and likely will figure into the Packers' competition for a new kickoff returner.
James White
Every season, no matter who was in the backfield, White kept his nose to the grindstone and worked hard for his playing time, finishing his career with the fourth-most rushing yards (4,015) and third-most rushing touchdowns (45) in program history.
The Patriots selected White with the 130th overall pick in the fourth round of Saturday's NFL Draft. When White finally arrives in New England, he'll be ready to do more of the same, competing with Stevan Ridley, Shane Vereen, and Brandon Bolden.
"It wasn't that difficult. I just played my role on the team,"€ White said. "€œSomething I have to do once I get to this organization is play my role. Wherever the coach puts me, I'm going to go out there, whether it'€™s special teams or offense or whatever they want me to do, I'€™m going to go out there and do everything I can to help the team, just like I did at Wisconsin."
The Patriots'€™ returning running backs all bring different assets to the rushing attack. Along with fullback James Develin, they are all in the final year of their contracts, and it will be interesting to see how White fits in.
It'€™s possible White can emerge as Vereen's backup on passing downs. White set the Wisconsin record for most receiving yards by a running back (670).
"€œI'd say there's probably a lot of similarities to Vereen, size-wise, skills-wise, production,"€ Bill Belichick said of White. "€œThey'€™ve had a lot of good backs come out of Wisconsin. He'€™s a guy that has shown he has four-down value."
What's most impressive is White has only fumbled twice in 754 career touches, a statistic that makes him seem like an ideal fit for Belichick, who puts a premium on ball security.
"It'€™s very important for any running back. Ball security is job security,"€ White said. "€œIf you want to be on a football team, you have to hold on to the football."
Beau Allen
Allen should compete for the backup spot behind Bennie Logan, and the good news for Allen is, there won't be much competition. The Eagles didn't address a need for backup nose tackle in the draft, unless their plan is to go with Allen, their seventh-round pick. Allen might have a better chance than most seventh-round picks of making the team.
Allen, a 6-foot-2, 333-pound lineman, met with the Eagles earlier this spring, and very soon into the meeting, he felt like Philadelphia was the perfect place for him to land.
"€œI did my homework on them and I came out for a visit earlier this spring and it went really well," said the Eagles' seventh-round pick. "€œI thought that I meshed really well with the coaching staff and I really like (defensive line) coach (Jerry) Azzinaro. I had dinner with him and then I had a meeting with him the next day, and I just think he'€™s a great guy and someone I really got along with.
"€œAll the way up the coaching tree and even up to the front office, I just felt like I had a great visit. I had eight visits this spring, so it was kind of a grind, but coming away from the visit with the Eagles, I really felt the best. I felt the most comfortable there and I felt like I could see myself in that organization. It just worked out really well for me."
Ryan Groy, free agent, Chicago Bears
The 6-5, 320 pound Groy set a Wisconsin record by appearing in 54 games, never missing a game in four-year career. Groy started 33 games, 28 at left guard. The other five coming at various spots including left tackle, center and fullback.
According to CBS Sports, his biggest weakness is his limited mobility and flexibility. His disappointing performance against Arizona State last season cost him a chance at getting selected. Like (offensive guard James) Dunbar, Groy will have to earn his way onto the Bears roster through the practice squad.
Jacob Pedersen, free agent, Atlanta Falcons
Pedersen boarded a flight to Atlanta Sunday morning after a hectic Saturday night that had him making a heart-wrenching choice between his hometown team, the Green Bay Packers, and the Falcons.
After talking with Packers' general manager Ted Thompson Saturday night, Pedersen got a call from the Falcons. Meanwhile his mother, Ronda, was on the phone with her son's agent.
The agent explained that he felt Atlanta would be a better fit.
"I thought he was going to OK a deal with Green Bay and all of a sudden it was Atlanta," Ronda Pedersen said. "I have to be very proud and respect his decision. It wasn't an easy decision to make.
"He and his agent decided that Atlanta gave him the best opportunity to make the team. (The Packers) are Jacob's childhood team, but he wants to say 'I played in the NFL.' It was a mature decision."
The three-day draft was a series of highs and lows for Pedersen.
A low point came when the Packers chose tight end Richard Rogers of California with their second pick in the third round.
"Jacob said 'I have better numbers than him,'" Ronda Pedersen said. "I had put out a Packers' tablecloth. When the Packers took the other tight end, I put the tablecloth away. All the Green and Gold was gone. I thought 'what is Ted Thompson thinking?'"
Follow Jesse Temple on Twitter
---
---