For Mount Union's double agent Burke, a 'perfect ending' awaits
BY foxsports • December 18, 2014
ALLIANCE, Ohio -- Mount Union senior quarterback Kevin Burke doesn't want to talk much about what he did last summer.
To be more specific, Burke really can't talk much about his internship with the Secret Service.
Yes, that Secret Service. Hence the, um, secrecy.
Burke will, however, talk about what he did last winter and spring.
First, he sulked. Later, he worked. And he thought a lot about last year at this time, when he went to Salem, Va., with his Mount Union teammates to play Wisconsin-Whitewater -- neither team needed directions -- to play in the Stagg Bowl, the Div. III national title game. The week of the game Burke won the Gagliardi Trophy, given to the top all-around player in Div. III.
Whitewater dominated the game, winning 52-14.
"When you get your butts whooped on national TV like that, it doesn't just hurt for a day or two," Burke said. "I was lost. We were lost. Most of the players came back to school in January a few days early, when no one else was around, and we just decided then that we had to set the tone early. It started right then, and it was all about getting back here."
Wednesday night, Burke became the first player ever to win a second Gagliardi Trophy.
Friday night, 14-0 Mount Union meets 14-0 Wisconsin-Whitewater in the Stagg Bowl, marking the ninth time in 10 seasons the same two programs have met for the Div. III title.
"It's a chance," Burke said, "to write the perfect ending."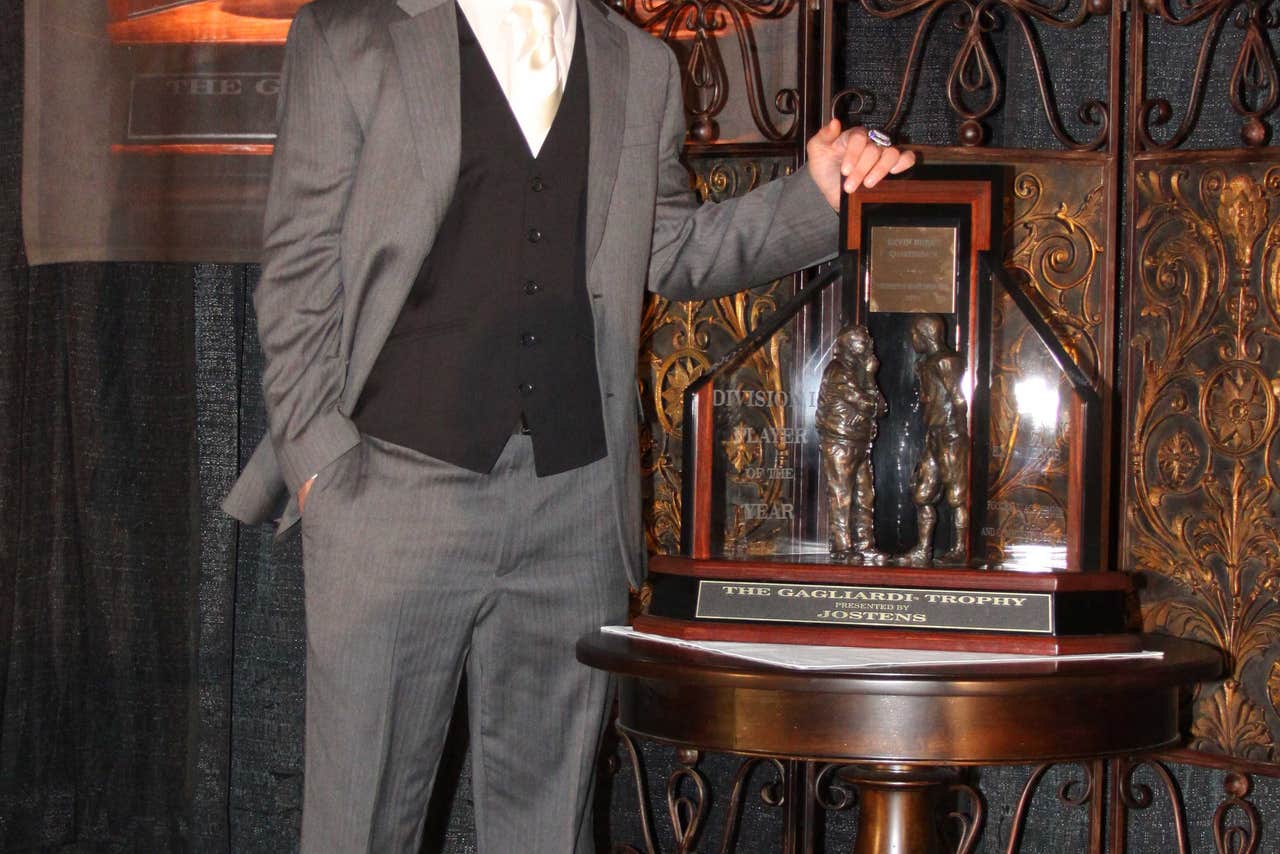 Mount Union quarterback Kevin Burke with the Gagliardi Trophy in 2013.

Last year's Mount Union team wasn't even back home in Alliance the day after that Stagg Bowl when coach Vince Kehres decided he'd leave his returning players with a simple message.
"Man up," was Kehres's choice.
"It's football cliche to say you're going back to work harder, to be driven by what happened last year," Kehres said. "For us, though, it was a difficult look and a real simple answer: Whitewater was better. We needed to be tougher. We needed to be better, deeper, stronger. What happened wasn't an accident."
In early January, Burke and his teammates came back -- to campus and the weight room and all 11 national championship trophies prior teams won -- and confronted those two words.
"Man up."
Even months later, 52-14 lingered.
"From the first day we trained, it was nasty," Burke said. "The culture at Mount Union is what it is. The tradition is what it is. One loss is not acceptable, and that's not as much a burden as it is a blessing. And if the standard is to win every single game, then you might as well try as hard as you can to win every single game."
Burke developed a motto of his own for the offense: "Score more." He swapped ideas with offensive coordinator Geoff Dartt, threw extra passes with his wide receivers and even started hashtagging his tweets -- cheesy as even Burke admits it might have been -- with "#scoremore."
Said Burke: "Whatever works."
Everything has worked.
With 844 points on the season heading into Friday night, Mount Union is the highest-scoring team in college football history. That's 60.3 points per game; Burke has thrown for 4,089 this season.
So, that second Gagliardi Trophy was basically a slam dunk.
"The numbers are out of this world, but it's really his poise and leadership that sets up everything we do," Kehres said. "It's so hard to rattle him, and that's really important. It's easy to be confident when you're up 28-0 at the end of the first quarter, but when it's third and 12 and you just sacked and the other team has momentum? That's not easy, but Kevin makes you forget that.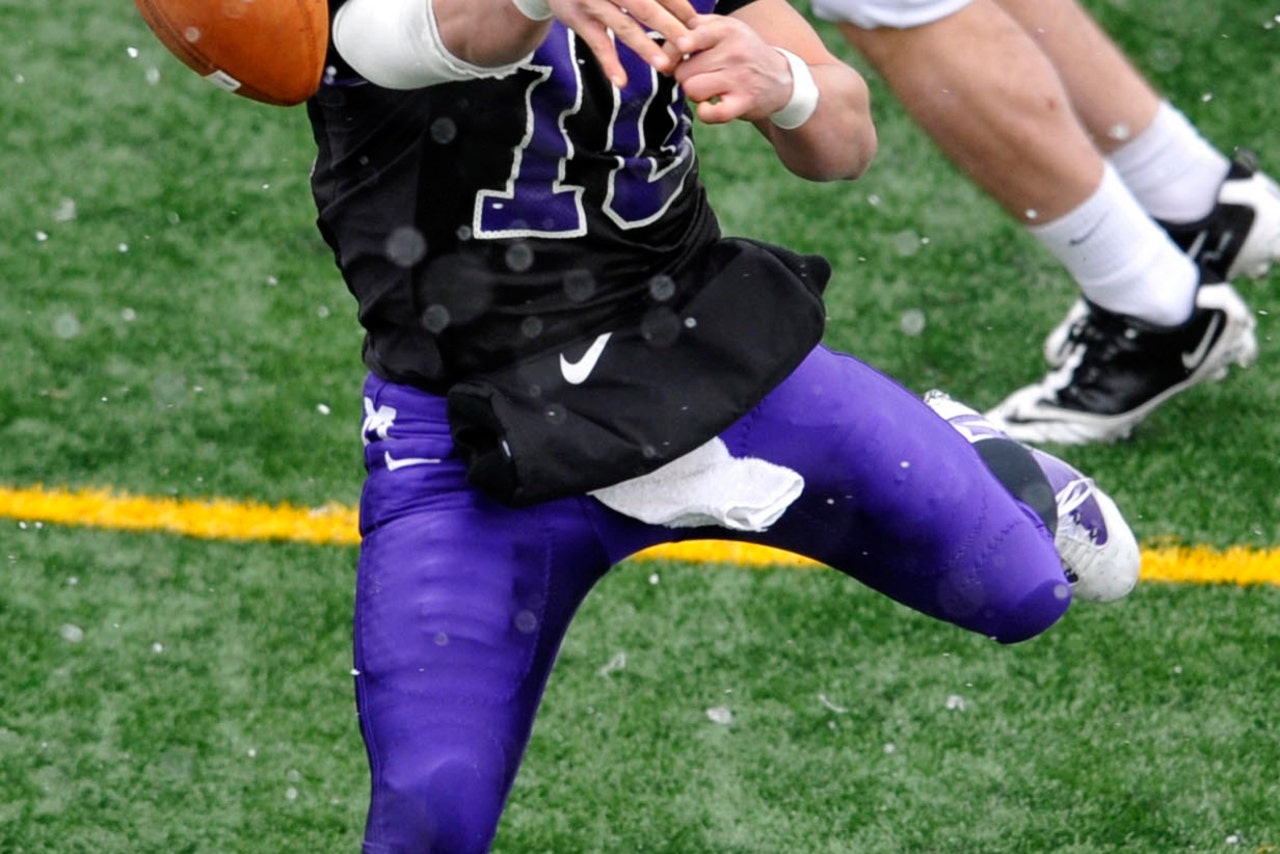 Burke has thrown for 4,089 yards this season.
"There have been times we have been pushed. When it happens, and it's going to happen (in the Stagg Bowl), our guys have supreme confidence because they know Kevin is going to make a play, sooner or later."
Burke won a state championship at Lakewood St. Edward High School in 2010. In part, presumably, because of his stature -- he's 5'11 in his really tall cleats -- he didn't garner much interest from college football programs.
"I was hurt by that," Burke said. "I chose Mount Union because it was a winning program, and history kind of said I might get a chance to play for a national championship. But never in a million years did I think I'd get the chance to win one as a starter as a sophomore, to win the Gagliardi, all of this stuff.
"I mean it. I never saw this. I'm grateful for the relationships and connections and opportunities. And to have another chance to come to Salem and play Whitewater, I'd be crazy to ask for anything else."
Burke said he hopes to pursue the chance to play more football before he pursues further opportunity with the Secret Service or any other job opportunity. Friday night, though, comes the chance to push that all-time scoring record even higher. And to put a 12th trophy on the shelf back at Mount Union.
It's a Purple Raider team that, Kehres admits, met his challenge to "man up." It's a team that's stronger and faster and deeper and has an unquestioned leader touching the ball on every play.
"I don't know if we will win. Whitewater is really good," Kehres said. "But we go there with a lot of confidence. We go there thinking we can win."
---