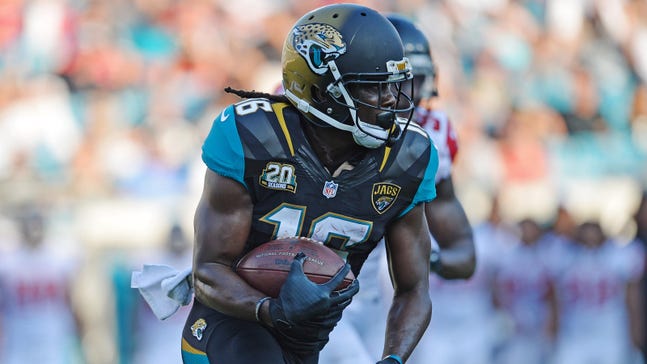 Five Takeaways from Week 7
Published
Oct. 20, 2014 3:52 p.m. ET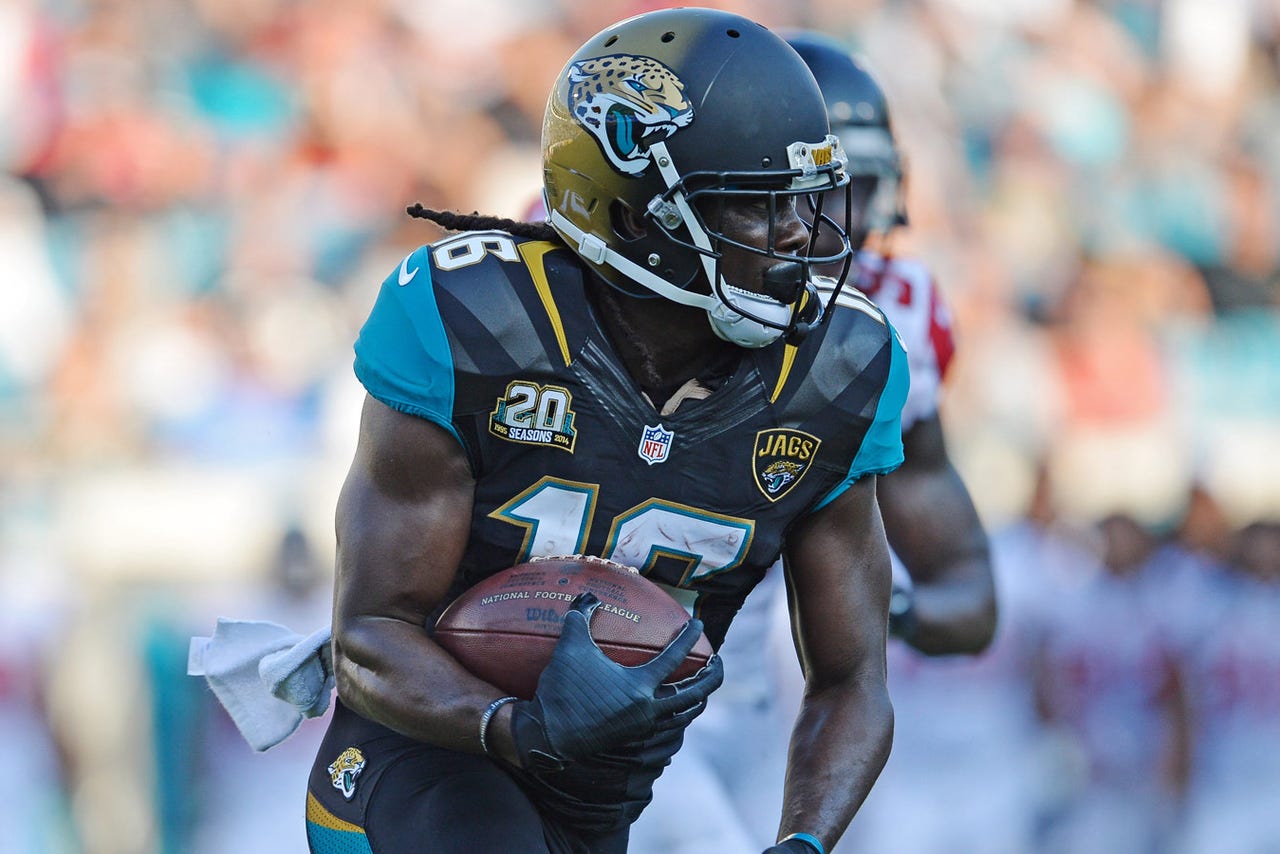 Fear not: this article is Percy Harvin-free. No mentions of clubhouse brawls, flirting with teammates' significant others or covered-up drug tests. Never has so much been made about someone who contributed so little. Well, aside from that fella who played at Florida with Harvin…
Five takeaways from Week 7 action:
1. Pump the brakes on Denard Robinson
It would be foolish to dismiss Robinson's efforts on Sunday, especially given the workload allotted to the former All-American (22 carries, one target). However, three caveats to keep in mind:
- This conquest came against a Cleveland front seven ranked last in rush defense, surrendering over 155 yards per contest.
- Robinson isn't running behind the '70s Raiders o-line. Jacksonville's protection remains a suspect group.
- You know those handy-dandy "insider" team updates touted on player pages? Here are reports from Jaguars' camp the past three weeks: "Sept. 28: Coach Gus Bradley insisted after Sunday's loss to San Diego that Toby Gerhart has not been demoted, still starter…Oct. 12: JAX committed to Storm Johnson as first-team RB in upcoming weeks…Oct. 17: Coach Bradley stated the Jags will use a three-way committee." In short, this is a club that has no idea what it's doing. Do you really want to put your conviction in such a wishy-washy contingent?
I do think Robinson is the primary rusher for the Jaguars this week, yet I doubt that entails more than 10-12 carries. Proceed with caution when pursuing the 24-year-old back. In a related note, a sincere thanks are in order to the Jags. As one who lives in Ohio, the Brownie fervor has been insufferable, as apparently beating a 2-4 New Orleans team and 2-5 Tennessee squad gives permission to book playoff reservations. Who knew? With a three-game stretch featuring Jacksonville, Oakland and Tampa, Cleveland fans were giving themselves a 6-2 record heading into a Week 10 rendezvous with Cincinnati. Ruh roh. Something about counting chickens before they hatch, right Dawg Pound?
2A. Sammy Watkins is a top-12 WR going forward
The fourth overall pick is averaging six catches and 79 yards per game since Kyle Orton grabbed the starting reins, compared to a more humble per-game yield of 49 yards off four receptions from EJ Manuel. More importantly, Watkins garnered double-digit looks in two of the three games, with a date on Revis Island equating to the lone no-show in this span.
Buffalo's upcoming itinerary won't bestow any strolls in the park for Watkins. Conversely, with Fred Jackson and C.J. Spiller out, Watkins faces little competition for aerial targets. Ride Watkins as a high-end WR2 for the rest of the 2014 season.
2B. Kyle Orton and the Bills have a better record than Drew Brees and the Saints
Are we sure this NFL campaign isn't another dimension that Matthew McConaughey discovered via wormhole? How else do you explain a) Orton, Colt McCoy and Charlie Whitehurst taking meaningful snaps on Sunday b) Buffalo owning a winning record c) DeMarco Murray making it seven games without injury? Thank the heavens for the Raiders' 0-6 record serving as our totem.
3. Russell Wilson is a must-start for the next three weeks
Though Wilson is owned in 95.2 percent in FOXSports.com Fantasy Football leagues, he's rarely an entity that's in the roto starting lineup. This fall has been a different tale: only Peyton Manning and Andrew Luck have better points-per-game production than the Seattle signal caller. The ground attack is the primary catalyst for Wilson's standing, averaging 54.5 yards per outing with three rushing scores, but he's done plenty of damage through the sky, evidenced in 10 touchdowns versus two interceptions.
Granted, the exile of the One Who Shall Not Be Named might paint an ominous forecast for some regarding Wilson's outlook, but that's a view based in theory rather than actuality. Seattle's next three opponents – the Panthers, Raiders and Giants – all rank in the bottom third against fantasy arms, presenting a platform for Wilson to shine. Unless Peyton is your fantasy field general, insert Wilson into the starting lineup for this period.
Speaking of which, between the lingering sleazy aura from Pete Carroll's USC departure, the public's divisiveness toward Richard Sherman and the constant complaining/whining, has any reigning champion been more hated than this year's Seahawks? Sorry, after the Fail Mary, Seattle is eternally banned from criticizing zebras. The only saving grace for the Hawks is Wilson. That cat is beloved by grandmas across the country.
4. Dwayne Allen merits starting status
Concededly, I believed Coby Fleener's presence nullified Allen's ability to contribute on a weekly basis. Like my belief that Rudy Fernandez would be the Spanish Scottie Pippen or that Hillary Duff was destined for stardom, let's chalk this one up to the "My bad" column.
Allen is a distant third in Colts' targets, with his 33 looks paling in comparison to the love shown to T.Y. Hilton (68 targets) and Reggie Wayne (62), and Fleener himself has 30 balls in his direction. Nevertheless, Allen's red-zone prowess has atoned for this concern, with just Julius Thomas and Antonio Gates hitting the Promised Land at a higher rate among tight ends.
Allen is more than capable of turning in a goose egg, but with the hot streak Andrew Luck is riding, these instances should be few and far between. Moreover, these things are to be expected from tight ends, by far the most fickle of positions in fantasy. Started in a scant 32 percent of FOXSports.com formats, view Allen as a top-eight player at TE this fall.
5. Tre Mason is available in 94 percent of FOXSports.com leagues
Zac Stacy's demotion was expected to confer Mason backfield opportunities. In that same breath, Stacy and Mason, along with Benny Cunningham, were viewed as personae non gratae in fantasy last week, as a committee situation would drain their individual contributions. Or so was believed. Instead, the Rams inserted Mason as the focal point of their offense, handing the Auburn product 18 carries and leaving Cunningham (two carries) and Stacy (zero) out in the cold. The fact that Mason found the end zone and finished with a robust 4.7 yards per carry against a stout Seahawks front seven was icing on the cake.
The St. Louis offense, though far from proficient, is showing signs of efficiency with Austin Davis at the helm, and the team's offensive line is better than believed. The Rams have a tough second-half schedule, yet Mason warrants roster consideration in all fantasy formats.
Joel Beall is a writer for FOXSports.com and WhatIfSports.com, and is the host of the Fast Break on FOX podcast. He lives with a Golden Tee machine and a jump shot that's broken. Reach Joel on Twitter @JoelMBeall
---
---