Five players looking to end long individual playoff drought
April 14, 2015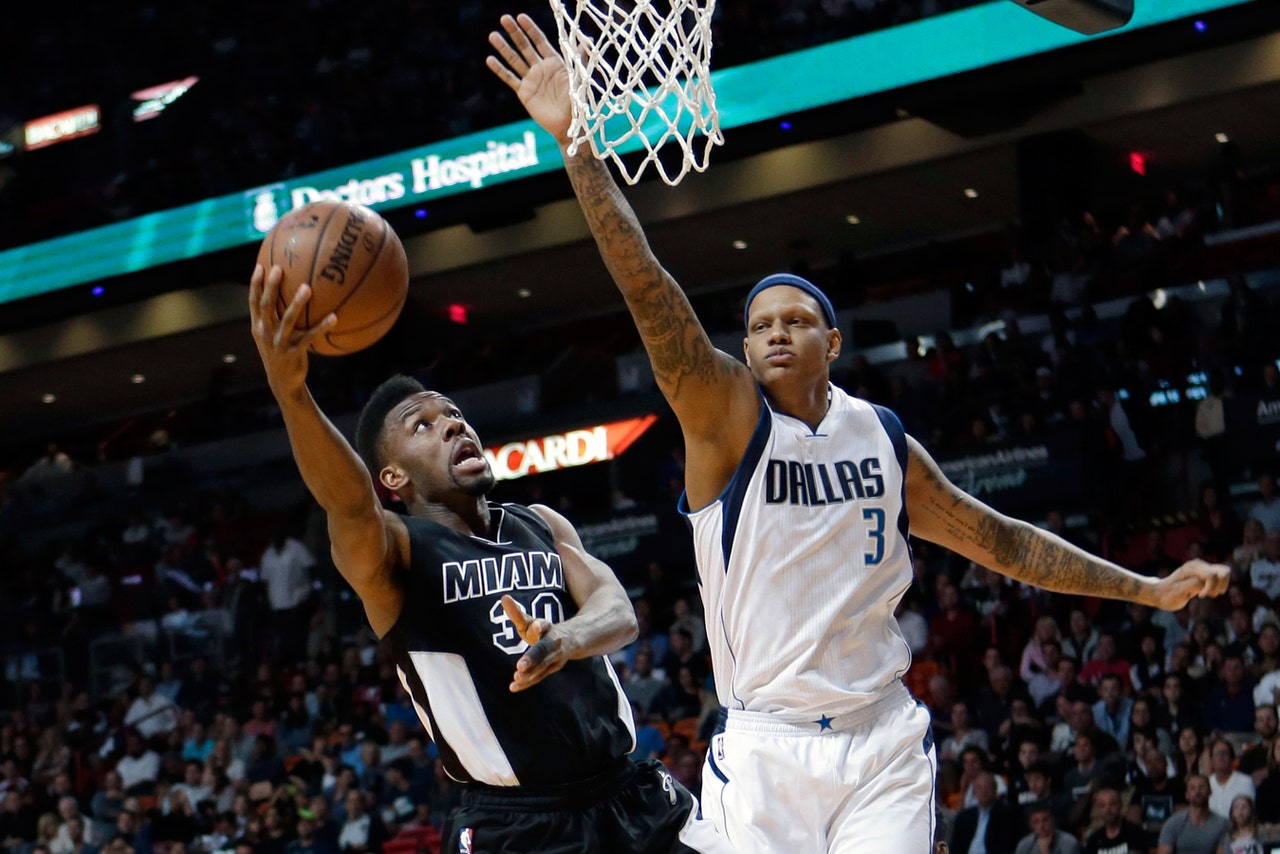 Come the start of the playoffs this weekend, Dallas Mavericks forward Charlie Villanueva will finally, thankfully relinquish the top spot on one inglorious list.
It's a list Oklahoma City sharpshooter Anthony Morrow figured he would finally escape without question when he signed with the Thunder last summer. 
Yet with one game left in the regular season, Morrow will need some help to prevent him from unhappily climbing to No. 2 on the list of players who have never been on a team that made the playoffs.
For Morrow, it would mean a seventh consecutive season and 447 career regular-season NBA games without getting in.
For Morrow to break the hex, the Thunder must finish ahead of the New Orleans Pelicans. And for that to happen, OKC needs help when both teams play Wednesday night. The Thunder must win at Minnesota, and the San Antonio Spurs must beat New Orleans.
Of course, Pelicans wing Tyreke Evans, No. 5 on the list, will have 408 reasons to beat the Spurs and push New Orleans into the postseason. He'll play in his 408th career game without, yep, ever playing on a team that made the postseason. Teammate Eric Gordon, No. 7 on the list, will make it 372 games.
Villanueva, who is in his 10th season, at least knows he's in before he plays in career game No. 594 on Wednesday when Dallas wraps up the regular season against Portland.
Dallas teammate Al-Farouq Aminu, will eagerly vacate No. 6 on the list after he plays in career game No. 377 on Wednesday.
So who is the unlucky sap that will take over the top spot from Villanueva? 
Hello, Jason Thompson.
A former teammate of the Pelicans' Evans, Thompson has played his entire seven-year career for the Sacramento Kings. Assuming Thompson plays in his 81st game of the season Wednesday, no player will have played more than his 541 games without the good fortune of playing on a single playoff team.
Let's take a look at the top five players on the list who are either set to come off, or potentially come off the list (ranking shows actual spot on the list; games played are through Monday):
1. Charlie Villanueva, Dallas Mavericks, 593 games, 10 seasons
Once upon a time he was a rising star with the Milwaukee Bucks. In 2009 he signed a big free-agent deal with the Detroit Pistons and everything went downhill from there. Before joining Dallas this season, agreeing to come to training camp without a guaranteed roster spot, Villanueva had played in just 102 games over the previous three seasons in Detroit. He was a fixture on the bench. For the Mavs, his playing time has fluctuated, but he's delivered instant offense throughout the year, mostly with a quick-trigger 3-ball. In the playoffs, he has the ability to be a momentum starter (or changer) off the bench.
(2. Jason Thompson, Sacramento Kings, 540 games)
3. Anthony Morrow, Oklahoma City Thunder, 446 games, seven seasons  
Look up the term journeyman and you'll find Morrow's picture. Despite a lethal shot, he's bounced from the Warriors, Nets, Hawks, Mavs, Pelicans and finally the Thunder. It seemed the perfect fit, flinging 3s beside Kevin Durant and Russell Westbrook on a team that had everything to win a championship except that floor-spacing, high-percentage 3-point shooter. He's done his part, averaging 10.7 points and shooting 43.7 percent from beyond the arc. Of course, it's been an injury-ravaged season for OKC, which has fallen from title contender to needing help just to get into the playoffs for the honor of facing No. 1 seed Golden State. I'm sure he'd take it.
4. Kevin Love, Cleveland Cavaliers, 438 games, seven seasons
So he won't get invited to LeBron James' lake house this summer. Oh well. If Love raises the Larry O'Brien trophy in June, he'll gladly make his own vacation plans. Love spent six trying seasons with the Timberwolves, who always seemed on the cusp of good things, but injuries — including to Love — kept getting in the way. He finally demanded a trade last season, and to his good fortune, LeBron was heading back home and needed another All-Star to give him a chance to win a championship in Year 1. It's been a weird season for Love, trying to fit in and all, but he's still just an eyelash away from finishing the season with a double-double (16.3 ppg, 9.8 rpg), even if both averages are well below his career marks. At any rate, he can at least now scratch his name from the list.
5. Tyreke Evans, New Orleans Pelicans, 407 games, six seasons
Sacramento has become the place where playoff hopes go to die. His time in New Orleans hasn't always been memorable, and Pelicans management was thought to be a little crazy to guarantee Evans $44 million over four seasons. But he's had a very good season, and through injury in the backcourt, the Pelicans wouldn't be a win away from the playoffs without him. Evans is set to play in his 79th game of the season, a career-best, and he's averaged 16.6 points and a career-high 6.5 assists. Evans never won more than 28 games in four seasons in Sac. He'll likely need to get New Orleans a 45th on Wednesday to avoid moving up to No. 2 on the list.
(5. Greg Monroe, Detroit Pistons, 377 games, five seasons)
6. Al-Farouq Aminu, Dallas Mavericks, 376 games, five seasons)
It's funny how things work sometimes. The Pelicans gave up on Aminu last summer and the Mavs snatched him up. Then the Pelicans could have used an energy player like Aminu this season. Oh well. The forward went through a stint earlier in the year where coach Rick Carlisle sat him a bunch, and then once he got his chance he made sure he took advantage. He gives Dallas some oomph in its two weakest areas, defense and rebounding. Aminu is going to be a key reserve for Dallas in his first playoffs, likely asked to defend multiple positions. If the Mavs face San Antonio in the first round, Aminu could see plenty of time on Kawhi Leonard considering the current uncertain health of Chandler Parsons' ailing knee.
Others of note: Eric Gordon (Pelicans, 371 games, seven seasons), Tristan Thompson (Cavaliers, 305 games, four seasons), Kyrie Irving (Cavaliers, 255 games, four seasons). 
---