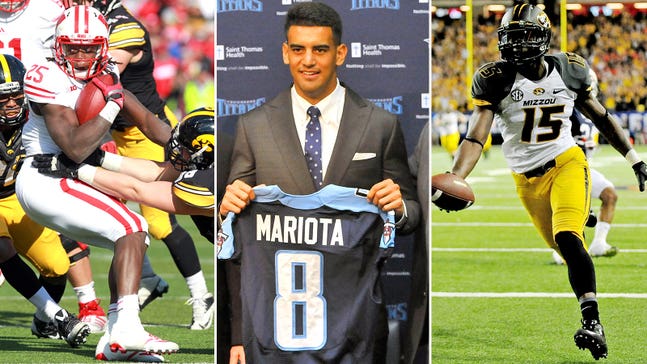 Fantasy Fox: 7 fantasy revelations to ponder during NFL Draft Weekend
Published
May. 2, 2015 4:27 p.m. ET

The Fantasy Fox offers seven draft-themed/draft-related revelations from NFL Draft Weekend, a three-day carnival of purported franchise saviors among playmakers ... but none that should usurp Jamaal Charles as the No. 1 fantasy option heading into the summer.
1. On paper, the San Diego Chargers paid a steep price for moving up two slots in Round 1.
In the real world, though, San Diego absolutely crushed the acquisition of Wisconsin tailback Melvin Gordon, a Jamaal Charles clone who will capture an NFL rushing title within the next four years -- assuming full health.
(Feel free to clip-and-save that proclamation.)
From a fantasy perspective, the Chargers will likely open the season with a committee approach at running back, allowing for Danny Woodhead, Branden Oliver and maybe Donald Brown to share reps with Gordon (362 touches with the Badgers last year).
But who are we kidding? It's only a matter of time before Gordon separates from the pack and starts shredding opponents for 100 total yards and/or one touchdown every Sunday (on average).
Which brings us to this: In standard 12-league drafts, I would endorse the notion of grabbing Gordon in the latter stages of Round 3 -- but not much higher than that.
2. Only a fool would start Jameis Winston (Buccaneers) or Marcus Mariota (Titans) for their high-profile Week 1 clash at Tampa Bay.
Unless we're talking about Cam Newton (launched NFL career with back-to-back outings of 420 yards passing in 2011), rookie QBs are nothing more than roster-fillers with fantasy leagues that only start one quarterback.
For the wretched few in 2-QB leagues, by all means, ride Mariota against the NFL's 28th-ranked pass defense last year.
3. I like the Jets' Round 2 pick of Devin Smith -- for reasons that have little to do with the Ohio State receiver's Year 1 adaptability in the pros.
Smith boasts electrifying speed (4.4 40), good hands and projects as a viable deep threat down the road. In the short term, Smith's mere on-field presence, running opposite to Brandon Marshall in the Jets' passing attack, should allow for Eric Decker to wreak havoc with intermediate routes.
You remember Decker, formerly a dynamic option in the Broncos' devastating passing attack, averaging 86 catches/1,176 yards/12 TDs from 2012-13?
Well, after a so-so campaign with the Jets last year (74 catches/962 yards/5 TDs), I fully expect Decker to rebound in 2015 -- as a direct beneficiary of Marshall, Smith and tight end Jace Amaro logging full-time reps in New York's rebuilt offense.
Plus, I'm always a fan of big finishing kicks. Of his final four games last season (Weeks 14-17), Decker averaged six catches, eight targets, 108 yards and one TD -- capped by the 10-catch, 221-yard, one-TD demolition of the Dolphins in the season finale.
Bottom line: For PPR drafts, I would actually prefer Decker over Marshall. At the very least, the gap between the wideouts shouldn't be greater than 6-8 slots.
4. Wow, somebody up there must really like Indiana's Tevin Coleman.
He was the fifth tailback taken on Draft Weekend -- a distinguished honor considering the absurd depth of this year's running back class.
As part of that, Coleman might also be a Day 1 starter with RB-needy Falcons, who sorely required an infusion of depth and home-run talent at the tailback spot.
Enter Coleman, who rushed for 2,036 yards with the Hoosiers last season -- while saving his best work against great college defenses (132 rushing yards on just 15 carries against Michigan State ... and amassing 228 rushing yards/3 TDs against Ohio State).
Now for the tricky part: This may sound trite, given the volatility of the Falcons' offensive line. But I couldn't let Coleman fall past Round 7 in 12-team standard drafts.
5. Forgive the glib here, but it's almost like the Jaguars are going out of their way to construct the most ineffectual backfield in fantasyland.
Toby Gerhart? Denard Robinson? Storm Johnson? And now ... T.J. Yeldon, instead of Tevin Coleman, Ameer Abdullah, Duke Johnson or even Jay Ajayi?
In 2014, the Jaguars had a grand total of nine rushing touchdowns; and the over/under number for 2015 could be a very ambitious "13."
As for which Jaguars back to covet in the latter rounds ... I'll side with Robinson, whose four-game average of 107 total yards/1 TD (Weeks 7-10) represented a good stretch for a first-year starter.
6. This time last year, I was quick (read: painfully premature) to deify the Titans' Round 2 selection of tailback Bishop Sankey, who had a monster career at Washington and seemed like a plug-and-play fantasy stalwart for 2014.
Especially since the Tennessee backfield featured only limited situational assets (fantasy-wise).
Well, fast forward to the present: I want to believe receiver Dorial Green-Beckham will be a strong contributor in Year 1, but the Titans already possess a cluster of intriguing wideouts -- starting with Kendall Wright (94 catches, 1,079 yards in 2013), Hakeem Nicks, Harry Douglas (weekly capacity for 80 yards/1 TD with Atlanta) and Justin Hunter, a physical freak who needs to become more consistent ... while filling out his body in the process.
How do we know that? During an elevator chat at the Senior Bowl, a Titans employee revealed that "Hunter would be a star, if he just put on 20 pounds."
Perhaps the addition of Green-Beckham (a physically imposing wideout, in the mold of Plaxico Burress) will motivate Hunter to take the necessary steps to achieve fantasy stardom.
7. As a Michigan native and Lions lifer (kill me now), I still loathe the Eric Ebron pick from last year (top 10) -- especially with defensive tackle Aaron Donald and wide receiver Odell Beckham Jr. still on the board
But there are two positive comments to embrace here, moving forward:
a) Antonio Gates, who should be a lead-pipe cinch for the Hall of Fame in about eight years, caught only 24 balls for 389 yards and two TDs as a rookie in 2003.
b) If Ebron had not left school early last year (North Carolina), he would have been the top-ranked tight end in the 2015 draft. So the talent is there.
Somewhere.
Jay Clemons, the 2015 national winner for "Sports Blog Of The Year" (Cynopsis Media) and 2008 Fantasy Football Writer of the Year (Fantasy Sports Writers Association), can be reached via Twitter, day or night, at @ATL_JayClemons.
---
---