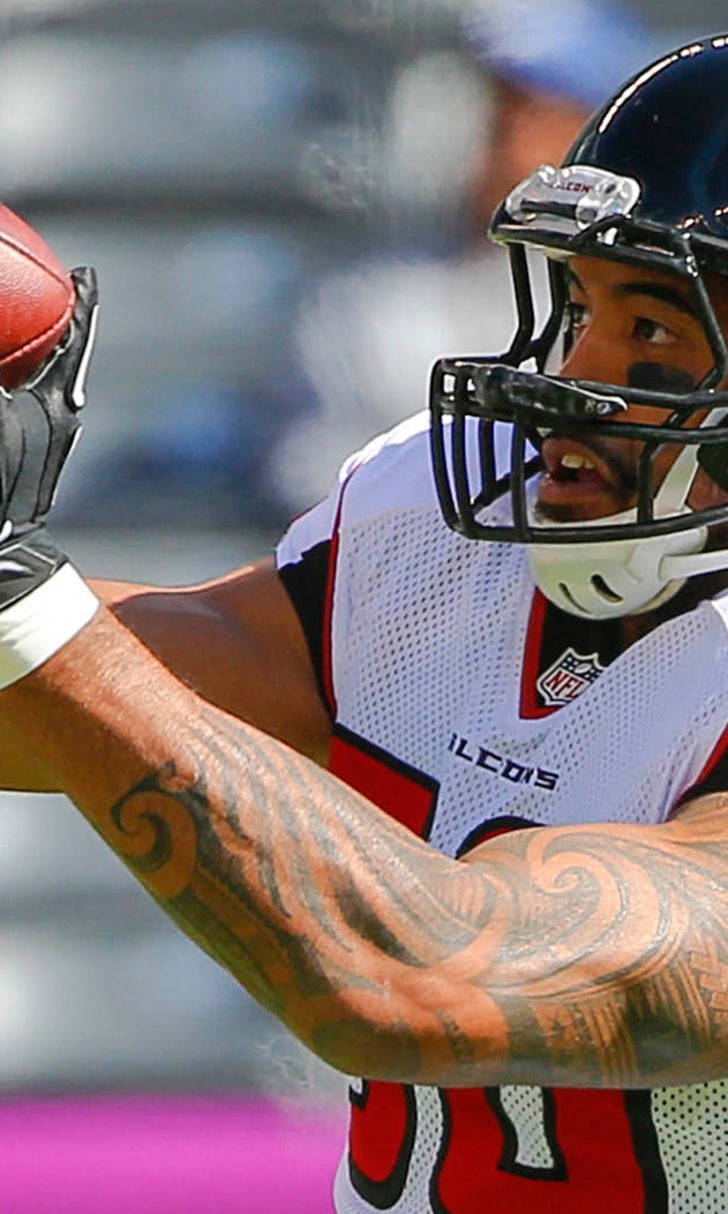 Falcons tight ends may flourish under Shanahan, but Toilolo could get left out
BY foxsports • June 18, 2015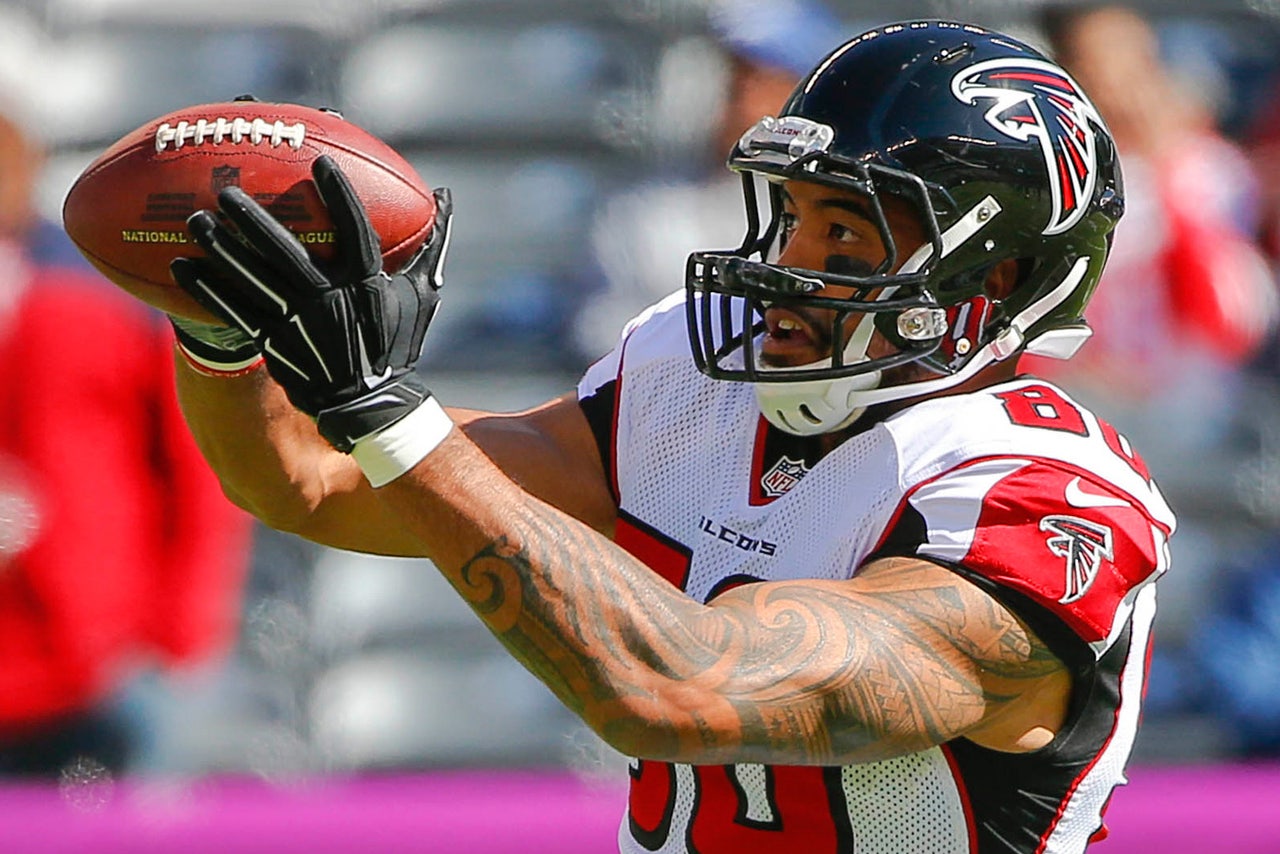 FLOWERY BRANCH, Ga. -- Moving the football and scoring points are points of emphasis in a Kyle Shanahan-ran offense, and his schemes typically fare well in both cases. While all positions combine to work seamlessly, everywhere he has gone as an offensive coordinator, the tight end position has been highly used and utilized as a weapon.
Jordan Cameron posted a career high 17.7 yards per reception last season in Cleveland under Shanahan. In 2013 with Washington, Jordan Reed caught 45 passes in just nine games. Before Reed, Fred Davis' career took off when Shanahan caught on with the Redskins.
In Shanahan's first season as offensive coordinator (2008 in Houston with the Texans) Owen Daniels enjoyed his highest output with 70 receptions and 862 yards receiving.
When Shanahan was hired in Atlanta, he spoke of how highly he thought of the tight end position.
"You'd love to go four receivers every single play, maybe five receivers. But it makes it a lot easier for the defense when they know you have to throw it," said Shanahan. "The more times fullbacks go off the field or tight ends go off the field, it limits your run options which makes you not as balanced.
"So the threat of a tight end who could be out there, which opens up your run game, but also is a threat and a matchup in the pass game, and it makes it a lot easier for a play caller, it makes it easier for the o-linemen, for everybody, because it's hard in this league if you become one-dimensional."
As the once pass-happy Falcons work to become balanced, watch for the tight ends in this offense to become frequent contributors. Don't expect Tony Gonzalez-like output, as last season Levine Toilolo and Bear Pascoe combined for just 33 receptions and 241 yards through the air.
That seems like an impossibly-low contribution moving forward, however.
Toilolo was joined on Atlanta's roster during the offseason by free-agent acquisitions Jacob Tamme and Tony Moeaki. Tamme, who's played seven seasons in high-powered offenses quarterbacked by Peyton Manning, said he's enjoyed the versatility he's allowed in Shanahan's offense through OTA's and minicamp.
"It's been refreshing to see some new stuff, learn some new concepts, get plugged in in different places -- it's fun," said Tamme as minicamp concluded on Thursday. "That's what I love about the position of tight end being able to move around, doing multiple things, getting in there and putting your face in the run game, being able to get out wide and catch passes, getting out there and doing all that stuff. The tight end has the ability to do that in this offense."
New head coach Dan Quinn has already noticed the play from the tight end group, and said he was impressed with their efforts.
"At this position, the guys are totally going for it," said Quinn after Tuesday's minicamp session. "You see Tony Moeaki and Jacob Tamme had a great catch today. [Levine] Toilolo, the size and length. They all have these unique qualities down in the red zone, who can be featured on third down. I think all of them have a little uniqueness, knowing who you are as a player, and our best way to feature those guys."
The problem, however, could come from how the work will be distributed. Toilolo caught 31 passes last season and only managed an average of 7.7 yards per reception. He also dropped six passes (only three players in 2014 mishandled more).
Moeaki only played in six games and started just two. Three seasons ago (2012) was the last time he played a full season and surpassed the 30 reception mark (33). As a backup, Tamme pulled in 14 passes last season, and he only managed 7.8 yards per reception.
Which tight end will be the one to emerge as the starter?
It's too early for the Falcons to release a depth chart, but Quinn already spoke a little about the pecking order in all-important third-down situations, and Toilolo's name was buried.
"I would say Jacob and Tony more, in the third down and the route running and finding ways to match them on a linebacker to see if they can run the options and do the stuff on third downs required to get open," said Quinn when asked about the current state of the tight end position.
If Tamme and Moeaki are already considered more valuable on third down, in all likelihood they're in line for more snaps no matter the down or distance. This could mean Toilolo will only be used in certain red-zone situations, as a blocking tight end and sparingly as a second tight end when Shanahan has the Falcons in multiple tight-end sets.
With only 42 receptions during his young two-year career, Toilolo hasn't yet lived up to the hype heaped upon him when he was heir apparent to a soon-to-retire Gonzalez in 2013. With limited snaps in 2015 and the reduced role that could come from landing at No. 3 on the tight end depth chart, Toilolo may find it hard to ever emerge in the NFL as a threat.
Training camp looms more than a month away for the Falcons -- the regular season much farther in the distance. Toilolo still has time to climb into a more relevant role in this new Falcons offense. He also has time to learn from Shanahan and master the new scheme. But it's up to him at this point to make the move.
---
---