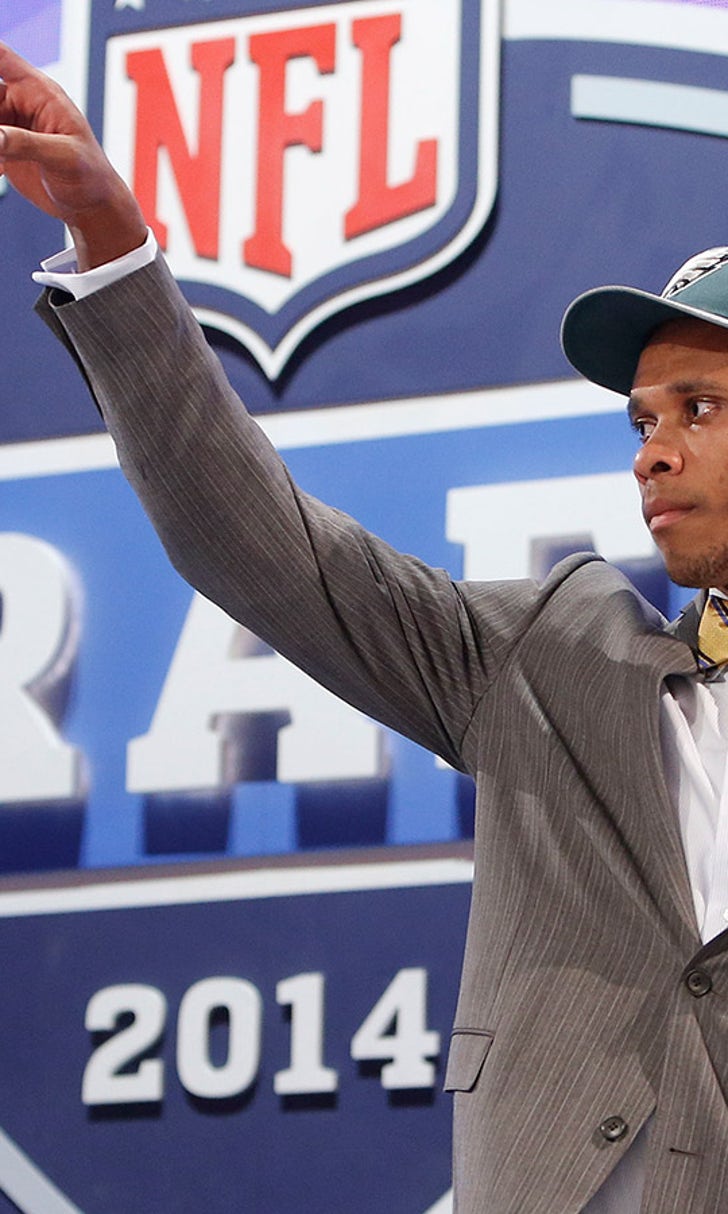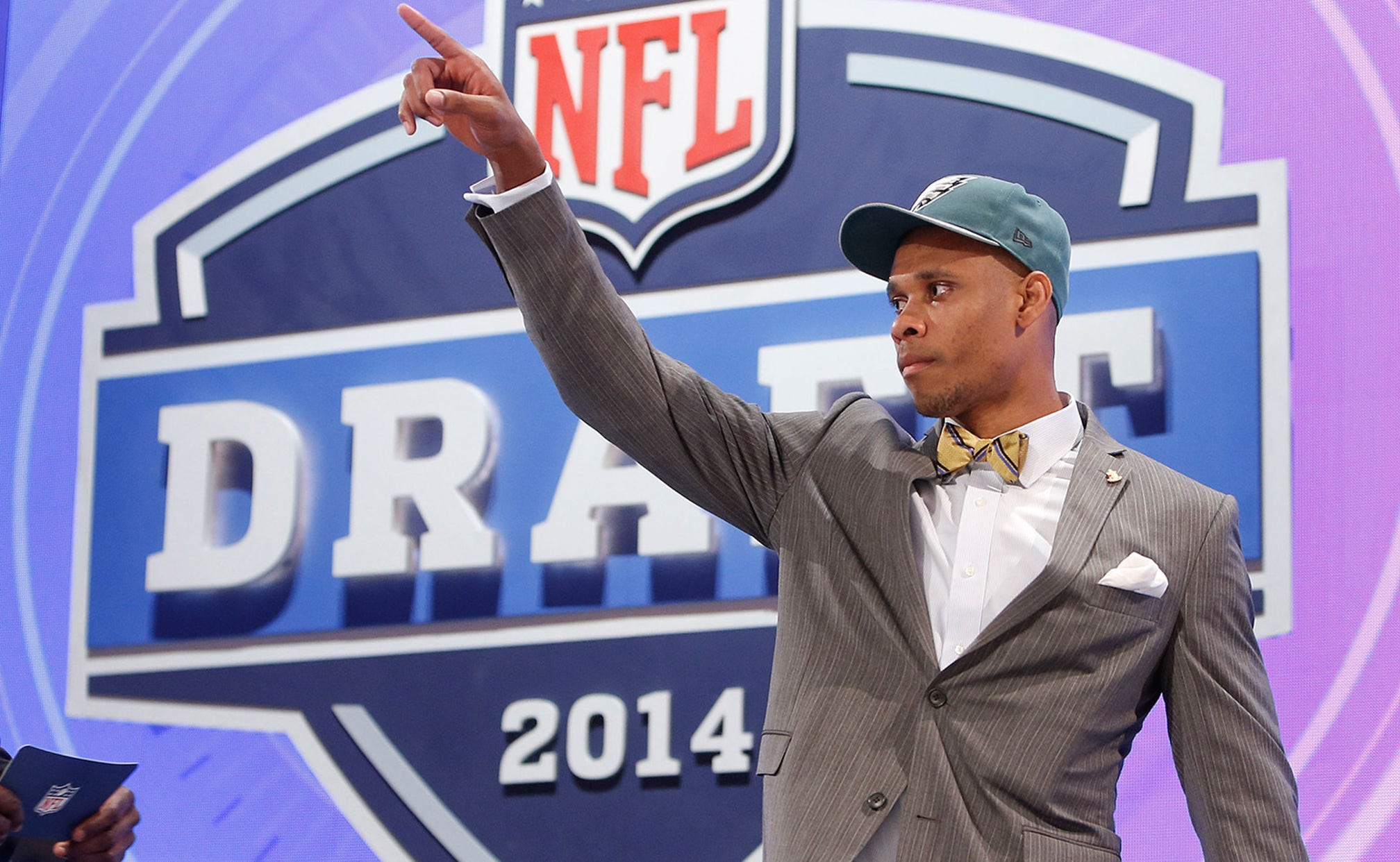 Ex-Vanderbilt star Matthews relishing chance with Eagles
BY foxsports • May 13, 2014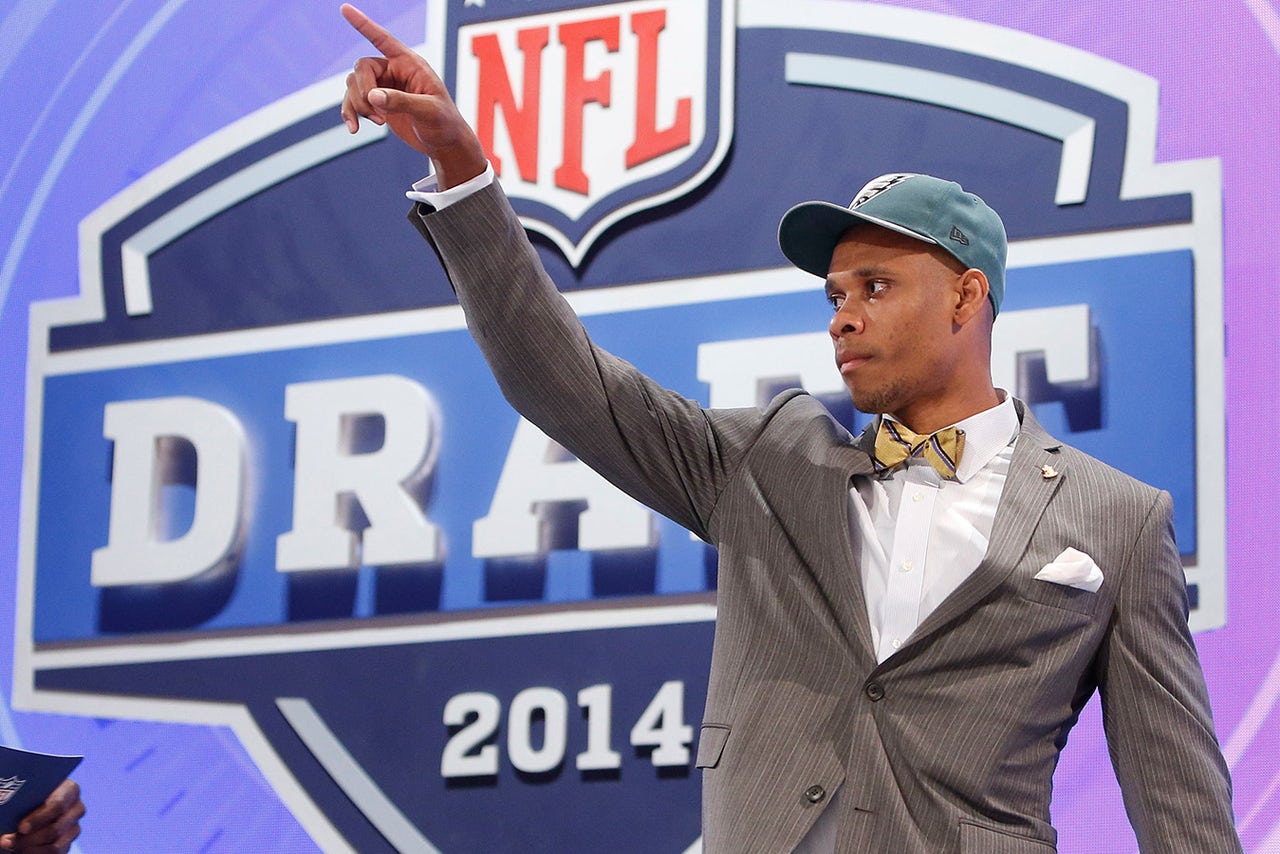 The Eagles had their eyes trained on former Vanderbilt wide receiver Jordan Matthews long enough.
Sitting there Friday in the second round of the NFL draft with the 54th overall pick, they didn't blink when the Titans went on the board 12 spots ahead of them. The teams quickly switched second-round picks, with the Eagles adding a fourth-round pick to sweeten the pot.
Call it a done deal.
Eagles coach Chip Kelly had yet another weapon -- the most prolific receiver in SEC history -- for a high-octane offense that places a premium on playmakers who make plays once they get the ball in their hands.
"The first thing you do when you look at the numbers, they're off the chart," Kelly said of the 6-foot-3, 212-pound Matthews. "He's the all-time leading receiver in SEC history."
Indeed, the offensive records he broke at Vanderbilt are plentiful. Matthews finished his college career with 262 catches for 3,759 yards, both SEC records, and 24 touchdowns. That includes last season's 112 catches, also a single-season SEC record, for 1,447 yards and seven touchdowns.
"I've been dreaming about playing in the NFL for a long time," said Matthews, a two-time All-American. "Ever since I started playing as a fifth grader. My dream wasn't just to get to the NFL, my dream is to be successful in it and be one of the best"
Matthews will certainly get the chance playing for the Eagles, who already have two established wide receivers -- Jeremy Maclin and Riley Cooper -- on the roster. Also joining the wide receiver fold is Oregon's Josh Huff, who was selected in the third round Friday and is reunited with Kelly, his former college coach.
The offense also includes the 1-2 running back punch of standouts LeSean McCoy and Darren Sproles. Third-year quarterback Nick Foles had a breakout season in 2013. His 119.2 quarterback rating was third-best in NFL history, while his touchdowns to interceptions ratio of 27 to 2 was the best in league history.
All that offensive firepower in Kelly's first season as NFL head following his four-year run at Oregon helped the Eagles go from a 4-12 record in 2012 to 10-6 last season. They won the NFC East and made the playoffs for the first time since 2010.
Matthews will have the chance to see the ball early and often, initially being used mostly as a slot receiver, a notion that doesn't bother him. In former Vanderbilt coach James Franklin's offense, Matthews lined up all over the field, fielding anything from screens to slants to deep routes, all of which he handled with ease.
"He fits our scheme," Eagles general manager Howie Roseman said of Matthews, who played a large part in the resurgence of Vanderbilt football that included an unprecedented three-straight winning seasons and as many bowl appearances. "He can play inside or out. He is going to be a huge addition to our football team. I know our personnel staff and our coaching staff couldn't be more excited to have him."
Matthews said he doesn't mind being the seventh wide receiver drafted last week from a deep position pool. It reminds of following his prep days at Madison (Alabama) Academy, when he got only one major-college scholarship offer.
But that only came from Vanderbilt after a player had de-committed and signed elsewhere.
"There's definitely a chip on my shoulder," Matthews said. "It's been there before Vanderbilt. It still carries me today. That's one of the reasons why I am trying to take every opportunity possible to go ahead and compete."
The thing that impressed Kelly and Roseman the most was Matthews' productivity -- he accounted for 46 percent of receptions and 49 percent of receiving yards last season -- when every opposing defense had the primary mission of slowing the sure-handed wide receiver down.
"The one thing we talk about is man coverage," Kelly said, "and the one thing that (Matthews) does is that he can catch the ball in traffic. He made an unbelievable amount of contested catches. He's got such a wing span and will go up and get it. He can play both inside and outside. " … He's a big, physical guy, so when he catches it, he can go. He's got outstanding speed."
Roseman echoed those sentiments about Matthews, who graduated from Vanderbilt in 3 ½ years.
"The guy's 6-3," Roseman said. "He's (212) pounds. He's got huge hands. He's got long arms. He's got really good ball skills. He ran a 4.46 (in the 40-yard dash) at 216 pounds. He's the all-time leading receiver in the SEC. … Everyone knew they were going to get the ball to him and throw the ball to him, and he's still the all-time leading receiver in the history of the SEC."
Maybe some of that talent stays in the family. Matthews is a cousin of Pro Football Hall of Fame wide receiver Jerry Rice, the NFL's all-time leader in receptions (1,549), receiving yardage (22,895) and touchdown receptions (197).
"Being related to Jerry Rice, definitely that's going to be the guy I've looked up to, just the way he approached the game on and off the field, his work ethic, running hills, making sure you're doing everything to be a complete receiver," Matthews said.
"Those are the type of intangibles and the type of values that I like to have in my game."
After being "the man" in the offense the last three seasons, Matthews admits it will be something new playing a secondary role as he learns the NFL ropes.
"It's definitely going to be a little bit different," Matthews said. "I'm going to go in and be the best teammate I can be. I want to earn the respect of those guys, so I'm going to go in, shut my mouth and get to work."
Work that started this week when the rookies reported Monday to be integrated into the team's offseason conditioning program. Rookie minicamp is this weekend.
"Every opportunity I've had in football, I've had to work for it," Matthews said. "Nothing was ever given to me. When the ball's in the air, it's mine. That's kind of my attitude whenever I go out on the field."
---
---