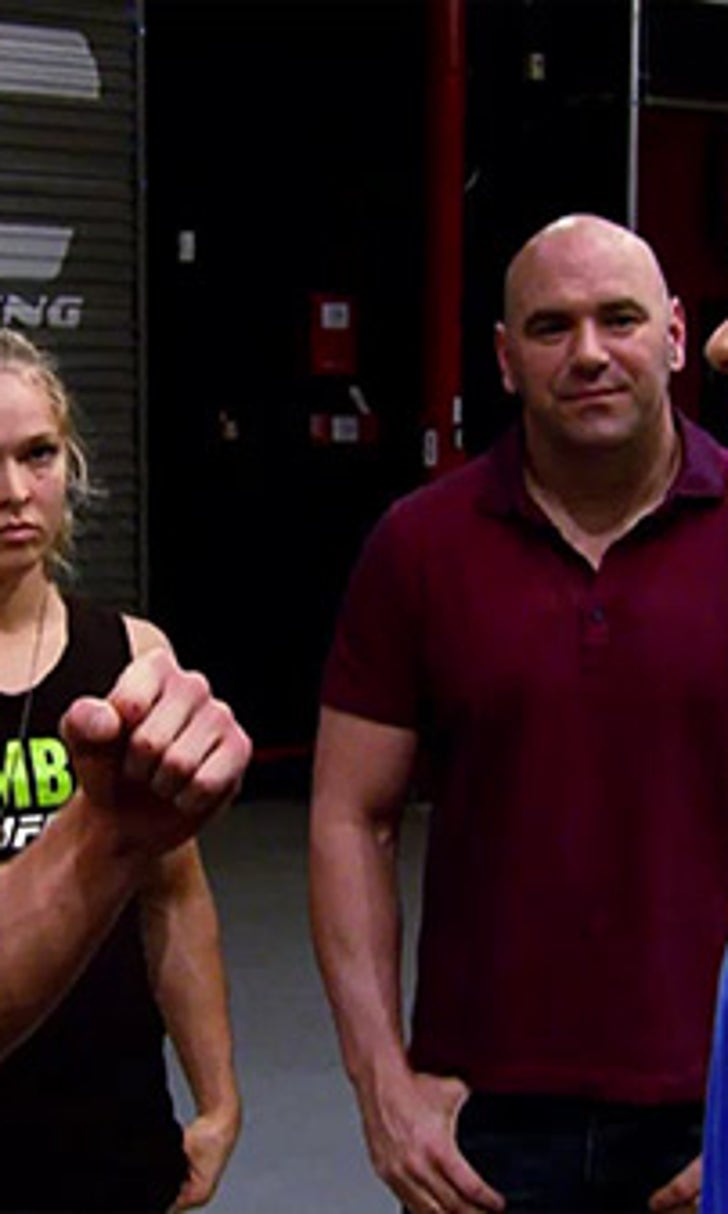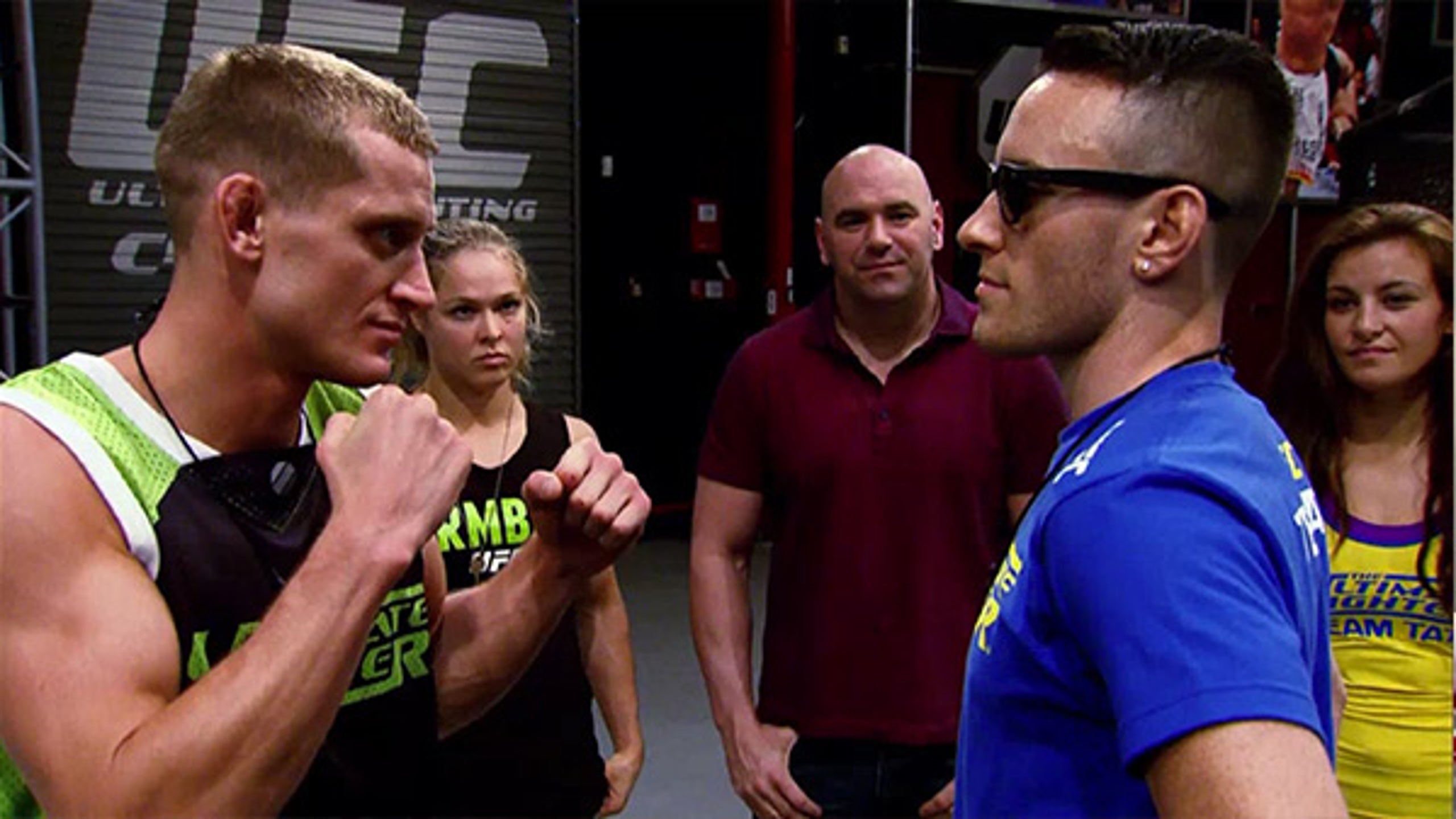 Episode 5 Preview: Second Chances
BY foxsports • September 27, 2013
Previously on The Ultimate Fighter...
Tensions ran high between the coaching staffs as Team Rousey head coach Edmond Tarverdyan and Team Tate guest coach Dennis Hallman exchange pleasantries and the two sides continue bristling in each other's presence, prompting UFC President Dana White to step in and defuse the situation.
After learning more about apparent 'house mother' Jessica Rakoczy and 10-year veteran Roxanne Modafferi, the two square off in a classic striker versus grappler, upside versus experience battle in the second fight on the women's side of the competition.
Following a close first round where Roxi threatened with submissions and was able to nullify the former world champion boxer's hands, Jessica turns the tables on 'The Happy Warrior,' landing heavy shots late in the round, and earning Team Rousey their first victory of the season with a second-round stoppage win.
With control of the fight pick, Ronda Rousey tabs Davey Grant to take on Louis Fisette.
Here's a look at what to watch for in Episode 5 of The Ultimate Fighter: Team Rousey vs. Team Tate.
Embracing Victory, Dealing with Defeat
Through a pair of tough loss, women's UFC bantamweight champion Ronda Rousey has grown increasingly frustrated and focused, using those defeats as fuel to push her team and keep her fire for beating opposing coach Miesha Tate burning high.
With their first victory of the season in the books, will the 'Us Against the World' attitude that Ronda has been brandishing thus far continue?
Across the way, this is the first time Team Tate has been coming off a loss. Roxanne talked about this being her opportunity to fight on the big stage, and now seemed despondent following her loss, so it will be interesting to see how the most positive fighter in the house copes with a crushing defeat that could, conceivably, stall her dreams of fighting in the UFC.
Life in The House
As much as this show is about the fights and the rivalry between the coaches, it's still a reality TV competition, and part of the allure is seeing what happens when 16 fighters are cordoned off from the world for an extended period of time.
Each season, we learn the intimate details of various fighters' lives - they share their reasons for competing, private feelings and stories from their past, and re-trace the steps of their journey to the Octagon for the audience, no matter how smooth or rocky the road.
In addition to the personal insights about fighting and their lives, there are always those moments and elements that are foreign to most people, and therefore intriguing: dealing with being away from your family and friends for an extended period of time and combating the monotony of life in a house isolated from normal, everyday components like television and the Internet, then the constant battle between food and staying close to fighting shape.
Understanding Ronda (A Little Better)
This week's episode features a special guest working with Team Rousey, Ronda's mom, Dr. Ann Maria DeMars. Not only is she Ronda's mom, but she is also a former world champion judoka, becoming the first American judoka to win at the World Judo Championships when she took gold in the -56kg weight class in 1984.
Throughout her rapid ascension from Olympic medalist to UFC champion, Ronda has spoken at length about her mother's influence on her life, her career, and her mindset, and this week's episode should provide a look at that dynamic, as her mom spends some time on the mats with the members of Team Rousey.
Davey Grant (8-1) vs. Louis Fisette (6-1)
After regaining control of the fight selection, Ronda selected this match-up, pitting British finisher Grant against this season's underdog, Fisette, who was eliminated in the qualification round (by teammate and quarterfinal winner Chris Holdsworth) only to be brought back when Tim Gorman was sent home due to an injury.
Davey had some dicey moments in his qualifying fight, landing a couple questionable blows, but ultimately looked good when he got the finish. Though he's more of a striker, the 27-year-old actually has seven wins via submission.
Louis hung tough against Holdsworth in the qualifying round, but eventually had to tap. The Winnipeg Academy of MMA (WAMMA) product had won six consecutive contests heading into the show, including four straight inside the first round. Confident and aggressive, it will be interesting to see if Louis is content with being back on the show. We will see if he is capable of making the most of his second chance opportunity when he steps into the cage with Davey.
---
---